Monday Conversation: Trey Canard
Honda Red Bull Racing/GEICO Powersports Honda's Trey Canard improved almost as much as is possible from one week to the next between his first and second career 450cc races. In Indy, he crashed out and was credited with 20th place. In Atlanta, he finished a solid second behind points leader Ryan Dungey. We talked to him last night, after it sunk in, for this Monday Conversation.
Racer X: I was kind of anticipating interviewing you after your first 450cc supercross, but it didn't really go that well, as it turned out...
Trey Canard
: I think what happened there was just a case of me not having enough time on the bike. I mean, I felt great on the test track, and my times were good, and I was riding good and strong, but I just wasn't familiar enough with the bike and I didn't try enough things. It was just a completely new experience, so I didn't know what to tell those guys [at Honda]. Indy was actually a really good experience for me, because I learned a whole lot about the bike, and I felt like I became a lot better acquainted with the thing. With the thoughts that I had from there, it kind of led into a good test session, and that led into a good weekend. Indy wasn't all bad... I mean, I didn't finish, but I think at Jeremy McGrath's first 450cc race [250cc at the time], he finished 20th, too. Not to say I'm Jeremy McGrath, I'm just saying it's not the end of the world, and I knew that.
Yeah, he was still riding for Pro Circuit at the time... The thing about it is that you seemed like you had a good attitude after that race. That's good, because you could've been bummed on yourself. This weekend, you were in good spirits, and you didn't seem worried at all.
I think I've just matured a lot as a person. I don't let things lay as heavily on me as I used to because I realized that I can't let things lay heavily on me, or I'm not going to be successful. That's a big part of it. And it also helps a lot not having anything on the line. Basically, I'm just out there to have fun and gain some experience. When I had a bad weekend in Indy, it was easy to brush off, because really, what did I lose? That's why it was easy to bounce back from, and having a really good week on the bike between Indy and Atlanta also helped. I just felt really comfortable coming in, and I think it led into good things. I was excited. It was a good day all around. I got on the board in practice, and I was stoked on that, because I barely get on the board in Lites practices. I was pumped. That was one of the highlights of the day, for sure.
How much different is it to race a 450, compared to racing a 250F? Riding them tends to be one thing, while racing them is something completely different...
The thing that has been the hardest for me is that, with the Lites bike, you always see and hear when someone's racing, because the revs come up, and they are over-revving it, and maybe even over-riding the bike a little bit, but when you do that on a 450, it turns into a disaster. That's been the hardest thing, just to stop trying to ride too hard, which means keeping a level head the whole time out there. That's been my biggest thing that I've been trying to keep pounding into my head, which is to stay focused on what I need to do and not get so "in the moment" with the race, and instead make sure I'm concentrating on what I'm doing on the bike.
Is that what happened in Indy?
Indy, I don't even know how it happened. I somehow lost my left hand off the handlebar, and I don't even know how. It just kind of happened. After that happened, I was off-balance, and the hand that was on the bar was unfortunately wide-open... That's what happened with that. But for sure, the mistake that led into that was me just trying to race too hard, over-riding the bike, and not being patient.
On a 250F, it's not good to lose a hand on the handlebar, but I'd bet the odds of gathering it back up are quite a bit better...
Oh, yeah, for sure. I probably wouldn't have looped out on the 250F! I might have still been able to double the triple and pull it off, but that 450 just has too much horsepower! (Laughs)
What did you do to the bike after Indy and before Atlanta?
I didn't do a whole lot, really. We made some suspension changes, which was huge for me, and then I just dropped a couple teeth on the rear sprocket, which helped, too. The track this weekend, I honestly stayed in second gear around the entire track.
Even over the big quad, and in the whoops?
Everywhere – the whoops, everything... Second gear.
And you started in second...
Yeah! There's just such a wide range of power on that thing, so I just felt like if I was going to be in second gear the whole time, then why not just make it a little more useable, and that helped with the power. But the suspension was the huge part.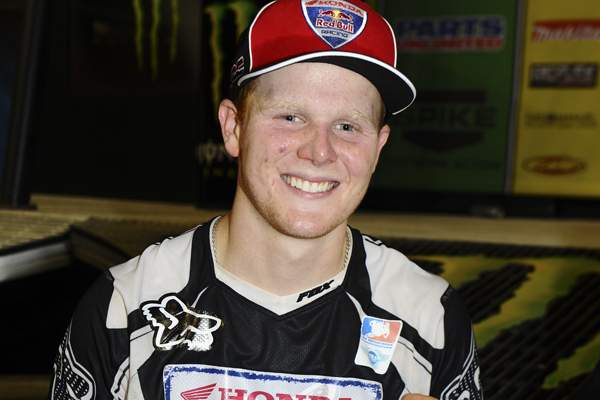 Trey Canard after his runner-up finish in Atlanta.
Photo: Cox
On the podium, you said something that made me laugh, because you said something like, "I want to thank the guys at Honda Red Bull Racing for giving me this opportunity, and also the guys at GEICO Powersports Honda... I'm not sure if I'm allowed to say that."
(Laughs) It's one of those moments on like live TV or live in front of the crowd when you say something, and then you wonder if you're allowed to say that. I wasn't sure if I was able to thank those guys, but I'm just appreciative of them, because I know that they had to be really lenient to let me do that. And that goes especially for the sponsors, because they put a lot of money into GEICO's program for this to take place.
Yeah, obviously that's where your salary comes from – the sponsors paying the team.
Exactly! So I'm really appreciative to both sides, because if they weren't good like that, and if they didn't approve of it, I wouldn't have this opportunity to do what I did in Atlanta.
Well, this is where it gets tough, because it seems like you and Andrew Short's girlfriend are getting along pretty well, so I'm kind of wondering how that's going. Have you and her talked at all about what you're going to tell Andrew in a few weeks?
Basically, the reality is that I'm in the "Friend Zone," really. I'm like her best guy friend. I mean, we go out for ice cream, and we go to roller-skating rinks, but I don't get to hold hands. It's one of those kinds of things.
Yeah, she ends up telling you about all the problems she has with Andrew...
Yeah, she's like, "Andrew did this to me, and then said that to me," and I'm supposed to be that shoulder to cry on. It's sad. But that's okay, I'll take it. (Laughs)
(Laughs) Dude, you are a funny guy. I think people are going to think that we set these things up before we do them...
Dude, you livened up my night, because my phone has been going crazy, but I'm in a much better mood now. Thanks, Cox.
Well, congratulations on that second-place finish, and if you get a chance, maybe move it up a spot next time, huh?
All right, man, I'll do what I can!