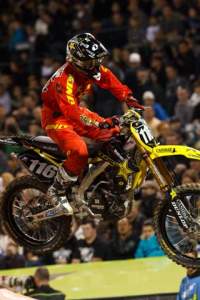 Andrew Short – Leg
Comment: From the official Honda press release: "Short has sustained a lower leg injury, which is expected to sideline him for approximately six weeks."

Cole Seely - Hip
Comment: Dislocated his left hip while practicing this week. Everything went back in place and he's at home resting. If everything goes smoothly, he should be back for Seattle.

Ryan Morais – Entire body
Comment: According to team manager Bill Keefe, "Ryan's times were very good, and he looked comfortable on the bike; like he'd never taken any time off. We are excited that he is up to speed and ready to race at Anaheim 3."

Jason Thomas – Left forearm
Comment: The BTOSports.com/BBMX Palmetto Suzuki rider sustained a pretty deep gash on his left forearm which required both internal and external stitches. However, Thomas says he's in for this weekend.

Ben Evans – Shoulder
Comment: The BTOSports.com/BBMX/Palmetto Suzuki rider is out till Seattle.

Tommy Searle – Right shoulder
Comment: Tommy will sit out this round and make his return after the break in the series at Seattle in April.

James Stewart – Wrist
Comment: His return to the race track will depend on how quickly he is able to recover post-surgery and will be evaluated and determined on a weekly basis.

Chad Reed – Hand
Comment: Four weeks into his six-week healing process.

Josh Grant – Shoulder
Comment: From JGRMX's David Evans: "So far things are going as expected with Josh. It will still be a few weeks before he is cleared to ride, and then a little while before he is ready to race again. We want Josh returning fully healed and ready, rather than rushing back and jeopardizing his chances for an AMA Motocross title."

Daniel Blair - Knees
Comment: Underwent double knee surgery yesterday (Wednesday) and will be out for remainder of the season.

Nate Adams – Thumb
Comment: Dislocated his thumb following Anaheim 1. Will not return to supercross in 2010.

Topher Ingalls – Ankle
Comment: According to his website, Ingalls suffered a broken ankle in the second qualifying practice at Anaheim 1 and underwent surgery and had a plate and screws inserted to aid in recovery. No word on when he'll return.

Christian Craig – Broken Back
Comment: Currently has rods in his back and won't be back on a bike for well over a year.

Matt Goerke – Broken Right Leg
Comment: No word on when the MotoConcepts rider hopes to return.

Matt Moss – Broken Back
Comment: Told our own Steve Cox that he's good to go probably for round one of the East, but on a 450, even though he'd like to ride a 250F at this point.

Jake Moss – Wrist
Comment: Injured at the opening round of the Australian Super X Series and is expected to be ready for Indianapolis.

Teddy Maier - Leg
Comment: Teddy broke his tib/fib while training at MTF. It actually bent the rod in his leg from a injury last year. He's working hard to get healed up and is planning on being ready for east coast supercross.

Jake Marsack - Neck
Comment: Jake injured his C2 and C7 in his neck, and he'll be on the sidelines for quite some time.

If we missed something or have an update, shoot us an e-mail to letters@racerxonline.com.