Mullins Back on Yamaha for 2010!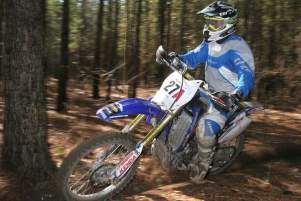 Charlie Mullins has secured a ride with a newly formed team for the 2010 season. Charlie has been a frontrunner in the GNCC series for the past few years and is looking to sit in the champion's seat this year.
The new team consists of a partnership between Obermeyer Yamaha in Jasper, Indiana, and one of the most respected teams in the Off-Road community: Randy Hawkins' Am-Pro YAMAHA Racing team. Charlie will be piloting YAMAHA YZ450F's during the 2010 Grand National Cross Country and National Enduro Series. This alliance will allow Charlie access to the vast amount of experience that Randy has to offer as well as the needed resources to compete and win at this level. Look for Charlie on the Obermeyer / Am-Pro YAMAHA, starting this weekend at the first round of the National Enduro Series in Sumter, SC.
Mullins commented "I am excited about this new year and new team, Obermeyer Am-Pro Yamaha. I am pumped to be back at Am-Pro and going to work hard to bring a title back to the team who helped me start my career."