Has anyone seen the movie
Up in the Air
? I am starting to feel like that guy—
Ryan Bingham
—after spending my fourth Thursday this year on a plane headed across the country to the West Coast. I have flown back and forth across the Rocky Mountains so many times I've started naming each one: Mount Carlsbad, Pomeroy's Peak, Maico Mountain, Mount Everts,
Ashley
the Monster Girl….
Right now the riders mostly have it easy (at least the ones with homes or homes-away-from-home on the West Coast), as all of the races have been in the southwest corner of the USA. But when the series comes to my side of the country, well, that's when it starts getting to be a grind … unless you live in Florida.
Welcome to Racerhead.
It's been a long and busy month. Nevertheless, the 2010 Monster Energy AMA Supercross Championship has delivered some very interesting headlines, action, and intrigue. I'm not sure if the biggest story so far is the quicker-than-expected emergence of
Ryan Dungey
, the struggles and drama around
James Stewart
, or the absence of
Chad Reed
after 116 consecutive starts due to the broken hand he suffered in his crash with Stewart at Phoenix, as well as
Josh Grant
, who got hurt the Tuesday before the series started while out riding at a place called MX Heaven.
We also have a very optimistic start for
Josh Hill
, Stewart's teammate on San Manuel Yamaha, and a steady rise for
Andrew Short
, plus decent starts from the old guard of
Kevin Windham
,
Ivan Tedesco
, and
Grant Langston
, and then the jury is out on
Ryan Villopoto
, Reed's Monster Energy Kawasaki teammate who has been fast yet inconsistent.
Now RV has a new temporary teammate in the veteran
Nick Wey
, who was called up by Mike Fisher to fill Reed's seat, just as Coy Gibbs did for another veteran,
Michael Byrne
, to take the injured Grant's seat at Muscle Milk/Toyota JGR Yamaha.
In the Lites, it's all
Jake Weimer
, and the Monster Energy/Pro Circuit Kawasaki rider has looked fantastic in all three races, as well as all three heat races. Other guys have shown serious speed (
Wil Hahn
,
Trey Canard
,
Ryan Morais
) and even
Josh Hansen
goes fast for a little while, but his staying power is a question mark. He hasn't quite made the podium (fourth last weekend) but as soon as he does make it, I hope he thanks Steve Matthes' dog. That would be funny.
Now we head to San Francisco, and the track is the biggest question mark. It has not been a dry January for California, and the dirt that those track maestros known as Dirt Wurx had to work with was moist when it went in. To me, that's fantastic news. Remember the battle that Carmichael, Stewart, and Reed had here in 2007? It was incredible, in large part because RC and
Bubba
were racing together in front of their
Fox Racing
bosses for the last time and they did not hold back one bit. (And the year before, didn't they go 1-2, Stewart out front, and lap everyone in the mud here?)
Speaking of that, with Dungey and Hill going 1-2, that may have been the first time since Stewart and RC went 1-2 at Ricky's last AMA Supercross—Orlando '07—that the brand has had a 1-2 like that indoors. I know the guys in both Morgan Hill and
Fox Racing
South at Irvine are HUGE race fans, so this has been quite a season so far, with those two also holding down 1-2 in the rankings right now.
Here's an animated look at the track by our friend in Sweden
Daniel Ahlgren
, who has also been providing the animation for Speed and CBS this year. And make sure you get yourself in front of your TV or at least get the TiVo set for Sunday afternoon as the SX Class will air on CBS Sports at 12:00 p.m. ET, while the Lites class will broadcast over on Speed at 10:00 p.m. ET.
By the way,
Racer X
will be tweeting live from San Francisco all day and evening long from the stadium, so make sure you follow us on Twitter. We will be your bench-racing wingmen if you happen to be on a date back home and can't sit in front of your computer listening to Weege and Jim Holley make the race call on the
Supercross Live
! webcast at
www.supercrossonline.com
.
The NPG promoters and MX Sports are also meeting in San Francisco, as our annual get-together has been moved up the coast from Anaheim for a change of scenery. There are quite a few items on the docket, which you will be hearing about as the Lucas Oil AMA Motocross Championship evolves…. Thanks to Feld Motor Sports and our friends who run the Monster Energy AMA Supercross Championship for rolling out the red carpet for their fellow promoters.
I also had a chance to go down to Daytona Beach on Monday to check on AMA Pro Racing and the upcoming
Ricky Carmichael
Amateur Supercross Championship at Daytona International Speedway. RC is super-pumped to play a part in this program, because even though he's climbing the ladder in NASCAR right now, he's always going to have a boot in motocross. In fact, I think you will see the GOAT's footprint grow even more as his business plans begin rolling out in the next couple of years. He may be racing with two more wheels, but it's dirt bike racing where he was raised and where he is always welcome. For more info on the race, check out
www.mxsports.com
and head over to the amateur side.
Speaking of RC, the
Ricky Carmichael
Supercross University, which will take place on the Monday after the Daytona Supercross By Honda (Saturday night) and the Amateur Championship (Sunday) just welcomed a new AMA Supercross champion and Daytona Supercross winner to its faculty:
Jeff Emig
! Fro will be on hand to do the live race call for Speed on Saturday night, watch some of his top young
Fox Racing
riders on Sunday, and then help RC with the 100 lucky attendees of this debut school. Read the official press release
here
.
Ricky wants me there, but he's still mad about the fact that I beat him the last time we raced together," joked Emig, referring to the 1999 U.S. Open. "Seriously, I look forward to not only working alongside Ricky in this new program, but also with all riders young and old who will be spending the day with us at such a prestigious racing facility as Daytona International Speedway."
Back to Anaheim 2. Was it just me or were there some bizarre crashes out there? Title contender
Ryan Morais
got clocked when he was landed on in a rhythm section, and then
Gautier Paulin
, the visiting French rider who will likely move here full time for 2011, got himself off his line in the whoops and went down so hard it spooked the rider behind him into crashing as well.
"
James Stewart
did not crash, but he was not riding at 100 percent either. He explained some of that in another one of those straight-to-video interviews he likes to pull together for the fans, which you can see right here. To me, it's obvious that his wrist is jacked, and a few times it looked like he could barely steer the bike, especially through the whoops and when he came out of the corner after the finish line. But you know how sometimes brag that they could beat you with one arm tied behind their back? Stewart got third.
Finally, I want to mention something about
Ryan Dungey
. We started making the comparison of RD2 to Jeff Stanton last summer as he was battling
Chris Pourcel
(in the role of Jean-Michel Bayle) to the '09 AMA 250cc Motocross Championship. I think we all knew Ryan was going to be fast on the 450, but he just looks so strong and smart out there, and he's emerging at the perfect time: Stewart and Villopoto are not up to speed, Reed and Grant are out. But this kid has been on his own tack ever since he turned pro straight from the B class back in 2005, when Roger DeCoster saw something in him that few others did. Now we all see it, and it's impressive. Good for Ryan and his family, and good for Roger and Rockstar/Makita Suzuki!
Here's another cool thing that happened last weekend, and it involved
JMB
and his old boss at American Honda,
DeCoster
, plus more motocross champions than you could squeeze into the Hall of Fame. It was the introduction of Riders F1rst, a new foundation organized by
David Bailey
and the gang at One Industries. The event was held at Oakley Headquarters in Irvine, and it brought out some of the biggest stars in the history of motocross: Bailey and Bayle, plus The Man, his old Suzuki teammate
Sylvain Geboers
, multi-time world champs
Eric Geboers
and
Sebastien Tortelli
, six-time AMA Motocross champ
Broc Glover
, AMA Supercross Champions
Johnny O'Mara
and
Mike Bell
, 2005 AMA Motocross Lites champ
Ivan Tedesco
, two-time Lites SX champion
Ernesto Fonseca
, X Games gold medalist
Nate Adams
, and of course David's father, "The Professor" himself,
Gary Bailey
. And then some rising stars like
Jake
and
Matt Moss
,
Tommy Hahn
,
Blake Baggett
,
Hunter Hewitt
, car-racing wunderkind
Ricky James
and more. If you want to see more from the great party Oakley threw, check out
this film
by
Racer X
's own
Matt Francis
.
And if you want to see an even more comprehensive film, pulled together by
Chris Williams
, and including some stunning race footage and photos of David Bailey once upon a time, check this out:
ONE Industries Presents - RIDERS F1RST Featuring David Bailey from ONE Industries on Vimeo.

This foundation, which is meant to help riders in dire need of immediate financial help—David brought up the fact that Chase Borders, a young rider from Alabama who was terribly injured a few years back, lacks the money to get his tracheotomy tube taken out—and it's being financed by the 300 sets of Bailey gear made by One Industries, with every single dime in sales going to Riders F1rst to get it up and running. Marc Blanchard, Danny Dobey, Neil Calvesbert, Russ Koza and the whole gang at One Industries put a great deal into this and deserve some kind of medal for helping David Bailey once again lead the way for others. The gear will be available next month, though ten special sets were auctioned off at the event, with a high bid on one autographed set going for $10,000!

Okay, with that, it's time to land, find the hotel, and then get ready for this big meeting. Let me throw it over to the other guys to see what they have as, in the immortal words of Terry Boyd, "Are you ready for supercross?!"

Here's Ping:

I just want to give the Dirt Wurx guys a big hug. What they pulled off last weekend was amazing, and not only did it save the racing but it also saved race bikes from being completely destroyed by mud. Can we get lucky again this weekend? There's a pretty good chance of rain Friday night and a slight chance all day on Saturday in the Bay Area.

Wil Hahn got on the podium this weekend. Just wanted to mention the little guy since he's having such a great series so far. Plus he gets to shave that ridiculous trailer-park facial hair off, which is terrific for everyone that has to look at him. He is working really hard and I'm stoked that his effort is paying off.


Jason Lawrence
story: He comes up to me after the race, puts his arm around me, and congratulates me on the night's results. He seemed genuine and sincere about it - nothing like the
Jason Lawrence
of a year ago. Then he asks where Wil is, so I point him to the trailer and he ducks inside. He jumps out a few minutes later and takes off. Then Wil comes out and says, "Wow, that was weird. Lawrence just came in and told me good job and was being really cool."
I thought they were buddies, but Wil said they have never really talked that much before. Then I talk to
Randy Lawrence
on Monday and he says he started working with Jason and he believes Jason is really turning things around. Their plan right now is to return to racing in San Diego and continue from there. Those two could make a very good team, and if the way he was on Saturday is any indication, he's a very different kid than he used to be.
Ben Townley was here last weekend doing some early testing for the 2010 motocross season. If you missed his interview with Simon Cudby, you can check it out right here. He is healthy and very happy to be back on a bike again. His focus and determination is amazing, and the plan he has to return to racing is very calculated. After another week of testing here in March, Ben will head to Italy to race the first two GPs for Martin Honda (Europe's factory Honda effort and
Jimmy Albertson
's new home). Then he'll head to Belgium for a regional race and the third GP of the season at the end of April. After that he flies back to California to put the finishing touches on bike preparation for
Hangtown
.
"The races in Europe will be great for me because it has been a while since I've raced at that very top level," explains Ben. "By the time I get back here to the States I should have a good fitness level and with nine separate gate drops under my belt I should have the rust knocked off and be ready for
Hangtown
."
Supercross is great, but I can't wait for May 22.
Check this out:
Troy Lee
wanted to do something to help the relief effort in Haiti. He came up with this
custom gear and helmet
for the team riders this weekend that will be auctioned off on eBay after the race. This obviously isn't the finished product, but you get the idea. The stuff looks really cool, and it is for a great cause. Look for more information to be posted about the auction the first part of next week.
You want a nice kid to cheer for?
Travis Baker
has been quietly putting together a solid rookie season so far in the West Coast 250 class. His ninth last weekend at Anaheim was his first top-ten and another week of improvement. Travis looks more comfortable on a supercross track than a lot of guys that have been doing it for years. Keep an eye on #585.
Here's
Bad Billy
:
Looking ahead to next week, make sure you check out our Smith Optics Track Walk of the San Diego SX on Tuesday, as we were able to track down one of the most successful riders ever inside Qualcomm Stadium:
Chad Reed
. It wasn't too tough tracking down the two-time SX champ. "I'm just sitting on the couch watching Ellen," he said. "It's awesome."
All kidding aside, Reed doesn't really have an exact date when he'll be back on track. "Right now it's not a matter of being healthy with my hand; more than anything, I'm just trying to get healthy from head to toe, just ironing out my stomach issues I had from last year. I just want to come back healthy and strong and be in a position to win races, and ultimately—which is the first time in my career that I'm saying this—the goal is to look forward to the nationals; that's a priority right now. I've been taken out of the supercross championship, obviously, and this is the first time ever for me that I haven't had a shot at the supercross title, so it's pretty difficult.
"It was tough," Reed said when we asked what it was like not being at the race last Saturday night. "I was doing really good and wasn't bothered by not being at the races, but my body just knew it was time to get ready for the race, and I looked at the clock and it was right around 10:30, which is opening ceremonies over on the West Coast, so I kind of shed a little tear and got a bit emotional about it."
Good news for all of you Reed fans, though: he plans on attending the race next weekend. "I will be at San Diego. That'll be three weeks for me since I got hurt, so I'm going to see my doctor in California to get a check up and I'll check out the race while I'm in town."
Here's Weege:
John "Southwick" Dowd
is joining me in the announcer's booth for the second straight year, and as always, the racing is crazy. At one race in Michigan, defending AX champ
Jeff Gibson
crashes in the whoops, picks his bike up, and accidentally launches it over a berm, only to have the bike bounce 180 degrees off a railing and fall right back onto the track, pointed in the right direction, upright and still running. Only in arenacross! But that's about the only luck Gibson has had this year, as he's suffering from the same #1 plate jinx that seems to hit the AX champ each season. Meanwhile,
Tyler Bowers
is crushing it early on.
Working with Dowd is awesome. This morning he told me, jokingly, that his whole life is about August 28 –
Southwick
- and he will train to peak specifically for that day. As well as
Southwick
went for him last year, he admits he hadn't been training much, and when an opportunity to win fell in his lap (
Chad Reed
crashed out), he could only hammer for a few more laps before being completely tired. John didn't expect to have a shot at winning, but now he kind of regrets not being in a little bit better shape—although he doesn't want to take anything away from
Matt Goerke
's awesome run, either.
I'm constantly bending John's ear for more stories from his factory days. Most of his tales go like this: "I would be training as hard as I could all day every day, riding and riding and riding all day, and then McGrath and Windham would just show up at the track in the afternoon and totally kill me anyway! That always frustrated me so bad!"
For the full Arenacross TV Schedule,
look here
.
Congrats to
Nick Wey
on garnering a spot on Monster Energy Kawasaki while
Chad Reed
sits out. This replacement rider thing has become a cool new addition to the sport - go back into the '90s and bikes just sat idle when riders were injured.
Michael Byrne
already turned in a much-improved performance at A2 after riding his new Muscle Milk/Toyota Yamaha (JGR) for just two days before the event. Imagine what he'll do this weekend.
And I really shouldn't take up any more space here since I already burned the contacts out of my eyes finishing up Racer X ReduX on Tuesday.
Check it out
.
Now on to San Francisco, home of
Bevo Forti
's favorite 24-hour Mexican restaurant. If you can find the place, come join us there for some bench racing at about 2 a.m. on Sunday.
Here's
Cox
:
I've gotten some instant messages and emails over the past couple of weeks in regard to the videos we've had on the site featuring interviews of
James Stewart
. I've heard everything from "That was good!" (minority, I admit) to things much, much, much worse. People want to know why they were such "softball" questions, why the grammar was so bad in the last one, and why the video quality was so poor, to name a few things. I know it wasn't stated predominantly, but those videos were products of the race team.
James Stewart
did not talk to any media members and hasn't, as far as I know, since before Phoenix.
Eric Sorby
went and got the Escalade, backed it up next to the motor home, and Stewart stepped out of the motor home and into the car, dodging everyone who was waiting.
There are two reasons for me bringing this up: 1) I have personally watched Stewart sign autographs into the early morning at races in the past, so this isn't necessarily typical behavior from him; and 2) Our job as media is to be impartial and do the reporting from the races in such a fashion. It's as important in motocross media as it is in politics. When it comes to controversy, the media cannot have a bias. If it does, it skews everything. So this is not acceptable for racers to ignore endemic press that quite literally had nothing against them, because what we end up with are vast speculation and wild rumors instead of facts, and many times the speculation and rumors are much, much, much worse.
As
Joe Friday
never actually said: "Just the facts, ma'am." That's all we want. And the only way to have even an iota of a chance of getting them is to talk to the riders ourselves and not rely on PR to do the work for us.
That's about all I have to say, except one thing, which is that the TLD/Lucas Oil Honda team might not get the credit it deserves around here because the team manager, David Pingree, is a
Racer X
guy, so when he says things about his team or his riders, people might assume that he's biased. And he is.
But I'm not. And David Pingree's team is doing fantastically this year. They are as solid as any team out there, and with two riders no one wanted otherwise.
Good on ya, Ping. Nice work. I always knew you were more than just a dopey racer.
In other news:

Jason Ellis
,
Greg Albertyn
,
David Vuillemin
, former Kawasaki man-turned-Monster man
Bruce Stjernstrom
and more from Anaheim 1 and Anaheim 2. This weekend in San Francisco, Thor will be hosting the third edition of the supercross pits' newest sensation. In case you missed Thor TV from Anaheim 2, be sure to check out
www.thormx.com
to see the expanded coverage.
Also, look for our own
Erin Normoyle
moving about the pits this weekend as she does interviews with the Racer X Supercross Show's new video editor, Matt Francis. Erin has been doing some fashion shoot recently in between motos and, um, well, wow!
Our old colleague Steve Matthes continues to get interesting reader mail that he shares with us. Like this:
Steve,
I was just wondering why the point leader riders like Dungey (450) and Weimer (250) are not carrying the red number plate. I thought the current point leaders were supposed to run those. Didn't they do that last year? Thanx for any info you may provide.
Sergio


The answer, as supercross series director
Dave Prater
explained, was that the rule for giving the points leader the red plate rather than just the series champion running it is only an AMA Motocross rule and not AMA Supercross.
One of the Americans who will be racing overseas in 2010 is Missouri's
Jimmy Albertson
. Jimmy moved to Spain earlier this month, and he recently told us that so far, things are going great. "I'm really enjoying Spain," said Albertson, who is signed with Martin Honda. "My first race is this weekend over and I'm very excited. The new bike and the team is great!" Good luck, Jimmy!
In addition to Albertson riding over in Spain
, PJ Larsen
is racing in Australia for 2010. Matt Francis met up with PJ at Cahuilla Creek for
this video
.
Letter of the Week:
Hi Racer X
,
It's about time you found out what really happened at Phoenix.
Dean Druce
North Nowra NSW
Australia
Reader Doug Anthony sent us this:
I'm starting a program through a group at my college that is going to help troubled kids stay out of trouble by taking them to the track on weekends and introducing them to our great sport. Our intention is to keep kids out of trouble by giving them something to work for, give them something that they want that is fun and can keep them off the streets. It's a new program and a new group. I have been racing for sixteen years and feel that it's time to give back and to introduce some new people to racing.

I'm asking for your support in our endeavor; not financial, but maybe you guys could get the word out and maybe get us some gear for these kids so we can take them out. Check out our Facebook page here.

Yesterday we ran some
Racer X Flash Trivia
, asking you to identify the rider and the year in a particular photo. Well, it wasn't easy. In fact, we were going to award Motocross Files DeCoster DVDs to five winners, but we only got four! The following readers correctly identified the rider as being Saginaw, Michigan's
Jeff Curry
in 1995:
Mike Treadwell, Broc Burgez
,
Tyler Purdy
, and
Dave Korte
. Thanks to all who participated.
Okay, thanks for reading Racerhead, and we'll see you at the races.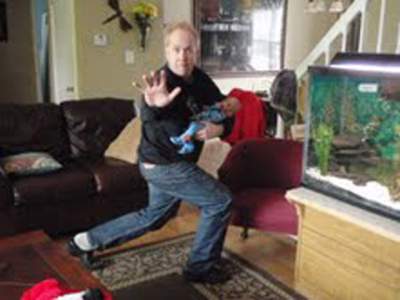 Pat Schutte and his new son Calvin gave us the Heisman!