MSR'S Kevin Windham on the box at A1
January 11, 2010
Corona, CA – Entering his 16th season on the professional circuit, MSR's
Kevin Windham
was able to put his GEICO Powersports Honda on the podium for the 64th time in his career. Donning the 2010 MSR Rider Inspired gear, the veteran edged out one of the most talented fields to date for the final spot on the box.
Windham is notorious for his effortless riding style, but the end result Saturday night was anything but easy. The near capacity crowd and live television cameras looked on as he worked from outside the top five to make his move on third place late in the race. After the third spot was secured Windham was able to distance himself from the pack, making a statement that he is 100% focused this season.
Kevin was ecstatic with his performance and judging by the amount of fans waiting at his team hauler after the event, so were his loyal followers. He greeted fans late in to the night before departing the then empty paddock with his sights already set on bettering his finish next weekend in Phoenix.
Windham acquired 20 valuable points towards his run at the AMA/FIM Monster Energy Supercross Title. He currently sits in 3rd place, 5 points behind the leader.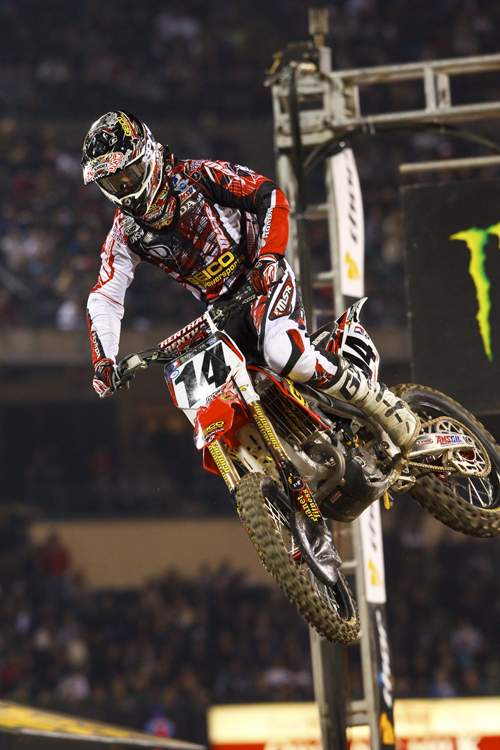 About MSR
MSR was founded in 1971 by motorcycle racing legend Malcolm Smith. What started off as a small accessory business importing throttle and brake cables is now an industry leading motorcycle apparel and hard parts manufacturer. MSR offers a complete line of riding gear, covering the motocross and off-road rider from head to toe with innovative designs and second to none performance. MSRHP is constantly progressing its line of revolutionary hard parts that make your bike perform better, last longer and look more stylish.
MSR utilizes exceptional distribution through Tucker Rocky and a continued focus on producing quality products to satisfy its thousands of loyal dealers and customers. From a first time rider to supercross star
Kevin Windham
, MSR is committed to providing you with a superior product.
MSR - One Brand Fits All