SX Notes Package: Salt Lake City
AMA Supercross Class Stats in Salt Lake City

The first race was held April 28th, 2001, and Ricky Carmichael won on a Kawasaki
From 2001-2004, Salt Lake hosted an AMA Supercross race
This is the fifth time the gate will drop for an AMA Supercross race in Salt Lake City
Ivan Tedesco or James Stewart become the first rider in history to win in Salt Lake City in both classes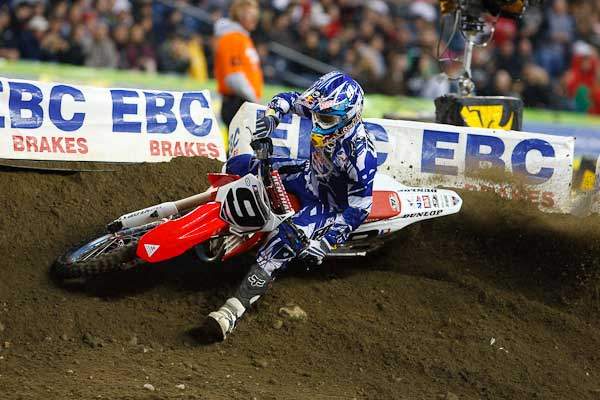 Ivan Tedesco won the Lites class main event at Rice-Eccles in 2004
Photo Credit: Brian Robinette

AMA Supercross Class Wins by Brand in Salt lake City
Honda (2)
Yamaha (2)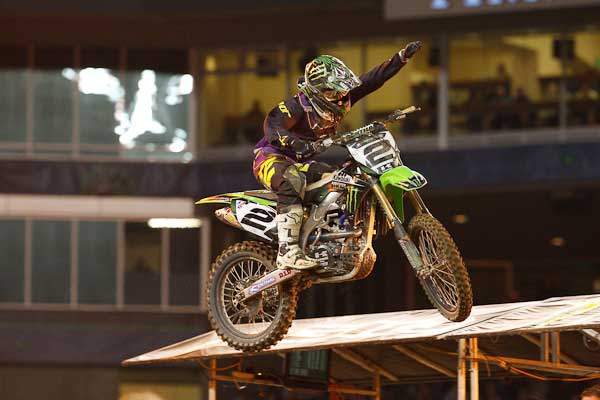 Ryan Villopoto became the first rider in AMA Supercross class racing to beat James Stewart in a race where he did not crash
Photo Credit: Brian Robinette
AMA Supercross Class Notables from Seattle
Ryan Villopoto earned his first AMA Supercross career win. He is the second first-time winner in the 2009 season and became the 52nd rider to win an AMA Supercross main event.
Villopoto's win marked Kawasaki's first win since the second race of the 2008 season when Stewart won Phoenix.
Villopoto became the 10th different rider to win his first AMA Supercross class race on a Kawasaki
Andrew Short finished fifth, giving him his 10th top-five finish and his 14th top-10 finish. Short is third in points.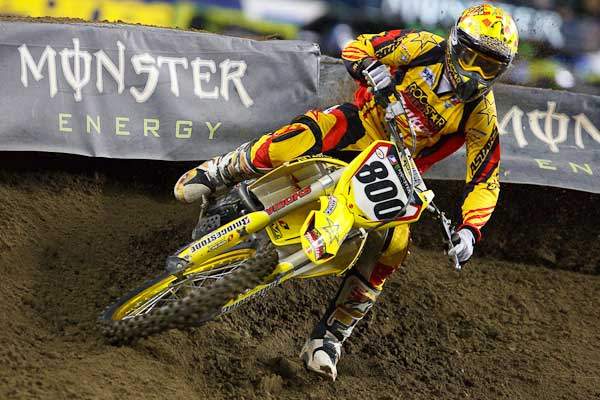 Mike Alessi continues to pick up solid starts
Photo Credit: Brian Robinette
Chad Reed finished off the podium for the first time this year with a seventh
Kawasaki, Yamaha, and Suzuki have now won an AMA Supercross race this season
Since 1974, Kawasaki has only had nine winless seasons
Villopoto is the first local rider to win in Seattle since Larry Ward.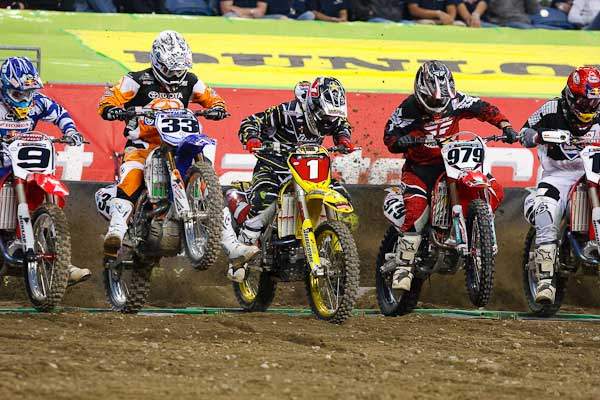 Chad Reed crashed in the first turn of the main event and started in 19th place in Seattle
Photo Credit: Brian Robinette
AMA Supercross Lites Class Stats in Salt Lake City
The first race was held April 28, 2001, and Ernesto Fonseca won on a Yamaha.
This will be the fifth time the gate will drop for an AMA Supercross Lites race in Salt Lake City

AMA Supercross Lites Class Wins by Brand in Salt Lake City
Kawasaki (3)
Yamaha (1)

AMA Supercross Lites Notables from Seattle
Ryan Dungey earned his fourth win of the season and is headed into the last race with a nine-point lead over Jake Weimer.
Can Suzuki win a West coast title for the first time since Damon Huffman did in 1995 (13 years ago)?
AMA Supercross Laps Led
James Stewart 186
Chad Reed 48
Josh Grant 17
Ryan Villopoto 16
Jason Lawrence 14
Kevin Windham 11
Mike Alessi 9
AMA Supercross Lites Class Laps Led
Ryan Dungey 51
Christophe Pourcel 48
Jake Weimer 42
Austin Stroupe 37
Blake Wharton 16
Martin Davalos 10
Wil A. Hahn 9
Justin D. Brayton 7
Ryan Morais 4
Daniel Reardon 2
Matthew Lemoine 1
Holeshot Award (AMA Supercross Class)
Mike Alessi (Toronto)
Mike Alessi (Jacksonville)
Mike Alessi (Seattle)
Holeshot Award (AMA Supercross Lites Class)
Brent Presnell (Seattle)
US Smokeless Tobacco Company Pro Privateer Challenge
1. Heath Voss 95 Points
2. Matt Boni 90 Points
3. Nick Wey 80 Points
Asterisk Medic Card

Mike Sleeter (Seattle)
Racer X Gas Card

Nathan Ramsey (Seattle)
AMA Supercross Class Results, Seattle
Ryan Villopoto, Poulsbo, Wash. Kawasaki
James Stewart, Haines City, Fla., Yamaha
Davi Millsaps, Tallahassee, Fla., Honda
Mike Alessi, Victorville, Calif., Suzuki
Andrew Short, Smithville, Texas, Honda
Josh Grant, Riverside, Calif., Yamaha
Chad Reed, Tampa, Fla., Suzuki
Paul Carpenter, Ithaca, N.Y., Kawasaki
Ivan Tedesco, Tallahassee,, Fla., Honda
Kevin Windham, Centreville, Miss., Honda
AMA Supercross Class Season Standings
James Stewart, Haines City, Fla., Yamaha, 332
Chad Reed, Tampa, Fla., Suzuki, 329
Andrew Short, Smithville, Texas, Honda, 241
Josh Grant, Riverside, Calif., Yamaha, 208
Kevin Windham, Centerville, Miss., Honda, 204
Mike Alessi, Apple Valley, Calif., Suzuki, 203

Ivan Tedesco, Tallahassee, Fla., Honda, 199

Ryan Villopoto, Poulsbo, Wash., Kawasaki, 190
Davi Millsaps, Tallahassee, Fla., Honda, 188
Josh Hill, Murrieta, Calif., Yamaha, 146
Western Regional AMA Supercross Lites Class Results, Seattle
Ryan Dungey, Belle Plaine, Minn., Suzuki
Ryan Morais, Murrieta, Calif., Kawasaki
Trey Canard, Shawnee, Okla., Honda
Jake Weimer, Rupert, Idaho, Kawasaki
Jake Moss, Temecula, Calif., Honda
Jimmy Albertson, Ozark, Mo., Honda
Kyle Cunningham, Fort Worth, Texas, Kawasaki
Chris Blose, Phoenix, Ariz., Honda
Michael Hall, Murrieta, Calif., Yamaha
Jeff Alessi, Victorville, Calif., Honda
Western Regional AMA Supercross Lites Class Season Standings
Ryan Dungey, Belle Plaine, Minn., Suzuki, 160
Jake Weimer, Rupert, Idaho, Kawasaki, 151
Ryan Morais, Murrieta, Calif., Kawasaki, 146
Justin Brayton, Murrieta, Calif., KTM, 103
Chris Blose, Phoenix, Ariz., Honda, 95
Ryan Sipes, Vine Grove, Ky., KTM, 89
Trey Canard, Shawnee, Okla., Honda, 74
Dan Reardon, Menifee, Calif., Honda, 67
Jeff Alessi, Victorville, Calif., Honda, 62
P.J. Larsen, Stanley, N.C., Kawasaki, 61