Toyota/Racer X Power Rankings: Week 8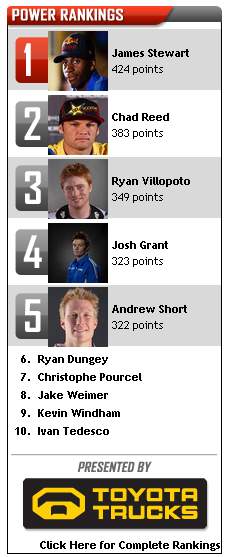 1.
JS:
Seven straight for number seven. Need we say more?
2.
CR22:
Desperately needs a win, but has everyone else covered.
3.
RV:
Another podium solidifies third-place in the rankings.
4.
JG:
Though he crashed in Atlanta, his lap times helped move him up to fourth.
5.
Shorty:
Has shown consistency, but nothing more to move him any higher.
6.
RD:
Being idle dropped him from fourth to sixth.
7.
Christophe Pourcel:
Though he was handed in the win in Altanta, our voters moved him up four spots. Has a stranglehold on the Eastern Regional Lites Series.
8.
Weimer:
Like Dungey, being idle dropped Weimer two positions.
9.
K-Dub:
Windham stays status quo.
10.
IT9:
No change for Hot Sauce.
11.
Millsaps:
Moves up one position after a less-than-stellar performance.
12.
Izzi:
One of the big movers, his second runner-up finish helped him jump seven spots. Izzi needs a win.
13.
Stroupe:
What looked to be a sure win ended after stalling. Moves up five spots, but it should've been a lot more.
14.
Morais:
Being idle dropped him six spots.
15.
Ferry:
Lost one position. Nothing really to speak of.
16.
Mike Alessi:
No change. Here's hoping Mike can stay healthy.
17.
Brayton:
Another Western Regional Lites rider who lost ground. 18.
Canard:
Lost three spots and sits 18th.
19.
Hepler:
Breaks into the top 25 for the first time this season. Fifth in Atlanta helped him a lot. Should be a steady mover in the coming weeks.
20.
Wharton:
Welcome to the top 25, Blake!
21.
Metty:
A DNR in ATL dropped Brett. Too bad for a title contender.
22.
Hill:
No change for the Yamaha rider. Each weeks he should improve.
23.
Davalos:
An Atlanta podium pushed Martin into 23rd.
24.
Sipes:
Slips from 21st.
25.
Blose:
TLD Honda rider clinging on to the top 25.