Monster Energy® Supercross Anaheim 3 Notes
AMA Supercross Class Stats in Anaheim
First race held at Angel Stadium was December 4, 1976 and Marty Smith won on a Honda
This race marks the 51st time the gate will drop for an AMA Supercross class race in Anaheim
Since 2001 Anaheim has hosted 3 rounds of AMA Supercross and holds the record for most AMA Supercross races held
Chad Reed will be going for his 7th win in Anaheim
In 2002, Ricky Carmichael finished 21st at round 1 and fought back to win the Supercross championship. That had never been done before.
In 1997, Jeff Emig finished 6th, in 1999 Jeremy McGrath finished 7th in round 1. Both riders would come back to win that championship.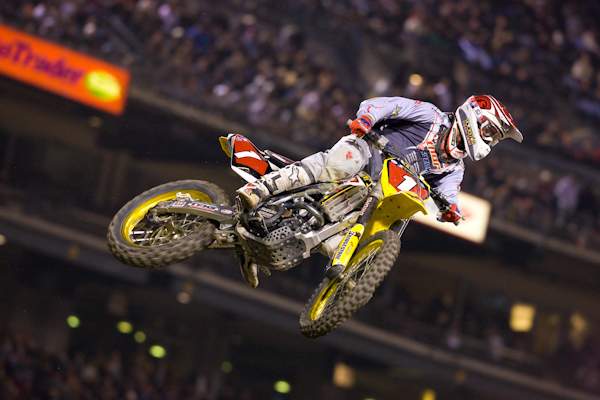 Chad Reed and James Stewart are the only riders to sweep Anaheim since the venue began hosting 3 races
Photo Credit: Simon Cudby
AMA Supercross Class Wins by Brand in Anaheim
Honda (19)
Yamaha(17)
Kawasaki(7)
Suzuki (6)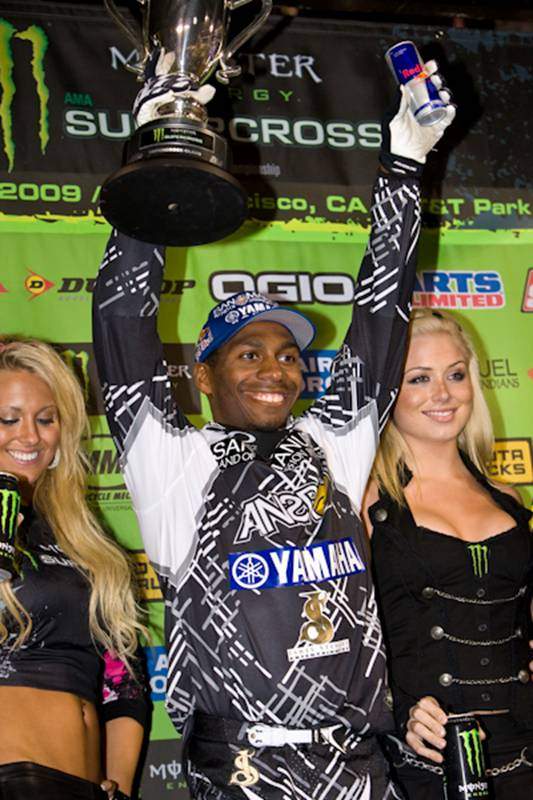 After Anaheim 1, James Stewart finished 19th and was 23 points back and has now climbed back to 2nd place in the points, 6 behind Chad Reed
Photo Credit: Simon Cudby
First-Time Winners in Anaheim
1979, Kent Howerton (1979)
1982, Donnie Hansen (1982)
1983, David Bailey (1983)
1984, Johnny O'Mara (1984)
1990, Damon Bradshaw (1990)
1993, Jeremy McGrath (1983)
2003, Chad Reed (2003)
2009, Josh Grant (2009)

AMA Supercross Class Notables from San Francisco
James Stewart earned his 29th AMA Supercross career win. He is now 4th on the all-time AMA Supercross win list.
Chad Reed is 3rd on the all-time AMA Supercross win list with 35 wins. Chad Reed earned the 91st podium finish of his career .
Yamaha has 5 consecutive wins to open the season for the second time in the history of AMA Supercross
In 2000 Yamaha opened the season with 8 consecutive wins.
Josh Grant remains in the top 5 for the 5th straight week
Chad Reed has won at least one AMA Supercross race for 6 consecutive seasons. Three of those seasons he did it before the seventh race of the season
Can Yamaha sweep Anaheim?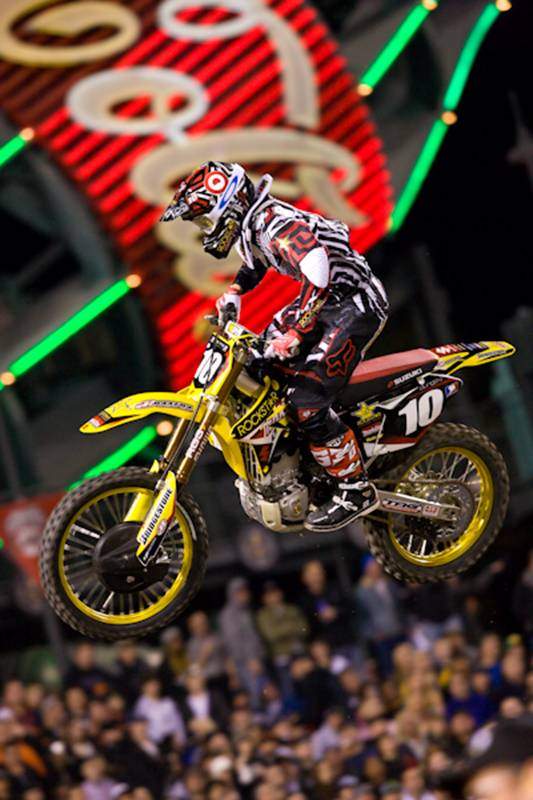 Western Regional AMA Supercross Lites Class Points Leader Ryan Dungey has Led 21 main event laps this year
Photo Credit: Simon Cudby
AMA Supercross Lites Class Stats
First race at Angel Stadium was on February 2, 1985 and Mike Healy won on a Suzuki
This will be the 42nd time the gate will drop for an AMA Supercross Lites race in Anaheim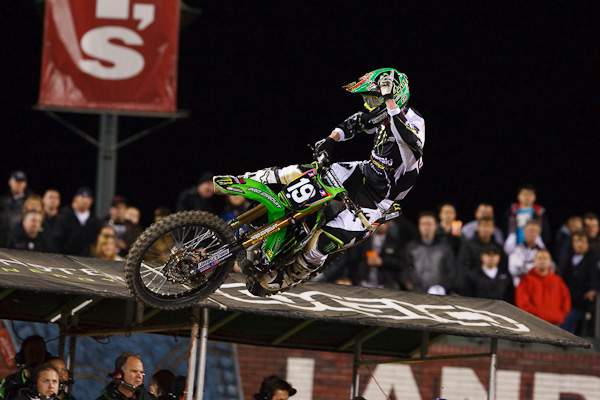 Jake Weimer, who has two wins on the Season, has led 34 Main Event Laps
Photo Credit: Brian Robinette
AMA Supercross Lites Wins by Brand in Anaheim
Kawasaki (18)
Suzuki (8)
Honda (6)
Yamaha (6)
KTM (3)
AMA Supercross Lites Notables from San Francisco
Jake Weimer earned his 2nd win of the season
After 4 Western Regional AMA Supercross Lites class races, only 2 riders have won the main event
There are 2 races to go in the Western Regional AMA Supercross Lites class before a seven-week break
AMA Supercross Laps Led
James Stewart 67
Josh Grant 14
Kevin Windham 11
Chad Reed 5
Ryan Villopoto 3
AMA Supercross Lites Class Laps Led
Jake Weimer 34
Ryan Dungey 21
Christophe Pourcel 15
Ryan Morais 4
Daniel Reardon 2
Holeshot Award (AMA Supercross Class)
James Stewart (Anaheim 1)
Josh Grant (Phoenix)
Mike Alessi (Anaheim 2)
Mike Alessi (Houston)
James Stewart (San Francisco)
Holeshot Award (AMA Supercross Lites Class)
Daniel Reardon (Anaheim 1)
Jake Weimer (Phoenix)
Ryan Morais (Anaheim 2)
Christophe Pourcel (Houston)
Jake Weimer (San Francisco)
MMI Top Tech Award
Mark Valcore (Anaheim 1)
Rich Simmons (Phoenix)
Mike Gosselaar (Anaheim 2)
Glenn Hobson (Houston)
Jon Mitcheff (San Francisco)
US Smokeless Tobacco Company Pro Privateer Challenge
1. Heath Voss 14
2. Ben Coisy 13
3. Paul Carpenter 11
Asterisk Medic Card
Cole Seely (Anaheim 1)
Derek Costella (Phoenix)
Alex Martin (Anaheim 2)
Fred Karrle (Houston)
Michael Hall (San Francisco)
Racer X Gas Card
Jacob Marsack (Anaheim 1)
Sean Hamblin (Phoenix)
Josh Summey (Anaheim 2)
Ben Lamay (Houston)
Nicholas A. Wey (San Francisco)
AMA Supercross Class Results, San Francisco
AMA Supercross Class Season Standings
Western Regional AMA Supercross Lites Class Results, San Francisco
Jake Weimer, Rupert, Idaho, Kawasaki
Ryan Dungey, Belle Plaine, Minn., Suzuki
Trey Canard, Shawnee, Okla., Honda
Justin Brayton, Murrieta, Calif., KTM
Ryan Morais, Murrieta, Calif., Kawasaki
Ryan Sipes, Vine Grove, Ken., KTM
Dan Reardon, Menifee, Calif., Honda
Kyle Cunningham, Fort Worth, Texas, Kawasaki
PJ Larsen, Stanley, N.C., Kawasaki

Eric McCrummen, Oakley, Calif., Honda
Western Regional AMA Supercross Lites Class Season Standings
Ryan Dungey, Belle Plaine, Minn., Suzuki, 92
Jake Weimer, Rupert, Idaho, Kawasaki, 88
Ryan Morais, Murrieta, Calif., Kawasaki, 80
Justin Brayton, Murrieta, Calif., KTM, 68
Chris Blose, Phoenix, Ariz., Honda, 56
Ryan Sipes, Vine Grove, Ken., KTM, 54
Dan Reardon, Menifee, Calif., Honda, 42

PJ Larsen, Stanley, N.C., Kawasaki, 38
Jason Lawrence, Carlsbad, Calif., Yamaha, 34
Ben Evans, Boise, Idaho, Honda, 31
Eastern Regional AMA Supercross Lites Class Season Standings
1. Christophe Pourcel, Corona, Calif., Kawasaki, 25
2. Brett Metcalfe, Lake Elsinore, Calif., Honda, 22
3. Nico Izzi, Murrieta, Calif., Suzuki, 20
4. Austin Stroupe, Lincolnton, N.C., Kawasaki, 18
5. Blake Wharton, Pilot Point, Texas, Honda, 16
6. Wil Hahn, Decatur, Texas, KTM, 15
7. Martin Davalos, Cairo, Ga., KTM, 14
8. Darryn Durham, Wildomar, Calif., Yamaha, 13
9. Daniel Blair, Modesto, Calif., Honda, 12
10. Matthew Goerke, Lake Helen, Fla., Suzuki, 11