Between the Motos: Jeff Alessi
We received an email earlier this week about Jeff Alessi. This half of the famous racing brothers duo was basically going to be out of a job after the Colorado round of the series, due to lack of funds - this despite Jeff having his best season ever and a great season for a privateer by anyone's standards. Jeff has made himself a fixture inside the top ten this summer and, sadly, he might not race another round after the Thunder Valley National. We called him as he was getting his shoulder worked on at his chiropractor's office, the result of a High Point crash last weekend.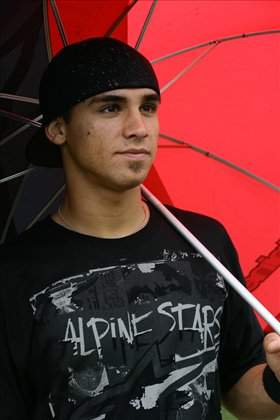 photo: Matt Ware

Racer X: You've had a great outdoor season so far. I think you've surprised a lot of people by running in the top ten so consistently.
Jeff Alessi: Yeah, I've just been working hard. My goal has been to score points in every moto. When I have something go wrong, I try to get up and get back to a good spot inside the top fifteen. I want to go out there and do the best I can do.
Your program seems to work well with your dad overseeing motos with you and Mike.
We ride twice a week now, and it's good for both of us. I think in practice I put out a little more than at the races because I'm not worried about crashing and losing spots. I'm a little more cautious as the race. So Michael benefits from it too, because our speed is pretty even and we push each other.
What happened at High Point?
I'm not really sure. I landed on my head pretty hard. Lamson and Wey and a few guys were standing there, and they said that I hit a rut at the bottom of the hill before the big double and my left foot got torn off the bike. I guess I was pulled off the right side of the bike and I got whiskey throttle off the lip. I remember being straight up and down in the air with the bike totally sideways. It was crazy. I was pretty dazed when it was over. I guess I was sitting there just staring at my bike after it happened for, like, fifteen seconds. Maybe I was patting myself down to see if I was okay. I've been really lucky this year, or maybe it isn't luck, but I can take big crashes like that and not get hurt. I mean, I have a really slight shoulder separation but it's no big deal. I'll be 100 percent before the next round. It's good to know you can take crashes like that, especially when you have to push to get by someone. Last weekend I was coming up on Tedesco for seventh, and I was pretty confident that I could get by. I know he's had a tough season so far and he probably isn't riding at 100 percent, but I am. I had a good pace and I wasn't tired, and I think that would have been my best moto all season.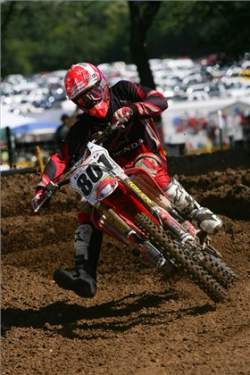 Jeff is currently 11th in points in the AMA Motocross class

photo: Simon Cudby

So what is the deal with the team?
My team in supercross, Bad Boy Energy Drink, was a supercross-only team. I didn't have anything for motocross. I needed a solid program to do well, and we have always known that Allan Brown [Hooters/Moto XXX team manager] does an awesome job. He is the Mitch Payton of the 450 class. He makes the bikes as good or better than the factory bikes. He said we could ride on his team for free, but we had to use his gear and boots. My sponsors would probably have understood, but Alpinestars and Shark have been so good to us over the years, even when I was hurt or whatever, so I just couldn't do it. They have been loyal to me, so I needed to be loyal to them. So he said that we could still pay to be on the team. I thought it might cost around 20 grand or so to do the whole season, but it was closer to 60 grand to get through the summer. So we broke it down to a weekly price, about $5,000, and we went for it. But even racing in the top ten, I'm not even coming close to breaking even. I won't be able to keep going after Colorado, so I am just trying to find something for the rest of the year and down the road.
Do you have any ideas or leads?
I'm just looking for something. It sucks being a privateer. Most riders have had to go through it, and there's a small percentage that get back to a factory team once they lose it. The difference between the guys that made it back and didn't is that the ones that did really wanted it. There are guys out there that don't want it and some that do. I was given a KTM factory ride without earning it. I didn't have to prove myself to be on the team. I didn't have to work for it. It's like when everything is being given to you, you don't respect it. When you work for it and earn it, you respect it. Mike gave me one of his old trucks a couple years ago, and I used to take that thing and beat it in the desert behind our house. The minute I went and bought my own truck with my own money, I really respected it because I worked hard to get that money. So I didn't take advantage of what I had when I rode for KTM. I think I was just too young, but now I know what it means.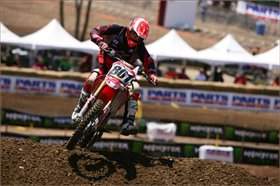 Jeff will be looking for a ride after Thunder Valley

photo: Simon Cudby

Do you have a Plan B for the summer if nothing comes up?
I could probably find some type of help on a lesser bike, but I'd rather not do that. I have a great bike right now, and it is part of why I have been doing well. I don't know. I have offers to go to Europe, but who wants to go to Europe? I mean, I like it over there, but it isn't what I want to do.
Where can someone get in touch with you if they need to?
The best way is to send me an email at ktmj@aol.com.