For the first time ever, the High Point National is not being run on Memorial Day Weekend. Yeah, it feels a little weird, but hey, it's still High Point, and it's being run on Father's Day Weekend instead, which is a very important holiday to almost every motocross racer on the planet. I can still remember my first High Point National, which my dad took me to a long time ago, and ever since that day I've been hooked. Now here I am. Thanks, Dad, and Happy Father's Day to all of you fathers out there.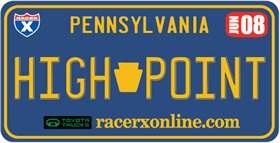 Stop by the Racer X trailer to get your FREE High Point sticker!
It's been a very short week here at
Racer X
.
DC
has been out of the office all week, leaving the website and magazine in our hands. Where has he been? Well, I was lucky enough to get invited up to
High Point
on Wednesday to test out the new track changes with
P.J. Larsen
,
Sean Borkenhagen
and
Darryn and Shane Durham
, and DC was up there pounding stakes, mowing grass and weedwacking—all day long! But aside from some awesome changes to the track, the rest of the facility looks more like Pebble Beach than a motocross track. To see more, check out
this video
put together by
Wes Williams
,
Robb Swiatek
and
Matt Francis
. I think everyone in attendance will be pleasantly surprised when they roll up to Mount Morris for the opening round of the Monster Energy Triple Crown of Motocross. Speaking of,
Jason Weigandt
told me quite possibly the most unknown piece of recent motocross trivia: Do you know who won the Monster Energy Triple Crown of Motocross last year?
Mike Alessi
!
We get a lot of press releases and newsletters each week, but the one we look forward to the most is the Alessi Weekly. Written by Tony Alessi, it's a huge departure from most releases that are sent our way. We noticed something in this week's Weekly that caught our attention: "Stewart again won , and short put in a big effort as did ferry who may have been second fastest guy their this weekend .." (sic).
Mike went 2-2, and his camp is admitting in an official release that Ferry may have been faster? Tony may not have his PR chops down very well, but it's pretty cool that he called it like he saw it.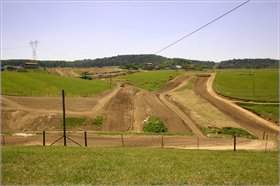 High Point on Wednesday afternoon
photo: Billy Ursic
We really hope to see everyone out at
High Point
this weekend, but if you can't make it, be sure to check out
The Racer X Motocross Show on Motocross.com presented by Toyota Trucks
. You can also tune into the webcast on Sunday on Motocross.com, starring
David Bailey
, who is coming back to
High Point
25 years after he won the 1983 AMA Grand National Championship by sweeping Supercross and 250 Motocross.
Today we're hosting our second annual open house here at the Racer X headquarters, so that's why I want to get Racerhead done early. Steve Matthes is already digging through the photo archive, Steve Cox is chugging a Brawndo Energy Drink on the couch in the lobby, Mike, Jeff, and Tony Alessi just walked in the front door, all while the rest of the Racer X staff is busy cleaning and organizing the office, so let's get to it with Cox:
After the Texas AMA National, I wrote up a couple of Monday Conversations. I decided to focus on second place, which turned out to be both Rockstar/Makita Suzuki riders Mike Alessi and Ryan Dungey. In the press conference after the race, emcee Rob Buydos asked Dungey about whether he was still working with Johnny O'Mara, and the short answer is no. So when I began the interview, I jumped on that, but didn't think about the fact that many outside didn't know that the two had quit working together.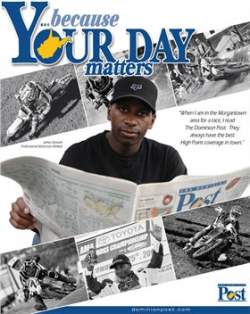 This ad ran in the Dominion Post this week!
This is what Dungey said in the press conference regarding Johnny O: "Working with Johnny, he's got a family, and it's hard to get him out to every race, but as far as working together anymore, no. He feels like he taught me everything he can, and it's hard, because he's busy with his family and all that. To get this far with what he's done for me, it's a lot. But no, we're not working together anymore."
A lot has been made of the heat in Texas, and the heat came down on a couple of Yamaha's star racers before the race, too. Josh Hill and Jason Lawrence got their post-race celebration started a little bit early at Freestone, and Yamaha sent out a press release about it yesterday. Apparently, as Ping will explain in a minute, on Friday night, Lawrence was out jacking around with some buddies and rolled his mechanic's rental car. Then, the big trouble was that Saturday night, both Lawrence and Hill were reportedly together, drunk, in and around the pits, when Hill got a ticket for underage drinking. After all, he's not even 20 yet.
Now, here's the thing: I'm no moralist, and personally, I think the law that says you have to be 21 to drink, yet you can vote and die for your country at 18, is stupid. However, Hill and Lawrence are both really funny, really talented, really intelligent guys, and it's the last part in that which is troubling. They are both smart enough to know not to act out like that. And the thing is, sadly, that we've come to expect some sort of rebellious behavior from Lawrence, and yet he still managed to win an SX title this year. But Hill? I mean, not to make him out to be an angel, but Josh Hill couldn't possibly be a nicer, funnier kid, and his talent is unquestionable. I mean, he won a 450cc supercross this year in Minneapolis. That's a short, exclusive list he's a part of.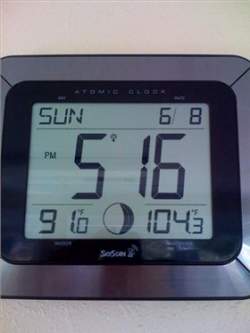 Yes, it was 104.3 degrees in Texas!
photo: DC
Now, I'm not one to think that their behavior is somehow "detrimental to the sport" or anything like that. However, it is highly disrespectful to the people around them. Hill, especially, has an entire team working around just him right now. His teammates
Grant Langston
and
Broc Hepler
are both out right now, and when you're a mechanic, truck driver, team manager, engine guy, suspension guy, etc. – any of the people that make up the necessary personnel to run a factory race effort – and you put in 40+ hours during the week, then travel to the races, bust your butt all day Friday getting things set up, then bust your butt all day Saturday supporting your only rider, only to show up Sunday morning and hear that your rider was out drinking the night BEFORE the race and got busted for underage drinking, how can you not be incredibly angry? I think I would blow a gasket, for sure. The only thing – and I mean
only
thing – that could make up for that if I were one of those guys is if Hilly went out and won the National on Sunday after messing around. But that didn't happen.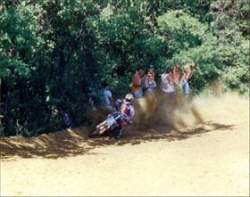 That's Jeff Emig back in the day at High Point
photo: Rob Harris
The other thing that's bothersome about the Hill/Lawrence incident is that, if they were truly drunk Saturday night (which I don't know for sure if they were or not), they couldn't really have been completely sober by early Sunday morning when practice started, so it actually puts the other riders (along with themselves, of course) at additional risk to be riding with impaired riders.
Hopefully, when he said in the Yamaha PR that he learned his lesson, he was telling the truth, and this episode will be lost to the past.
"Captain" Andy Bowyer sent us this:
We get some pretty, ahem, interesting phone calls in MX Sports, but every once in a while we pick up the receiver and find a very cool story on the other end of the line.
The last one I answered just so happened to be Shane Lusk. Younger brother of Ezra Lusk and former amateur standout, Shane suffered a paralyzing spinal injury that almost took his life in 2004. "It was rough there for a while, but I gradually got better and things are going pretty good now," Shane said. "I can walk with a crutch and can drive again so I can go see my brother and family, and I've been able to do more with my track. I'll be going into my senior year at Florida State and should get my bachelor's degree in Biology, then get into medical school."
Check out the website for Shane's track in Bainbridge.
Thanks, Andy.

Oh, if you're going to be at High Point tomorrow, be sure to check out the Parts Unlimited Vintage Bike Show starting at Noon. There will also be a concert tomorrow night as the band Ten Man Push will be performing!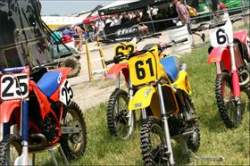 Have a vintage bike you want to show off? Bring it to High Point tomorrow!
photo: Simon Cudby
Here's
Matthes
:
For those of you (hi, Mom!) that were looking for the "Bottom Line" MX show this week, you can call off the search. In what was no doubt an Oscar-winning performance by myself I got to the bottom of the RV to Kawi, Weimer to PC and many other scoops but camera-guy Rob (who's a New Jersey Devils fan, and trust me, it explains a lot) forgot to "dump" the footage and therefore erased it from existence. I guess the clips we got of Bigfoot and the alien encounter I had will never be seen as well. You'll just have to settle for my Observations.

From Ping:
You had to be in shape last weekend if you wanted to be anywhere near the front of the pack. I have an extensive list of torturous things - including sitting in southern California traffic, taking a serious blow to the crotch, kidney stones and any trip to the DMV - but racing a motocross national in hot, humid weather is by far the most treacherous. Ask
Brett Metcalfe
, who completely buckled after the second moto and had to be carried to the Asterisk truck on a gurney. Or ask the twenty-some riders that didn't even finish that second moto. There aren't many things more difficult, physically, than competing in those conditions for that long at that pace. Respect.
Obviously, RV and Stewart were up for the challenge, but there were a few others guys that were impressive in those conditions. One was Jake Weimer. He quietly went 4-4 on the day, showing that he has the speed and fitness to run up front all summer. It probably doesn't hurt that he's been riding with Villopoto for the past few weeks since they share the same trainer, Randy Lawrence. RL seems to have a pretty solid program put together for these two. If Weimer does make the switch to PC next year like he wants to, he could be a title favorite indoors and out.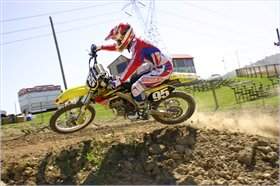 Darryn Durham tested out the new High Point layout on Wednesday.
photo: Kaelyn Sheedy
Speaking of out, and of RL,
Nick Wey
is no longer working with his longtime friend and trainer. Nick said that is nothing personal or anything, he and Randy are still great friends; it just wasn't working out on paper at this point. If you knew what some of the sports top trainers like Lawrence were getting paid you would understand. RL has definitely moved himself into a higher tax bracket since he began working with Wey, Villopoto, Weimer and a couple other amateur kids. I don't even know if I can be friends with him anymore. Just kidding, RL. I need to talk to you about a loan, though.
After Yamaha's vague apology in a PR earlier this week, everyone wants to know what happened at freestone. Jason Lawrence rolled his mechanic's rental car in the pits at Texas. You know what? You show me a motocross racer that says he hasn't done some heavy damage to a rental car in his day and I'll show you a liar. E-brakes are fun. It happens, and I don't judge him for that. But on Saturday night, less than 12 hours before the start of the national, Jason was partying it up at his motor home and was allegedly issued a citation for contributing to the delinquency of a minor. Who was the underage pal whooping it up with J-Law the night before the race? His partner in crime (literally) for the entire season, Josh Hill. Josh, who was written a minor in possession citation, will have to go back to Texas later this year to clear his situation up. Josh, if you can read this… MOVE. Sell that house next to Jason and find something on the other side of town. That's just my advice. It's your career.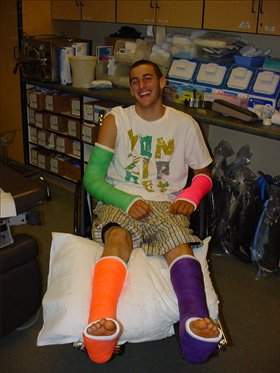 Tommy Weeck shows off his multi-colored casts
photo: Courtesy of Weeck
KTM's amateur hopeful,
Tommy Weeck
, is recovering nicely from his awful crash at Starwest recently. Tommy tried a tricky jump combination and came up short, injuring both wrists and both ankles badly. I was glad to get this email today from his doctors office:
Ping; Tommy and his mom gave me permission to send this to you. They thought you might like to use it. He had surgery on all four extremities by Dr. Alexander and is doing well , all things considered. He's bummed about missing out on Mammoth and the Loretta Lynn Series but his spirits are good, and so is his taste in colors. Keep the faith.
Mike Pearcy

I also got word this week the Matty Dowell is awake, alert and doing well after his scary crash. Good news, for sure.

That's all from Ping.
Man, there's funny, and then there's really funny. This is true genius.
How's David Vuillemin doing? DC and DV had this IM conversation earlier this week:
DV (8:55:18 AM): Hey Boss. Did u get the column ok?
DC (8:57:38 AM): I did, mon ami
DC (8:57:45 AM): When you coming back?
DV (8:58:34 AM): Not sure yet. My knee is doing better but I have a lot of pain in my calf for some reason. I had surgery 1 week ago today
DC (8:58:45 AM): Oh wow, well good luck
DV (8:59:07 AM): I am going to PA this weekend but not to the race. I'll use the flights we got to spend fathers day at Erica's family
DC (9:00:07 AM): Okay, if you get bored and want to come down to HP, we could use you on the webcast!
DV (9:00:26 AM): hehehe
DV (9:00:44 AM): Matthes is way better than me!!!
Check this out: Motorcycle daredevil Robbie Knievel successfully completed a shortened jump Saturday night at Texas Motor Speedway.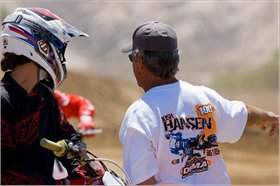 Josh Hansen getting advice from his father, Donnie.
photo: Carlos Aguirre
Looks like
Josh Hansen
is already doing his homework: He's got his father,
Donnie
, the 1982 AMA Supercross Champion, coaching him as he works out on his own this summer. Think of it as Homeschooling-for-Racing. Li'l Hanny couldn't have a better teacher than Big Hanny.
Is Josh Grant coming back this weekend? Carlos Aguirre spotted him the GEICO Powersports Honda rider at Starwest working out earlier this week.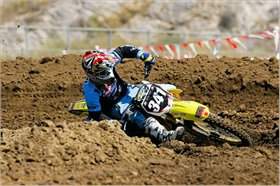 photo: Carlos Aguirre
And here's one of
Nico Izzi
, who was also absent from Texas after his big crash at
Hangtown
off the start in the second moto.
We spoke with JC about JG on Sunday night. Look for JG at Lakewood. He wants to be on a 450, but JC said probably not.
Check out this photo that Racer X reader Megan Harris sent us of J-Law crashing in the Texas 12-Pack at Freestone County. Wow!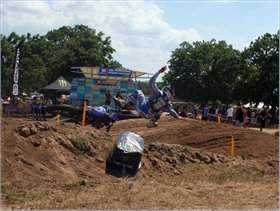 Ouch!
photo: Megan Harris
Check out
Anthony "Punch" Castro
. He is
going pretty fast
for a three year old….
This week's iMPOUND is up, complete with Freestone race report and photos, Loretta's Regionals results, a link for Ballance and Steel City, a link to a cool video for both days at the Steel City Regional, and more! Check it out at www.AmateurMX.com.
Here's a YouTube video of Tim Ferry on a CR80 back in the day!
We got this note from reader Mark Winfree:
Hi, I was hoping you could give a shout-out to George Singler, owner of Smith Road Raceway in Medina, Ohio, since 1968. He will be 75 June 13 and still races vintage races and runs his race track. George was recently featured in the new Motorcyclist Retro Magazine. He has done a lot to support the sport of motocross and started many young stars careers. Many pro riders have visited the track through out the years, including Chuck Sun, Brock Sellards, Pat Richter of Moto X Fox fame, and many more. Plenty of GNCC riders have burned up plenty of gas at George's track, including Juha Salminen, Shane Watts, and a host of KTM riders, who are based near here in Amherst KTM headquarters. In my opinion George is a motocross living legend and shows he loves the sport by having a well-prepped practice track every Wednesday night and selected races during the year. He's a wealth of motorcycle knowledge and a blast to talk to and pick his brain on many subjects. He even raced a Trans Am race back somewhere around 1970 against the tough Europeans of the day. So any mention would be great. Thank you very much. Sincerely, Mark Winfree
Happy birthday, George! Still riding at 75? Does it get any better than that?

Racer X reader Mike Lambert also sent us this note regarding the Privateer Profile with Ozzy Barbaree that we ran yesterday:

David pingree's privateer interview with Ozzy Barbaree has an incorrect statement in it. Perhaps you could correct that. 'He became the first rider from the state of Arkansas to qualify for a national in 20 years by making his first main ever."

Brook Fluker (#592) from Amity, Arkansas, was the last rider from Arkansas to qualifiy for an AMA outdoor national at Troy, Ohio in July 1997. He went 24-28 in the 250 class. That would be 11 years ago.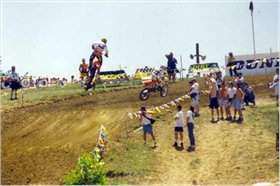 Jeremy McGrath chasing Erik Kehoe at the 1993 High Point National
photo: Rob Harris
Well, that should do it. Happy Father's Day, and we'll see you at the races!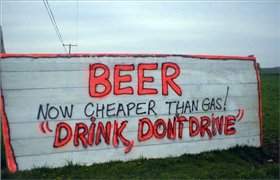 Good advice?
photo: DC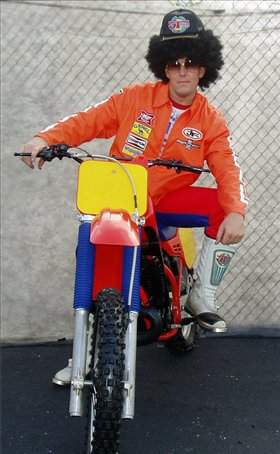 Johnny O'Hannah is in the house for High Point!
photo: Courtesy of O'Hannah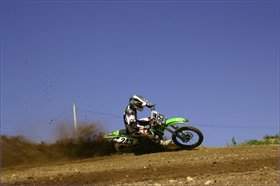 Killer berm shot
photo: Kaelyn Sheedy