Privateer Profile: Ozzy Barbaree
Every once in a while you see a name on the track that sticks in your mind; 19 year old Ozzy Barbaree has one of those names. He also accomplished a major milestone last weekend in Texas; he became the first rider from the state of Arkansas to qualify for a national in 20 years by making his first mains ever. That's not bad for a kid that is still going to college and scraping up the money to go race on his own. We called Ozzy up to see how he was feeling after the heat and humidity in Freestone.
Racer X: Ozzy, your name was new to me when I looked at the results and I have a feeling I wasn't alone. Tell us about yourself.
Ozzy Barbaree: My dad got me my first bike when I was four. I rode for six months and then did my first race. I didn't do too much amateur racing; maybe one big one every year. I did fair. I never really had a breakthrough year or anything. It's been hard but it has shaped me as a person.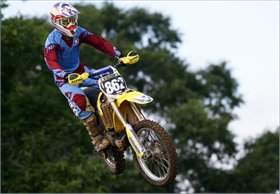 Ozzy Barbaree

photo: Simon Cudby

Why did you make Texas your first round?
Well, it was the first one I was able to get to this year.
Is this your first year racing AMA pro events?
No, I tried last year at five different nationals but I didn't make the motos.
How did it go in Texas?
Well, I was really close in timed practice but I didn't quite make it. I was bummed about that but I just tried my best in the consi and ended up getting a fifth. I actually led a lap during that race but my fitness isn't quite good enough yet.
Who was the rider from Arkansas to qualify last for a national?
His name was Steven Lee. I'm not sure exactly what race he qualified for or whatever. I just have some older riders that told me he was the last guy they can remember to make mains.
Is racing your full-time job?
I'm actually a full-time student at SEARK, a local college. I'm studying to be a respiratory therapist. I do night classes so that I can ride during the day. It's a lot of work but I'm making it work. I've always been an A student. I made the deans list both semesters this year.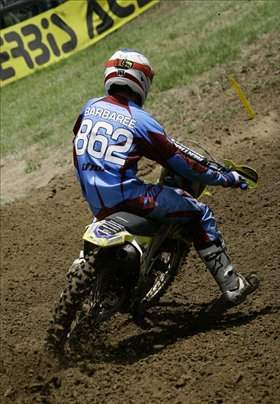 Barbaree went 28-24 in the Lites class

photo: Steve Bonnau

What are your racing plans for the rest of the summer?
I'll probably race locally for the next couple of weeks and then head up to Red Bud for that national. After that I am going to do Southwick and then as many other rounds as I can afford. I've been trying to talk to different people to help me get there because I'm just paying for everything myself right now. My bike needs some help too. Last weekend my bike was running like dog piss. It was just horrible. I'm going to see if I can borrow a bike or something for the next one. I don't know; I need to do better I guess. I've raced against all the same kids my whole life; they are all my age. I just had some injuries and they got their rides while I was stuck in Arkansas.
What is the racing scene like in Arkansas?
Well, we don't have too many riders here. The tracks are horrible. We have two good tracks and about six others that are terrible. Everyone is in their own little world out here, too. They heard that I qualified and thought that it was a Loretta's qualifier. They just don't get it; we are a little behind out here. Man, this is awesome. I actually had a dream about somebody interviewing me. I can't believe it.
Well, you earned it, Ozzy. Making a national final is a big accomplishment. Who do you want to thank?
Mainly I want to thank my Mom and Dad, Cycle and Marine, Pro Circuit, Thor, Scott, Renthal, Vision Graphics and a local track here called Holland Hills. It is the best track out here and Brandon Phillippe has been great at supporting our local pros.