Where Are They Now: Craig Decker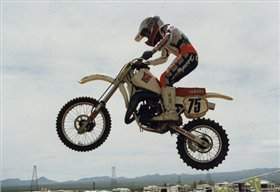 Decker sailing a YZ80 at the World Mini GP
photo: Decker Archives
Craig Decker spent his entire life racing motocross. Now retired, he remains close to the sport, working for Enzo Racing. He grew up in Minnesota watching his father race motocross. He got his first bike, a Suzuki JR50, at the tender age of three. Things picked up a speed when he turned seven and got his first KX60 and began racing. A move to California followed, and soon the Deckers began traveling the country, chasing amateur national championships.
Decker was always a stylish racer, running the #75 on a YZ80 and wearing that super-clean-looking AXO gear from the late '80s. He became a national standout as he graduated to the 80cc ranks and became one of the fastest mini riders in the country. He won just about everywhere he went and earned a title at Loretta Lynn's in 1989 in the highly competitive 85cc (9-13) division. Decker switched over to the mighty R&D Suzuki team for his final year on minibikes in 1991 and delivered with another championship at the Dude Ranch in the 85 (14-15) class. The lanky racer adapted to the big bikes with ease and wasted no time chalking up more titles and catching the attention of the pro scouts by sweeping the 250 B classes at Loretta's.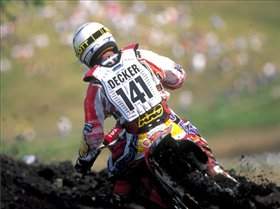 Honda of Troy sponsored Craig in 1994
photo: Fran Kuhn
Decker entered the pro ranks as a Honda of Troy rider in 1994. He had some strong finishes here and there and was waiting for that big break. Unfortunately, the break came in the wrong fashion, as he was badly injured at the 1995 Las Vegas supercross, suffering a broken back. That would keep him off the bike for almost two full seasons, but his luck took a turn for the better when Mitch Payton signed him for the 1997 season. Craig finished a strong fourth in the 1997 West Region series but struggled in the outdoor nationals because of his size. (Craig was 6 feet tall and around 185 pounds)
Soon Craig began looking around the sport for some more opportunities. His search ended with a job testing for factory Kawasaki, and he also nailed down a ride for the Canadian Nationals. Decker made a return to the American national series when Mach 1 Yamaha signed him to their team in 2001 to compete in the 125 West series. Realizing his competitive days were running out, he began thinking about settling down. He met his wife, Diana, during this period and went back to work for Kawasaki, but his hope for getting an in-house position faded and once again he began to look around the industry for other opportunities.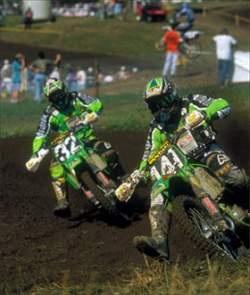 Decker (141) on a Pro Circuit Kawasaki
photo: Simon Cudby
He finally landed at Enzo Racing, working alongside his father and Ross Maeda. He enjoys a flexible job and actually has his own shop in Minnesota where he, Diana, and their two beautiful daughters, Emma and Ellie, spend their summers.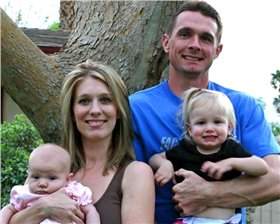 The Decker family today