Welcome to the Shift Number Cruncher. The two-year anniversary of the Shift Number Cruncher flew right past us a couple of weeks ago and I didn't even notice. When we went to put this week's column together, it occurred to me that back on May 10, 2006, the very first Number Cruncher column was born. It was dedicated to James Stewart's new #7. It was right before the beginning of the supercross season, and James made a last-minute decision to switch it up from #259 to "lucky number seven." Although, how lucky the seven has been to James is open for discussion.

That said, Stewart returned to the track last weekend to remind the world that he is still the baddest dude on two wheels (when he's on them), winning both motos going away. It's good to have James back. So, in honor of the two-year anniversary of the Shift Number Cruncher, it's only fitting that we dedicate it to the man that gave us the idea.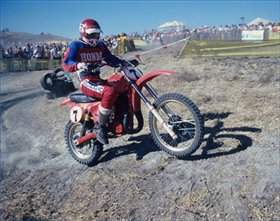 Tommy Croft
photo: Dick Miller Archives
This is the earliest #7 photo we could find. Here, we have factory Honda's
Tommy Croft
negotiating a Sears Point off-camber in 1978.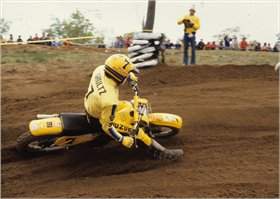 Darrell Schultz
photo: Dick Miller Archives
This is Trinidad, California's
Darrell Shultz
on the charge at the 1979
Southwick
National. It's funny to see guys coming off the track with their tongue in their spokes at
Southwick
nowadays. How do you think Darrell felt here after hanging on to that RM500 for two 40-minute motos?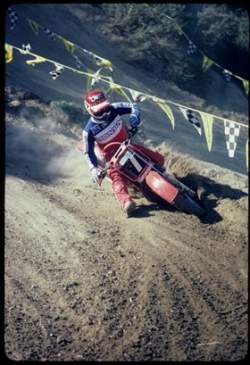 Jim Gibson
photo: Dick Miller Archives
This is a 1981 shot of factory Honda's
Jim Gibson
. You have to admit the Honda guys looked pretty cool back then. Gibson is showing near perfect form in this loamy Saddleback right-hander.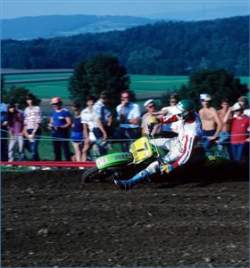 David Thorpe
photo: Dick Miller Archives
Here we have "King"
David Thorpe
in his prime, running the #7 at the 1982 Trophee des Nations. Can't you almost hear that works KX500 bark as he applies the throttle?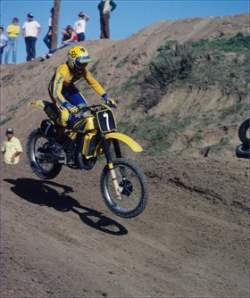 Rick Ryan
photo: Dick Miller Archives
This is a rare shot of NorCal legend
Ricky Ryan
racing in the 1983 Golden State Nationals wearing the #7. Ryan was national #56 that year, but guys always had to switch up their numbers for the one-off Golden State races.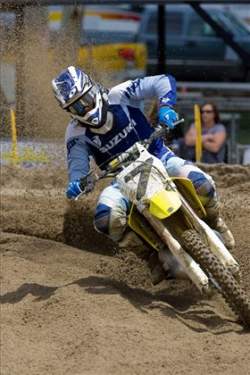 Greg Albertyn
photo: Carlos Aguirre
Greg Albertyn
is the only rider that we featured in the original #7 Number Cruncher that is making a repeat appearance. "Albee" took a break from building houses to blow the dust off a premix-burning RM250 and claim victory in the Two-Stroke Challenge at
Glen Helen
. It looked like he used electrical tape for his #7, but it did the job!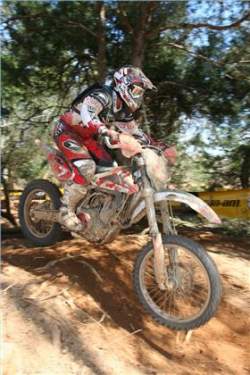 Glenn Kearney
photo: Jason Hooper
This in from The Weege: "Australian
Glenn Kearney
moved to the U.S. to race the GNCCs in 2005, and he was an instant contender, finishing on the podium regularly. But then a strange illness sapped him of his endurance last season. Determined to overcome it, at one race he battled Barry Hawk for a win so hard that he literally collapsed on the bike riding through the finish. Kearney went into seizures in the ambulance as the docs hooked him to an IV. It took a long time for GK to recover, and he ended the year a disappointing seventh. Now he's riding for the rejuvenated Husqvarna effort, with Scott Summers running the show. The bike is unproven, but GK is on the verge of grabbing podium finishes again."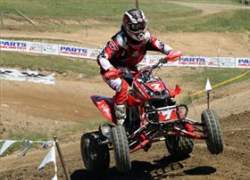 Joe Byrd
photo: Stephani McIntyre
Even though
Joe Byrd
rides a Honda four-wheeler, he is similar to
James Stewart
in the fact that he prefers to run the #7 even though he is the champion in his professional series. Last weekend, Byrd took the victory in the ATV Stampede at
High Point
Raceway, winning the $1000 ITP Grand Slam bonus and showing his competition why he is the two-time defending AMA ATV Pro Champion.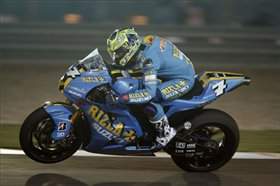 Chris Vermeulen
photo: Andrew Northcott
Brisbane, Australia's
Chris Vermeulen
has been a mainstay on the MotoGP tour since 2006. Riding for the Rizla Suzuki MotoGP Team, "Vermin" already has one win to his credit with a rain-soaked victory at LeMans in 2007. This particular shot was taken from the first-ever nighttime MotoGP race, held earlier this year at Losail International Circuit in Qatar.
photo: Simon Cudby
If anyone had any doubts in their mind as to who the fastest man in our sport is,
James Stewart
eradicated it with two motos of pure pain. Stewart just sees a different track than the other guys. He links jumps and rollers and breaking bumps together and makes the roughest parts of the track look like a freeway. He's the
Czar of Gnar
. We all just need to sit back and admire the skills while they're here. Here's hoping
Bubba
keeps it on two wheels all summer.
Thanks for reading. As always, send your feedback and comments to andy@racerxill.com.