The short midseason break is almost over. We are a week away from everyone gathering again at Glen Helen to start the 2008 AMA Toyota Motocross Championship. We will have wall-to-wall coverage here at Racer X Online, and this Tuesday will mark the launch of The Racer X Motocross Show on Motocross.com. We will have a Lites preview show on Tuesday and then the Motocross class preview on Thursday (and I promise you that those names will change by the time you flip the calendar to October). Jason Weigandt is back as host, and Wes Williams will be our director. We have all kinds of really cool things planned, including a special guest co-host for Glen Helen: David Bailey! We will have a Saturday show from Glen Helen, a Sunday webcast, and a Monday morning wrap-up show on www.motocross.com. There will also be a ton of pieces every week, from Glen Helen to Steel City. It's going to be a blast.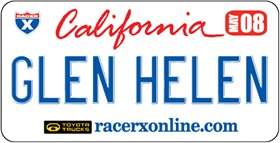 Get your 2008 Racer X stickers at either our booth or the Toyota Zone

Simon Cudby spent yesterday afternoon out at Glen Helen watching half of the AMA National riders out there getting ready for next weekend's AMA Toyota Motocross Series opener. He then went back to the studio and put together an excellent preview film and posted in on www.racerxfilms.com. If you haven't seen it yet, by all means take six minutes and watch it!
In the meantime, to stay up to date with everything that's going on with the series, visit www.mxnationals.com for series info, updates and more. For instance, Monster Energy Kawasaki is back at full strength with James Stewart and Tim Ferry, and so is Red Bull Racing Honda's Ivan Tedesco and Ben Townley. Also, Mike Alessi is back, Mike Byrne is back, Sean Hamblin is back….
Unfortunately, it also means Windham is off to enjoy his summer, and so is Chad Reed…. Or is he? Every time I see a shot or video pop up of him railing around GH on a red-plated #1 Yamaha, I cross my fingers and wish that the two-time AMA Supercross Champion would throw his bike in the back of the pickup next week and came out to Glen Helen and have-at with James and BT101 and everyone else. Same goes for Windham, only Kevin's not out there whetting our appetites at Glen Helen on practice day!
Of course, Chad would need the pickup because his days with L&M Racing Yamaha and the San Manuel Indians appear to be over. In case you missed it, DMXS Radio enjoyed one of its all-time interesting programs this week when two-time champ Reed went on to discuss his current situation, the falling-out he had with L&M Racing, and where he might be headed. (Apparently, Reed was notified by email that L&M would not be signing him for 2009, as first reported by Racer X Online on the morning of the Las Vegas SX finale.)
When the DMXS crew Chad asked why L&M was not an option, he answered, "It was never not an option. All those great things you said about Larry [Brooks] I had the same feelings two weeks ago. I've kind of lost a lot of respect for what went down. It was uncalled for really, but we will see. Like I said, things are meant to happen for a reason. There were issues within the team and it seems like James [Stewart] is their choice for now."
When asked if this gives him any additional motivation, he said, "I can definitely tell you I'm one motivated person right now that's for sure. Like I said, I lost a lot of respect for what happened and what went down and the lack of communication and all that. I'm really excited to tackle the new things we are working on and we will see where that ends up. Honestly, to this day I haven't signed any contracts at all and I could end up anywhere, but right now I just feel good.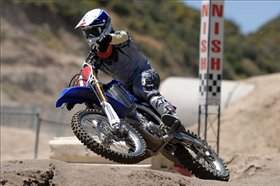 Chad Reed already sporting the #1 plate

photo: Steve Cox

Asked about going to Gibbs Racing MX/Toyota Yamaha, Reed said, "I think the Gibbs thing would be an interesting fit. My motivation would be there for one, and they are Yamaha. Two, they're an outfit that has a great name behind them and would possibly open up many doors for my future…. They run a tight ship over there. It's a really good organization and what I've seen is great. I think they've got a great rider that's probably going to go there next year for sure. That guy will bring some good results and be a great team mate if I were to go there too."

On staying with Yamaha: "I have been here almost seven years and it's all been Yamaha and definitely would like to see where we end up with negotiating with those guys. They are definitely doing everything they possibly can. They didn't really expect for it to be going the way its going. It was kind of a surprise to everyone what L&M did, but like I said, I'm moving forward and things are meant to happen for a reason and I'm excited for what ever way the cards fall."

To listen to the entire Chad Reed DMXS interview, the podcast is already up for you to hear. (The mp3 version can be downloaded here.)

One thing that does seem apparent is that Stewart is not only taking Reed's place at L&M Racing—brand to be determined later—but he may have already signed an SX-only deal. That was almost as much a surprise to me as the fact that he's leaving Kawasaki, the company he's raced for since 1995. We'll maybe know more about that when we get to see him next weekend at the Glen Helen opener.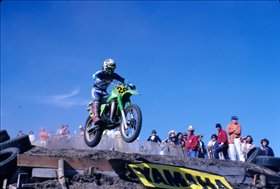 Jeff Ward at Sears Point in 1979

photo: Dick Miller Archives

I had a chance to talk to an old friend this week about a whole new world. Jeff Ward is a Hall of Famer in just about everything, but he told me he's new to the internet. Of course you probably know where I am headed with this. Jeff had a conversation with David Pingree last Wednesday that took a little detour from where either probably thought it was going. Ping, a fellow racer and father, basically asked Wardy the ages-old question: What's the matter with these kids today? The question was coming from the recent off-track incidents that seem to becoming more and more prevalent (or maybe just more apparent, what with everyone having a cell phone, a search engine, and an opportunity to play paparazzi).

Anyway, the seven-time champion Ward, a 56-race winner in his mid-forties, let lose with his random thoughts about some of the young riders today, but the way it came out, he was banging on Reed pretty hard. Upon seeing his words online, Jeff told me he immediately regretted it, as he did not mean it the way it looked or read.

"I've got a lot of respect for Chad and I know what kind of work and dedication he puts into it—you have to to be a champion," said Ward. "I know as a champion we all take a different path to get there and to reach our goals. Hey, I had my own struggles, and thank god there was no internet back then!"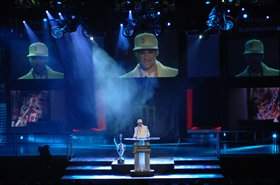 Chad Reed at the SX banquet

photo: Carl Stone

"My kid really does look up to Chad and I guess I should have thought more about the picture [of Reed taking a swig from Todd Jendro's bottle of Jack Daniel's at the banquet] and what the circumstances were before I said anything," added Wardy. "His season is over and he deserves to cut loose."

Jeff did say that he still wishes Reed would ride outdoors (a lot of us are with him!) and also didn't sound so disinterested at times on the podium. I told him he should have heard Chad's speech at the SX banquet, to which Jeff replied, "I wish I had too because I might have seen things in a whole different light." In closing, he apologized to Chad and his fans for his comments online. Welcome to the internet, Jeff!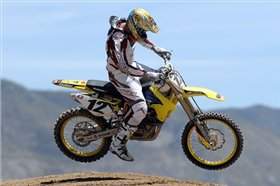 DV12.com

photo: Steve Cox

Looks like David Vuillemin, one of the most popular riders on the AMA Supercross tour over the last decade, has raced his last SX here in the U.S…. At least that's what we think he said in this piece from Moto Verte: ""J'ai pris une grosse décision il y a quelques temps. J'ai décidé que le SX de Las Vegas serait mon dernier Supercross sur la scène US. Las Vegas était mon 130ème SX US en catégorie reine dont 7 victoires et 37 podiums. J'ai toujours envie de rouler mais, aux US, c'est difficile de rouler qu'en MX…"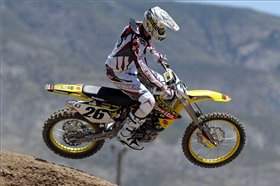 photo: Steve Cox

And in honor of Vuillemin's announcement, "Shiftless Dos" posted these classic Guy B. videos of DV12's all-time goon sessions from yesteryear.

When it rains, it pours… It's been a tough week for some of our friends in the motocross industry. First, Racer X creative director David Langran got himself all banged up last Saturday with a crash at Perris Raceway. He now has a fractured pelvis, a broken collarbone and a broken hand! Get well soon, Langers, we need you!

Then we got word of longtime industry presence and photographer extraordinaire Joe Bonnello's back problems, which have become so complex and dangerous that he has been in and out of the hospital for weeks now. As a result, some industry friends are taking up collections to help in what are becoming astronomical medical costs. Moto Verte's Stephan LeGrand has set up a www.helpjoeb.com site. LeBig also says that the WFMX folks went above and beyond the call of duty and donated $5,000 to the cause, and Greg Primm has answered the call as well. According to Robin Hartfiel, "Seems like everyone wants to see Joe back trackside in his hot pants where he belongs!"

And finally, our absolute best wishes go out to Jenny Coombs, our industry PR friend who was involved in a serious automobile accident this week. Apparently, Jenny crashed into a concrete embankment on the freeway on her way to work. According to Road 2 Recovery's Anita Button, she broke her left leg and ankle, crushed her eye socket, punctured her spleen, ripped her leg open from the knee to her hip and had swelling on her brain. They put her in an induced coma while relieving the pressure from the brain. They have pinned her ankle and stapled the gash in her leg. On Saturday they are going to operate on her eye socket. She is improving and the pressure has gone down in the brain and as of this evening she is now breathing on her own. She is expected to make a full recovery but it will no doubt take a while. She is still in ICU, but once she is conscious now. Our thoughts and prayers are with Jenny and her family.

Okay, Steve Cox was out at Glen Helen yesterday, and he gave us this report:

I landed a sweet shot of Ping on the premixer, along with quite a few other notable riders. After watching yesterday's practice, I'm going to go out on a limb and say that Jimmy Albertson is going to be this summer's Gavin Gracyk, if he's not even faster than that. Throughout the day, I saw Geico Honda's Jake Weimer battle with Monster Energy/Pro Circuit Kawasaki's Ryan Villopoto, Matt Goerke, and many others, and for the most part, the Lites guys were basically the fastest guys there (in the absence of James Stewart, Kevin Windham, etc.), but I also saw Albertson hang onto Weimer's rear wheel for at least 25 minutes. Weimer was testing his race settings, while Albertson was riding a stock – STOCK - CRF450R with Factory Connection suspension, and he was hanging with Weimer.

I was puzzled in the past why Albertson was struggling to make mains this year in supercross while his friend Trey Canard was winning them, because I've seen them practice together before and watched Albertson give Canard fits on the track. I was also at the World Mini GP last year when Albertson beat Canard heads-up in a race there. Well, if yesterday at Glen Helen is any indication, Albertson's going to be top 10 – or better – this season outdoors.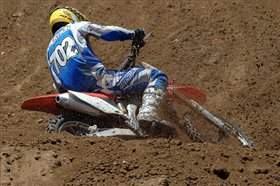 photo: Steve Cox

Speaking of Weimer, he's now being trained by Randy Lawrence – the same guy who trains Ryan Villopoto. Weimer says he's stoked on Lawrence and feels like RL is going to help him push that little bit extra and get over the hump, so to speak.

Rockstar/Makita Suzuki's Mike Alessi was out at Glen Helen doing some testing for the opener that goes off in nine days there, and this is after he reportedly rode two 40-minute motos up by his house in Victorville. As such, he didn't put in any motos, just a few laps here and there to shake down some suspension settings.

I'm assuming that's the same thing Boost Mobile/Yamaha of Troy's Jason Lawrence was doing, because I only saw him on the track three times, and only one time was he not pulling off the track just as I spotted him

Do you know who else was going pretty dog-gone fast out there? MDK/KTM's Matt Goerke. I didn't have a stopwatch on him, but he was absolutely ripping through the track's newly added sand section and holding off top Lites riders like Weimer, Canard and Villopoto.

Speaking of Canard, he was sporting a new sunburn on his nose, but it wasn't because the fair-skinned champ was laying out by the pool or anything; his nose was actually burned through his goggle lens! It's tough being a redhead in California coming up on summertime…

Motosport/Xtreme Kawasaki's Andrew McFarlane was putting in some motos late in the day at Glen Helen, and he brought along a training partner with a red number-one plate – Chad Reed. Reed was going pretty fast out there, and rumor has it he may hit Glen Helen before heading back to Australia for summer. Maybe if he asks his buddy Grant Langston nicely, GL will loan him the number-one plate for the one race, since Langston is likely to be sitting it out….

Monster Energy Kawasaki's (oops, I slipped)... Er… Monster Energy/PRO CIRCUIT Kawasaki's Ryan Villopoto was putting in some hard laps around Glen Helen, and according to some people who had stopwatches on the action, he was by far the fastest rider on the track in terms of a single lap. He put in a 1:26.1 around the shortened circuit before I left, and the fastest anyone else had done to that point was about a 1:28, while most hovered around or above 1:30.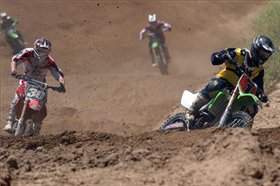 Villy leading Weimer

photo: Steve Cox

It looks like Rockstar/Makita Suzuki's David Vuillemin is going to head back home to Europe after Steel City, so hopefully he can put in some good rides in the Nationals and land himself a proper GP ride. I think he can be in contention for an MX1 World Championship. There's something about a change of scenery that can do a rider good, and maybe if DV heads back home to the land he grew up in, it will be just what he needs to put together one or two more championship runs. He'll be missed in the USA, though, that's for sure.

From Ping:

The guys at Pro Circuit got a scare this week when Brett Metcalfe crashed dramatically at a private Kawasaki test session at Glen Helen. The mechanics in the race shop said it was one of the gnarliest get-offs they had seen in a long time. There is a new section of track on the backside of the Glen Helen facility. They added a big horseshoe that runs way up the side of Yamaha hill and then back down toward the monster step-up that was there last year. Brett got off to the side of the track coming down the horseshoe and launched off a 30-foot drop, ditching his bike in the process. He came down on his heels and his butt right between two rocks that sat near the bottom. Miraculously, Metcalfe did not break anything but he has been really sore all week from the incident.

Suspension ace Jim "Bones" Bacon is just glad that Bret walked away from it: "Honestly, if he had been just a couple feet in either direction this conversation would be going a lot differently right now. It would have been ugly. As it was, he just knocked the wind out of himself and bruised his body up. I hope it doesn't hold him back too much because he was riding great."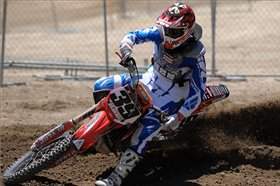 photo: Steve Cox

FMX hero Nate Adams had surgery this week to repair a dislocated thumb. "The injury actually happened a while ago and I've been milking it through until now," said Nate. "Everything went fine and I shouldn't be off the bike for too long. My main concern was being ready for the X Games this summer and that shouldn't be a problem. It throbs a lot right now so I've just been sitting on my couch, chillin'." Performing the procedure was Dr. Reiman, who has become the orthopedic surgeon to the stars of motocross.

In my Ask Ping column last week I got a letter from a concerned industry member about the lack of health insurance for many racers. I thought it was a no-brainer that anyone racing a bike should have health insurance but it seems to be a growing issue. Afterward, I received several letters from people within the industry that work in the insurance business and cater to motorcycle riders and racers:

I read Ask Ping this morning and also believe that all riders should have insurance. Noticing that you did not give reference to any insurance companies that cover our beloved riders I am sending you Brandon Parrish's information. He is a road racer and an insurance agent… Nice combo. He helped me with my insurance and he was able to answer all my questions and made signing up easy. Check out www.ridersurance.com.

Also…

If any riders here in California need some help getting the straight scoop on health insurance please call me. I can explain in simple terms the differences between HMO's , PPO's , POS's and OA's. By the way, POS doesn't stand for piece of s$!t in health lingo! We represent most major companies and don't charge any fees. Garry Meeker Agency
California Health Insurance Sales
800-346-7595

While many would beg to differ about Gary's clarification of a POS, I think we would all agree that affordable health coverage sounds pretty good. If you race and you don't have insurance please look into it. At the very least get an inexpensive, high-deductible policy that covers you in the event of a serious accident.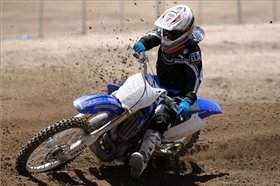 Ping on the two-stroke

photo: Steve Cox

More on Glen Helen: Dominic Izzi got into a little shoving match with a slowed rider that refused to let him by. After pulling alongside the lapper, Izzi was elbowed of the main line. So, in the next turn, Nico squared him up and took him out. So then the guy cuts the track and roosts Izzi and they start showing each other their middle fingers. It ended with the two of them yelling at each other and the obscure novice rider trying to punch Izzi in the helmet. Ah, the finer moments of motocross.

There was another group of guys getting ready for the biggest two-stroke race of the year. Actually, I think it is the only two-stroke race of the year. Doug Dubach, Phil Lawrence, Tyler Keefe, Richie Owens and I were trying to remember how to ride the snappy steeds that were the workhorse of the sport for the past forty years. The LA Sleeve Two-Stroke Challenge, scheduled for Saturday morning right before timed pro practice, already has 37 riders entered. It should be good fun.

I talked to Gavin Gracyk today and he's officially a North Carolina resident. However, a Grade-2 sprain suffered at the Las Vegas SX has kept him off the bike. He said it shouldn't affect his Glen Helen race debut for JGRMX, but it looks like Eric Sorby will be filling in for him.

Where's Ricky Carmichael? He's right here on the Fan Nation site, part of SI.com and CNN.com.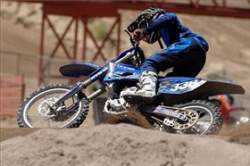 photo: Steve Cox

Last week, we mention that David Bailey's son was headed to Thunder Valley for his Loretta Lynn's Area Qualifier. Well, David told us about his son's day in an email: "Sean had a rough day. I could've helped him prepare better for sure, but I didn't know it would be that rutted or the jetting we predicted would be that far off. Oh well. I once drove their with my bike on a wheelie hooked to the bumper of my mom's Celica in 1980 from Virginia and didn't qualify. He qualified out here and in the Southeast so he still has a shot. I really didn't expect him to make it since he didn't ride for a couple years, but he progressed pretty fast so we'll see."

Earlier this week we received this letter, and if anyone out there can help out, please email us at online@racerxill.com.

I'm not sure you can help me, but I am looking for a 1979 Suzuki JR50 - I have looked online and have gotten no where. I would love to find the original that my fiancee had owned and I have searched everywhere for paperwork that might have a vin # but all I have found is the owner's manual. If you happen to know anyone that has one to sell, I'd be so grateful. I hope it's still around. Thanks, Nancy.

Ryan Leyba has a really cool blog called The Brap Haps going over at EXPN.com. That's where we found a video of Nate Adams showing that his skills aren't limited to motorcycle riding!

Here's something from Racer X reader Gregg Arnold:

You guys may have heard of this already, but I think this is interesting. Obviously this doesn't speak of the people as a whole but it seems there's been a lot of shady things going on there for quite sometime. The first link is an article that appeared last week, then sure enough there was another shootout with the cops yesterday. Doesn't seem like too friendly of a place. Maybe things (2002 MXdN debacle) really do happen for a reason… (Second link here.)

The winners of this week's Flash Trivia, who will receive a copy of the MXoN: Sixty Years and a Day DVD are Broc Rupert (Montourville, PA), Kevin Rammer (Milwaukee, WI), and Brittany Trentman (Centerville, OH). The answer was Andrew Short in 2001.

Oh man, yet another hospital report, this time from BobbyM over at Mototalk: "Looks like Steve has an infection in his leg from a dog bite/scratch and it has moved up to his lymph nodes or something. He wanted me to post a thanks to the Doc…THANKS DOC. The Doc advised Steve to go to the nearest medical facility. Hopefully Steve will be out in a few days and the antibiotics clear up any new AND existing infections he may have."
Andrew McFarlane followed by his training partner, Chad Reed.

photo: Steve Cox

Two-wheel devotees are invited to the third annual Japanese Motorcycle Saturday at the Motorcycle Hall of Fame Museum on June 7, 2008. Located on the campus of the American Motorcyclist Association in Pickerington, Ohio, a few miles east of Columbus, the Museum is the country's premier showcase of motorcycling heritage and history. Over 400 enthusiasts and nearly 200 Japanese motorcycles of all styles, including new and vintage sportbikes, café racers and tourers, are expected to gather at the Museum for Japanese Motorcycle Saturday.

Whether visitors ride in on a classic Japanese motorcycle or simply stop by to glimpse machines showcasing decades of design and engineering, the event is sure to please all motorcycling aficionados. Highlights of Japanese Motorcycle Saturday include a non-judged bike show and seminars. Admission is only $10 and includes access to all museum exhibits, including the new "MotoStars: Celebrities + Motorcycles," an installation chronicling many of the world's most well-known enthusiasts.

Additional details about Japanese Motorcycle Saturday can be found at www.motorcyclemuseum.org or by calling (614) 856-2222.

It's been a busy week on the other side of the office. This weekend will mark the final round of Area Qualifiers, so if you aren't in yet, this is your last chance. Then next weekend is Memorial Day weekend, and everyone in the Northeast Regional at Pleasure Valley and the Northwest Regional at Honey Lake will have to have their regional registration in by 5 p.m. EST Monday the 19th. In addition, we will have both regional rosters posted by 6 p.m. EST Tuesday the 20th. So, make sure to keep your clicker close to www.mxsports.com. While you're there make sure and check out Andy Bowyer's The Pulse (#9), which has videos from MotoPlayground, a cool interview with Shannon Niday, and an important message from the MX Sports office.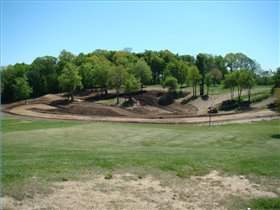 Redesigned RedBud

photo: Amy Ritchie

Speaking of the regionals, we got this note from our friends at Red Bud: "Tim (Ritchie) just finished up the new valley section of the track. He wanted something new for the LL Mideast Amateur Regional in two weeks, and he wanted to make the track flow better in that section. This picture was taken from the ski jump. He tore out that huge Monster Tabletop and rebuilt it about 10 feet over and at a different angle. I think the riders will like it; they'll get to try it out this weekend before the Regional." Thanks, Amy!

And finally, congratulations to Ashley Fiolek, who traveled all the way to Sevlievo, Bulgaria, with her father to compete in his first-ever FIM World Championship race. Ashley was a solid third overall against some of the best girls in the world, and that's a great start for the promising young Honda rider. We look forward to seeing her win one of these somewhere down the road!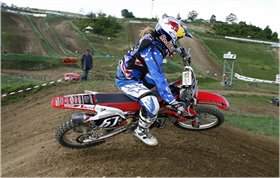 Ashley Fiolek
photo: Sarah Gutierrez
Thanks for reading Racerhead, and thanks for everyone who's been asking about my big brother Tim
. He's home, he's moving around the house slowly, and he and his wife, Jessica
, really appreciate all of the cards and notes. See you at the races.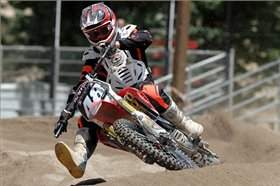 photo: Steve Cox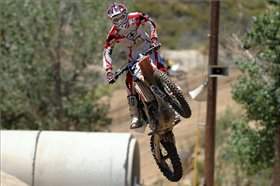 photo: Steve Cox