I think I have finally arrived! I am sitting in first class as I type this, up in VIP for the first time since the Bellmer years (by the way, Jeff, I heard Bobby C. got hurt on a street bike?). The luck of the draw and two years of flying U.S. Airways meant it was finally my time to sit in "wide glide" again from Pittsburgh to Las Vegas.
I kissed my wife and kids goodbye, took my seat, #1A next to the window, and then I waited to see which celebrity would slide in next to me and drop their Lois Vuitton bags on the floor next to my Ogio book bag…. Would it be the volatile supermodel, making a stop in Vegas on her way back home to Malibu after a shoot in Manhattan? Or would it be the rogue gambler, on his Atlantic City-to-Vegas whiskey run, getting his drink on before heading to the Bellagio for High-Rollers night? Or maybe some pseudo-celebrity with a bit part in a reality show, like the super-cute blonde from The Hills (which I have never watched but couldn't help but notice in her underway on the cover of Rolling Stone).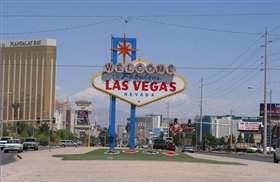 photo: Matt Ware

I nervously adjust my seatbelt, place my earphones on and get right into The Flight of The Conchords:

You're so beautiful, you could be a part-time model

Or an air hostess in the sixties….

Or a high-class prostitute.

But don't quit your day job

I can't wait to see who I get to share this posh, plush, first-class row with for the next four and a half hours of my life. This is going to either be a great plane rider or Greatest Plane Ride Ever….

Holy smokes! It's … it's … it's none other than the winner of the quadcycle class in the 1988 Montreal Supercross, Mr. Tom Carson! And he's sitting down in #1B with ... with … an Ogio bag of his own. I feel like Steve Matthes the day he got on that standing-room-only airport shuttle bus and realized that The Tim Ferry was actually hanging onto an almost identical strap, exactly seven hooks away from him. Get a room already, Steve!

Okay, so I kinda sorta know Tom Carson. Known him since 1978. He's a lifelong friend who raced pro forever and now works with Asterisk, doing the good deed of helping watch over the riders out there. Oh, and I should mention that one row back, in 2C and 2D, are the AMA's Craig Andreadas and his dad, also headed to the last round of the 2008 Monster Energy AMA Supercross Championship. So I guess it was "upgrade day" for moto people at U.S. Airways, and my hopes of sitting next to someone hot enough to be a part-time model, or maybe one of Roger Clemens' ex-girlfriends didn't quite pan out after all….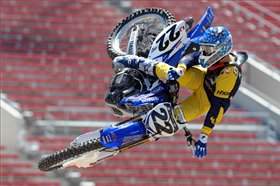 Chad Reed is a sixth-place finish away from his second AMA Supercross title
photo: Steve Cox

Which is probably not a bad development, since my wife and two kids and the babysitter are all the back in Row 6, seats D,E, and F, because they would be sooooo jealous right now….
Welcome to Racerhead. The 2008 Monster Energy AMA Supercross Championship is almost complete. Ten points separate Chad Reed and Kevin Windham from the championship, and we have an East-West Shootout that could go one of, what, six or seven different ways? Who's going to win that race? (Which I want to thank Live Nation again for naming after my late dad, that's just really, really cool.) The champions Canard or Lawrence? The near-champs Villopoto or Dungey? One of the shoulda-coulda-wouldas Hepler, Metcalfe, Grant, Davalos, or Stroupe? Tell us your pick right here.
You can listen to the always-cool webcast Supercross Live! tomorrow night from Las Vegas, beginning at 7 p.m. out West and 10 p.m. back in the East as Jason Weigandt and Jim Holley call all of the shots to close out SX '08. The race will air Sunday on Speed too.
Also, you don't want to miss Speed TV tomorrow at 3 p.m. ET for the Seattle Supercross, and the Monster Energy Supercross recap will air on Sunday, May 4 at 12:00 PM ET on CBS.
Okay, back to the plane ride. It's not that much of a coincidence that I landed on the same flight as Tom and the Andreadas boys and even "Bad" Billy Ursic, but how's this for strange coincidences: J.H. Leale from AGV was driving down a residential road outside Tallahassee, Florida, last week when he came around a bend in the road (admittedly a little over the speed limit) and upon two cyclists pedaling side by side. He went around them, but when he looked in his rearview mirror, he realized it was none other than James Stewart training alongside Aldon Baker! "I could only imagine how that would have looked in Racerhead had I not seen them!" joked J.H.. Thank goodness he did.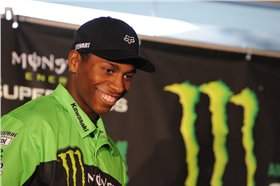 Is James turning yellow?

photo: Steve Cox

Unless you've been hiding under a typewriter, then you probably saw the growing Stewart-to-Suzuki rumors showing up here and there on the www. I have looked around, asked around and guessed around, and I don't have the answer. But I did go from "No way!" to "Hmmm…."
Chad Reed has his own interactive website up and running well—www.chadreedracing.com—with news, videos, and a fairly active chat room. In fact, it's cool to see the actual rider in the discussion room, chatting with his fans and telling them his view of things. For instance, a thread was started about "K-Dub Whining" and various folks were going in and giving their two cents. Then Chad himself, under the handle "twotwo", came in and explained his side of things, while also giving a glimpse of what team politics might look like in regards to Andrew Short:
"WOW!!:) where do you start…..first off thanks guys for the never ending support! this is quit the subject:) in every story theres 2 sides….if only you knew what i knew kdub14 we all have the right to an opinion right? i respect yours now put yourself in my shoes….KW calls me out for running him wide when im getting lapped…goes on to say hes lost respect for me…and im ment to be cool with that… remember i have a very good friend thats on a red bike:)....i tell shorty what i knew and thought….HE SAYS IM JUST DOING AS IM TOLD?:) confirms all!!

"I've never in my life thanked god on the podium but my mum and dad showed me what was right from wrong! i know i slept great that night knowing that i gave it my all and answered every question true to how it was in my world!.... can AS…? he had the best shot at winning hes first real SX win! they dont come around so easy:) add up how many people have won in the last 15 years… no amount of $$ or team staff telling you great job will ever make up for that it will eat him alive! just my 2 cents:) carry on…. as for KW hes riding hes best year to date when hes on hes on….. dudes got talent !! iv always had great respect for him hes a good guy and when this is all said and done i hope we return to what we had….. respect"
Good stuff, though some of you might be thinking to yourself right now, When did Alessi Weekly take over Chad Reed's website?
Reed isn't the only one to take his message straight to a message board. When Steve Matthes wrote in his Seattle Observations that "Its been a frustrating year for Le Cobra, one of my favorite guys in the pits and the winner of seven career 250 Supercrosses has only two more left…" DV12 went on Mototalk to confirm that, yes, it's a possibility: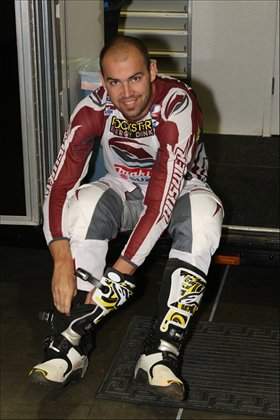 Vuillemin has some big choices to make at the end of the season

photo: Simon Cudby

"Maybe no more SX," wrote the Rockstar/Makita Suzuki factory rider. "MX or something else still in the picture…" Vuillemin, who had a few very productive years on the Grand Prix circuits of Europe before moving here, could bring a lot of speed, experience and testing expertise to any squad over there.
There's been talk about who would be going where in 2009 since 2007, and nothing is really clear. This week the rumors of James Stewart going to a Red Bull Suzuki team were everywhere, and just a few weeks ago I wildly (admittedly) guessed that Ryan Villopoto would end up at Joe Gibbs Racing MX/Toyota Yamaha. Well, I have since heard that RV will be staying great for years to come, which gives that first rumor more traction—Stewart has been green since 1995.
We all know that Gavin Gracyk is now with JGRMX for the outdoors, but will they add a big-name rider for SX '09 and beyond? I recently asked team manager Jeremy Albrecht—Stewart's longtime mechanic—if it was in the cards?
"We're trying. We're talking to a few," he answered. "It's not the top, but it could be. I'm more looking at someone who is early in their career that we could help make it; not someone that is there already currently. I think it would be more fun for our team; I don't think we have to go out and win right away, buy a guy to win. At first we're thinking that was the route we were going to go, but we've been changing what we've been thinking lately.
"We're enjoying having a team and enjoy all the guys who are a part of it," added Albrecht, who is based in North Carolina now. "I don't want a guy who doesn't want to be part of the team, so we're trying to pick a guy who would fit in better opposed to a guy who will just go out and win. We're all doing this because we love it. Obviously it'll depend on the sponsors that come in. If they think the important thing is to win, then we have to figure that out. As of right now, everyone who is on our team we're happy with, and if we get better each year, that's a success to us."
Got a note from proud dad David Bailey, showing off some excellent photos of his son Sean practicing this week out in California. The pics are by Chris Ganz, better know as Brown Dog Wilson.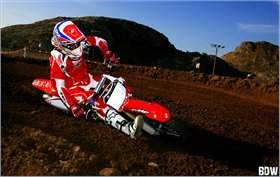 Sean Bailey has some hints of his father's textbook style—and how cool is that to see the Bailey '86 One Industries helmet on Bailey Jr.?
photo: Chris Ganz

Also, it looks like the Icon himself, Bailey, will be joining Weege and the rest of the gang in the booth for the first Racer X Motocross Shows on Motocross.com, which will come to you from Glen Helen in three weeks. That's when the 2008 AMA Toyota Motocross Championship kicks off. We've been hard at work with our friends from Motocross.com and the industry to plan out some really cool new pieces, including a live streaming pre-race show from the pits every Saturday afternoon, extended wrap-up coverage and then video programs every night of the week. It's going to be an epic year to be at the nationals, but if you can't make it, Racer X will get you in online with the Racer X Motocross Shows on Motocross.com.

By the way, we'll be starting out early with the preview shows in the two week leading up to Glen Helen, and we will also give everyone the opportunity to check out some of last year's SPEED TV shows over on www.motocross.com.

And check out the commercial Wes Williams of Vurbmoto.com put together for the 2008 AMA Toyota Motocross Championships, presented by FMF.

Also check out the new official website of the series, www.mxnationals.com. It just relaunched today.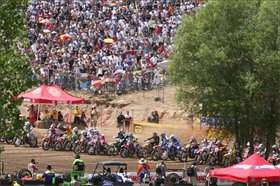 It's time to start thinking about AMA Toyota Motocross
photo: Simon Cudby

You can also check out another cool preview piece on the AMA Toyota Motocross Championships that BJ Smith put together for the SPEED TV website. You can view it here. Just click over to "Motorcycle Racing" above the viewing window and I think it's the top one.

Congratulations to two of our favorite folks in the motorcycle industry for making the Motorcycle Museum Hall of Fame: Scot Harden and Larry "Supermouth" Huffman. They are part of the class of 2008, which was announced yesterday. Harden is a renowned desert racer and ISDE rider who has worked in the industry for years. Right now he's somewhere between San Diego and Las Vegas, leading Racer X contributors Jeff Kardas and Rupert X. Pellett and a group of others to the SX this weekend by way of Harden Off-Road Tours. That's right, they're riding dirt bikes to town!

For fans who grew up in the 1970s and eighties attending or participating in supercross, Huffman needs no introduction. He was the man who invented modern race announcing with his enthusiasm and hilarious catchphrases, like "Rick Burgett is tougher than a two-dollar steak!" And "Hannah's on him like a hare krishna on an airport traveler!"

And then there's Rolf Tibblin, the former world champion from Sweden who spent a lot of time in America with Torsten Hallman, helping to bring motocross here. Tibblin's serious training regimen was way ahead of it's time, and the schools he organized with the support of Husqvarna were intense and fun…. At least that's what my big brother Tim told me when he went in 1975 at the age of 12 and my dad wouldn't let me go because I was too young. Timmy somehow made it through the week-long grind with a bunch of teenagers and twenty-somethings, but I'm sure he still thinks of that as the toughest week of his whole life!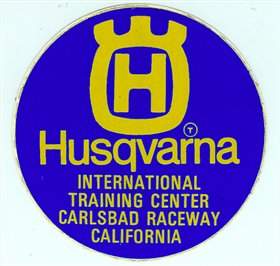 Rolf Tibblin ran Husqvarna training centers in the seventies

Random call of the week: I got a phone call this morning from a faithful subscriber inquiring whether or not a photo we ran in the May issue of Pit Pass was Lindsay Lohan. The answer, to any one else wondering, is no. The Lindsey in Pit Pass is actually a former Racer X model who is now working through the modeling ranks in southern California.

Tom Fox dropped up this line: "Just wondering if you knew what the cop car was doing in the Chad Reed video of him at Langston's track? (It's) around a third of the way in."

Simon Cudby, the Racer X Films provocateur, answered, "The police were there checking out Langston's paintball course. Apparently there was going to be an upcoming MX vs. Police shootout the following week. Really."

Chris Hultner spent last week on the infield and in the pits at the annual World Mini GP in Las Vegas, and then he got together with his Oklahoma neighbor (and newly crowned East Region SX Champion) Trey Canard for an exclusive interview. You can find it all in his weekly online feature iMPOUND.

Also, Andy Bowyer's biweekly column at MX Sports is called The Pulse and the latest version is about two other Loretta Lynn's graduates—Jason Lawrence and Ryan Dungey—and how they took the West Region to the final race. He also caught up with MotoPlayground's Harold Martin to talk shop, bench-race and find out what's going on around the amateur motocross circuit. Check it all out here.

Adding to that, we scooped Kevin Walker's recent bad luck in The Pulse #8. The thirteen-time champ went down a couple weeks ago and is questionable for this year's Loretta Lynn's Championships.

In addition we have Vurb Moto's "Mid-Season Report" where Brent Stallo takes a look back and analyzes his pre-season predictions and how they stack up to the current results. Beyond that, if you want to stay up to date on all things amateur motocross and learn all of the information about the upcoming regional championships, keep your clicker close to www.mxsports.com.

Okay, fast-forward to Friday morning at the 10 a.m. press conference out here at Sam Boyd Stadium. I caught a ride with Simon Cudby in his Gremlin hatchback and came in while Davi Millsaps was up on the podium talking. He was asked by host Jason Weigandt how important getting third in the final standings was as far as bonuses go, and his reply was to laugh and say, "I don't think I get a bonus for third!" And then he looked at Honda Red Bull Racing team manager Erik Kehoe and said, "Do I?"

Meanwhile, Jason Lawrence was out there putting in some laps on the #1W Yamaha that he will run tomorrow night in the East-West Shootout against his East Coast counterpart Trey Canard, plus rivals Ryan Villopoto and Dungey. Who do you think is going to win the whole shooting match?

Next up was Kevin Windham, who said that he couldn't believe that people were talking about retirement for him because "I feel like I am in the prime of my careeer." He also joked that his hopes for tomorrow night were "for Chad to get seventh." He also thanked the crowd for being behind him all year long, and how stoked he was to see #14 shirts out there everywhere.

Chris Bond, the TV producer for Speed TV, asked about all of the back and forth between he and Chad Reed, and he shrugged it off and said—and I am paraphrasing here – "I just want to win this title. It shows how bad we both want to win this championship, and we're both willing to fight it out. I got a taste of what winning this championship might be like, and although it may be a day late and a dollar short, I want to put my best foot forward. We have 28 laps to go and then we'll let the chips fall where they may…." I lost track there because of the mind-numbing amount of clichés.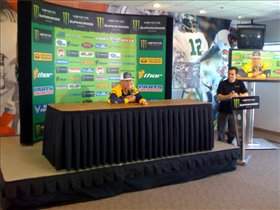 Chad has 34 SX wins now, third all time
photo: DC

Next up was Reed, who spoke about his injury and the critics and all of the Hondas up front last weekend, and he summed it up by saying, "It is what it is. I want to get a win (tomorrow night), that's how I want to end this thing. I know what I have to do to win, and laying on the ground in the first turn doesn't help…" On Windham: "I definitely have a lot of respect for the guy, ever since I was a kid, watching videos of him." He was very gracious, as was Windham, leaving it as this: "He has an opinion and I have an opinion, and we don't always meet in the middle, so it is what it is."

By the way, the guys at Dirt Wurx threw in three different whoops sections for the Las Vegas track. Just keep that in mind.

J-Law picked up his second Cycle News cover of the year from Seattle, even though he didn't win the race—a championship will do that for you! But he did have to split it with the sensational Ben Spies of the Suzuki factory AMA Superbike team after Spies' dramatic come-from-behind win over Mat Mladin at California Motor Speedway last weekend. Spies used the draft to eek out the win by just .011 seconds. It was a fantastic race to say the least!

When Trey Canard got up front, he was funny and mature and just had a big smile on his face throughout. Supercross Live's Jim Holley

brought up the fact that he saw Trey at a Denny's after the Detroit SX, which did not go so well, and how it was refreshing to see that he didn't have a big entourage like so many others do, just his mom and his trainer. Canard laughed, "Well, the entourage changes quite a bit when you get tenth!"

"We were kind of trying to intimidate him a little bit. It was nothing serious, but maybe we did get a little bit in his head…" He said the track will be like an under-watered track, and it will get blue grooved and everything.

Matt Williams sent us a note asking if we had a Stephane Roncada update. I am happy to say that he's doing fantastic, he's living in Phoenix with his wife and working on motocross video games. He's been teaming up with Marc Peters of Petersbuilt Designs helping to sketch out new track designs—real tracks—including Peters' latest client, High Point Raceway

The story broke on the Transworld MX site: Grant Langston crashed hard at the bottom of the big downhill at Glen Helen and left the track on a stretcher in an ambulance. The defending AMA Motocross Champion has been out with a vision problem since January, he's had heartbreaking family issues, and now he has a concussion and a broken collarbone. The Yamaha factory rider is having the collarbone plated, so he could be out as little as three weeks or as many as eight…. Good luck, Grant. Here's to future days.

Subscriber update: If you already signed up for the Smooth Industries sunshade and are wondering where it is, there has been a delay at the manufacturer. The are expected to arrive in the U.S. at the beginning of June and will ship as quickly as possible. If you haven't signed up yet, check out our new promotion here. You'll get 12 issues of your favorite magazine, plus a Smooth sunshade for your ride, for only $19.98!

If you haven't stopped by Sarah Whitmore's blog, Sarah Smile, you should take the time to remedy that today. She's really good about keeping it current with interesting news about her career and cool anecdotes about her personal life as well.

HG Films's Matt Wozney won an Xtremey Award for best amateur race video. "I'm pretty stoked about it! It was an awesome night indeed!" Matt told us.

Mini Rider's Chris Denison sent us this note: "I finally taught myself how to post stuff on YouTube, and my first ever video turned out so cool that I thought I'd share it with you. It's a little low-res (like I said, it's my first) but it's pretty quick so it won't waste too much of your time. The dudes on the vid are Jesse Ziegler, Pete Peterson and Jimmy Lewis. Those of you who know Jimmy should at least crack a smile. More DR web fun is on the way!"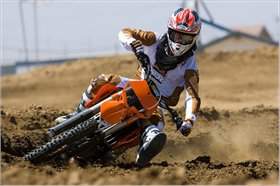 Martin Davalos gets in some outdoor laps at Starwest
photo: Carlos Aguirre

Carlos Aguirre was out at Starwest this week and spotted some riders. Honda amateur support rider Michael Leib and, later in the day, Martin Davalos. The MDK KTM-backed Martin was trying to see how his groin felt and then make a decision whether to race Las Vegas or not.
Matt Francis has a new video project coming together. For a glimpse and more info, check this out.
Here's some things from Steve "please let me be on the Motocross Show" Matthes:
I have been really enjoying doing the Racer X Canada podcast shows, we have seventeen of these little things done and they're on iTunes if you want to download 'em and listen to them while flying or whacking weeds.

This week I got "The Beast from the East" Damon Bradshaw on and we talked for over an hour. This was seriously my favorite one yet, just because he was a childhood hero of mine and was open and honest during out talk. I feel like Oprah sometimes getting deep into these guys issues that they had while they were racing. Anyways, check it out here.
I'm trying hard to get JMB on…LeBig, you gotta come through!
My little buddy Jason Thomas has been with me in Vegas this week. He rode down with all the mechanics in the BBMX semi down from Seattle. (What would be the odds of say, Chad Reed riding down in a semi to a race? A bajillion to 1? Just wondering.) We've been riding and training together to get ready for the last supercross of the year. Well, actually I've just been riding, he's been doing enough training for both of us! JT$ literally has a lot of $ riding on the fact that he's in third in the privateer points and is 10 up on Eric Sorby. It's a very big deal for the guy. He told me that he just wants to make the main. When I expressed confidence that he'll make it, he said that I have no idea how stressful it is to try and make it and that before every heat, he feels like throwing up. Good times…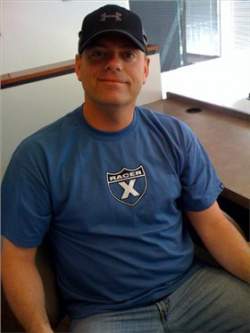 Live Nation's Ken Hudgens hanging out at the press conference
photo: DC

Hart and Huntington Racing have a full SX track out here located inside the Boulder City track and the guys have been riding there to get ready for Vegas. Well, by guys I mean Billy Payne who is a F.O.W (friend of Watson) and the teams newest (maybe) recruit Josh Hansen. Hanny may be suiting up for the H&H guys as Josh Demuth and Troy Adams both hurt themselves in Seattle.

Lil' Hanny was not too happy with me and my Cycle News column last week where I basically wrote that his career has been a real shame and he could've/should've done more. Anyways, he's going to be out riding on Thursday and I'm bringing JT to the same track and if you don't see "Observations" from Las Vegas, it's prob 'cause he beat me up.

That's it from Matthes, who is having an open house at his Vegas home tonight. Everyone is invited—even strangers!

Our pal Plons will be coming to his first AMA Toyota Motocross Championship race in a few weeks when he takes to the infield at Glen Helen. Plons, who was a good friend of Ben Townley's while he was over in Europe racing, also had this bet for us: "I bet you guys if BT101 stays healthy, he will win the championship; if not I will wear a Teletubbies costume at the MXDN in the UK." That's almost enough to root against BT101 for, but we won't!

For those of you keeping score at home, Jake Marsack received the Racer X Gas Card after David Vuillemin took a provisonal to get into the main event in Seattle. Oregon's Tiger Lacy took 5th in the LCQ for the Asterisk Medic Card.

Okay, here's some stuff from Ping:

Round 2 of the NAHA Racer X Suzuki Hillclimb Series ran last weekend at Glen Helen Raceway. The nitro methane was flowing like wine and at the end of the day, multi-time national champion Robie Peterson swept all three pro classes. It was the first time any rider had accomplished that feat since the production 450 class was added to the program. The 450 class is based on production 450s; you can add a swingarm extender and a paddle tire and that is about it. It makes it very easy for anyone with a motocross bike to try hillclimbing.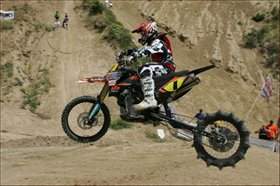 Robbie Peterson owned the hill Glen Helen
photo: Ken Faught

I jumped into that class last weekend along with a couple other crossover riders, off-road champion Kurt Caselli and former 125 Supercross winner Chad Pederson. The other two classes, 700cc and open exhibition, require major commitments to be competitive. Many riders use engines out of 600cc street bikes for the 700cc class and run them on nitro (making around 100 HP) and whatever monster of a powerplant they can shimmy into a dirt bike frame in the open class (around 1000cc and those run on nitro as well, making as much as 200 HP).

There was also a crossover challenge between Caselli, Pederson and myself at halftime. Kurt put up a quick run first while Chad fell over on one of the big ledges. I did my best by fell short by four-tenths of a second, so Kurt took home the $500 in cash. You're going down next year, Caselli, going down like a sweet muffin on Matthes' desk.


Travis Whitlock, Harold Waddell, Jason Smith and Brian Peterson all had good weekends as well, rounding out the podium in all three classes. I came in fourth in the 450 class, just out of the money but still ahead of Caselli. Take that, Kurt.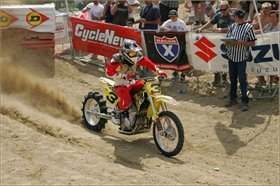 Ping working on his next career as a climber
photo: Ken Faught

These events are an absolute blast. If you live anywhere near one of the rounds, make sure you get out and watch one. If there was more money to be made I would sell everything I have, buy an RV, and travel the country climbing hills. Check out www.pro-hillclimbers.org for event information and a schedule.

I checked in with Michael LaPaglia this week to see how he was doing after his scary crash at the Navy Moto X World Championships. He says he feeling fine and he is doing all he can to be prepared for the opening round of the nationals at Glen Helen. "I'm feeling good," said Michael. "I've had three different CT scans since the crash and they all look good. They actually can't find any signs that I had a concussion at all. The main thing that I'm healing up right now is a bruised kidney and a lacerated spleen. Once those heal up I'll be good to start riding. I've been cycling and doing the things I can until then."

The crash at San Diego's Qualcomm stadium was an ugly one. According to eyewitnesses, Michael came out of the whoops a little sideways and then high-sided off the bike and into the berm. He was knocked unconscious and folded over the berm like a taco.

"I don't remember anything about the crash at all. I remember going out for practice and then waking up in the hospital. I'm glad I don't remember it; it sounds like it hurt."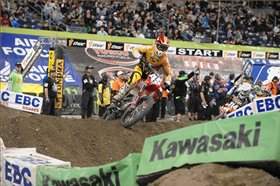 Bob Kiniry had the holeshot last weekend in Seattle
photo: Steve Cox

I also bumped into Bob Kiniry this week as he was doing some outdoor suspension testing with Mike Batista and the MB1 crew. When I asked him what happened in Seattle (he was running at the front and then fell) he explained it to me.

"I'm just sick of getting fifths," said the New Yorker. "I've been working really hard on getting up to that next level and I feel like I'm getting it. My speed was good up there but I just made a little mistake and that was it. I just figured I'd rather hang it out and do everything I can to get on the podium than settle for another fifth. It was easier to live with myself this week knowing that I gave it everything I had."

Bob has been having a great season and hopefully he can carry that momentum into the outdoor nationals.

If you are going to be in Las Vegas for the supercross final this weekend make sure to come by the Orleans Arena on Friday night for the Maxxis MiniMoto SX. The fifth running of the miniature supercross race kicked off with practice and qualifying on Thursday this week which is great news for fans because every single race that leaves the start gate on Friday night is a main event. If you haven't been to this race before I suggest checking it out. Eric Peronnard and his crew do a great job of putting the show together. Eric was the subject of this weeks Between The Motos. Check it out here.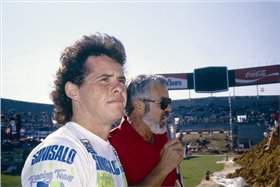 One of the best of all time, Jeff Ward, is now offering his experience to future champions
photo: Courtesy Moto Verte

Perris Raceway is in the process of building an all-new mini bike track. They intended to have it open in time for people to get war