Between the Motos: Eric Peronnard
The first weekend of May is always one of the best in Las Vegas (though the other 51 have their own special qualities too) because it's the last round of Monster Energy AMA Supercross, the series-ending banquet, and an entire weekend of moto fun—and it's not limited to supercross racing. There's also the new Las Vegas Pole Position Raceway where you are bound to find lots of moto folks, and of course the endless Circle Bar in the Hard Rock which, well, wow…
However, it all starts with the biggest little race of all. The 5th Annual Maxxis MiniMoto SX goes off on Friday night at 8:30 p.m. at The Orleans Hotel. It's pit bike racing at its finest, not to mention a fun way to start off your Las Vegas Supercross weekend. We rang up Mini Moto SX cofounder Eric Peronnard this morning to learn more about the big, er, little race.
Racer X: Eric, it's early out there in Las Vegas, but knowing you, I'm sure you're well into your day.
Eric Peronnard: [Laughs] Oh yes! First off, I am on East Coast time, so wanting to be or not to be, I'm up at 6 a.m., so we've been working for a few hours. And most of the staff is from the East Coast, from Mike Hathaway to Joel Grover to Shane Schaefer, so everyone is ready to work, and we're having fun doing it.
Wait, Shane Schaefer? Isn't that Mr. Erin Normoyle?
Yes, yes it is!
Is she out there working?
She is Miss MiniMoto, and also racing MiniMoto in the Women's class!
Nice…. So have you guys—and Erin—begun moving dirt into the Orleans already?
Yes, we moved in Monday. Shane and his crew were here the last three days and processed the dirt and got it really ready, like we've never done before. We're always trying to improve. We're trying to get more moisture into the dirt, because as we all know, Vegas is not know for moisture. We laid down the base and we're starting to build obstacles as we speak.
You have been at The Orleans, but this will be the first one, unfortunately, without the King of Supercross, Jeremy McGrath. Not only did he have to pull out of the ESPN Moto X Championships with his leg injury, he had to pull out of this as well. He's been on the podium every time, hasn't he?
Yes, exactly. And we're very bummed. Jeremy told me that he has decided to spend a relaxing weekend with his family instead of coming to madhouse Vegas, which we can't blame him for. He has a young baby and a lovely family, so that's a good choice for him. But we'll be thinking about him and we'll be missing him.
That's one last challenger that Derek Costella won't have to worry about, right?
Yes, Derek is the undisputed champion—he won two MiniMoto SXs already.
Well, now that Pingree's Supermoto team went up in smoke, he has more time to focus on the big events, like MiniMoto, so maybe he will get back up there.
[Laughs] Yes indeed. He's a flamboyant rider and racer and he's a crowd favorite, and I wish him the best. I think he'll be fun to watch.
I see that guys like Tommy Hofmaster and Willy Browning will be there. How about Tyler Villopoto?
I don't recall which class he's in. Eric Sorby will be there, as well as Steve Boniface. It's the first year for Boniface. And we have Matt Buyten, who won the Step Up at the ESPN event.
I want to see Eric Sorby versus Erin Normoyle on pit bikes.
[Laughs] I'm sure a lot of others would like to see that as well!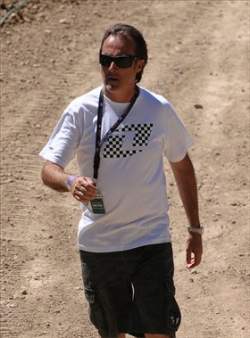 Eric Peronnard

photo: Steve Cox

What are some of the other things you have planned? I know the MiniMoto is as much of a party as an event.
It's all about racing and fun. We have 11 classes and almost 700 people battling to get into the 11 finals. We're going to have the Wheelie Wizard doing an exhibition and we're expanding the electric bike race—we believe in the future and we know one day we're going to have to race those things. Last year was a world's first and this time we're going to have six riders racing for the second MiniMoto Electric Bike Final. We may have an appearance from the Nitro Circus team, but we haven't structured it, which isn't a surprise with those guys. So hopefully Gregg Godfrey and his team will show up in the middle of the evening and turn it into a mad house.
Yeah, they can have anything from a freestyle contest to a human sacrifice to a spelling bee!
[Laughs] Exactly! Don't call and give him any ideas because he'll pick them up!
Who are set as the announcers?
The Jerry Bernardo, who has been doing all of our shows since day one, and we love the guy. He will be down on the floor. And we have Laurette Nicoll—formerly Laurette Cushman—with Paul Lindsey up in the booth as well.
Is the event sold out already or are tickets still available?
Tickets are still available. MiniMoto always sold out, but never in advance. It's one of those things where people come to Vegas for the supercross and say 'Hey, let's go to MiniMoto on Friday night.' So it's looking good and we're on track to sell out, as in the past.
Where can people go for more information?
They can check out www.minimotosx.com.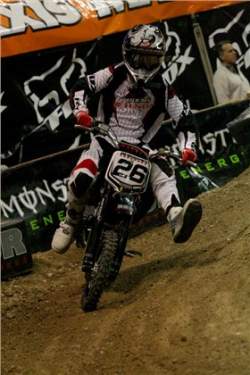 Racing starts at 8:30 p.m. on Friday night!
photo: Matt Ware