Motocross lost a quiet, relatively unknown hero this week in a very tragic way. Tom Stout, the promoter of Pyramid Valley Raceway in Lost Creek, WV, lost his life on Wednesday night. Stout, who opened the track off Exit #111 on Interstate 79 was driving a tractor, churning up the dirt for the first practice session of 2008. He rolled it off the side of a tabletop jump and was crushed beneath it. He was 59.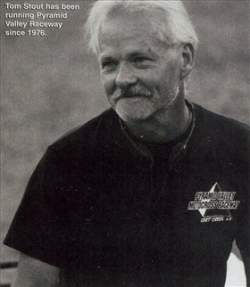 Tom Stout was a great friend to riders for more than 30 years.

I've known Tom since 1978, and he was quite a character. He was the kind of promoter who would do anything for you. If a top pro was in town for High Point, he would open his gates for him. If a family couldn't come up with enough money to get into the front gate, he would let them in anyway. And no matter how big other tracks and series grew around his little outlaw motocross track—he had big neighbors in High Point, Steel City, Pleasure Valley Raceway and more—his enthusiasm for motocross and the families that came to his track never wavered.

Tom and my dad were friends. He would call the house with one crazy idea after another—a starting gate that actually rose up overhead, nighttime hare scrambles racing, a two-on-a-bike class—but sometimes he came up with some really good ones, like snocross, which he was holding for snowmobile riders way back in 1970.

I wrote a story about Tom back in the August 2003 issue of Racer X and what a wonderful little racetrack and moto-community he had built off the side of the interstate. I asked Bill Ursic to scan it in to share with anyone who wants to know more about this unknown hero.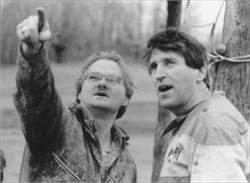 That's Tom discussing his track with my dad some years ago.

photo: Racer X Archives

I also received this note from my friend Dan Geery, who became friends with Tom—from all the way across the country—after he read that story:

I'm stunned about Tom. When you did that article in '03 I was so touched by all of his hard work and enthusiasm to help riders and make his track a great place to go. I emailed him to tell him how I enjoyed the story, and he sent me a T-shirt from his track that I still have in my closet, and I wear it proudly every so often. I will now keep that shirt in my moto-keepsakes and remember Tom for everything he did for motocross. I drove by his track when I was heading to the Snowshoe GNCC race last year. I was going to stop by and tell him personally that I enjoyed the shirt he had sent me a few years earlier, but the track was closed. I never met Tom personally but I feel he was one of the good ones for our sport. R.I.P. Tom you are going to be missed. I'm sorry for your loss of a good friend and a true moto supporter.
Dan Geery
FOX Racing Shox

Tom's funeral will take place in Clarksburg, WV tomorrow morning at 10 a.m. at Davis Funeral Home (304-624-6344; www.davisfunerals.com.)

How strange and sad that this would happen just five days after Trey Canard won his first professional title. Trey lost his father in 2003 to a similar accident, and he speaks of him often on the podium. (The recent No Fear ad featuring his first win at Atlanta on February 23 is one of my all-time favorites, especially with the photo of his late dad, Roy, doing a stand-up wheelie in the lower right corner.) And I should mention here that another local hero, Greg Barnhart, also lost his life several years ago in a rollover tractor accident. Barnhart owned Barnhart's Suzuki just off I-79 in Ruff Creek, PA, and he was a huge supporter of local riders in motocross and cross country.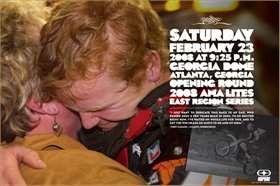 Trey Canard's No Fear ad was about the father he lost and the first race he won.

Needless to say, Tom will be sorely missed by the entire motorcycling community in our part of the world. He did a lot for the sport, and we all owe him for that.

So Trey Canard came out on top in the East after all. I really thought Ryan Villopoto had him covered, but then they came together in the turn before the finish line, Ryan got muscled off the track, and Factory Connection Honda (now Torco Racing Fuels Honda) had its first SX title since 2002.

Coincidentally, that same year that Travis Preston did the job for FC, Chad Reed of Yamaha of Troy took the East Region. And now another YoT rider, Jason Lawrence, is ahead out West…. Interesting.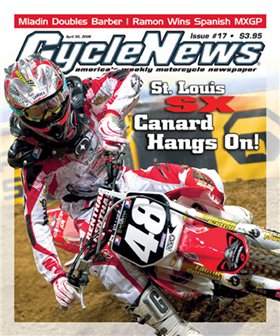 With his championship win, #48 got another Cycle News cover.

To listen to this weekend's West Region finale, as well as the 16th round of the 2008 Monster Energy AMA Supercross Championship, tune in to Jim Holley and Jason Weigandt at 10 p.m. ET and 7 out West on SX Live!. The race will also be featured on Speed TV on Sunday, April 27, at 6 p.m. ET. (And you might also want to check out tomorrow's coverage of the St. Louis Lites battle between Canard and Villopoto and make up your own mind of whether it was a takeout or not. It airs at 3:00 p.m. ET on Speed)

By the way, Weege's Blogandt has been terrific lately. If you missed his take on partying, check it out here.

This might be one to keep in the back of your mind this Saturday night: As Andy Bowyer mentioned in yesterday's Rev-Up, Ryan Hughes is no longer working with Jason Lawrence. Ryno did not go into detail, other than to say that he wasn't feeling appreciated by the Yamaha of Troy rider who really turned things around from mid-January on. Instead, Hughes has taken on a new client to add to his stable of riders that he's training and coaching: Team Yamaha's Broc Hepler.
Jason Lawrence will go into Seattle without Ryan Hughes in his corner.

photo: Simon Cudby

"We're going to try it out for the next six weeks, until the outdoor series heads back east [after Hangtown] and then see if it's working out," said Hughes of the just-off-the-sidelines Hepler. What has impressed Hughes the most so far? "The fact that he shows up on time!"

Hughes had a good week last weekend with most of his other riders. Ricky Dietrich won his WORCS race, Tommy Weeck took a bunch of podiums at the World Mini GP, and Ricky James continues to blow people's minds in his truck races. He won his third straight, setting the track record at a track he'd never even be to before. "That kid is just amazing," says Hughes. "I truly believe he has the chance to become the first paraplegic ever to reach the NASCAR level." One thing is for sure: he's got a whole sport rooting for him.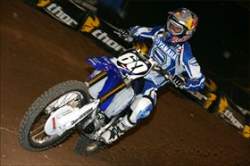 Broc Hepler, on the other hand, now has Ryno to work with.

photo: Simon Cudby

The only not-so-hot performance came from Josh Hill, who crashed in the whoops at St. Louis and then had a tough time getting going again. "He's putting a lot of pressure on himself to perform, and I think he just needs to relax a little," offered Coach Hughes.

I also spoke to someone in J-Law's camp about this and he basically said that Lawrence really enjoyed working out with Hughes and was hoping to continue, but he didn't like having a riding coach. "Jason rides the way he wants to ride, and he does the opposite of what he's told," said Monster Energy's Scott Sepkovic, who looks out for Lawrence and is also a friend of Ryno's. "He likes doing things his own way—it's the way he's always been."

Meanwhile, in the 450 class, both Chad Reed and Kevin Windham had some pretty provocative things to say about one another after last weekend's St. Louis race. Actually, it started before the race, as Steve Cox found out in his Monday Conversation with both of them:

Racer X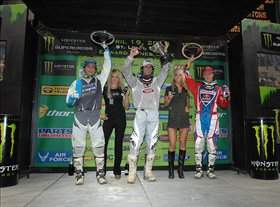 Kevin (center) won St. Louis, but not after an early afternoon debate with Chad.

photo: Carl Stone

: I heard a bit about you and Chad Reed having a confrontation at the track walk. Is that true?
WINDHAM: Yeah, I mean, he's not happy with me calling him out, you know? But I don't feel like last weekend he worked like a lapper. A lapper's supposed to give way, and I think he ran me high, and I think it'd be easy for a guy going for a championship to be kind of pissed and run somebody high who was coming by to challenge him. I think that would be kind of easy to do, and I don't know, maybe I called it wrong, but I called it like I felt it and like I saw it, and if it's different than what he did, then oh well. That's just the way it goes. And ever since then, he's supposedly lost a lot of respect for me, so the feeling's mutual, and we'll just race. That's what we do. I'm not good at all the rest of this stuff that goes into it, I just really want to race it out and I want to get closer, and I want to pass him. We'll just see where it goes.
Racer X: It seems like you and K-Dub aren't getting along...
REED: It's not necessarily getting along, I just feel that he totally called me out last week, and I couldn't have gotten out of his way any more. I was out there, and I was one of those guys that I yell and scream at every week. I was a lapper, and I felt like I was trying to do everything possible... You watch the video, and what he said, I'm a straight-up guy, and I think honestly when you listen to what he said and watch the video, he looked like a fool. I wasn't going to jeopardize myself at that point, and I was just happy to be out there and happy to be making laps and walking away with some points. I guess he felt like I did it [ran him high in a berm], and he said that he was truly worried about me, but I've got a lot of respect for the guy. I root for him on some weekends. He's the guy that some people write off, and those times that you write him off, he comes out and kicks people's asses. I respect that about him. But what he said, I think I just put it down to the title coming in. He's in a win-win situation, and I'm in a survival situation, and there's going to be tension….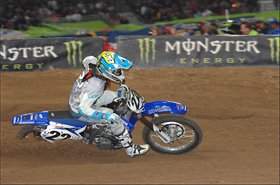 Chad says he was on survival mode at St. Louis.

photo: Carl Stone

That's good stuff! We haven't had a good back-and-forth like that since Tim Ferry's mechanic Steve Matthes (yes, our Steve Matthes) got into it with Ricky Carmichael at Salt Lake City '03, which led Carmichael to says that he was going to go get his gun and … well, he was mad.

Matthes, coincidentally, spoke to Chad this week for his wildly popular "Somewhat-Live-and-Uncensored" Racer X Canada Podcast.

And speaking of Steve Cox, here's his stuff:

I talked to Aldon Baker last night – you know, the South African guy who took a chubby RC and made him into the GOAT? As many of you probably already know, he's training James Stewart right now. I asked Baker about Stewart's recovery, and he indicated that Stewart is ahead of schedule everywhere – in strength tests, in the MRIs they've had done, etc.

So, as of now, Stewart is a go for Glen Helen on May 25. However, that can still change. Aldon said they would love to have more time to let his knee heal up, but they simply don't have it. So, Stewart is scheduled to start riding this coming week, and if there is any soreness or any issues at all, it's still possible that they pull Stewart out of the opener, and possibly even Hangtown as well.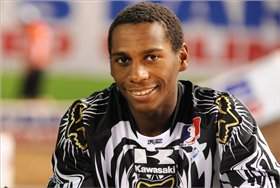 James is going to start riding again this week.

photo: Steve Cox

However, the good news (for Stewart) is that even if he misses a round, and maybe two, if the championship goes this year like it did last year, he's definitely the kind of guy that could still win it, even giving everyone else a head-start. If you remember, in 2003, when he missed the first four rounds and still came within 30 points of the title at the end of the year.

Last weekend in St. Louis, Torco Racing Fuels Honda's Dan Reardon made his 450cc SX debut. Unfortunately, after leading his Heat race, he was knocked down when he miscalculated a yellow-flag area while running second. The AMA may be the only sanctioning body in the world of motocross racing that allows passing on a yellow flag. Reardon slowed down in a section where yellow flags were out, and Motosport/Xtreme Kawasaki's Tommy Hahn cleaned him out in the corner. The AMA rulebook states that the yellow flags just mean to "use caution". I don't know if knocking a guy down in a yellow-flag area is "using caution", but it's clear that Hahn definitely didn't have to stay behind Reardon in that area. This is something Reardon was unaware of. But he's aware of it now! The result was that Reardon didn't make the main event, even though he was obviously plenty fast enough to do so.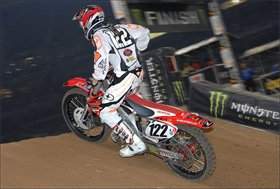 Dan Reardon was fast but confused by the flags in St. Louis.

photo: Carl Stone

Taking over temporary 450cc duty for the Torco team this weekend in Seattle is Josh Grant, whom EJ spoke with earlier this week. The hope is probably that Grant will be able to put himself between Kevin Windham and the ailing Reed and give Windham some much-needed points in the championship hunt. If Windham manages to pull three or five more points in Seattle, he can go into Las Vegas with as little as eight points to make up on Reed. Maybe the smart move for the Torco team is to have Reardon, Grant and Jake Weimer all jump on 450s for that event, if this happens!


Weimer, by the way, scratched from the Seattle race, as reported earlier this afternoon.

And last, but not least, I want to take a moment to talk about our current crop of Lites riders. Imagine if Tommy Hahn, MDK KTM's Justin Brayton, Dan Reardon, Josh Grant and Rockstar/Makita Suzuki's Ryan Dungey were all racing 450s all year this year. It has become obvious that the top Lites guys are just as good as the top 450cc guys (save possibly Reed, Windham and Stewart). Hahn, for example, has two top-fives on 450s, which is about where he has been finishing in the Lites West. Dungey has a second-place, which is in the area of his normal placement in the Lites West. The same can be said of Brayton's ride last weekend (although he has been on the podium out west). Wouldn't it be nice to have all of these guys in one class duking it out? I think so. But I don't know how that's possible. I'm just venting.

Oh, one other thing: In practice in St. Louis, many privateers were wearing GoPro cameras like the one Josh Hill won the Minneapolis Supercross with, but according to a couple of the privateers, they were told before the racing started that they had to remove their cameras before they raced. This doesn't make any sense to me. Apparently, the reasoning is that Live Nation has exclusive control over video content from the races and they don't want helmet-cam videos showing up on YouTube. However, what better way to promote the series - FOR FREE - than to have a few privateers show off their helmet-cam footage on YouTube? I really don't get it.

That's it from Steve, who is on his way to Seattle.

If you're a Racer X subscriber, than you got the new Harley-Davidson promo booklet "Dark Custom" in the latest issue with Chad Reed on the cover. The little black book is written up as an artist/poet's sketch book, with gothic-style drawings and words. For a huge, established company like H-D, it's a very cool piece. They obviously want a new group of riders; by the response we got from our readers, this booklet is going to help get the job done.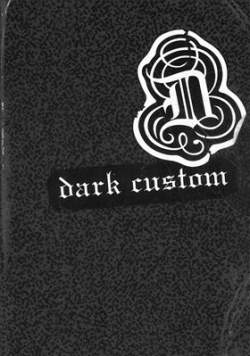 Yes, that was a Harley-Davidson piece in Racer X!



Chuck Sun is over in Europe pursuing a Vet's World Championship as part of the Grand Prix tour. His first race in Spain did not quite turn out according to plan! Check out his blogs on www.chucksun.com.
Reader Bill Jones sent us this note regarding the 199 Lives premiere last week:
Just thought I would let you guys know that I went with a couple friends to see Travis Pastrana's new film 199 Lives. Although the movie was entertaining and insightful, it was disappointing to see that we were the only people there! I realize that there was little or no promotion of the film and it only had one showing on Wed and Thurs night; but it was downtown Chicago where you would think that at least a few people would be in the theater by accident. Nonetheless, we were happy to support Travis.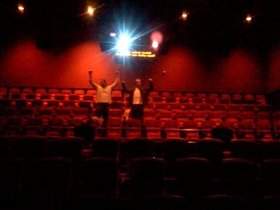 Bill Jones and friend.

There must be something in the water down in Australia. First, Robbie Maddison destroys the distance record, then does it again. Now Aussie Jimmy McFarlane has presumably beat the dirt bike height record. Haven't heard of that one? Check it out yourself.

Racer X Canada has a really interesting interview with Darcy Lange on the site this week. Here's one of the questions they asked of the rider who has been sidelined as he battles cancer:

RXC: If you decide to race again, professionally, what are your options?
LANGE: Well, the first year I would go to arenacross to see how I feel; to see if my body can handle it. The chemo shrunk my heart and lungs, so my lungs can't produce the oxygen that they used to. Like I can't go scuba diving, not that I want to, because my lungs can't handle pure oxygen. There's nothing bad if I do go back; I won't die or anything, but she said my lungs won't handle it. I'm really not sure what I'm doing, though, it's all up in the air.

From Andy "Nationwide" Bowyer:

Go ahead and mark a top-five finish for Ricky Carmichael in his first attempt at a full-bodied stock car event. The GOAT qualified his #4 Monster Energy/Ken Schrader backed Chevrolet 11th in the thirty car starting grid and methodically picked his way to the front finishing 6th. Although, post race inspection discovered an illegal right-rear shock on the winner's car and he was DQ'd from the race. This moved Carmichael into fifth.

Scott Taylor, Ken Schrader, and all involved with RC's car effort have seen a definite increase in performance since he moved into the "real" cars. He has already been invited to more test sessions following his strong run and things could be looking really, really up for the 15-time champ.

By the way, we heard some whispers about the Daytona SX possibly moving to Saturday night and the 200 being run on Sunday way back during Bike Week. The rumor got more traction when Roadracing World reported this:

"Daytona Superbike will be the class of the 2009 Daytona 200, which is tentatively scheduled to take place on Friday night, under the lights at Daytona International Speedway. AMA Supercross (which currently runs on Friday night, the night before the Daytona 200) will be moved to the Saturday or possibly the week before so that there will be no momentum-interrupting day off for road racing."

To read more, click here.

Want to see something your parents probably never imagined would happen?

Check out this kid below on the 150 getting his whip on down in Texas. The photo was shot by Matthew Tallon, and the rider has some serious motocross pedigree: it's Derek Howerton, son of three-time AMA National MX Champion Kent Howerton, the best Texan ever. "The shots of Derek in jeans and a t-shirt just laying that 150R out cracked me up," wrote Tallon. "My good MX buddy Lloyd Longmire (75 yrs) told me the story of Kent showing up at a local Central Texas MX track back in the 70s, entered in the Expert class and smoked everyone – wearing jeans and a t-shirt. Some things never change!"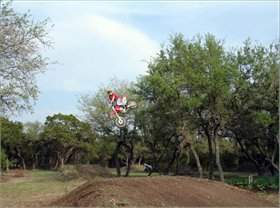 That's THE Kent Howerton's son getting whipped on his 150.

photo: Matthew Tallon

Here's an interesting fact that Sharon Richards gave us for the webcast. If Villopoto would have won the SX in St. Louis it would have been Pro Circuit's 150th win and 23rd Championship.

And here's a good place to turn it over to David "Brother, Can You Spare A Ride?" Pingree…

I've been getting crapped on so much I think I'm just going to start wearing a toilet as a hat. I got a phone call from my newly formed Supermoto race team this week saying that their investors had pulled out and that, effective immediately, everything was being dissolved. That contract I have is now just a neatly-stacked wad of toilet paper because I won't see any of that money and I am out of a ride. Sweet.

If this sad story sounds familiar that is because the same thing happened to me in 2000 when my super-awesome team, Primal Impulse Suzuki, went tits-up and stiffed me for about 40K. But I'm sure something good will come out of all this so I'm not going to get all crazy and talk trash. No, I will maintain my dignity and look for the silver lining, whatever that ends up being.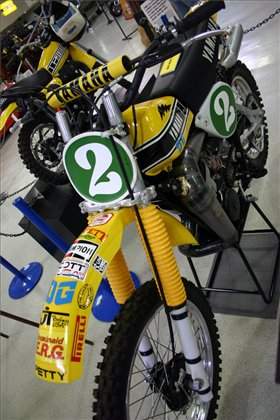 That's the Hurricane's old weapon, now at the MX America Exhibit.

photo: Ping

There are a lot of events going on this weekend on the left coast. Supercross fans will be in Seattle watching the West Coast Lites title go down. Will J-Law be able to lock up his first title without a trainer taunting and trash-talking his competition in the tunnel before the race? Tune in to find out! And Reed will tape up his shoulder once again and try to hang on to the championship he has been working so hard to win this year. A little further south, racing fans of southern California can check out the AMA Superbike round at Fontana's California Speedway. There is also the opening round of the CORR truck racing series at the Pomona Fairplex in Pomona. There won't be bikes there but you will see former racers Jeremy McGrath, Rick Johnson and Robert Naughton leading the way in their respective classes. Good luck, guys.

And finally, if none of that stuff blows your hair back, you can always come out to Glen Helen for the second round of the Racer X Suzuki NAHA hillclimbing series. I did one of these a couple years ago and had so much fun that I couldn't wait to do it again. The boys at KTM set me up with a bike and it should be a blast. Off-road star Kurt Caselli is coming out, as is former supercross winner Chad Pederson, to test his climbing skills. Qualifying is Saturday and the finals are on Sunday. If you've never seen one of these do yourself a favor and check it out. They are really entertaining. Check out www.pro-hillclimbers.org for more info.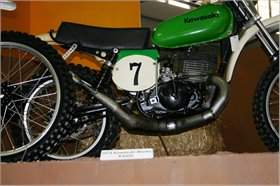 Jammin' Jimmy Weinert's actual race bike.

photo: Ping

I attended a press function this week at the Motocross America Exhibit in San Diego. The San Diego Auto Museum is hosting this exhibit, which normally rests in Pickerington, Ohio, for the next six months. Tom White is the curator of the historical display and he has put a lot of effort and money into making sure that residents on the west coast, and visitors to the San Diego area, get a chance to peek into the past and see where motocross got its start.

"The San Diego Auto Museum has been great to work with," said White. "They are in the process of constructing another building behind the current museum. It will be a multi-level development that will serve as a venue as well as a museum for historical pieces. We are also negotiating with them about dedicating an entire floor to the Motocross America exhibit. This would be a perfect home for it."

The purpose of the luncheon was to let everyone know about the May 17 "Celebration" that the museum is having to raise funds for the display. Heroes from the past such as Roger DeCoster and Gary Jones as well as local stars like Broc Glover, Rick Johnson, Ron Lechien and others will be in attendance. There will be live auctions of some very special motocross art as well as a great lunch served to all. The history of motocross is fascinating and something that most fans don't know enough about. And if you've never seen some of the bikes in this display, well, they are incredible. For more information contact Tom White at twhite80@sbcglobal.net.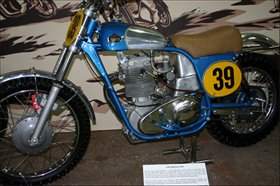 Somewhere, Scott Wallenberg is smiling.

photo: Ping

The exhibit is open now and through August. Tickets for adults are $8. For details, hours of operation and other information on the Motocross America Exhibit go to www.sdautomuseum.org.

The Racer X Gas Card winner in St. Louis was Team Babbitts/Monster Energy's Chad Johnson, and the Asterisk Medic Card recipient was BBMX's Matt Boni. What kind of sucks about that for Boni is the fact that he's been on a good run in the East. The week before, at Detroit, Boni won his heat race. He also got on the box at Daytona and Toronto.

Here's a special thanks to this weekend's Racer X Gas Card sponsors Brian Mott and Jason McCune for stepping up and helping out with our program.

Pro Action's George Quay turns 60 this Saturday (DC always reminds us that George and Pro-Action were the very first advertiser in his old The Racing Paper, and Phil Alderton from Honda of Troy was second). We would also like to wish RTF/Kawasaki's Roberto Castro a Happy 19th birthday this Sunday. Castro qualified for his main event at the Dallas SX a few weeks ago.

Jeni Crine, sister of the late great Kevin Crine, sent us this shot of Kevin for the #60 Number Cruncher.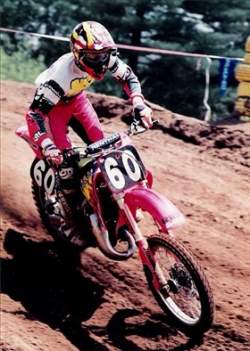 Maryland motocross legend Kevin Crine rocked the #60 too.

photo: Courtesy of Jeni Crine

We'll be sending Jeni some RX swag.

Fox just dropped a cool online interactive catalog.

Check out this new clothing line: www.coldbloodbattlegear.com.

From Matthes:

Whatever you wanted to know about Parts Unlimited's Rob Buyd