5 Minutes with ... Josh Grant
This Saturday night, Factory Connection Honda rider Josh Grant will make his supercross debut on a 450F. For Grant, whose AMA East Region Supercross Lites season was plagued by bad luck and a handful of mistakes, a strong result at Qwest Field would provide some much-needed momentum heading into the 2008 AMA National Motocross Lites Championship.
Racer X: Josh, what's the plan for this Saturday in Seattle?
The plan for this weekend is to go out and have fun and use this as an experience for me to get on the 450. I had a couple days on the bike this last week and feel pretty comfortable on it, so I kind of want to go out there and see where I stand with these guys.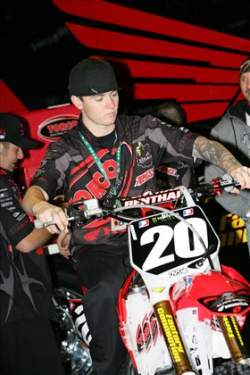 photo: Simon Cudby

Have you been on the 450F much in the last year?
Oh no… I mean, I've ridden it a few times like on an outdoor track just to kind of replace the 250F every once in a while, but nothing serious, no.
So you've been riding the 450 on the Honda test track?
Yeah, the last three days I have been out at the Honda track testing on it. I'm getting a good setup and having those guys help me out was good.
How did you feel on the bigger bike?
I felt really good right away. You know it took a little while getting used to jumping the triples and stuff and not be on a 250F, but other than that, I feel really comfortable on the bike and I was going just as fast as everyone else. But that's not the goal. The goal is to go out and have fun and use it as an experience.
I don't know if you can talk abut this, but does the team want you to go out and try and help your teammate Kevin Windham out as he attempts to close the point's gap on Chad Reed?
There hasn't really been any talk about helping Kevin out. I mean Kevin has his own work cut out for him for the championship any way. And it's not my place to go out and get in the middle of someone else's battle. So, no, I'm just going to go out and have fun and ride.
Did you watch Ryan Dungey do the three 450F supercross races back in March? And if so, what did you think of his performances?
I've known Ryan for a while and he's a pretty good 450 rider and I expected him to do pretty well on the 450. And he did. He did really well. I think it just shows how much talent is still in the Lites class that can move up and be good for 450 racing.
What's your goal for Seattle?
Oh man, top five. That would be good for me. If not, oh well, it'll just be a learning experience.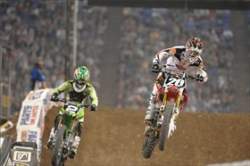 Grant and RV2 battled in Minneapolis

photo: Steve Cox

How did you feel about your 2008 East Region Supercross Series? Looking back at your results, it almost seemed like anything that could go wrong, did go wrong.
Yeah, pretty much everything that happened, happened. It was bad luck. You know, I felt good all season. I came in really prepared. Me and my trainer, Daren Stockton, we worked really hard during the off-season and tried to do the best we could to get ready for the season. And bad luck just fell my way and I just couldn't seem to get out of it, but when I did, I finally got some momentum built up and started riding better and getting better finishes and better starts and not having to deal with anyone back in the back. I know I was one of the fastest dudes out there and I should have been up there the whole time.
With the Lites Regional Series being so short, when you get off to a bad start at the first round like you did with a seventh at Atlanta, is it tough to bounce back and stay motivated?
No, there's always a new start for everything, so I think the outdoors coming up is going to be a fresh start for me. You know it's always good to look forward to something like that. I have a positive outlook on what's coming up, so I'm just going to focus on that and put the past behind me.
With the run-in you had with Ryan Villopoto at Atlanta, did you have any idea the incident was going to touch off the firestorm it did in the chat rooms?
It was just a mix up that everyone blew out of proportion, but him and I are buddies. And everyone knows that that really knows us, too. You know, we just had a battle. We're rivals, but we're still friends at the same time. It just makes for fun racing.
Were you surprised with how well your teammate Trey Canard's season started?
Yeah. Trey did really well. He got pretty lucky the first three rounds and just got a big points lead, so he rode it out. He had one bad race or so, but everyone has got to have a bad race. I think Trey did really well this year keeping on the right path of leading the points. What can I say? He did really well.
If your season would have started off better, do you think you would have been right in the mix for the title?
Yeah, for sure. The first three rounds are what jacked me up. It just started off wrong right from the first practice with my bike having an engine problem. It just kind of started off bad, but we worked through it and that's what matters.
What's your take on how the final race in St. Louis played out? Did you try to help Trey out?
Yeah, you know, obviously, a team deal is a team deal and we wanted to win a championship. So yeah, I could have forced the issue with passing Trey back and doing something about it, but at the same time, I also wanted our team to get a championship. We deserved it. I think I kind of let him by and let him try and get as far ahead as he could so we could lock it down.
What did you think of the Canard and Villopoto crash?
You know what? I missed it because I was just a couple of corners back and I came around and just saw Ryan down and knew that something had happened. So right then and there I knew that it was over so I just kind of settled in. I was like, "I want to finish on the podium and finish string for the last race and focus on Vegas."
Is the Dave Coombs Sr. East-West Shootout important to you? A good result could be a great way to end your supercross season…
No, not at all, really. It's kind of just like a fun race for me. I want to stay healthy. There's nothing in it for me. I mean to go out and win the East-West Shootout would be good just because of all the guys being there, it would be good bragging rights. Just having a solid finish would be good.
You won a National and finished third overall n the 2007 AMA National Motocross Lites Championship. Do you feel positive about the 2008 National Championship?
Yeah, I mean I was the only guy last year to beat any one of Mitch's guys. I really want to focus on this season and get it done. I want to get a couple wins and just stay consistent all year, and if I can do that, I'll be down there at the last round and hopefully be battling for a championship because I want to get one before I go out of the class.
Can you beat Villopoto?
Yeah, I feel I can. I think anyone is beatable. If you have all your cards right and do everything you possibly can to win, then I think that if the time is right, it will come.
What do you think of this new crew of young riders such as Trey Canard, Austin Stroupe, Ryan Dungey, Josh Hill and Nico Izzi? Are you impressed with them?
Yeah, it's kind of like how it was when I came into the scene. It's just new talent. It's a new group and new fire. I think those kids have a lot of fire under them and I think it's good and I think it's going to bring the sport up to an even faster pace. I think what they're doing is good.
Do you move up to the 450 class next year? Have you made that decision yet?
I haven't made any decision yet, but my goals are to. I would like to. That's kind of where I'd like to end up. I want to focus on getting on the 450 and settling into that kind of crowd.
Have you been asking around about finding a ride on a 450 team?
I haven't done anything. I kind of wanted to wait until the season was over to do any of that. I wanted to focus on what was in front of me and not on what could happen. So, yeah, I have not done anything with any teams or signed anything. So I'm just kind of riding it out right now.
If the Factory Connection team wanted you to ride the 250F one more year, would you do it?
Probably. Yeah, I would.