Three races to go, and three championships yet to be decided. How cool is that? Did you think after, say, Anaheim 2 than anyone other than Ryan Dungey was going to lead the Lites West? And what about the East—I had Ryan Villopoto's name down in ink as the champion before the Atlanta opener, only to scratch it out and write "Trey Canard" after Daytona.…
Oops. Now that one is going to the wire, with a winner-take-all final this weekend in St. Louis. If Villopoto pulls it off, wins the race, and ties Canard in points (he's down three now) that means we go to the tie-breaker—most wins in the series—and at that point RV2 will have four to TC's three. Who do you think will win? If you haven't already, go and vote in our Online Poll. Right now 75 percent of our pollsters have RV winning the title…
And then there's the 450 class. Wow! Talk about your reversals of fortune. Chad Reed had this thing in the bag by the time the series left California, then began a series of inconsistent results—2nd, 6th, 1st, 7th, 7th, 1st, 1st, 12th—and now he's got a broken scapula, separated shoulder, and rode last weekend (in the immortal words of Steven Matthespeare) "with more drugs in him that Siegfried & Roy's white tiger). He's still 16 up, but riding hurt is riding hurt; anything can happen!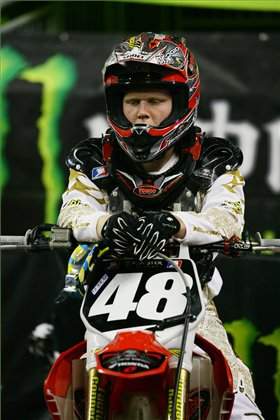 ...or Trey Canard taking home the East Coast Lites title Saturday night?

photo: Matt Ware

This Saturday night, the first title—East Lites—will be decided between Canard and Villopoto in St. Louis. You can listen to the race (which will be held in the Central Standard Time zone) beginning at 7 locally, 8 in the East and five p.m. out west). Tune in to the soothing sounds of Jason Weegelicious and James "Polaroids" Holley on Supercross Live!. You can also watch the laps click off on AMA's site, and then watch it all happen in High Def on Sunday, April 20, at 12:00 p.m. ET on CBS Sports.

While there are three championships left to settle indoors, there are two more major titles to be decided this summer when the AMA Toyota Motocross Championships take off, beginning May 25 at Glen Helen Raceway—the site of last year's grand finale. It looks like all of the men that have been sitting out SX with assorted injuries (Stewart, Townley, Tedesco, Byrne, Alessi and more) will be back at full strength by the time they hit the always-grueling slopes of Glen Helen.

Jody Weisel, the GH track designer, has already been working hard to make things different and exciting for riders and fans alike. From what we're told, he's managed to make it both a little slower and safer, while at the same time making it even more challenging. They've also added a bike wash to the pits area, which is something you will likely see at all 12 rounds. To see some pics from Jody's plane and check out some of the new obstacles, click here.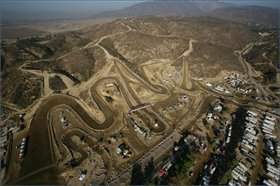 Changes are already being made in preparation for the opening round of the AMA Toyota MX Championship at Glen Helen on Memorial Day Weekend.

photo: Simon Cudby

The second round of the series will be the Hangtown Classic, and you just know those busy little Dirt Diggers are up to their elbows in new ideas. Hangtown was the kick-off last year, but it was moved to the second round as a way to help make a more streamlined travel pattern. We will have more on Hangtown soon.

Next, it's off to Texas for a visit to the newest track on the circuit, Tony Miller's Freestone County MX Park. Even though Mr. Miller and his crew had a great debut late last summer, he's also been working to make things even better. He has added infield spectators areas, relocated the hospitality area to allow spectators into a grandstand-equipped area near the finish-line tower (where those nasty whoops are). This will be much better for the spectator this year at Texas, which has the same challenge that Kenworthy's used to have—it's pretty flat down there.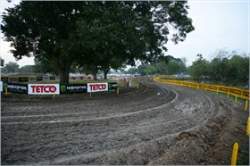 Freestone County is the third stop on the 2008 schedule.

photo: Simon Cudby

Here is the complete schedule for the 2008 AMA Toyota Motocross Championships:

May 24-25 Glen Helen Raceway Park, San Bernardino, CA
May 31-June 1 Hangtown Motocross Classic, Sacramento, CA
June 7-8 Freestone County Raceway, Wortham, TX
June 14-15 High Point Raceway, Mt. Morris, PA
June 28-29 Thunder Valley Motocross Park, Lakewood, CO
July 5-6 RedBud Track & Trail, Buchanan, MI
July 12-13 Budds Creek Motocross Park, Budds Creek, MD
July 19-20 Unadilla Valley Sports Center, New Berlin, NY
July 26-27 Washougal Motocross Park, Washougal, WA
August 16-17 Spring Creek Motocross Park, Millville, MN
August 23-24 Motocross 338, Southwick, MA
August 30-31 Steel City Raceway, Delmont, PA

The fourth film of the Toyota All Access series checks in with Troy Lee, and you can check it out over at www.racerxfilms.com. Check back next Friday for the fifth film of the series!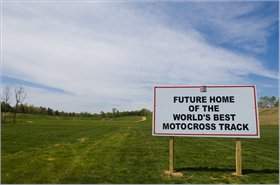 We can't wait!

photo: John Hanson

So SX '08 is winding down, and that means MX '08 is coming fast. Check out the sign I spotted yesterday in the Southeast. It's on the property of the amazing Barber Motorsports Facility right outside of Birmingham, Alabama, where the AMA Superbike Series is going off this weekend. George Barber is a huge motorcycle racing fan, and he has long had plans to build a track. The facility has hosted some vintage motocross races, but not on the piece of property they are now working on. The new track is in the breaking-ground stages, maybe a year away from completion. If the MX track looks anything like the road racing venue, this sign will prove itself to be prophetic. Is this the site of a future round of the AMA Toyota Motocross Championships?

Time to go watch some road racing. "Bad" Bill Ursic will take it from here.

Thanks, DC.

In Racerhead the past few weeks, we asked you some Travis Pastrana trivia, the winner of which would get two tickets to the premiere of 199 Lives, which was Wednesday and Thursday of this week. We emailed the winner the following week, but we didn't notify anyone else. My bad.

The three winners turned out to be Brent Pierce, Abby Naguit, and Rod Horrell. And from what I've been reading online, everyone who went really enjoyed it. "Sell out crowds across the country came out to support TP and 199 Lives," 411 Studio's Christy Anderson told us. "From early reports, theaters in Spokane, Philadelphia, Maryland, and Oklahoma were splitting at the seams."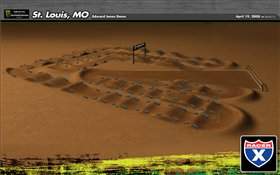 The St. Louis track layout

While we're on the subject of Travis, here's something he should probably check out:

Dr. Corey King, D.C., chiropractor for Team All American KTM/FirePolice MX team, Charles Summey of JGRMX/Toyota/Yamaha team, Josh Hansen, and Metal Mulisha rider Taka Higashino, is giving local moto-enthusiasts the opportunity to learn more about an exciting new back pain relieving technology known as spinal decompression, and he's doing it for FREE!

"What makes spinal decompression therapy so exciting for victims of back pain is that it works without drugs, without surgery, and without having to go through any painful and exhausting therapy", says Dr. Corey. "And, because in some instances it works quicker than the most powerful, but dangerous drugs, it's really revolutionizing the way motorcyclists are ridding themselves of the back pain", continues Dr. Corey.

Moto-enthusiasts can learn more about spinal decompression therapy and find out if they're eligible for it, by watching a free 8-minute video Dr. Corey has made available on his website, which can be found at www.DrCoreyKing.com/SpinalEntry. "For riders suffering with moderate to severe back pain… at their wits end… spinal decompression therapy is probably the most exciting medical breakthrough to come their way. It's truly the wave of the future when it comes to back pain relief for riders of all age", concludes Dr. Corey.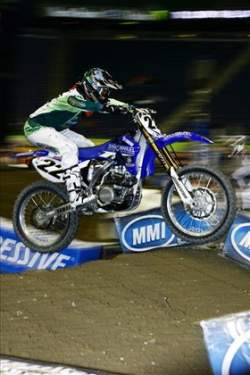 Can Reedy tough it out this weekend?

photo: Matt Ware

That's something I could use right now, as I'm finally getting back in the saddle and riding moto, and my body is definitely feeling it. The weather here in West Virginia has broken (it's 80 degrees today) and I've been trying to dial in my Cernic's-backed KX450F for this weekend's upcoming Loretta Lynn's Area Qualifier at High Point. I've been suffering arm pump and hand cramps, which isn't a surprise, but I've been popping some Winner's Edge Anti-Seize pills which are "For relief and prevention of muscle cramps." I think the stuff is actually working! You can check them out online at www.winnersedge1.com.

I'm going to be attempting to qualify in the Plus 25 class, and this year is going to be plain stacked. Last year I talked to Matt Walker at Loretta's, and he said he wanted to ride Plus 25 this year. And in the Northeast we have former pros like Keith S. Johnson, Mike Treadwell, Davey Yezek, Chad Sanner, and two-time champion James Evans in the mix. I changed my homepage to www.racerxvt.com, so we'll see how it goes.

Our own Andy Bowyer will be hanging out all weekend at High Point pulling double duty as both my mechanic and representing MX Sports, and he added, "It's going to be another big weekend for MX Sports with seven Area Qualifying rounds taking place all over the country. Please note that the Extreme Motorsports round in Washington that was snowed out and was originally supposed to take place on April 5th and 6th, has been re-scheduled to run this weekend. The other qualifiers running are listed below:

April 19 & 20 MX 338 - Southwick, MA 413-569-6801
April 19 & 20 High Point Raceway - Mt. Morris, PA 304-284-0084
April 19 & 20 Seminole Tribe MX - Clewiston, FL 863-983-1894
April 19 & 20 Thunder Valley - Livingston, TN 423-323-5497
April 19 & 20 South Central MX - Salem, IL 618-548-5259
April 19 & 20 Cooperland - Stillwater, OK 405-743-8545
April 19 & 20 Extreme Motorsports - Airway Heights, WA 509-218-2014

I'll be on hand to help out with sign up and any technical questions the participants may have. And please take time to read The Pulse #7 on www.mxsports.com.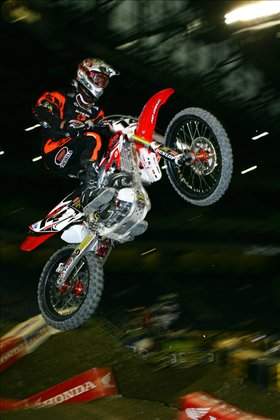 Can K-Dub close up more ground on two-two?

photo: Matt Ware

Back to Detroit. Mike Farber said he ran into Todd DeHoop this past weekend in Detroit. "We talked for a while and I thought this was pretty interesting: Todd said he hasn't missed a Supercross or National in the state of Michigan since 1979!"

The Racer X Gas Card winner in Detroit was Troy Adams, and the Asterisk Medic Card recipient was Moto XXX /Hooters Honda's Mitchell Dougherty. Speaking of Adams, check out this 5 Minutes with… interview with the Rockstar/Hart & Huntington rider we posted earlier today.

I also ran into Justin Buckelew in Michigan and chatted with him for this week's Sponsorhouse.com Privateer Profile.

Attention, TiVo Users: Missed a race? You must change Season Pass Info. Reader John Rayhill sent us this tip: "TIVO users will miss races if Season Pass Info not changed. Speed changed the description from "Motorcycle Racing" to "AMA Supercross." I missed the Dallas Lites because of it."

Mark Kvamme made the news. A website he funded for partners Will Ferrell and movie maker Adam McKay is going big-time.

If you want to get real smart about moto-x stuff read this.

If you want to listen to what one of the sport's greats (no, not Rollerball) has to say about our sport, listen to this.

From Steve Cox:

Former Loretta Lynn's champ Dennis Jonon is recovering nicely from his leg/hip surgery and is looking for support. He currently has no sponsors and is planning on buying bikes and starting from scratch. He is looking for either motocross/supercross/arenacross support, or even support for off-road racing. He can be reached at DennisJonon@gmail.com.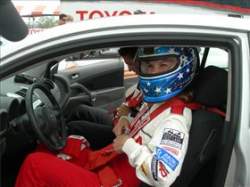 Jamie Little is participating in the celebrity event at the Long Beach Grand Prix, which kicks off today.

photo: Mike Koger

There has been a lot of speculation, apparently, as to the actual status of San Manuel Yamaha's Chad Reed. I spoke to him at the Navy Moto X World Championships about his night previous in Detroit, and you can read it here as a Monday Conversation posted earlier this week. Apparently, there is an element of conspiracy theorist in the motocross public. Sometimes, I wonder if they think we really landed on the moon. It's easy to question somebody's fitness after the fact and from a distance, but the fact is that Reed won the previous two rounds. To go from winning those races to being forced to take a provisional and then finishing 12th, how can anyone in their right mind think all was hunky dory with Reed? Then the news came that Reed was driving go-karts at Pole Position Raceway in Murrieta. Some were quick to proclaim this as proof of his health. That's understandable, considering driving electric go-karts is as hard, or harder, on your shoulder as riding 20 laps in a supercross main event on a 450cc motorcycle. The whole time I was talking to Reed, and saw him beforehand, he never moved his right arm once. The guy was/is hurt. His ride last Saturday night was pure moto heroics, and would've made any champion proud.

However, many times with injuries like this, the race a week later can actually be more difficult than the day of the injury. This fact seems to give Torco Racing Fuels Honda's Kevin Windham confidence as he rolls in on the last three races only 16 points behind an injured Reed. This weekend will likely tell the tale of the series. If Windham can manage to gain significant points on Reed in St. Louis, it could set the stage for a nail-biter of a championship going down to the wire in Las Vegas on May 3.

In the Lites class, one way or the other, we're going to witness history, as either Windham's teammate Trey Canard will defeat Lites legend Ryan Villopoto to win his first supercross title in his first try, or Villopoto's legend will grow with one of the greatest come-from-behind supercross championship wins in history. Villopoto trails Canard by three points going into the final race, and both Villopoto and Canard have won three races each. That means that both Canard and Villopoto control their own destiny. If Villopoto can win his fourth race in a row, even if Canard finishes second and ties him on points, Villopoto will be crowned the champion by virtue of his four wins to Canard's three. However, if Canard can beat Villopoto, it will be his championship. A third scenario is that if a third party wins the title (such as, say, Canard's teammate Josh Grant), Canard need only finish one spot behind Villopoto to clinch the championship.

One way or the other, it's going to be good.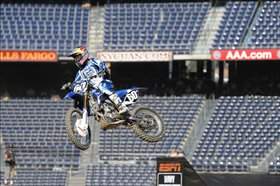 Broc Hepler topped the field on his YZ250F.

photo: Steve Cox

Yamaha's Broc Hepler looked great in his return to racing at the Navy Moto X World Championships in San Diego, and showed yet again that when he's healthy, he's a winner. Sure, it was against a pretty light field, but he was on a 250F against mostly 450s and still managed a seemingly easy victory. Come the outdoors, he's going to be a contender if he stays healthy.

Perhaps it's the fan in me, but I couldn't help but root for Ricky Carmichael in the Step-Up competition in San Diego. Despite his fall, the guy never hit the bar once, and he did clear 35 feet when neither of the other two finalists were capable of it. I hereby declare Ricky Carmichael the winner. So there. Take that, ESPN.

A note from loyal reader Adam Tappe:

Daniel Muse is member of the Texas Cross Country Racing Association. He rides the Open Expert Class. On March 30, while riding at a friends house, Daniel suffered a tragic accident that has left him paralyzed from mid-chest down. Daniel has been married for 6 months and has a 3 year old little girl. He is 31 years old. Please visit www.supportingdaniel.com and show your support by donating and leaving him a few encouraging words.

Jason "Blogandt" Weigandt added this: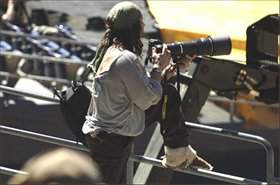 There were some interesting people at the Moto X World Championships.

photo: Scott Cox

I agree with Cox on the Reed issue, as a lot of rumors were going around regarding two-two's status and it was hard to know what to believe. Everyone seemed to know Chad had a broken shoulder blade, but even that was odd since information like that usually doesn't get out. So I think that fueled people thinking part of the injury report might have been designed to keep the competition guessing. I even threw out some theories out there on the SX Live! Webcast, because the whole scenario made for good drama. But if you saw Reed crash, saw him get in an ambulance or saw him ride, it's pretty obvious that he was in horrible condition. That ride is going to go down as one of the most memorable ever.

Blogandt and Farber are doing a tour of the Budweiser factory in St. Louis today, and a couple other readers sent us more suggestions for things to do in St. Louis.

From Donald Nederman:

There is actually a St. Louis Cardinals game against the Giants during the day in St. Louis on Saturday. I thought you could let your readers know if they were interested. The ball park is only a year old and close to the Edward Jones Dome. Also, for great steak you can check out Mike Shannon's. It is a little pricey but very good.

Geno Marchizza suggests this:

Just a note, you may want to check out Fast Eddies in Alton, IL (www.fasteddiesbonair.com). It's just across the river – "Just minutes away from the Gateway Arch". It's a great bar/grill with live music, great cheap food, and a partying attitude. This place is usually standing room only, even after they expanded it into the street in the last year or so. (No, I'm not making that up and don't ask me how they were able to buy part of the city street, but they have.)

I don't own the place, or stock in it, or a business nearby, or stand to gain financially in any way. But, if you are looking for something fun to do and eat some great food that won't leave you broke, check it out. See you there!

And finally, this from Chad Turbett:

You should put Kilroy's Sports Bar (http://gotokilroys.com) on the things to do list in St. Louis. It is a fla ttrack bar. Old bikes hanging up and On Any Sunday plays on every TV in the place all day long. Pretty cool!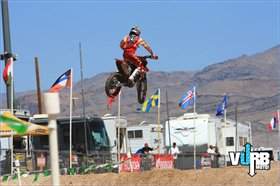 KTM's Jason Anderson is flying in Vegas.

photo: Courtesy of VurbMoto.com

It's been quite a month for amateur motocross. After two solid weeks of competing in Texas, the next big race is happening this week in Las Vegas for the World Mini Grand Prix. We're relying on the boys over at www.vurbmoto.com for updates, results, and videos, and here's an idea of some of the action going on:

Sadly enough, the most memorable moment of 250 Mod Intermediate Division Three had nothing to do with the actual race. Ian Trettel pulled the holeshot and after a brief battle with Blake Baggett settled into the second position for the remainder of the moto. After going down while battling with frontrunners Baggett and Trettel, Kyle Regal spent the majority of the moto forcing his way back through the pack, which he eventually did, but here's where things got interesting. After working his way around Weston Peick just before the white-flag lap, Regal, caught up in the moment, pulled off the track with one lap left in the race. As he began to exit the track through the mechanics area, the crowd went nuts. Regal soon thereafter realized his mistake and pulled back onto the track, but was much too far behind Peick to reel him back in. It was a heartbreaker for the talented Suzuki rider and a mistake that we are sure he won't let happen again.

Also check out www.amateurmx.com as Chris Hultner is staying on top of things in Vegas, and click here for live results from the World Mini Grand Prix.

Finally, here's Electronic Ping:

The inaugural ESPN Moto X World Championships are in the books, and while the competition was good, there was certainly some room for improvement. In fact, just about every event had some pretty major setbacks. The Supermoto course was way too tight on the asphalt with no run-off. The Moto X Racing lineup looked like a money race in the Midwest on an off-weekend in the summer between nationals. There was only one guy there in the top ten in points from the AMA supercross series.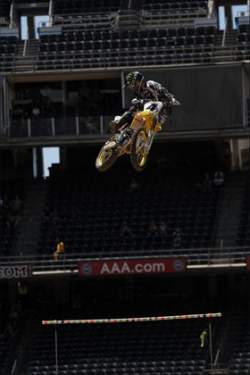 RC didn't have any trouble clearing the bar in Step Up; it was the landing that he had issues with.

photo: Steve Cox

Best Trick could have been a great showdown between the dorkiest guy in Michigan (Scott Murray) versus the meanest-looking munchkin on the planet (Kyle Loza). Unfortunately, Kyle couldn't quite stick his new trick and Murray rolled out, fired the only bullet in his gun, and took the gold helmet. Good thing it was a big bullet. Speed and Style didn't work out the way the ESPN guys envisioned either. Travis Pastrana crashed in the first turn and was eliminated by Kevin Johnson while Jeremy Stenberg cartwheeled and put Renner in the final. Freestyle got a little boring because all of the guys hit the same four jumps. Nate Adams was a little more creative and won the final. But most of the drama came in Step Up. Ricky Carmichael was boosting higher than anyone but when he dropped out of the sky from about 40 feet up his bike stalled. He headed to the medical center to get stitches while Renner and Matt Buyten tried to clear the 35-foot mark … neither could. ESPN only had a certain amount of time blocked out, so they had to wrap the "show" up. They went to a sudden death and flipped a coin. Buyten won the coin toss, got five extra feet at the bar, and cleared it, winning the event. They never even gave Ronnie a chance. That was super lame. Hopefully by August they work a few of these kinks out.

When I was in Boise a few weeks back for a vintage race, I bumped into a few old friends. Arenacross champion Danny Smith was hanging out with Bob Hannah and Steve Weidler. Those who raced in the 1980s will remember Steve's performance business, Weidler Dynamics. Well, they are all big airplane aficionados, and they talked me into going up with them. We landed at Danny's place just across the Snake River in Oregon and then flew around over the Owyhee Reservoir. I knew Hannah was a good pilot, but I was impressed with Danny and Steve's skills behind the wheel (stick?). I even got talked into doing an aileron roll before we landed. Danny said he isn't sure what he is going to do next year. If he gets a good offer he says he'll race again, but he isn't going to chase it. He is perfectly content to buy and sell airplanes in the Boise area.

Once again, those who were around in the 1980s might remember a promising mini rider named Mikey Pascarella. He never made the transition to pro racing, but he was amazing on an 80cc bike. Now his son is taking over where Dad left off. Joey Pascarella has been racing amateur Supermoto for the past couple of years. He has just turned 16, and his first pro race was the Moto X World Championships last weekend. He loves motocross and Supermoto but his biggest opportunity came a couple months ago when he was accepted into the Red Bull Rookies Cup, a junior road racing program. In the preliminary tests, Joey has been consistently one of the top three quickest riders. The Red Bull Rookies Cup is an amazing way for these young kids to get exposure and leap into the world of professional road racing. Now we have a motocross guy we can cheer for. Good luck, Joey.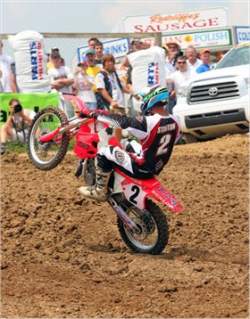 Jeff Stanton plans on racing the Two-Stroke Challenge the Saturday of the Glen Helen National.

photo: Zak Lowery

This weekend is the Four Stroke World Championships at Glen Helen. It is replacing The Prequel, which used to take place prior to the season opener. It's time for a name change, because what used to be an exception has now become the rule. They might as well just call it the World Championships; that's a popular title these days. In a strange, ironic twist, I just signed up for the Two-Stroke Challenge that is taking place at Glen Helen on Saturday before the national. It's shock how quickly two-strokes have become nostalgic, isn't it? It will be good to hear all those pre-mixers blasting off the line one more time. In addition to the two-stroke race, they are having a quad race (yipeee!) and a legends race on Saturday morning before pro practice also. They have Jeff Ward, Jeremy McGrath, Greg Albertyn, Jeff Emig, Jeff Stanton, and Steve Lamson signed up already for that event. If you are going to be there, check it out.

Congratulations to Davey and Dove Castillo who just welcomed Jonah David Castillo into the world today. He weighed in at 7 pounds, 12 ounces.

Here's a note from Mike Tosch:

"I was wondering if you guys could promote this benefit auction/fundraiser for a fellow racer from the Western NY area who has brain cancer? Joe has been pretty quiet about this over the past year or so but is trying to beat it and needs some help. He is a good friend of mine who got me into the sport. Anything you guys can do I really appreciate; Joe is not one to ask for help but he has already gone beyond what the doctors told him when they
discovered the tumor and I hope he gets every shot at beating this."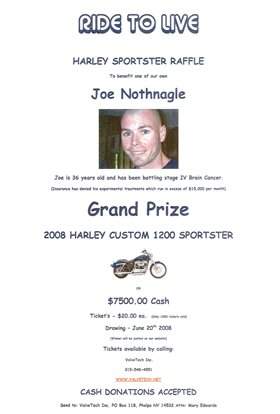 Click to enlarge.


Well, that's it for Racerhead. Thanks for reading, and we'll see you at the races.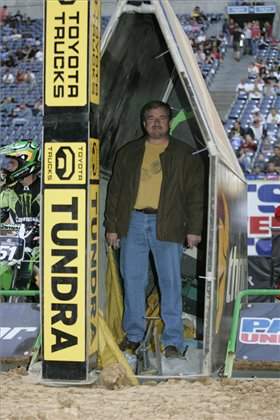 Hey, that's Joe Nemechek working the gate in Dallas!
photo: Jeff Hain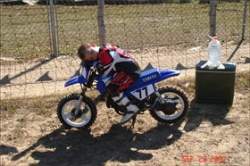 photo: Brandon Thrasher