Privateer Profile: Justin Buckelew
Back in 2000, Justin Buckelew was one of the hottest up-and-comers in the sport. He was supported by Yamaha throughout his dominant amateur career and signed a deal with Yamaha of Troy upon his entrance into the professional ranks. In 2001, Buckelew won the 125cc class at the San Diego Supercross, which looked to be the first of many. It's both unfortunate and surprising, but that win turned out to be his only win as a professional. Buckelew then went through a myriad of injuries, team changes, and finally switched to Arenacross racing before disappearing altogether. But he couldn't stay away from racing for long, and two weeks ago he turned up at the Dallas Supercross wearing #158 on a Chaplin Kawasaki. We caught up with "Bucky" this past weekend in Detroit for this week's Sponsorhouse Privateer Profile.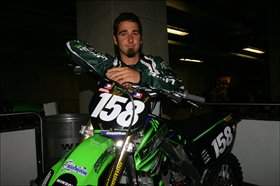 Justin Buckelew is back!

photo: Matt Ware

Racer X: Justin, you're back! Where have you been?
Justin Buckelew: Um, I've just been back in Phoenix—I'm living there now. I have a 10-month-old little boy, so after Arenacross last year we had him and I just decided to stay home for the summer and started Buckelew Motocross Training, doing lessons and training some kids full-time. That's been a blast and it's really rewarding, and I'm having a lot of fun with that. People can check that out at www.buckymx.com.
Let's back up a bit; tell us about racing Arenacross.
I raced for the Tuf Honda team in 2007, and I had fun doing it. It's really laid back, and my cousins the Johnsons race it, so we had a lot of fun hanging out. I won one main event that year, but it didn't go as great as I had hoped. Then after that I just started getting into the motocross lessons.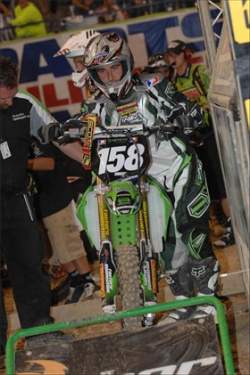 Many people were surprised to see #158 on the line in Dallas.

photo: Carl Stone

Why didn't you pursue Arenacross again this year?
I kind of did, but there's actually not that much opportunity in Arenacross now. It's hard for the teams to get the support that they need. I was trying to do a deal with Team Faith, but we just couldn't get the budget and support we needed to do a two-man team. So, Kevin [Johnson] went ahead and did that. Also, the purse was cut pretty bad this year in Arenacross, so that was a big consideration. Also, I didn't want to take that much time off from the training I do with the kids because I had a pretty good regiment going there, so I just wanted to continue with that.
Tell us more about Bucky MX.
I do a variety of things: I do a motocross clinic, which is a traditional motocross school where you can come one day and learn all of the basic techniques for motocross, and I also do private lessons and sometimes training camps. I have one up-and-coming pro rider that I work with on his fitness routine and his practice schedule.
What's his name?
His name is Justin Evans and he's from Texas. This is going to be his first year racing the Nationals, so he's pretty stoked about that.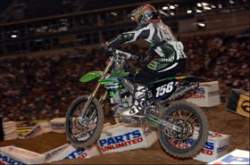 photo: Carl Stone

Another good kid out of your area is Justin Anderson. Do you know him?
Yeah, I just met him and he seems like a cool kid. He's from Edgewood (NM), which is a really small town, but it's the same town that I lived in as a kid, so it's pretty funny because it's such a small town and we both grew up there and he rides all the same tracks that I used to ride, like desert tracks and stuff. But he seems like a very nice kid and he's really fast.
Out of nowhere you came to the Dallas Supercross and qualified for the Lites main event aboard a Chaplin Kawasaki-backed KX250F.
Yeah, my buddy Windshields knew that this team was in need of a rider, so he put them in contact with me. I was happy and I'm still pursuing the training, but I miss racing—I'm a racer. So I got the opportunity to come race again and I wanted to take advantage of it. I'm just out here with a whole different attitude; it's a low-pressure situation for me. I didn't have a whole lot of time to prepare, but I'm just having fun and trying to ride my best for the team. Chaplin Kawasaki, I got to thank those guys, along with Pro Circuit and Factory Connection for giving me this chance. It's awesome.
So how did your first race back in Dallas go?
Yeah, I was fortunate that my Pro Circuit Kawasaki got me a good start in my heat—I got the holeshot, actually, so that kind of made it easy on me. But I rode pretty good in my heat. The main event went okay, but I just didn't have the stamina for the full 15 laps, but I feel that I'm all ready riding better this week with another week of practice, so hopefully I do better this week than last week. [Ed. Note: Buckelew finished 17th in Dallas.]
What was the last supercross you'd raced prior to Dallas?
Umm, probably Vegas '06 when I rode for Ryan Clark and Team Solitaire.
So you glad to be back?
Oh yeah, I'm having fun. It's cool and I'm glad to see a lot of my old friends and stuff in the industry. Last weekend in Dallas I had a lot of fun. I enjoy racing, so hopefully I'm going to continue on next year with Chaplin Kawasaki and maybe race supercross again.
Will we see you outdoors?
I may do a few of the East Coast rounds. I don't think Chaplin is going to run the whole series, but I'd like to do the last three rounds because those are three of my favorite tracks. That will also give me more time in the summer to build up my fitness.
Some people may not know, but you're a former 125cc supercross main-event winner.
Yeah, I won San Diego back in 2001. Looking back, I'm happy that I won a race. At that time, I thought I'd win many more, but it wasn't in the cards. But I'm still only 26, so I'm just going to give it 100 percent now that I have this chance with Chaplin Kawasaki and you never know what the future could bring.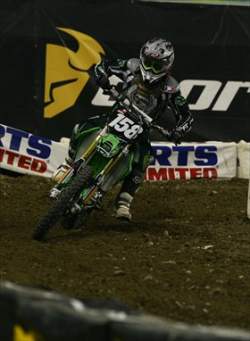 It's good to see Buckelew back on track.
photo: Matt Ware