Welcome to the Shift Number Cruncher. While watching the Moto X World Championships this weekend on ESPN I had a flashback to an afternoon I spent standing on Pier 32 in San Francisco in the summer of 1999. I took a moment to think about the significance of that day when motocross stepped into the next dimension of popularity in mainstream America. I remember it all so clearly. The smell of the salty ocean water. The way my nose and forehead was sunburned. The sound Travis made when he smacked the water.

But what I remember most is what happened to the action sports world after that amazing afternoon. That afternoon 40 million people watched a 16-year-old Travis Pastrana attempt the first ever back flip on a motocross bike. The futile attempt landed him in the Bay where he was swept up by Pete Fox and Todd Hicks who were nervously awaiting in a boat. The Port Authority found his RM125 resting on the deck of a oil tanker that had sunk to the muddy floor of the Bay. The EPA still fined him $10,000.

We're still rolling in the spoils that ESPN event generated when that little race that took place this past Sunday. It was another dose of the right stuff. Sure, only a handful of folks were in the stands to watch Broc Hepler take the win, but MILLIONS of folks sat in their living rooms watching ESPN and cheered #60 across the checkered flag. Enjoy.
Remember that gigantic vault of old school goodies I was speaking of last week? The box we pulled this slide out of read, "1973." We can't figure out who this cat is, but we have a feeling somebody out there does. Man, look at the front and rear disc brakes!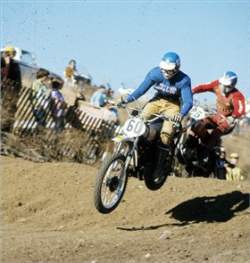 Ron Pomeroy
photo: Dick Miller Archives
Scott Wallenberg made the call on this one. Here was have "Cool"
Ron Pomeroy
chasing Morris Malone in 1973.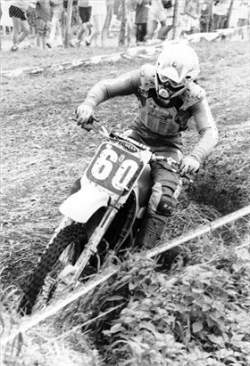 Buddy Antunez
photo: Racer X Archives
Buddy Antunez
has one of those names that just sounds like a fast motocrosser. One of the most incredible mini riders of all-time, "The Bud Man" won three 125 supercrosses wearing #60 in 1990. Before he hung it up he won over a hundred arenacross main events, and was a member of the sweetest team of all-time, Team Great Western Bank.
Carl Vaillancourt
remains one of the fastest and most popular Canadian motocross racers in the history of the sport. He was the 1990 Canadian Supercross and Motocross National champion and finished fourth in the 1990 Florida Winter-Am Series. Right, Matthes?
Scotty Sheak
rode away from Loretta Lynn's with two A class championships in 1993. A roller coaster career followed that peaked with him winning the 1997
High Point
National as a member of factory Honda. Man, remember when he smacked his head on that tree at
Southwick
? That was a bad one.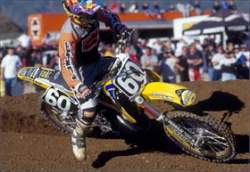 David Pingree
photo: Chris Hultner
From the man himself, "Man, I had high hopes for that season (1999)," offers Ping. "I worked my butt off and I was ready to go... until the week before the opener in Anaheim. I threw out my lower back and by the time Saturday came around I could barely stand up, let alone ride. I struggled though the first few rounds and eventually won the last race in Minneapolis. I also had my best year outdoors, getting a few podium finishes, including third overall at Steel City."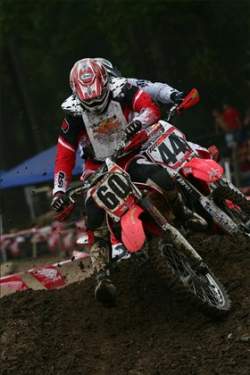 Joe Fritz
photo: Simon Cudby
West Milford, New Jersey's
Joseph Fritz
carried the #60 to 23rd place overall in the Senior 40 Plus class at Loretta Lynn's last summer.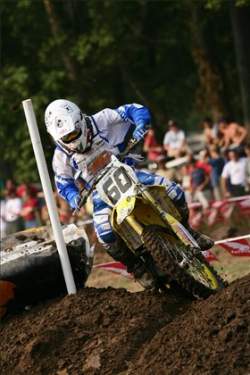 photo: Simon Cudby
There are six Area Qualifiers taking place across the country so we're going heavy with Loretta Lynn's shots. Simon Cudby snapped this shot of New Lenox, Illinois'
Drew Yenerich
on his way to 24th overall in the MX Lites A class.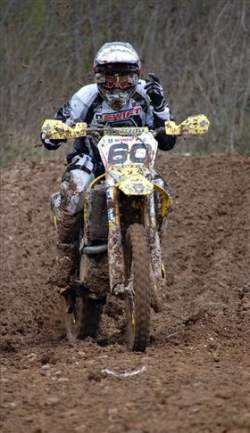 Brad Anderson
photo: Paul Harris
"Bad"
Brad Anderson
was leading the British World Championships until suffering a DNF in the second moto last weekend at Torrington. If you missed it, you can read Paul Harris's race report right
here
.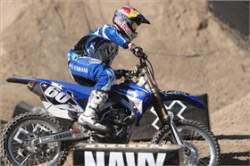 photo: Steve Cox
Broc Hepler
has had a rather tumultuous career. He's had a stellar amateur career, jumped directly to the front of the pro supercross and outdoor nationals, won some races, but has yet to complete a full season. It's been one injury after the other, including a nasty concussion last year that threatened to end his days on the bike. All the same,
ESPN The Magazine
e-mailed us and asked us who was going to win the "Moto X Racing" portion of the Moto X World Championships. After a quick scan of the entry list, the reply was simple. "The Iceman" took his AMA permanent #60 to the checkered flag first, winning the Gold Helmet. Hopefully he can take the momentum into the outdoor nationals and finally capture a championship.
Kevin Crine
Here is your assignment for this week. Kevin Crine was AMA #60 in 1994 and we want a picture of him racing with it. The first person to send us a shot of the late Maryland racer will get a free Racer X t-shirt. Send it to andy@racerxill.com.