Racer X Race Report: British Championships
Mackenzie in a class of his own at Torrington.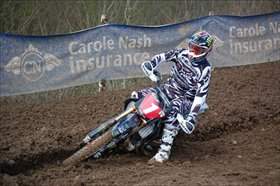 Billy Mackenzie was in simply awesome form – there was no fuss, no drama, the reigning champ was just streets ahead of the rest on Sunday.
CAS Honda's reigning British MX1 champion was just an irresistible force in tough conditions at Torrington on Sunday, maintaining his 100 percent win record in the championship so far and logging a fastest lap in moto two that was an astonishing eleven seconds quicker than the next man. It was Tom Church who headed up the pack to take the second step of the podium behind Billy Mac with a brace of thirds - TC seems to have finally got the hang of launching the big bike out of the gate - whilst Hucklebridge came out ahead of Jones in the battle of the Marks to take third overall.
James Noble took a very impressive fifth overall, a superb result for a man recovering from pneumonia. It was a bad day for Brad Anderson's title aspirations - the fiesty North-Easterner took a nasty spill on the last lap of moto one whilst comfortably second and did not appear for moto two.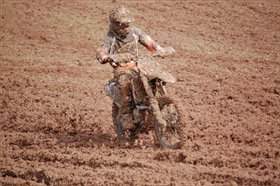 The going on Sunday was fairly heavy…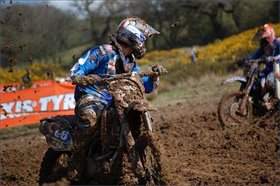 Lewis Toombs checks the progress of the approaching Mel Pocock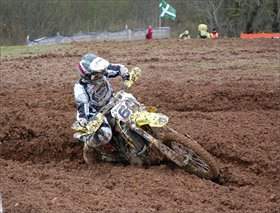 Anderson's title aspirations took a serious blow with a second moto DNS.
In MX2, Steven Sword ran off and hid in moto one after Shaun Simpson fell in turn two. Kristian Whatley got a great start, and had a grandstand view as first Pascal Leuret and then Martin Barr came by in the whoops early on, only for the pair to collide nastily right in front of him. Barr bounced up and was away within seconds, but for Leuret it was game over for the day. Whatley himself would fight gamely for four laps before he dropped down the field - reigning champion Mike Brown is having a torrid time of it at the moment, gating well but also falling back through the pack.

In contrast, Martin Barr put on a great display of damage limitation, the Irishman easing Elliot Banks-Browne of the burden of second place and bringing it all the way home - Banks-Browne would hold on for an excellent third, ahead of Shaun Simpson, whose fight back though the sludge was inspirational. The roles were largely reversed in moto two - Brown and Sword got out together, but a lap two mishap saw them both plummet down the field. Simpson was ready and waiting to scoop a lead he would not lose, whilst Sword in turn had to start his charge back through the pack. At the flag, Sword would take third, enough to give him the overall ahead of Simpson - James Dougan would take third overall lahead of Barr, whilst Banks-Browne can consider himself unlucky to only finish fifth in the final standings after two great rides.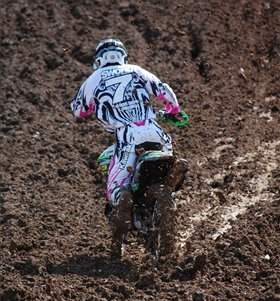 Swordy rocked the Bubba look on Sunday, and extended his championship lead over Shaun Simpson.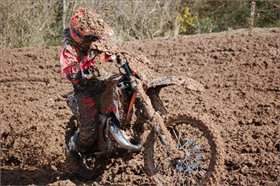 Lloyd Morgan took an excellent overall win in the MXY2 youth class after Scott Elderfield's engine ate itself.
Maxxis British Motocross Championship
MX1 round 3 - Torrington

1. Billy Mackenzie - Honda
2. Tom Church - Kawasaki
3. Mark Hucklebridge - Kawasaki
4. Mark Jones - Kawasaki
5. James Noble - KTM
6. Wayne Smith - Yamaha
Maxxis British Motocross Championship
MX2 round 3 - Torrington

1. Stephen Sword - Kawasaki
2. Shaun Simpson - KTM
3. Jason Dougan - Suzuki