Monday Conversation: Josh Coppins
Two weeks ago, Yamaha Monster Motocross Team's Josh Coppins was staring at two bones sticking out of where the skin on his big toes should have been. After a rapid operation and a fortnight spent not quite kicking his heels, Coppins was putting a brave face on his unfinished business in the MX1 class after missing out on the title so narrowly in 2007. The New Zealander certainly put his best foot forward in Holland for GP1 and even survived a run-in with teammate David Philippaerts to gain a commendable sixth.

Racer X: Is it fair to say that you were feeling a bit squirmy and unsettled coming into this race?
Josh Coppins: Yep, totally. I did not feel comfortable coming here. I pride myself on being one of the best-prepared and hardest-working riders out there, and the difficult part for me was arriving to this race knowing that I wasn't ready and hadn't done the work; for me that was unacceptable, but I had no choice because of the injury. We had the team launch on Friday and it was quite a cool event. I rode an ATV and David had a snowmobile on the beach of this adventure park in Holland. There were quite a lot of people there but I could not enjoy it because I knew they were behind me and I was not ready to do them justice.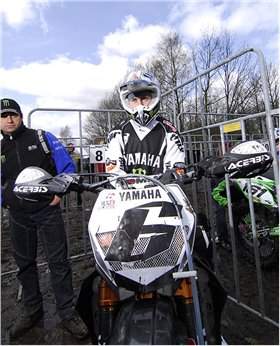 Josh Coppins

photo: Max Ludwig

Sixth place must feel like quite an achievement.
Yes, because if I had made the top five that would have been like a win for me. In fact, if you had asked me at the launch if I could have sixth position overall on Sunday then I would have taken that result with both hands, especially here in the sand. You know that if you are sitting looking at the bones sticking out of your feet then you have something serious, so to be able to be here and have those finishes is great. I should have had third place in the first moto and that would have been unbelievable.

You didn't get much chance to ride in March then?
No, in the last five weeks I have ridden for four days just because of things like needing a week off for my shoulder and another two for the toes, as well as doing a photo shoot in between. I know I have a lot of work to do, but I also have a lot of confidence from today because I know where I have come from.

Sixth place in 2007 would have been your worst result until the crash at Loket.
Completely. I believe I will soon get to last year's level, if not better. Maybe my seasons are going in the opposite direction to each other--this time I am not fit and I will get better! Spain should be easier in two weeks and by the time we get to Portugal I should be near the level I want to be. I believe that in five or six rounds' time, I will be leading the championship.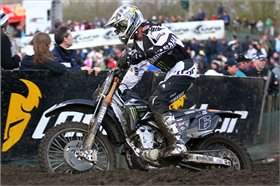 Coppins is happy with his sixth-place finish.

photo: Courtesy of CDS

What happened with David then?
I was disappointed after the collision with David in the first moto. We had a talk in the team on Saturday night about incidents like these. I did not need it. If we were in a battle, then I could handle it, but we were not dicing. I did not have the energy for that. I saw Mackenzie, David and Nagl fighting ahead and I thought, You just get on with it! I was riding my own pace and staying out of trouble. Where it happened was a little bit silly but what can you do? I lost five points there.

Last year you dominated round two in Spain. Is that going to be impossible to repeat at this stage?
I think it is too early for me to be at the same speed and form that I had in Bellpuig last year. I think I can make the podium, but maybe I am not yet ready to be dominant like I was.