Between the Motos: Josh Coppins
Last spring at the giant Eurocircuit in Valkenswaard, Holland, Josh Coppins rode to victory in the curtain-raising Grand Prix of the 2007 FIM World Motocross Championship. Aboard a works Rinaldi Yamaha, it was to be Coppins year: so long the bridesmaid on the global stage, Coppins had everything he needed to finally win the gold medal. In fact, he was trouncing the competition, opening up a leading of 107 points before destroying his shoulder at Round 11 in the Czech Republic. He tried to come back, but he couldn't.
Signed up on the potent Monster Energy Yamaha Rinaldi team and in possession of a mighty Yamaha 450FM, all was set for 2008 until a recent practice crash broke two toes on his right foot. Coppins and company went right into damage-control mode and now the 31 year-old New Zealander is patched up and ready to ride in this Sunday's season-opening GP, once again in the deep brown sand of Valkenswaard. Is Coppins ready? Can he overcome the pain, misfortune and bad luck that have plagued him?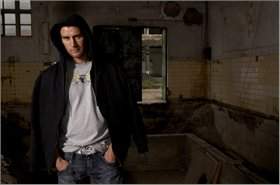 Josh Coppins

photo: Gary Freeman

Racer X: Josh, I spoke to your business manager Glen Dempsey. He told me your toes are okay to race with, but it's the pain threshold you'll have to deal with that is of most concern. How will you deal with this on Sunday at Valkenswaard? Are there any precautions you can take? And at what percentage do you think you'll compete at?
Josh Coppins: Well, I'm not sure how bad it will be. As I sit here right now, to be honest, I don't think it will be too bad. I have a doctor who will be at the race to give me some medication if I need it as well as to re-dress the wound each time I ride. I can have an injection for the races to numb the end of the toe, but I hope it doesn't come to that. The broken toes are one thing, but the major problem is the wound itself as it was a compound fracture. It has not healed up yet and I have to be careful for infection.

Do you have a plan or a strategy just to be able to get through Valkenswaard?
Not yet. A lot of guys have worked hard towards GP1 and are pushing hard, but to be honest I just want to make as many points as I can and look to start winning as soon as I'm healthy. I doubt I'll be attacking; I'd say I'll just be smart. As we know, it's a long season. I'll know more when I get on the bike.

Do you like the Valkenswaard circuit?
Yes, I do – it's not deep sand, but it gets rough. Valkenswaard has cool jumps, and overall, it's a fun track. And I won there last year!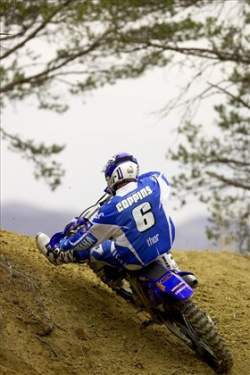 photo: Gary Freeman

Upon leaving Valkenswaard on Sunday evening, what type of result would make you happy?
A top-ten. That sounds pretty lame, I know, but 10 days ago I was looking at my toe sticking out the end of my boot and I thought the season was over! So to be lining up this weekend is a bonus. Don't get me wrong: I want this title and I think that with a steady start I can still get it.

Will the additional time between Holland and the race in Bellpuig, Spain —two full weeks— help matters a lot?
For sure it will. I hope to not do too much damage racing GP1 in Holland and then rest a week after the race. Then I hope I can train again and get my fitness, feeling, and riding back to where it needs to be.

If you had to guess - and if all goes well - when do you feel you'll be back to 100 percent?
By the third Grand Prix in Portugal. But if it goes well in Holland, I'm not ruling out a good result at the second GP in Spain.

Just how did you hurt the toes?
I was training at a heavy sand track in Dunkirk on the French coast. A rider fell over a jump and was on the blind side. I didn't know and landed on his bike. My toes hit his footpeg.
What went through your mind when you got to your feet and knew you were injured?
I was like, Not now! Not again! And not like this!

Can 2008 still be your year?
Well, I thought 2007 was my year.... You know, Ricky Carmichael says he believes you make your own luck, and I used to agree with him but not anymore. The last two injuries, there wasn't a lot I could do and it was really out of my hands. I can still make this year my year. There's a long way to go. The Monster Yamaha [Rinaldi] team is great and the bike is awesome. I'm confident I can make it happen. This is just a kink in the road.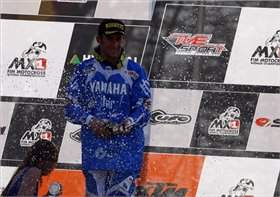 photo: Gary Freeman

How long did it take to shake off the disappointment of 2007?
About a week. I laid around at home feeling sorry for myself and then I thought, You know what? It's shit, but I'm still one of the luckiest guys in the world. I get to do what I love every day of the year and get paid for it. So from that day on I got on with it.

You're due for some good luck, aren't you?
Yes, I am! I don't need luck, though. I just don't need bad
luck.

Will you keep going until you win the title?
I'm not sure. I believe I'll win this year. As for my future, it's up in the air. I guess Yamaha and I will have to make some decisions soon. I see Joe Gibbs racing is looking for an outdoor rider! Shame I haven't got the title already; otherwise I could be riding outdoors in the U.S. this year.

How are things within the Monster Yamaha Rinaldi team? Is the bike good?
The factory Yamaha 450 is awesome. I think everyone knows that the Yamaha 450 is a lot better in 2008. My team is really good and professional. I'm very happy there.
Can you tell me a little about each of these riders I'm about to list and how do you think they'll fare in 2008?
Sure.

Steve Ramon.
He is very consistent and is technically a good rider, but lacks the "X factor." I think he'll win some races in 2008, maybe even this weekend, but not the title. He got lucky last year and he needs to be better and fight a lot harder if he wants it in 2008. He is a top-three guy.
Kevin Strijbos.
Kevin is a good guy and also technically very good. He is on a new team [Kawasaki] and has had a few problems adapting to the new environment. He'll win some races and is a top-three guy, but I think it will take him a bit to get going.
Sebastien Pourcel.
He is fast, but not that often. He also isn't too fit. However, he is getting better all the time. I rate him as a top-five guy.

Ken De Dycker.
He is really fast, but not for long. He will be good early-season, but not later in the season. Condition is his problem.
Mike Brown.
Mike is an awesome starter. He likes the hot races. Mike is fun to race with! I see Brownie as a top-ten guy.
Billy MacKenzie.
I'm not too sure about Billy Mac. I think he'll be better in 2008. Consistency has been his problem. Maybe he can get into the top five in 2008.
Marc de Reuver.
Sand races he can win, but he struggles to keep his concentration all season. I think he'll be much better this year than last year.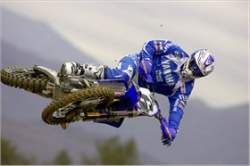 photo: Gary Freeman

Josh, what's your goal for the 2008 season?
World champ.

Will it be a highly competitive year?
I think it will be more than last year. A lot of the riders you mentioned are in their second year of MX1 so they will be stronger. I think it will be like last year: Many different winners but consistent good results will win the title.

Would you ever hope to race here in the U.S.?
Yes, that would be great. I'd love to do outdoors and see more of your country, but it's a matter of doing it for the right team and the right reasons. So at the moment, it's only a dream, which I love to make come true.
I ran into you at the 2007 Motocross of Nations at Budds Creek. What did you make of the event and of the U.S.-based racers?
The event went off well, I thought. Sure there were some minor issues, but mostly because of how big it was! The U.S. based riders were mostly a big step ahead of the Europeans. To be honest, we are dragging the chain a bit over here at the moment. You have so many good kids coming through here in the U.S. that want it bad. And want is the key word. I'm not sure it's like that as much over here in Europe anymore.

Visit Josh online at www.joshcoppins.com.