Happy Good Friday, Happy Easter, and Happy Off-Weekend from Supercross to everyone, and thanks for checking in. Racerhead is going to be all over the map today as we are trying to knock out another huge issue here, while also keeping an eye on our NCAA Tournament brackets. (I'm doing fine, but I will be doing a whole lot better if WVU knocks off Duke tomorrow!)
I wanted to start with a mystery that came out of Bench Racing Ammo:
Dear Racer X,
Regarding the picture of David Bailey which appears to be taken a Daytona '83—is it just me, or have I never noticed that the pipe is on the left side of the bike? It just really jumped out at me. I've seen the factory Honda in many pictures in the past and it never came across to me as it did in this picture, the pipe being on the left.
Steve Ptasznik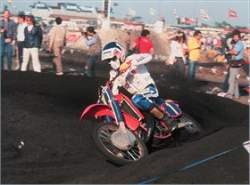 David Bailey's pipe on backwards?

photo: Racer X Archives

We have no idea, but know someone who does, so we forwarded it onto Bailey himself!

"Honda couldn't make up their minds for a few years," the Icon wrote back. "My 500s were on the left too during '84 and '85. They had the kick-starter on the left in '82 and the chain was going back and forth too for a while. Those bikes were fast! I thought my bike was gonna blow up that day while I was leading because the rubber dealio between the aluminum tank and the frame came out and it was vibrating really bad. Until I figured out what it was, I was stressing!"

And speaking of Bailey, check out these cool Leatt "socks" that David designed. They are interchangeable lycra covers that allow you to change the look of your Leatt with every moto.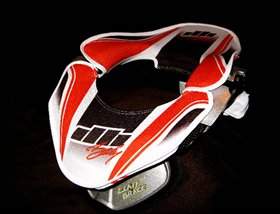 That's a David Bailey-design on this Leatt Sock.

"Mud doesn't stick to 'em like the sticker kits and they are washable and changeable between motos," explained Bailey. "Plus, they'll be cheaper at $39. There is this red-white-and-black one, a blue-white-and-black, yellow-and-black and a blue-white-and-bright-orange one as well so you can have two or three to match all your gear. The lycra material is practically weightless and more comfortable against your neck and the rubber on your helmet slides a little better against it too!"

Stay tuned to Racer X Online for information on how to order yours. You can also look for the Racer X crossword puzzle in the upcoming June '08 issue for a chance to win custom Racer X sock kits from Leatt for your brace.

Racer X columnist David Vuillemin was on Mototalk asking why no one had posted any photos from Glen Helen yesterday. Turns out there were lots of top guys out there testing and riding: "RV, Stroupe, Metcalfe, Wey, Lawrence, Hill, Dostal, Mace, Balbi, Brayton, myself and I am sure I forgot some!" Next week, we will have our man Carlos Aguirre on the scene!

Now, since I wasn't at Minneapolis to see the very cool win by Team Yamaha's Josh Hill (and the fine runner-up ride by Ryan Dungey, not to mention Tommy Hahn's solid fifth-place finish), let me turn this over to Steve Cox first….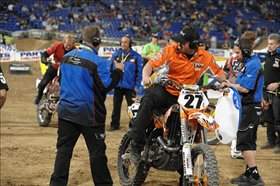 Wey's 450 gets its decibels checked.

photo: Steve Cox

The AMA was spotted doing random sound testing after practice in Minneapolis. I checked with the AMA's Jeff Canfield, and he said the AMA has been doing it, weather permitting, at many of the races this year. He said it's mainly for research purposes – to find out where the bikes are under certain circumstances – but that if a bike was found to be way out of whack, it could've resulted in the penalty. He also said that everyone has been in compliance so far.

What's going on with Joe Gibbs Racing's Josh Hansen? I have to admit that I was on the message boards late last year defending him against all of those who were saying he was washed up and whatnot. I really like Josh, and I think his talent is unquestionable, but in Minneapolis, he got the holeshot in his heat and still didn't qualify, probably due to a crash.

But then in the LCQ, he was running second with four laps to go when he nearly T-boned race leader James Povolny trying to pass him, spun out, and was hit by Antonio Balbi, causing them both to fall. He was easily in a transfer spot and had four laps left with which to pass Povolny. It wasn't a smart move, and he missed the main event.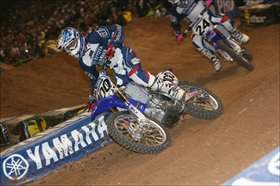 What's up with Li'l Hanny?

photo: Simon Cudby

There has been talk about back problems and whatnot, but he was sixth- and eighth-fastest in the two practices in Minneapolis, so there's really no excuse for someone like that to miss the main. He has six races left to show what he's got indoors, and I, for one, hope that he does.

Torco Racing Fuels Honda's Trey Canard had a bit of a mechanical issue in practice in Minneapolis, causing him to crash and limp off. It was a scary moment for the Lites East points leader.

"In the first practice, I got in about three laps, and the bike bogged," Canard said. He said it happened before in Atlanta, but that this time, he "pulled in and told [his mechanic] Brent, 'Man, it did what it did in Atlanta.' I didn't really feel comfortable going out there and getting myself hurt.

"For the second practice, I thought everything was good to go, and they thought they had the problem fixed, but I went out and it did it again. I just decided to go with it because I felt like I needed to do something because I wasn't in a very good qualifying position for the race. I just went for it, and it was kind of a bonehead move because I was thinking it was going to do it again, and then sure enough, I was scrubbing over a triple and it did it right on the face." The result was that he came up seriously short on the triple and went down.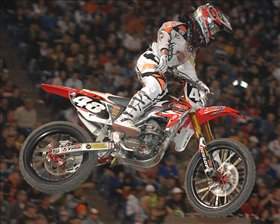 Trey had his first rough race of the season.

photo: Carl Stone

However, Canard is a trooper, and he proved it that night. The team obviously got his bike sorted out for the races, and despite what looked like a very sore left knee, Canard rode through from a mid-pack start to finish fourth and maintain his points lead. Now, he has two weekends (nearly three full weeks) off to rest his ailing knee and get ready for his next race in Dallas. As of now, Canard is nearly one full race in front of Ryan Villopoto in the championship, with a 24-point lead with only three rounds left. For some quick math, Villopoto would need to win all of the remaining races (which he's perfectly capable of doing) and hope that Canard averages finishes of between fourth and fifth in those races in order to win the championship.

Speaking of the Torco Racing Fuels Honda team, a couple rumors have surfaced from there. The first is that Josh Grant is likely going to be racing 450s full-time next year, although it may not be with the Torco team. On top of that, it's not impossible that we'll see Kevin Windham at a few of his favorite nationals this summer.

Speaking of Windham, Ryan Dungey and Josh Hill are both 18, and they comprised the top two in Minneapolis ahead of K-Dub, who is 30. "Kevin rode a good race tonight," Dungey said after the race. "Listen to this: I remember when I rode my first KTM Junior Supercross here – I got third – and he was dominating the Lites class on a #8 Yamaha. He was the guy, dude!" I'm not sure how K-Dub would take the "was" part of Dungey's statement, but it is interesting.
K-Dub is old enough to be Dungey's childhood hero!

photo: Carl Stone

I asked Windham about Dungey's comment after the race, and tried to tell him that he should take it as a compliment. "I'm trying to find the compliment in that statement," Windham laughed. "So the point is that even though I'm old, I'm kind of good at being old? Or good at riding while I'm old? Something? Yeah, thanks. Big deal, so I've been racing since before they were born."

I asked K-Dub if he "feels 30." "I feel 38," Windham replied (although I'm not sure how he can know that since he's never been 38). "But they say 40's the new 30, and 30's the new 20, so any day, I'm waiting to get carded when I go into a bar, but it's just not happening."

Of course, by that logic, Dungey and Hill are 8. Windham wanted to be clear, though, that he doesn't feel old. "Actually, to be honest, I just had my birthday, and I had a lot of fun and told everybody that attended my party that I really feel like I'm in a good place in life, and I really have a feeling of having my best years still in front of me," Windham said. "We've taken a lot of steps to try to find happiness, and we've done that, and that's been a big part of where I'm at in my riding career and where I hope to go. So many people say, 'Man, I didn't hit my prime until after 30,' and this is a young man's game, but as long as I don't fall and I don't get banged up too much, there's no reason why I can't continue. The way I'm feeling, I feel really good about how things are, and the balance of work and family and everything, so that was my goal, and we seemed to have accomplished it, and it's paying off in the results."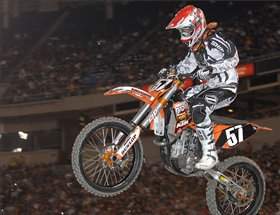 Ryan Sipes looks good on orange.

photo: Carl Stone

MDK KTM's Ryan Sipes is quietly having a really good year in the Lites East. He's been consistent, and he sits third in points right now behind the two redheads. Maybe we should have a new non-redhead class. His year seems really similar to the year Boost Mobile/Yamaha of Troy's Ryan Morais last year, when Morais' consistency kept him in the championship up until the very last race.

Unfortunately for Sipes, the people in front of him have been more consistent than Ben Townley, Darcy Lange and Ryan Dungey were last year, so Sipes can really just hold solace in the fact that he's been way more consistent than everyone else.

It sounds like Rockstar/Makita Suzuki's Mike Alessi isn't going to return from his collarbone break suffered in San Diego until the outdoors. We all know that Mikey's strength is outdoors, but he was doing pretty well in supercross until he broke his collarbone, so it seems puzzling why he would need to be out for more than three months just to fix a broken collarbone, which is normally a four-week injury.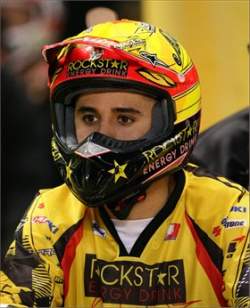 Sounds like Mike's not going to be back until Glen Helen.

photo: Simon Cudby

Also, Jake Weimer dropped us a line letting us know that he broke his collarbone, although he plans on being back before his West series resumes at Seattle. I had called him the day he sent us the note because I was just trying to irritate him by pointing out that in the Live Nation contest on SupercrossLive.com, where they are asking people to predict the winner of the Dave Coombs Sr. East-West Shootout in Vegas to win an Xbox 360—and Weimer's not on the list! Jake, who won Phoenix and finished second in the East-West Shootout last year, didn't make the cut, so in order to vote for him, you have to pick "other."

That's it from Cox. By the way, there is some racing going on this weekend: the big amateur race is taking place down at Oak Hill and you can follow all of the video action at either www.vurbmoto.com or on www.amateurmx.com. Also, www.motoplayground.com will have some coverage, even while boss Harold Martin is healing up after a terrible accident at Lake Whitney last week earned him a life-flight helicopter ride: He was hit by a motorcycle that flew off the track on a big jump and basically broke one half of his body—shoulder to ankle! Here's a get-well-soon from everyone at Racer X to Harold.

From Dave Casella: Answer Racing and MSR MX are proud to announce that live lap times from this years 2008 Oak Hill National will be available at our websites. Just log onto www.answerracing.com or www.msrmx.com to get live updates direct from Oak Hill. Also, Ernesto Fonseca is also out at Oak Hill on Answer Racing's behalf. He will be working the pits and hanging out with all the Tucker Rocky-sponsored riders.

Here's some other weekend links to check out:

Travis Pastrana's documentary 199 Lives is coming to theaters soon, and if you haven't seen the trailer yet, take a few deep breaths and watch this.

In one of the all-time early gate jumps, Guy B. opened "Silly Season 2008" over at VitalMX.com just after the first quarter of '07 ended! It's some pretty interesting stuff, and the #7 Red Bull Suzuki is not to be missed!

For a good time, listen to the Jeremy Albrecht podcast here.

For all the straight poop that happened at Minny and an open letter to Ping, check this out.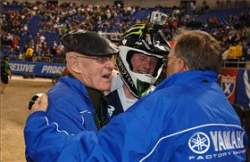 Hill's made Pops proud!

photo: Carl Stone

Now it's Jason Weigandt's turn:

One of the best things about Josh Hill's win in Minneapolis is the fact that he was genuinely, really, outwardly excited about getting that win. Too many times we see a rider do something huge in this sport and his reaction in front of the cameras is underwhelming. In NASCAR they design these gigantic team celebrations in victory lane. We need to get people in team jackets down on the floor to mob these riders when they win. It makes winning a race look like the big deal that it is.


Luckily, Hill played the part well. He gave his grandfather a gigantic hug that all the photogs were shuttering on. Then when we got Josh on the Supercross Live! for his post-race interview and he was all pumped up: "I had the feeling all day, but I didn't want to say anything and jinx it. I wanted to give Ryno and Button and my parents some grief for not coming here, because I felt like it was going to happen…. That's been my goal since I was like 6. To win a supercross!

"I kind of got lucky with Chad falling down. I'm thinking, he's going to eventually get me so I just need to stick with him for as long as I can."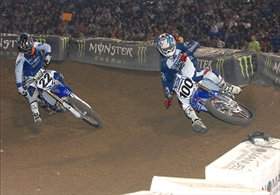 Hill knew he got a break when Chad Reed crashed while charging.

photo: Carl Stone

On lappers: "Everyone was pretty cool to me, except for Paul Carpenter. But I guess he owes me one from where we were racing in Phoenix. I was riding horrible that night and we were battling for like 14th, and then I came up on Paul. When we would get the blue flags, he would pull over and I knew no one was close so I would just rail by him! So he owed me one big time! Same with Jason Thomas, I guess I took him out in a heat race. I was sweating everything! I wanted to go say sorry to everybody!"

On the hug with his grandfather: "He's been there since my first ride. He always said he would be there when I win my first race, and I always said, 'Yeah yeah, whatever, pops.' How can you ever guess that you're actually going to win a race? And my dad, he wasted, well, not wasted anymore, but he spent ten or 12 years just getting me to this level!"

Finally, Josh demanded we give him some time to thank everyone else. Usually the riders are antsy about getting back to the pits and getting out of there. Not Josh. "I keep getting cut off! I'm living this up! You guys want to talk about last week?! I'll stay here as long as you want!" It was like watching Cuba Gooding win the Academy Award!

I talked to Jimmy Albertson about the crazy battle for third in the muddy Daytona Lites main. Albertson and Ben Coisy were dueling with Matt Boni for the last podium spot, and Coisy and Albertson got tangled up together with one turn to go.

"I'm usually not any good in the mud so I don't know what was going on," said Albertson. "My throttle ended up getting stuck on the last lap, and I just launched off of the berm and off of the track. I was so lucky the throttle was stuck, because the bike kept running. If it would have stalled there, it was so muddy and hot it wouldn't have ever started. So I picked it up and just clutched it enough so I could get across the finish line." Albertson finished fifth.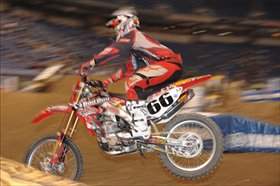 Jake's mud magic did not carry over to the Metrodome.

photo: Steve Cox

Jake Marsack missed the main the week after finishing fourth in San Francisco. And now he missed the main after a third in Daytona. Luckily, he did make $15,000 in Honda contingency for third in the Supercross main event. When he finished fourth in San Francisco he told me he was bummed because fourth pays $7,000, and you more than double your money for third. So at least he finally got his big payday.
And here's where we turn this over to Ping:
It has been an interesting and frustrating week as far as news goes for me. First, we got an anonymous tip that Jason Lawrence had a little run-in with the law while he was in Daytona Beach for Bike Week.… Absolutely shocking news, right? I heard about this the following week, but I normally don't give those rumors a whole lot of credibility unless I have some type of tangible evidence or first-hand account. Then someone sent me the police report from the incident. The West Region Lites points leader was arrested late Saturday night on March 8 on charges of Disorderly Conduct for fighting someone on the sidewalk in the wee hours of Friday night on North Atlantic Avenue. Police were called and Lawrence was detained while the other party fled the scene. He was later released on $250 bail.
The next topic that disgusts me involves a press release sent out by the AMA this week. The 2008 Supermoto schedule was put together, for the most part, by Gavin Trippe. For those who don't know Gavin, he was the original promoter of the famous Superbikers event decades ago that was such a hit and that also led to the birth of Supermoto as we know it today. Trippe has been around the industry for a long time and is very savvy when it comes to constructing a series. He glued together a schedule this winter when nobody at the AMA would take the lead on it and sent it to them for their blessing. They approved the schedule and announced it the following week. Then, out of nowhere, they sent out a PR yesterday stating that the first and third rounds of the series were going to be pulled.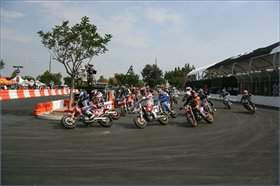 The X Games are no longer part of the AMA Supermoto Series? That's ridiculous!

photo: Simon Cudby

"The change is the result of our inability to come to terms with the promoter regarding the inclusion of the rounds in the AMA Supermoto Championship Series," said Bryan Cohn, AMA senior director of racing.

That is just total and complete BS. The promoter Trippe was the one who put those rounds together. The AMA is trying to dump this on him when they are the ones responsible for the collapse of those two races. At some point, the AMA signed a contract with Live Nation stating that they would not sanction any motorcycle event at any arena or venue that seated more than 25,000 people. This is the real reason why the AMA has pulled out of these events. Yet the people I know from Live Nation say it isn't a concern of theirs. After all, Live Nation would only be looking to protect supercross, the product that they have developed over the years. So the answer must be that an overly cautious attorney over at the AMA found this contract as they were sifting through the ashes over there and they pulled the plug on the rounds that were to be held in conjunction with ESPN's Moto-X World Championships and the Summer X Games. I say "Shame on the AMA" for not having the balls to own up to this blunder rather than dumping it on Gavin Trippe's head. I've said some pretty harsh things about the American Motorcyclist Association over the past couple of years … and I should have said more.

Pheeeeww. Let me take a deep breath and count to ten.

Okay, that's better. I got this letter from a Josh Hill fan earlier this week.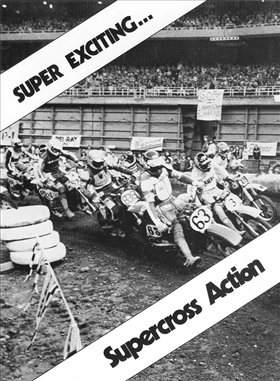 Josh Hill joins Chuck Sun (63) as Oregonians to win an AMA Supercross.

Hey Ping, As you can guess, Oregonians are going crazy that one of our own won the Minneapolis Supercross this weekend. Congratulations to Josh Hill! Here's the trivia part: Josh is only the second rider from the great state of Oregon to win an AMA Supercross. Can you guess the other? According to the AMA archive, Chuck Sun won the Atlanta Supercross on 3/1/1980. Way to go, Josh! You have just added your name to a very exclusive list! Thanks for reading my rant. If you can forward this to Josh I would sure appreciate it.
Geoff Zerbe
I also got this from Eddie Casillas, a member of the Asterisk Mobile Medic Unit and the Action Sports Medicine Foundation. If you want to support the sport but don't have any extra funds you can part with, here is a very simple way to help that won't cost you a penny. This could be the single easiest way to support a hugely important part of amateur motocross racing:
The Action Sports Medicine Foundation (ASMF), in its continued efforts to raise money, has partnered up with Goodsearch.com. ASMF is a non-profit organization that has been providing free on-site medical services to the action sports community since 2003 as well as bringing awareness about action sports to medical professionals across the country. ASMF is the brainchild of Dr. Steve Augustine whom some may know as one of the doctors working on the Asterisk Mobile Medical Unit. For the past few years there has been a growing interest in the motocross community by both parents and riders to bring ASMF to the amateur nationals. Having already covered the Mini O's and Loretta Lynn's ASMF is more that capable of handling that request if it can find the funds to make the journey. That's where Goodsearch.com and the motocross community can work together to make it happen.

Goodsearch.com has made it possible for non-profits to raise money simply by asking its community to search or shop on the internet. Goodsearch.com is a search engine that donates 50 percent of its own advertising revenue to selected charities as well as providing access to major online retailers who will donate a percentage of sales back to the charity. So how can the motocross community help?

Visit, Goodsearch.com type in Action Sports Medicine Foundation in the WHO DO YOU SEARCH FOR box and start searching. Also, check out the online retailers to see if any match places you would normally shop. Example of shops are Zappos, Best Buy, Target, and Ebay. To learn more please visit www.goodsearch.com and www.ASMFjax.com.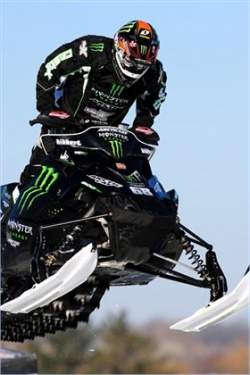 Congrats, Tucker!

photo: Wayne Davis

And, finally, congrats to Tucker Hibbert, who won the final round of the WPSA snocross series and the Pro Stock Championship. Hibbert has been the most dominant rider in snocross racing for the past few years, and now that his season is ending, you can expect to see him at the dirt bike races. Tucker will most likely hit some of the remaining East Region Supercross rounds and then compete in the national motocross series.

That's it from Ping. Now, here's Scott Wallenberg:

Bob Hannah to appear at Racer X Inter-AM in Boise on Sat. Mar 29!

Bob "Hurricane" Hannah will be making a guest appearance Saturday, March 29, at the Racer X Inter-Am Vintage MX round in Boise. As a special prize, Bob has donated a signed Bob Hannah throwback YZ jersey to be presented to the entered rider who has traveled the farthest to race.

You can visit Bob on the web at www.bobhannah.com.


Scott also told us that Speedway Illustrated, the leading magazine for stock car enthusiasts and fans, has signed Ricky Carmichael as a columnist. Check out RC's debut column here.

We received this interesting trivia question from Fox Racing's Mark Duchscher:

I was thinking back about the last time to rookies finished 1-2 in the SX class. Thinking it was Bradshaw and Matiasevich in 1990, in Anaheim. Can you ask around—this is bugging me!

Anyone know? Online@racerxill.com.

And here is the name the winner of the Number Cruncher bonus trivia question: TJ Piro. He correctly answered that the kid who beat James Stewart that year was none other than Brent Maimone, son of Cobra founder Bud Maimone.

We received almost 200 attempts at the question, but TJ was quick on the trigger, answering correctly less than 30 minutes after we posted the column.

199 Lives, featuring Travis Pastrana, will premiere on April 16 & 17 in more than 400 select movie theaters nationwide. Travis hooked us up with some tickets, and last week we asked you some Travis Trivia and hooked up one lucky winner with a set of tickets. That winner was Rod Horrell of West Hills, CA, who correctly answered the question, which was: Name the year that Travis Pastrana won his first Loretta Lynn's championship, and the class. The answer: 1994, 85cc (7-11) Stock.

We have another question for you this week, but first you'll need to check the list of theaters to make sure there is one near you.

Next, answer the following question:

Name the year and location of Travis Pastrana's first 125cc SX win.

Email your answers (along with your name and address) to online@racerxill.com. Good luck!

Throttle Jockey has started a channel on YouTube. Their first film, of many more to come, is about the Blackfoot Yamaha team.

And check out this Josh Hill footage.

Be sure to check out the eBay charity auction Broc Glover is holding. There's some very rare memorabilia for you to bid on:

March 18, 2008, San Diego, CA - Motorcycle racing champions from today and yesteryear have joined forces with AMA Hall of Fame motocross champion Broc Glover in his effort to raise money and awareness for the Cystic Fibrosis Foundation. A collection of valuable and much sought after racing items and memorabilia, the likes of which have seldom been seen before, are being donated for an online fundraising auction produced by Glover.

"We are blessed that so many of the top names in racing have pledged these rare and wonderful items," said Glover. "Helmets, boots, artwork, and memorabilia will be offered on eBay prior to and after the March 30th Breathe Easy Ride as well as via a silent auction and raffle during our day long riding event on March 30th. Money raised will go a long way toward finding a cure for CF."

Brad Pitt is building a private motocross track.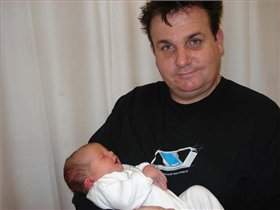 Doc Wobs and Tilly

Doc Wobbly just became a proud father. Here is a picture of him and his little girl Tilly Ann. She was born on Monday, March 17 and weighed 7 lb 12oz. Both baby and mom Clare are doing great.
And here's a picture of Nevaeh Leann Muehter as she celebrated her first birthday this week.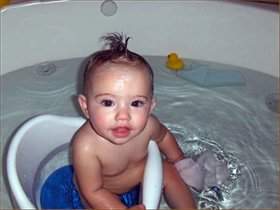 Happy Birthday Nevaeh!

Finally, you know it's going to be a great weekend when you open your mail and find a rare sticker like this: