Bench Racing Ammo: First Win
The natural progression for a motocross racer over the years has been to start out on a minicycle, win some amateur championships throughout your ascent on to big bikes, turn pro on a 125cc or 250F, compete in the Lites class for a few years, then take the final step up to the premier class. Of course that route can be difficult, as we've seen many, many racers simply stay in the Lites class, then choose retirement or Arenacross rather than step up into the premier division.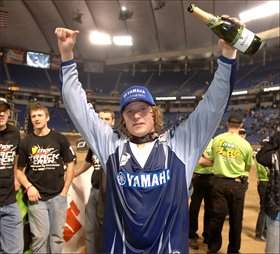 photo: Carl Stone
Well this year we've seen a rider go from the amateur ranks, toil in the Lites class for one brief year without winning a single race (or even a moto), then move up to the 450 class and take his first professional win.
You all know that we're talking about Team Yamaha's
Josh Hill
here, and although the AMA Supercross class is missing some major players due to injuries, you have to give respect where it's due. Hill's accomplishment of winning last weekend's Minneapolis Supercross seems pretty rare, so for this installment of Motosport Outlet Bench Racing Ammo, we're going to outline some other riders who won their first professional race in the premier class.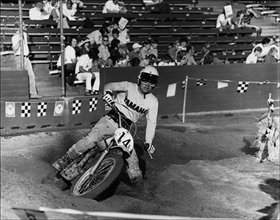 Marty Tripes

photo: Dick Miller Archives

Marty Tripes
is still in the AMA record book as being the youngest rider to ever win a 250cc SX, as he won the Superbowl of Motocross inside the L.A. Coliseum on July 6, 1972 at the age of 16 years, 10 days—a record that is likely to never be broken.
On June 11, 1983, Ron Lechien put his name in the AMA record book by winning his first-ever 250cc SX in Orlando, Florida. Lechien went on to win his first 125cc outdoor national the following week in Lake Whitney, Texas.
France's Sebastien Tortelli's first major win on U.S. soil was the 1998 L.A. supercross, which also happened to be his first-ever supercross! But it has to be noted that Tortelli was a 125cc World MX Champion prior to winning that race, and he would come back to the States the following year with a 250cc world crown added to his resume.
Three-time 250 AMA Supercross champion Jeff Stanton got his first major professional win in the 250cc class at Atlanta on February 25, 1989. Stanton would go on to win four more races and the championship over Kawasaki's Ron Lechien. In his entire pro career, Stanton rode exactly one race in the 125cc class: The '89 250cc USGP at Unadilla, where he dominated the support class on a CR125 built in part by Factory Connection boss Rick "Ziggy" Zielfelder.
Not only was the 1987 Daytona 250cc SX Rick Ryan's first professional win, it was his only win! Ryan's win on the rain-soaked course still remains the only time a privateer has ever won an AMA Supercross.
Rocket Rex Staten took his first professional win in the 500cc class at the 1974 L.A. SX. He was aboard a Honda, wearing #36.
Before Josh Hill, Oregon's finest was Chuck Sun, who put his name in the AMA record book for the first time by winning the 1980 Atlanta 250cc SX. It was the only win of his supercross career, though he did win a 500cc National MX Championship. Sun's still racing today. In fact, the 51-year-old is headed to Europe to race the FIM Vet World MX Championships against Sir David Thorpe!
Florida's Monte McCoy got his one and only professional win in the 500cc class at the 1976 Daytona SX.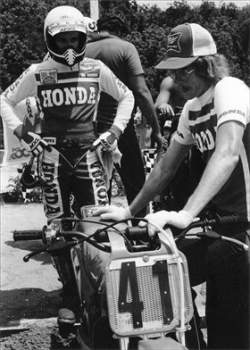 Kenny Keylon
photo: Tom Mueller
Another Floridian,
Kenny Keylon
, won the 1982 St. Petersburg AMA 250 National on a bike he was loaned by Team Honda. Keylon would suffer a severe knee injury that ended his rise to the top. Today, his son Kyle rides for the DNA Energy/BTO Sports/Butler Brothers MX team. (Eric Johnson wrote an epic tale of Keylon's great race in 1982, and you can find it in the June 2002 issue of
Racer X Illustrated
.)
Donnie Hansen's first win came on January 30, 1982, when he won the 250cc SX at Anaheim. He'd go on to win the championship over Mark Barnett.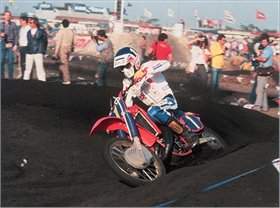 David Bailey

photo: Racer X Archives

David Bailey's first professional win came at the 1983 Anaheim SX. He'd go on to win his only SX title that season.
1980 250cc SX Champion Mike Bell took his first professional victory at the 1978 Los Angeles SX in the 250cc class.
Doug Dubach took his one and only professional victory at the 1991 San Jose Supercross, where he narrowly edged out his Yamaha teammate, Damon Bradshaw.
And last but not least, here's a nod to the Junkyard Dog,
John Dowd
, who took his first professional victory in the 250cc class at the rain-drenched 1991
Hangtown
National. Dowd would go on to win five more 250cc nationals, a 250cc SX, two 125cc nationals and seven 125cc regional supercross races.