Privateer Profile: Matt Boni
Privateers don't have many of the luxuries that factory riders do. They don't have their own tracks to ride on, they don't have all their expenses paid for and they don't have a fleet of people around them constantly helping out. For Matt Boni, even training has been a guessing game over the years and he often over-trained to the point of exhaustion. In fact, he fatigued himself so badly that he contracted Epstein Barr disease and Lyme disease during his transition from amateur racing to the pro ranks. I guess you could say he has Epstein Barr with a twist of Lyme disease. Still, despite the headwinds, Matt has forged on. And last weekend in Daytona he landed on the podium for the first time in his young career. He was the topic of yesterday's Number Cruncher, and he's the topic of today's Privateer Profile.
Racer X: How good does it feel to get your first podium as a professional?
Matt Boni: It's unreal; I don't think it's sunken in yet. It's a great feeling.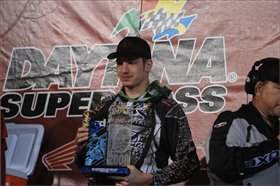 Matt Boni still can't believe he got third at Daytona!

photo: Steve Cox

Have you always been a good mud rider?
I've always been pretty good in the mud. I'm a little bigger than some of the other guys my age so I could hold onto the bike easier. The more it rained down there the happier I got. I've always excelled in the mud.
Was that the muddiest race you've ever been in?
Yeah, it was the gnarliest race I've ever done. The puddles were deeper in person than they looked on TV.
How was your bike? I heard that lots of bikes were popping and farting on the first lap.
My team did a really a good job preparing for the mud. My bike never popped or cut out one time. Other than some major arm pump everything went awesome.
How has the season been going for you before Daytona?
It's been a tough run for me. I broke my collarbone four weeks before Atlanta. And I tore my ACL at the third round of the outdoors last year so I've had momentum stopper after momentum stopper. I've also been sick since the first round and I'm just now feeling healthy again. Things just kind of came together for me all at once in Daytona.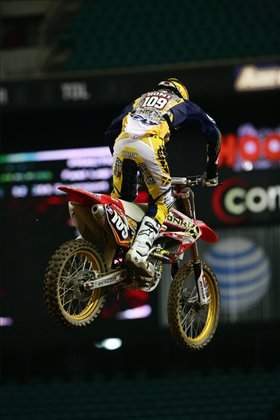 Boni finished 18th in Atlanta.

photo: Simon Cudby

That third is a big confidence builder going into this weekend?
Absolutely.
How are things with the BBMX team?
They are great. Last year I was on the Motosport team and they were going to fold up. I guess they kept going but I didn't have many options because I missed all the outdoor nationals. I've known the Butler brothers since I was little and they really believed in me and they showed that they believe in me by giving me a chance. Nobody else wanted to hire me this year so it feels great to get a podium and show people that I'm still here.
Your bikes look pretty competitive too.
Yeah, Willie Manning, the engine guy, has some game. My bikes are unbelievable. I was nervous to switch from Kawasaki because I've been with Team Green for 12 years. I'm really happy with my bikes.
What are the goals from here on out?
My goals at the beginning of the season were to be in the top ten. I'm not going to change up my plan just because I got a podium. I'm not going to go to the gym and start lifting more weight just because I got a third, you know? My goals are still the same and I want to be top ten in points at the end of the year.
Where are you living right now?
I live with my dad in Geneva, Florida. I've been going to Georgia and riding with Nico Izzi and that has been helping a lot. Tim Ferry has also been letting me ride with him and that has been great. Our team sticks together and rides together a lot so that has been good.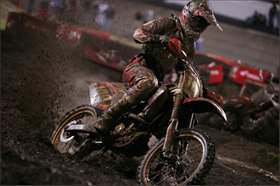 Matt Boni sits 13th in points.

photo: Simon Cudby

What is your plan for the summer?
I'm switching to the 450 for the summer so that will be good. I'm a little bigger than most of the Lites guys so the extra power will be good for me. Our team is going to do only five nationals this summer so I'll just keep working hard and do the best I can at the east coast motocross rounds.
Do you have any other plans during the summer on your weekends off?
Not right now. I might go do some Supercross races overseas if I can put some together.
Who do you want to thank?
DNA Energy Drink, Vince at BTOSports, Rick Case Honda, WMI Racing Development, FLY, Bel-Ray, FMF, Sunline, 661, Wiseco, X-Brand, Visuwalls, ASMF, ICW, Dunlop, QTM / Talon, CV4, Exceldine, Applied, Dream Traxx, MX Press, Regina, Sponsorhouse, Twin Air, Ogio, Acerbis, Mx ID Systems, Devol, Leatt Brace, FLmx, Reactor Watches, Stellar MX, Group D, Pit Posse, Alpinestars, Kinetic Animation, Engine Ice, Seminole Tribe Mx, MXers for Jesus, Kevin Cozadd, my family, my trainer Robb Beams, and just the whole BBMX team.