Welcome to the Shift Number Cruncher. There were a lot of amazing stories that manifested from the soggy, swampy, mess that was the Daytona Supercross by Honda last Friday night. From the demise of Chad Reed, to the astonishing charge of Trey Canard, it was a race to remember. But just as was the case in the muddy 1987 Daytona Supercross, the big story centered around the success of a privateer. About the only thing visible on Jake Marsack and Matt Boni was their pearly whites that were beaming bright on their smiles of success. Hey man, mud or no mud, the scoreboard shows a podium finish and that's all that matters. We've already dedicated a number cruncher to Jake when he got a 4th place in the San Francisco mudder earlier this season, so this one goes out to Florida's Matt Boni and his #109. Turns out his number has some pretty cool stories behind it. Enjoy.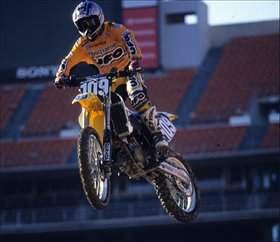 Alessio Chiodi
photo: Eric Johnson
Ah, the plight of foreigners in their supercross endeavors. One of the great tragedies in recent motocross history is the rotten luck of greats like Sebastien Tortelli, Greg "oh my goodness" Albertyn, Josh Coppins, and Ben Townley. All of those guys were world beaters until they tested their mettle at American Supercross and were promptly pile driven.
Chico Chiodi
was supposed to have a battle with
Ricky Carmichael
this particular year at
Steel City
, where he showed up battered and bruised from the previous winter's supercross series. His luck didn't get any better at
Steel City
as he broke his bike in half and had to settle for getting a ride back with RC in the Pro Circuit mule.
Bad Billy came across this shot a month or so ago and it took us a while to figure out who it was and where it was taken.
Nick Wey
certainly remembers #109 as it was the number he used to score his very first AMA pro points with.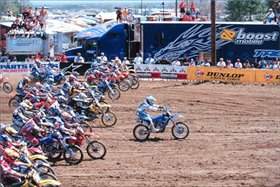 Craig Anderson
photo: Simon Cudby
No drug, or anything else on the earth can match the feeling you get from banging a holeshot like this. This was a good year for
Craig Anderson
and #109 as he won the
Southwick
national after an epic battle between himself, Brock Sellards, and
Michael Byrne
. Here "Ando" cracks one wide open at
Glen Helen
.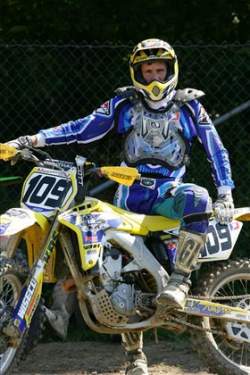 Barry Carsten
photo: Simon Cudby
#109 is a very significant number to the legendary
Barry Carsten
. This year marks the first time in, well, the beginning of the heavens and the earth, that "Bear-Dog" failed to score a number in the top 100. He used it to bust out a holeshot over
Ricky Carmichael
that year at
Budds Creek
. You can still hear the screams echo through the valley from when the crowd roared as they saw #109 crest the top of the starting hill.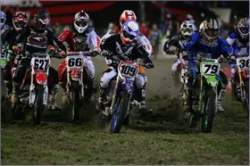 Tyson Hadsell
photo: Simon Cudby
What a different a year makes. In this picture we have
Jake Marsack
running #79, who now runs #66. The man running #66 is Shaun Skinner, who now runs #56. Then, the man marked #109 is of course
Tyson Hadsell
, yet another fast Floridian. Oh yeah, the damn grass looks a tad less damp in this shot as well.
Geneva, Florida's
Matt Boni
is one of those kids that kind of flew in under the radar but has amazing speed as his three Loretta Lynn's titles prove. One of the tallest riders we've seen hit the track, Matt has shown flashes of brilliance throughout his still young career, but chucking it on the steps in front of his hometown friends and family at Daytona has to be the high water mark. Congratulations, Matt and the entire DNA Energy Drink / BTO Sports / Rick Case Honda/Butler Brothers MX team.
We know there are some other #109s out there so send them to me at
andy@racerxill.com
.