After a short week of whale-watching, I'm back on the case with Racerhead. The Monster Energy AMA Supercross Championship holds its one and only Friday night race tonight, so we're trying to pull Racerhead together a little earlier so everyone can watch and listen for the event. Unfortunately, there is no webcast for the race at Daytona International Speedway, but there will be same-night coverage on Speed TV, beginning at 11 p.m. If you can't stand not knowing who won what, just click on www.amamotocross.com and hopefully the lap counter will be up and running throughout the evening.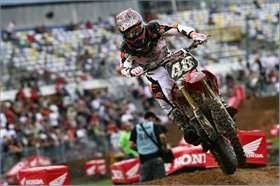 Can Trey Canard make it three in a row?

photo: Simon Cudby

If you're coming to the race, you will get to hear the familiar vocal cadences of our own Jason Weigandt, who was invited by the Speedway folks to join Larry Naston on the microphones to announce the race live. I'm super-pumped for Weege because announcing this race has been a goal of his for some time, so I wish him luck. I truly think he's the best host/announcer in the business, so I think he will do just fine.

I am typing this from the Daytona press office (yes, I got credentials this year—again) which has been abuzz all week long with the announcements concerning the immediate future of AMA racing in everything from motocross to hillclimb. Daytona Motorsports Group is now in charge of AMA Pro Racing, and everything is now falling into place. Check it out.

So where does that leave motocross? In very capable hands. The details are still being sorted out, but I consider this to be a very positive development for our sport. There will be an official AMA press conference regarding this development tonight at 6:00 p.m.

This also marks the first Daytona without Ricky Carmichael since 1996, when Florida's fastest son was still doing Loretta Lynn's area qualifiers this time of year. RC had a hand in building the track, along with fellow former Daytona standout Mark "Bomber" Barnett and his partner Glenn Bates. But we didn't see too many radical changes, as the field here in between the finish line and pit row severely limits what every track builder, since Gary Bailey started here in 1971, can actually do. There's a water sprinkler system that snakes around the field, plus the big Daytona logo is off-limits completely.

So yesterday, right before it got dark, RC threw on the gear and went out and rode a half-dozen laps on the track. He looked fast immediately—like, podium speed. It was really cool to see him riding again. Later, we had a few beers at the Ale House and he told me how much he was enjoying life, his family, and his aspiring car career. Ivan Tedesco was there, and so was BT101, Live Nation's Todd Jendro, J.H. Leale, and a bunch of other SX folks. It was a pretty cool deal.

Can Trey Canard win three in a row? Canard is 2-for-2 in his career as a supercross racer, which is something only Damon Bradshaw in 1989 and Ernesto Fonseca in 1999 have been able to do in the history of 125cc/Lites SX racing, which began in 1985. In fact, Bradshaw won his first three 125cc main events at Miami, Atlanta, and Daytona Beach before his streak ended at the Houston East-West race, which was won by Mike LaRocco. Bradshaw went on to win the championship by one point over Mike Kiedrowski.

And speaking of 1985, here's my annual chance to brag about my one and only top-ten finish in my own brief SX career: eighth right here in 1985, riding a KTM 125, worked on collectively by myself, Mike Rosso from KTM, and a fellow racer named Eric Posten, who was kind of enough to spend the evening before the race out in the parking lot of our hotel helping me replace the top end.

I was just telling a small piece of that story to Charles Summey yesterday in the Charlotte airport, where I connected and the Gibbs Racing/Toyota Yamaha rider was just starting his short trip here. Summey, who looks like a real biker with his tattooed sleeves, is a genuinely nice guy and also really friendly to talk to. He told me he didn't have the best of races last week in Indy, as frustration with a first-turn crash led to a few more crashes, but he's been having a pretty good year. The pressure will be on this week, as team owners Coy and Coach Joe Gibbs are flying the team jet down tomorrow afternoon. Here's hoping for a great score for both Charles and his teammate Josh Hansen.

Is Tim Ferry really coming back? You have to watch the shocking video that Jason Weigandt and Matt Ware filmed at the Monster Energy Kawasaki factory rider's practice track yesterday for Racer X Films.

Matt also put together some cool vids from the opening round of the 2008 Can-Am Grand National Cross Country Series, which has become the premier off-road race during Bike Week. The series continues on to Georgia now, though 18th-place finisher Travis Pastrana—yes, he finished!—will likely not be going with the GNCC caravan north. At the same time, I don't we will see him out on the Daytona SX track either, doing back-flips off the finish line or front-flips down the main section whoops like he did a couple of years ago!

And clip and save this: When Pastrana's astounding new documentary film 199 Lives comes out in theaters next month, make sure you take a night to go see it. It is extremely well done, with Gregg Godfrey and his crew doing the filming, while Travis himself pitched in with some of editing.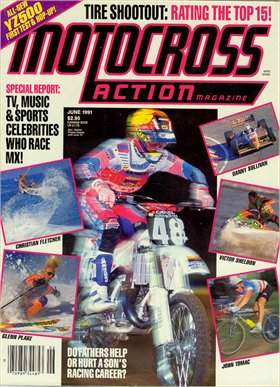 That's Jimmy Button on the cover!

And speaking of Racer X Films, there's also an excellent Trey Canard piece that Vurbmoto's Wes Williams put together this week on #48 as he did some practicing in Texas. And #48 is the number that Andy Bowyer tossed into the always-entertaining Shift Number Cruncher this week, which has a Redux coming—especially after former Daytona winner Jimmy Button reminded us that his one and only MXA cover came when he had #48 on his bike while riding for DGY Yamaha.

In the 450 class, it's going to be really hard to beat Chad Reed. After letting Steve Cox in on the extent of the injury he suffered in his frightening practice crash in the mud at Anaheim 1 – he flew off the side of the triple after the finish line and really did break some bones in his hand—he's won six of the nine races in the series so far. Indy was his first outside the state of California, and with the success he's had here against everyone, including Carmichael over the years, he's a heavy favorite to keep it all rolling.

I didn't get to see last weekend's race, as I was in Mexico, but I did listen to the Supercross Live! webcast, and I have to say that Rockstar/Makita Suzuki rider Ryan Dungey finished exactly where I thought he would—a rock-solid fourth. I think he's being smart by coming back East to ride the 450 and get his groove back on before next month's Seattle showdown with West Region leader Jason Lawrence…. As long as he stays healthy, of course! And there's no way he will do worse here than he did last year, where he crashed in both his heat and LCQ and failed to actually qualify.

No word yet on the returns of Mike Alessi, Ivan Tedesco, Grant Langston, James Stewart, Broc Hepler or any of the other guys out—maybe Ping or Cox will have something farther down. And congratulations to Ping and his wife, Amber, on the birth of another baby girl, Emma Jean (Michel) Pingree. No, Ping will not be in Daytona.

Okay, let me turn this over to Billy. I have some work to do, and I can't wait to get started!

Thanks, DC.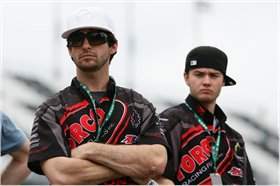 K-Dub and J-Grant check out the Daytona track.

photo: Simon Cudby

People have been emailing us all week about when the Daytona SX is going to be broadcast. For the past few years it has actually been live on Speed, but after looking at www.speedtv.com, it looks like it's going to start at 11:00 p.m. ET. It's going to be a late night for Monster Energy AMA Supercross fans on the East coast!

And while you're up tonight, tune into Fox's Best Damn Sports Show Period tonight at 11:00 P.M. PST as there's a cool feature on the Metal Mulisha!

First of all, check out Simon Cudby's Practice Report from Daytona right here.

Here's Steve Cox:

Last weekend marked the supposed last AMA supercross round to take place inside the RCA Dome in Indianapolis, as next door, construction on the new Lucas Oils Stadium looked to be nearly complete. However, one rumor I heard in the pits was that the RCA Dome isn't going to be torn down right away, and it's possible that as early as next year, we may have a combo weekend of AMA supercross and the Indy Trade Show, with the show staying in the RCA Dome and the SX being run inside Lucas Oils Stadium.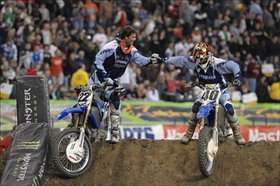 photo: Steve Cox

With San Manuel Yamaha's Chad Reed designing the track in Indy last weekend, it's interesting to note that he wasn't fastest in either practice, and nearly lost his Heat race to Torco Racing Fuels Honda's Kevin Windham, who was doing what amounted to a quad into the rhythm section after the finish-line double, as he was jumping from one jump, over another jump, and over a tabletop, and then triple-tripling out. Most other riders were just jumping to the top of the table, bouncing over the next jump, and then triple-doubling out. Windham's line was definitely faster, and Reed even expressed disappointment in his Monday Conversation after the race, where he indicated that he designed the section to do exactly what Windham was doing, and then didn't actually do it himself. However, he said that he was prepared to step it up and do the jump in the main event if he had to, but he never did, as no one was really close to him from lap two on.

A lot of people are wondering what happened to Windham in the main event, after being so good in the heat race and being fastest in the opening practice session of the day. It turns out that it's not that complicated. After the heat, Windham knew that he had the speed to potentially win the race, but then he didn't get a great start, and between the battle with four other guys over second place, and watching Reed get away, Windham got tight, pumped up, and then didn't have much fight left after that and faded to fifth. Still, Windham has yet to finish outside the top five this year, which is part of the reason why even though he's 34 points behind Reed in the championship, he's also 34 points in front of everyone else.

Yamaha's Josh Hill matched his best finish of the year, with a second-place finish in Indy. However, he has been very inconsistent this year, so it's going to be interesting to see how he does in Daytona tonight.

Speaking of Daytona, our own Jason Weigandt is going to be the floor announcer at the Daytona Supercross. Basically, he's going to be Daytona's Terry Boyd, except his facial expressions will probably change depending on his tone of voice.

It rained quite a bit last night in Daytona, and it's set to rain some more this afternoon and into the evening, so will we have a repeat of the 1987 Daytona Supercross mud race? That was the race where Rick Ryan became the first and only privateer ever to win a 250cc… er, 450cc… er, "Supercross-class" main event. Mud is a great equalizer, but will the mud in Daytona lead to another surprise winner?

Rockstar/Makita Suzuki's Ryan Dungey nearly had himself a podium in his first shot on a 450 in Indy, and he can ride mud – after all, he's from Minnesota. And if he doesn't at least podium this weekend, I'm going to have to wear a friggin' CHIEFS jersey in Dallas, thanks to Andy Bowyer. So, my heart tells me that he will, because I don't know if I can survive wearing a Tony Gonzalez jersey (barf).

Honda Red Bull Racing's Davi Millsaps was running a strong second in Indy before going down with less than a handful of laps left to run and finishing 17th. However, it should be noted that Millsaps won Daytona in the Lites class in 2006, and probably would've in 2005 if not for a crash.

Speaking of the 2005 and 2006 Daytona Lites races, Torco Racing Fuels Honda's Josh Grant was second in both of those races. The 2005 event was the one where he and Josh Hansen went down together on the last lap, leading to a Rocky II-style "whoever gets up first wins" finish, and Hansen got up first. However, it should be noted that on both occasions, Grant finished second to riders who are now racing the 450cc… err "Supercross class" now.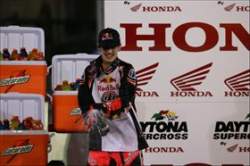 Josh Hansen won the Daytona Lites main in 2005.

photo: Simon Cudby

The track in Daytona is designed by Ricky Carmichael, so it would probably be tough to do 20 laps on at speed even in the dry. However, with the likelihood of rain, the race could become survival of the fittest, even more so than usual for Daytona. If you can't make it to the track, plop yourself down in front of your TV at 11 p.m. EST or 8 p.m. PST and turn it on Speed, where it will be broadcast on a tape delay in High Definition (where available).

If you've been paying attention to the weather in the Daytona area lately, you've probably noticed that, depending on where you look, there is as much as a 60% chance of rain. Not only does this throw a wrench in the works for the race itself, but remember a few weeks ago when the Tornado hit in Houston and tore down all of the team awnings? Well, if they haven't gotten their new ones yet, they're not going to be happy. We talked to Torco Racing Fuels Honda team manager JC Waterhouse, whose team was one of those who lost its awning in the Texas Tornado, and he said he won't have his knew awning until next week. His fix is easy enough, as Honda sponsors the event and has plenty of spare room and supplies, but it may not be as easy for KTM or the Monster Energy/Pro Circuit Kawasaki team.

Here's a link to the weather in Daytona Beach.

Who do you think will win tonight's Daytona Supercross by Honda? That was the topic of this week's Racer X Online Poll, and so far Chad Reed has 36 percent of your votes over Kevin Windham. You can still rock the vote right here.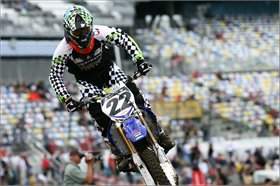 Chad Reed is leading the votes in this week's Racer X Online Poll.

photo: Simon Cudby

David Bailey sent us this note earlier this week:
First, a Daytona memory that you can own: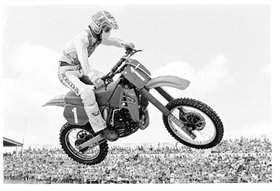 David Bailey at Daytona in '85.

"Just signed a bunch of these prints for Paul. Daytona 1985 works bike. Led it and crashed into a lapped rider (Guy Cooper) and ended up 4th. Hannah won after he roosted all over Wardy."

Secondly, as most of you know, the founder of what we now know as supercross is serving a double life sentence in prison in California after he was found guilty, with special circumstances, of the shotgun slayings of his old partner Mickey Thompson and Thompson's wife, Trudy. (The special circumstances were that he ordered the hit but didn't carry it out himself.) Bailey knew Goodwin, of course, as well as his co-worker Jeanie Sleeper and race announcer Larry Huffman, who he met up with last week.

"Had an interesting day last week with Jeanie and Larry," wrote David. "It was about some speaking stuff, but we chatted a little about Goodwin with a guy who was in the same cell with him for 8 months. Pretty gnarly conditions. If they have to move him he's shackled hands and feet and because he has some prostate issues he usually wets his pants because they leave him that way for a while. He has to stay in his cell all the time unless they feel like letting him and others out once or twice a week for about an hour and sometimes for lunch. Just when I think I have problems I hear about his set up and it snaps me back to appreciative!"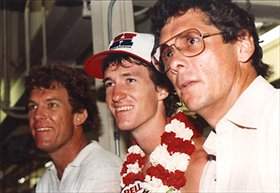 photo: Courtesy of David Bailey

"Here's a pic I found of us when I won the SX title at the Rose Bowl (in '83). Jeanie told me that the Rose Bowl was on fire during the entire main event and she did everything she could to keep the fire marshall off her ass for another 12 laps once they told her they had to evacuate the stadium. There is plywood under the concrete stands that was to hard to remove after construction, so when people would drop their cigarettes it ignited the wood under the stands. I had no idea. So much behind-the-scenes stuff…"

Jeremy Maul of Innovative MX alerted us to a terrible accident recently at an open practice at MX Underground in Texas: Jay Justice, father of 50 star Hayden Justice, ran on the track to help his kid, who fell on the backside of a triple, and a big bike landed on his head. His ear was torn off, he swallowed his tongue, and two helicopters came to the rescue. Here's a website for donations.

Add the name Matt Lofthouse to the growing list of fine moto artists out there doing prints and drawings. He just set up a website to show off some of his work right here.

Here's that horrific crash by Johnny Knoxville, who had his scrotum caught when the bike came down and, well, ouch.

Okay, Ping is done changing diapers and added this:

Most of my week was spent at the local hospital welcoming my new daughter, Emma Jean, into this world. Baby and mama are both doing great. We love her already despite the fact that she looks like a grumpy old German man. Hopefully some of those wrinkles will work their way out.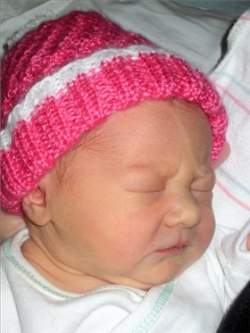 Emma Jean Pingree

photo: Ping

I do have a few thoughts from last weekend's race in Indy. First, I am really pumped for Billy Payne. The former amateur prodigy who quit and spent the last five years working construction is back and doing great. He has made both mains and scored an eighth in Indy. Not bad for a guy that was swinging a hammer less than a year ago. Keep it up, Billy Boy.

Equally impressive was Ryan Dungey's premier-class debut. Ryan started up front and rode a smart, consistent race to finish fourth in his first try. That has to be one of the best debuts by a Lites rider in the history of supercross. As fit as he is, it wouldn't surprise me to see Dungey up on the podium tonight in Daytona.

Last week I got this letter from Red Bull's Dane Herron.

"Some of you knew it was happening and others didn't. I'll keep it short and sweet. Today is my last day here and it's been unbelievable to say the least. I'm so stoked to be going back on my own and can't wait. I'm very excited to still be working with Red Bull and looking forward to new relationships. I've been developing a dirt bike training facility with RB for the past few years and in 2-3 weeks we start construction on it. Basically everything you could imagine, or that riders have been imagining, we're doing. I'm also back designing and building courses again and have an event production company started. I'll be doing X Games, The Red Bull X Fighters events, The ESPN moto X World Championships and others." Good luck with the new venture, Dane!





SUBSCRIBE OR RENEW NOW AND GET
A 2008 RACER X 10 YEAR ANNIVERSARY T-SHIRT!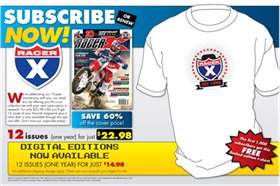 The first 2,000 subscribers get a free t-shirt!
We're celebrating our 10 year anniversary with you, our readers, by offering you this cool collectors tee with your subscription or renewal.
For only $22.98 USD you'll get 12 issues of your favorite magazine plus a t-shirt that is only available with this special offer. Don't miss out, subscribe today!
Scott Wallenberg sent us this:
David Pingree has submitted his entry for the Racer X Inter-Am event, to be held in Boise on March 29-30th Weekend. Ping will be racing his first ever Vintage Motocross on both a 1974 YZ 250 and a 1981 Maico 490 specially prepared by expert class racer Dallas Nyblod.He will be reporting on the experience in a future issue of Racer X, so if you haven't made plans for the last weekend in March, come on out and join the party at the Racer X Inter-Am!
The 2008 amateur motocross season is ramping up, so let's turn this over to Vurbmoto's Wes Williams:
The Lake Whitney Spring Classic kicks off this week and Vurbmoto.com will be on site providing daily video coverage, race and photo reports, and much, much more. Lake Whitney marks the beginning of the 2008 amateur national season, and after watching Canard, Stroupe, and Izzi make immediate impacts at the next level, you can bet the factory teams will keeping an eye on who will be running up front in the pro class.
The boys (and girls) over at Vurb have also put together a Name The Top 5 Contest Giveaway for the event. If you can name the top five overall winners of the Motocross Lites A or Motocross A class you could win a multitude of prizes. Troy Lee Designs, Fly Racing, Factory Backing, and Scott have all ponied up swag, plus Vurb will be donating some of their own product for the giveaway. March 11 is the last day to enter; check out this link for the official rules, and information on how to enter.
How about this for a band in the L.A. area! The Wrath of McGrath.
Check out what happened in Australia when two hoods decided to rob a place with a motorcycle gang nearby…
A reminder that No Fear will be releasing their new DVD, MXoN: 60 Years and a Day, on or before March 12. To order, visit www.nofearmx.com.
Check out this clip of Chad Reed and friends having a good time in Florida.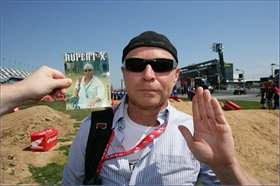 Rupert X. is a VIP.

photo: Simon Cudby

Matt Ware went from the Indy SX to the Triton GNCC, and he told us this funny story:
Billy Ainsworth showed up in Melbourne, Florida, to prepare for the Daytona SX by riding in the Triton GNCC. After about two and a half laps into the afternoon race he made a mistake and fell. After a half-hour of kicking his four-stroke, Billy discovered he was actually out of gas. While waiting for the GNCC crew to pull him back out, Billy fell asleep and took a nap that lasted until, well, until the pits had pretty much emptied. Fortunately for Billy, the grueling course left most of the finishers completely exhausted. We think he'll need that extra rest for Friday.
Matt was the guy behind the lens for the Tim Ferry video over at Racer X Films. "We'd like to send a thanks out to Tim's wife, Evie, Chris Honnold at O'Neal, Jason Thomas and his practice mechanic Mark Russell."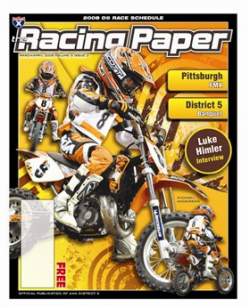 The new issue of The Racing Paper is out!
Finally, we received this email from a German rider looking for a ride in 2009:
"First of all, sorry for my English. I am writing from Germany in Europe and I have a few questions but I don't know who the correct person is to ask. My name is Benjamin Meusel and I am 18 years old. I ride MX since I was 4 years old. I was German Champion in the 85cc class and German Amateur Champion in the 125cc class. Now I ride my third "pro" season on a 450cc Yamaha in the German Championship and the ADAC MX-Masters (international German Championship) with GP-Riders like Max Nagl, Kornal Nemeth, Marcus Schiffer, Clement Desalle and sometimes riders like Tyla Rattray, Ken de Djicker, David Phillipaerts and Steve Ramon. In the German Championship I ride well in the top ten and in the ADAC MX-Masters in the top 15-20. I am still a pupil and have to go to school til April 2009 and then I want to do nothing but riding. So now my Questions: After the Outdoor season 2009 I am planning to come to America and ride some Amateur races and look how it is over there. Do you think I could get a ride for a few races? Remember it's in 1 and a half years and I am hopefully a lot faster than. Only to look how it is and to show what I can. Second question: How much money do Amateur top 5 riders earn? Or do they have to pay for their bikes? Last question: Could you give me email addresses from Amateur teams or dealers who you think could be interested in me in one and a half years.
Benjamin Meusel"
If anyone wants to help Ben, email us at online@racerxill.com.
That should do it for this week's Racerhead. Thanks for reading, and we'll see you at the races.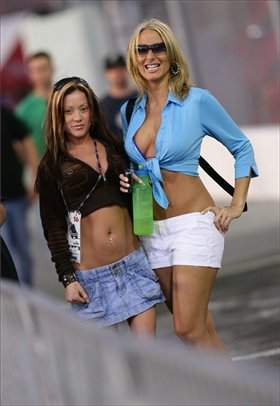 We'll see you at the races!
photo: Simon Cudby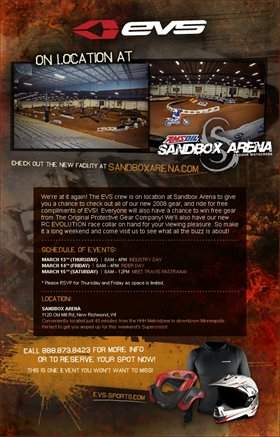 Click to enlarge