Welcome to the Shift Number Cruncher. Last we week we said we were going to wait until Trey Canard won his second Supercross to run the standard style cruncher on #48. Well, he only waited seven days! And while his win in Indy wasn't as dominant as his win in Atlanta, Trey lead every lap of his heat race and almost every lap of the main. The kid is really blowing up. That said, we dove into the archives and found a slew of riders that helped make #48 special, some before Canard was even born! Enjoy.
While Canard's wins the past two weeks have been special, the most famous ride put in on a Honda with #48 on the number plates was easily
Johnny O'Mara
's ride in the 1981 Motocross des Nations. Johnny, Donnie Hansen, Danny LaPorte, and Chuck Sun pulled off one of the biggest upsets in motocross history by winning both the MXdN in Belgium and the Trophee des Nations in West Germany. This issue was the fourth ever
Racer X
and the story, which was penned by Eric Johnson, remains one of the best ever.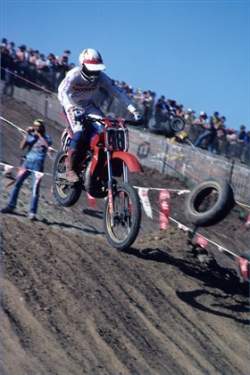 Bob Hannah
photo: Dick Miller Archives
Here we have none other than
Bob "Hurricane" Hannah
running #48 in the 1983 Golden State Nationals. Bob was actually National number 12 that year, but they all switched their numbers up for the Golden States, and Bob was switching from Yamaha to Honda.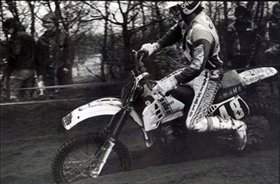 Jim Gibson
photo: Courtesy of Warren Price
Regular Number Cruncher contributor, Warren Price sent us this picture of
Jim Gibson
and added, "In 1983, after a superb performance for the '82 American MX & Trophee des Nations team, Jim Gibson was hired by Yamaha and teamed with SuperWrench Bill Buchka to break Suzuki's 12-year hold on the 125cc World Championship. Jim wore #48 in his first 125 GP in Best, Holland. He finished third in the race and in the series."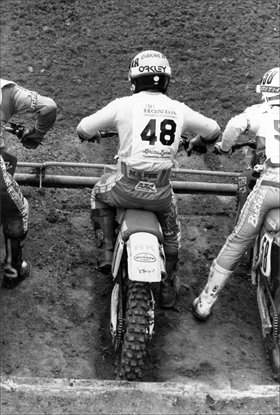 Mark Barnett
photo: Racer X Archives
Check out
Mark "The Bomber" Barnett
getting ready for the gate to drop on the +25 class at Loretta Lynn's in 1988. Mark would easily win the title and begin a trend of former AMA champions returning to Hurricane Mills to rekindle the taste of glory.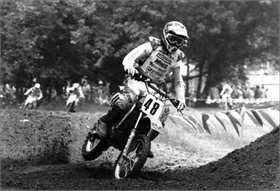 Hayden Richards
photo: Racer X Archives
Once upon a time, Cambridge, Ohio's
Hayden Richards
was one of the hottest amateur prospects in the country. Shown here on his way to the 1989 85cc stock 14-15 title, Hayden swept the 125 B classes the following year, then quickly disappeared. Anybody have an update on Hayden?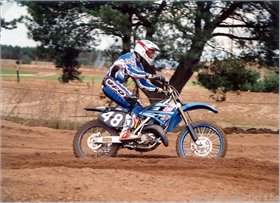 Trampas Parker
photo: Courtesy of Daniel Sinatra
Daniele Sinatra sent us this image of
Trampas Parker
competing in the 2000 125 World Championships. I don't know about you guys, but I always thought those were really cool bikes.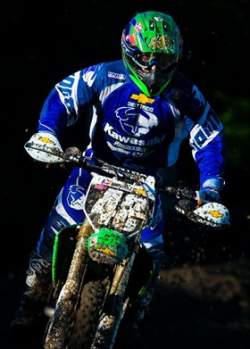 photo: Paul Buckley
New York's
Paul Carpenter
earned a factory ride with Kawasaki in 2004. Paul won the 250 B Stock class at Loretta's in 1997, and has been banging hard ever since. He put in some super strong rides in SX last year riding for Cernic's Kawasaki squad. Paul's back on Hondas in 2008 and has been lighting it up the past couple weeks while racing as player/coach of the Team Atomic Honda program.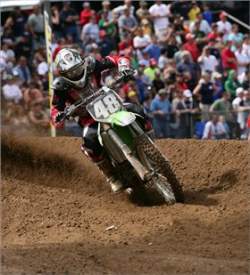 photo: Simon Cudby
Florida's
Kyle Chisholm
is just waiting for that big break out ride. The lanky, longtime Kawasaki rider put in top 10s at almost every outdoor national he raced last year, and came into this year's East Coast Lites division as a podium threat. Kyle took a bar to the
unmentionables
last weekend, but should be ready to hit Daytona this Friday.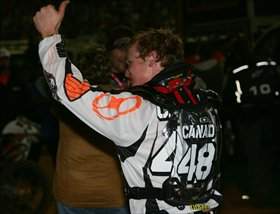 photo: Simon Cudby
Last year, "Bad" Billy Ursic came back into the office after attending the Oak Hill Amateur National and told me that
Trey Canard
was, "the real deal." I had been following Trey off and on since he was on 60s and knew he was fast, then I watched him at Loretta's last summer and was simply stunned at his speed. Yet, somehow, the guy has gotten even faster. When Trey pulled the holeshot last Saturday night, he laid down a lap that had me picking up my jaw from the floor of the press box.
The #48 has a rich history of amazing performances. Be that as it may, Trey Canard just might become the biggest 48 ever.
So who do you know that ran the 48? Send it on: andy@racerxill.com