Welcome to Racerhead #9, presented by Honda. DC is on vacation, so he's letting me handle the heavy lifting this week. I'm going to make this short and sweet, because in a couple hours I'll be hopping in Rita's Ford Econoline van with Mike Farber, Matt Ware and Jason Weigandt for our annual road trip to the Indianapolis Supercross. So let's get down to it…
Eight rounds down and nine to go in 2008 Monster Energy AMA Supercross, an FIM World Championship, so I guess you can consider this weekend's race in Indianapolis the halfway point of the season. Looking back at what we've seen so far, it's been a great year to be a fan. Of those eight races, we've had a total of nine new faces on the top step of the podium in both classes. Reed, Stewart, Windham and Millsaps in the AMA Supercross class (the first time since 2005 that we've had four different winners); and Dungey, Weimer, Lawrence, Stroupe and Canard in the Lites class. Out of all of those winners, only one of them—Stewart—is a defending SX champion. And 33 percent of this year's winners have been aboard Torco Racing Fuels Hondas.
Now we're coming off of one of the most electrifying races of the season—the Atlanta Supercross. We all know what happened, and we talked to first-time winner Trey Canard for our Monday Conversation and chatted with Honda Red Bull Racing's Davi Millsaps about his first 450cc win as well.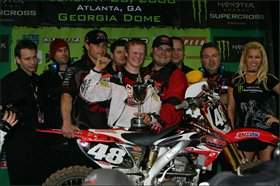 Canard is perfect so far in 2008.

photo: Simon Cudby

Besides that, there was also some excitement happening back in the pack, in both classes. In the Lites class the big story was about Josh Grant and Ryan Villopoto, who had a little run-in during the Lites main event. Steve Cox, Jason Weigandt and Ping weigh in on this, so I'll hold off on that.

Current points leader Chad Reed of the San Manuel/Fusion Yamaha team had a rather forgettable night in Atlanta, as a crash while leading resulted in a sixth-place finish. That just isn't the Reed we're used to, is it? The Weege and I always bench race about this, and one rider that you typically never see make mistakes is Chad. Seriously, prior to this race, when was the last time you saw the #22 crash in a main event?

Another more publicized incident in Atlanta involved 450cc class riders Eric Sorby, of Moto XXX/Hooters Honda, and Travis Preston, who is Stewart's replacement on the Monster Energy Kawasaki team. Racer X reader Justin Knox wrote us about it earlier this week: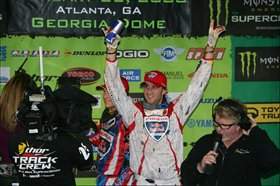 Davi Millsaps topped the SX class in his home state of Georgia.

photo: Simon Cudby

"I was at the Atlanta Supercross and saw what happened between Eric Sorby and Travis Preston. I know it was just a racing incident but it sure doesn't seem like that when you look back to what I believe was last year. If I'm not mistaken Eric Sorby messed with Chad Reed for a race or so and now he messed with Preston in Atlanta. Does anybody see the connection? It's like Eric Sorby is paid to mess with the guys that he sees are against James Stewart…not that Preston is against Stewart but he did take his SX ride when he got hurt and he did have words with him in Canada last year. I was hoping Preston was going to drop his bike after the finish line and let Eric Sorby have it, but instead he rode into the tunnel. But then again Sorby slowed down after Preston was in front of him the last time….which only makes Sorby look even more guilty for messing with Preston."

Here's Jason Weigandt with an answer to that.

"Justin, I don't think this Sorby incident had anything to do with Stewart. Sorby and Preston have had several incidents in the past, including a complete brake-check fest from Sorby that got so out of hand that he had to write a public apology letter a few days later. Another time, Sorby stuffed Preston into the finish line scaffolding, leaving Preston dangling like a pole dancer. This is obviously some bad blood between Sorby and Preston, although no one is sure what Preston did to deserve it! To further remove Stewart from the story, in Atlanta Jim Holley and I were using binoculars to watch the two ride back up the tunnel, and James' friend Raddo came over and asked to take a look, too. He told us that Sorby no longer rides or trains with Stewart, so there's no connection there."

Make sure you tune in to Jason and Jim Holley this Saturday night at 7:00 P.M. ET on www.supercrossonline.com to catch Supercross Live! They really have a great show, and it's very entertaining.

And tune in to SPEED on Sunday at 6:00 P.M. ET for the broadcast of the AMA Supercross class from Indianapolis.

Another big story heading into this weekend is West Coast Lites championship contender Ryan Dungey entering the AMA Supercross class on a Rockstar/Makita Suzuki RM-Z450. To be honest, I think it's a pretty good idea. He has a lot of time off till the next Western Regional race in Seattle on April 26, so why sit around and think about how he's going to make up those six points on Yamaha of Troy's Jason Lawrence? And from what we heard, Dungey had adapted to the 450 quite well. Cox talked to him earlier this week and you can read that interview here.

There's currently a tie in the USSTC Pro Privateer Challenge:

USSTC Pro Privateer Challenge

1. Charles Summey 67 points
2. Paul Carpenter 67 points
3. Heath Voss 45 points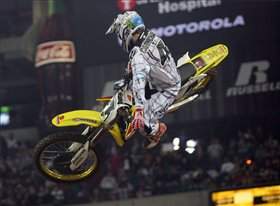 RC dusted off the two-stroke RM250 for Atlanta.

photo: Simon Cudby

Ricky Carmichael was in Atlanta last weekend, on a two-stroke! He broke out his Makita Suzuki RM250 and did a parade lap for the fans, and from what I hear, it was pretty awesome.
Speaking of RC, last night we heard that RC parted ways with DEI and will now run the East series for Schrader:
"Motocross legend Ricky Carmichael will be running for a championship this season in the Camping World East Series for Ken Schrader Racing with backing from Hendrick Motorsports, his manager Scott Taylor said Thursday. Carmichael will be sponsored by Monster energy drink. Carmichael, 28, who retired from full-time motocross racing after 2006 is trying to make his way up the rungs of the stock racing ladder. Carmichael had been under contract as a driver last year with former Sprint Cup Series team owner Bobby Ginn and raced about 15 Late Model events around Florida last summer. Carmichael won 10 consecutive AMA national motocross championships from 1997 – 2006. Carmichael, who began competing in Motocross at age 5, said he was feeling unchallenged by Motocross when he made the decision to retire. He competed part time in 2007 but said his only interest now is as a test rider for Suzuki. The Camping World East Series runs 13 events this season. Carmichael may also run selected events in the Camping World West Series.(Hartford Courant) on ESPN2's NASCAR Now it was reported that DEI and Ricky Carmichael were trying to work on a deal to have Carmichael run the Camping World East Series, but they couldn't work out a deal and they parted ways."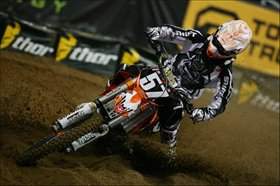 Ryan Sipes scored his second career podium finish in Atlanta, giving KTM two of the three spots on the Lites podium.

photo: Simon Cudby

Another very cool sidebar to the Atlanta Supercross is the annual Ride-4-AT Charity held by the DMXS Radio boys at Bremen Racepark in Bremen, Georgia. This year's event raised $29,000 for the charity, so well done DMXS! For information about A-T and how to help, check out www.ride4at.com or contact Heath Hamrick at ride4at@aol.com.

Check out Amateur MX founder Chris Hultner's weekly column iMPOUND for all kinds of very cool photos from his recent road trip to Atlanta, as well as Bremen for the annual Ride-4-AT.

Earlier this week I did a 5 Minutes With…Dave Osterman. He's one of the nicest guys I've met in this industry, and he's currently looking for a gig. Hopefully he finds something.

Let's turn it over to Steve Cox right here: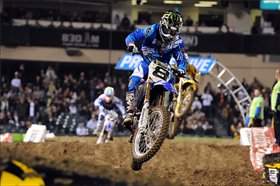 Langston continues to have eye problems.

photo: Steve Cox

I talked to Grant Langston Wednesday about his ongoing eye problem, and he said that it isn't going great. He had water on the retina, and was recommended to receive laser surgery, but then he says his eye actually got worse immediately after the surgery. As of now, he says it has gotten better, but it's still only about as good as it was before he had surgery on it. He says it's getting better every day. He doesn't know how long it's going to be before he can race again. At the same time, though, he recently had surgery on his hand/wrist that has been bothering him for some time, and it's doing much better.

Motocross is a rough sport.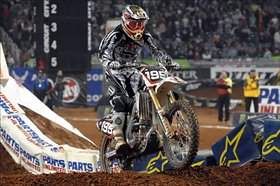 Billy Payne made the main. Wow, that rhymes!

photo: Steve Cox

You may remember Billy Payne from a few years ago, when he raced for the Pro Circuit team, as well as Plano Honda. Well, he's back, and after five years off, he made the Lites main event in Atlanta. I asked him if he had any flashbacks from back in the day. "No flashbacks, but I couldn't think about shit, though," Payne said after the race. "My goggles were dirty and I didn't pull a tear-off, just because I couldn't think about it. My mechanic put '5 laps' on the pit board, and I'm thinking, Five laps to go? I can do that. But it was five laps in. I was a mess out there. But I held it together and just pretty much rode around and finished."

Terry Boyd said from the floor of the Atlanta Supercross that the last time Honda swept the podium in the 450cc (or 250cc, or "Supercross") class was in 1993, but that is incorrect. At the season-opening Anaheim Supercross on January 9, 1999, the top 10 looked like this: 1. Ezra Lusk (Hon); 2. Mickael Pichon (Hon); 3. Mike LaRocco (Hon); 4. Kevin Windham (Hon); 5. John Dowd (Yam); 6. Ricky Carmichael (Kaw); 7. Jeremy McGrath (Yam); 8. Jeff Emig (Kaw); 9. Steve Lamson (Yam); 10. Damon Huffman (Kaw). That was the year that Lamson was on McGrath's Chaparral Yamaha team (managed by Larry Brooks, today's manager of the San Manuel Yamaha team), and Windham was on a factory Honda CR250R (with teammates Pichon, Lusk and Sebastien Tortelli), while Mike LaRocco was on the Factory Connection Honda team.

On a weekend when four of the top eight in the Lites class were rookies, one of them – Tyler Bowers of the Boost Mobile/Yamaha of Troy team – weighed in on a possible reason why that would be. "I've said it before, but a lot of the guys – Canard, Stroupe, Izzi, Dungey – all of us grew up riding different bikes," explained Bowers. "We didn't start out on PWs, we started out on Cobras. They're way more aggressive, and we had a lot more power and a lot more suspension and we could do a lot more jumps. We're just a different breed. Not that we're a whole lot better, because these guys up here are the best riders in the world, but I think we're just more aggressive. We know how to attack all the time. Also, we grew up racing intense, and we know how to take pressure – especially Canard and Stroupe, they can take pressure really well."

Pro Circuit's Mitch Payton weighed in on the rookie class too. "I'm not sure," Payton said. "I mean, obviously, every year, you always look at the kids coming in, and you always think everyone's going to be faster and faster. The majority of the time, it doesn't work out, but I think kids are paying more attention to supercross than they are motocross because they know they're going to come here when they're 16, and they're all getting better at it. I think Bowers has a lot of arenacross experience too. It's the way the sport's going to go. Supercross is a big part of it, so people pay more attention to it."

Timmy Ferry, who is going to be forced to sit out Indy because of a practice crash, gave Andrew Short a shot to try and land a podium in Atlanta with only about three turns left to run. I talked to him on Sunday after the race. "We both stayed up, and then I didn't know it, but he tripled into the next turn and squared me up and did the same thing back," Ferry said. "It was for the last spot [on the podium] and I was doing whatever I could to get into third. He wasn't mad. I saw him this morning in the hotel, and he said, 'Good job.' He said this morning that he was really mad when we crossed the finish line, but by the time we actually stopped, he realized that he would've done the same thing. There's no hard feelings. I told him, 'I didn't even realize you were mad. I thought you were giving me thumbs-up.'"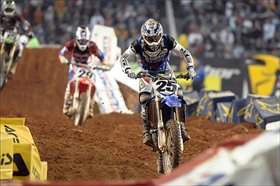 Shhh, Nathan Ramsey has quietly been putting in a really good season.

photo: Steve Cox

San Manuel Yamaha's Nathan Ramsey has quietly been putting in a really good season, and in Atlanta, he ran in the top three for much of the race before finishing a strong fifth. So much for the old, washed-up guy so many internet "experts" proclaimed him to be a few months ago, huh? "It's been like baby-steps since I started riding again, and I haven't quite gotten there yet, but tonight was a good start," Ramsey said. "I got a good start from the outside in kind of a bad situation, coming from the LCQ, and it turned good. I think it's coming. I feel my pace is starting to pick up, and if I can get up there and race with them, that stuff will all come back to me. It's baby steps. I think tonight was another good step in that direction, and it was fun to be up there racing with those guys."

Ramsey said that last year was pretty hard on him. "It was a tough season," he said. "I was trying, just like this, and it just wasn't happening. Everybody has those bad days, or bad years, and I'm definitely up there on the age scale, and I just came into this year knowing that I'm lucky to be here. It's a different attitude, and it's working. I used to be a little too excited, and put a little too much pressure on myself, and I'm just trying to ride it through. My goal this year was just to go to every race."

Here are some other interesting Atlanta Milestones:

- First race since Pontiac 2002 with two first-time winners (Nathan Ramsey, Branden Jesseman)

- First win for Team Honda since Ricky Carmichael in 2003 (Daytona)

- First time Honda has won two 450cc races in a row since Kevin Windham in 2004 (Salt Lake City and Las Vegas)

- First Honda sweep of the podium since 1999 (Anaheim I)

- Second year in a row that Pro Circuit's top rider DNF'd the opener (they still won the title last year)

- Second week in a row where the Lites race was won by a rookie (Stroupe in Houston, Canard in Atlanta)

- Both Lites Heat winners were rookies (Canard and Izzi, following Grant's penalty)

- Before the race, SupercrossOnline.com's Jim Holley picked Canard. Last year, he picked Dungey! That makes two years in a row he picked rookies to win their first SX races here.

- Second SX in a row that Villopoto DNF'd (Las Vegas, 2007)

- Canard was the first rider ever from Oklahoma to win a Lites SX.

- First time two KTMs shared the same podium.

- There were four SX rookies in the top eight (Canard, Moss, Bowers, Izzi)

- First time Josh Grant has ever finished round one.

- Chad Reed officially cannot take the win record for one season (14, shared by Ricky Carmichael and Jeremy McGrath), but he can tie it if he loses no more races, and if Canada counts.

David Vuillemin, who has been riding hurt much of the season, went on Mototalk and posed a pretty provocative question of the insiders and race-watchers who hang out there: What would you do to make SX racing safer?

Citing Ferry's crash at home on his practice track that has knocked the third-ranked rider out for the foreseeable future, DV12 listed some of the other guys hurt: James Stewart, Mike Alessi, Ivan Tedesco, Ryan Villopoto, Ben Townley, Grant Langston, Josh Hansen….

It should be noted that the actual racetracks were not at play in most of these injuries, but rather practice tracks that the guys use to harness the skills they need to perform at the highest level of the sport.

Steve Cox talked to Sebastien Tortelli about that in the past. "I asked him if more riders get hurt at the practice tracks because they let their guards down, and he said no," said Cox. "He said the reason why is because you ride the practice tracks five days for every one day of riding a race track, so the odds are that you'll get hurt practicing, not racing. He said it's like the statistic that says that most accidents occur within so many miles of your house. Of course they do, because you're near your house more than anywhere else."

Let's turn it over to Ping right here.

I received this letter last week from Jason Spees. If this doesn't inspire you to get some type of neck protection, I don't know what will. Jason got out of this crash very lucky.

If you ever do a piece on neck safety, feel free to let my header inspire you. This was way before neck braces at Glen Helen. Keep up the great work. (writing and racing) By the way… I broke both arms too. I didn't have a wife at the time but I used a coat hanger and wrapped toilet paper on the end.

P.S. I still ride.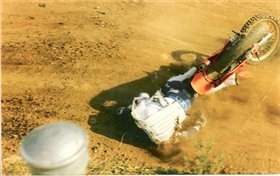 Ouch!

There has been some serious debate over the Ryan Villopoto-Josh Grant debacle at the Atlanta opener. If you didn't see it, click here to watch.

I spoke with Mitch Payton about it and he seems like he has moved on. "I'd like to think that Josh didn't do it intentionally. It was one of those things where you just don't know if he didn't have anywhere to go or if he lined him up on purpose. There's nothing we can do about it now."

Grant did an interview saying that it was totally unintentional after a pointed PR was sent out by Villopoto's camp. Hopefully everyone can just get back to racing this weekend because I think Ryan and Josh are going to have some great races this year, though last weekend's events will certainly add some tension to their battles.

Is Villopoto out of the championship? Well, I wouldn't go writing him off just yet. While his wrist is still somewhat of a question mark, there is no question that the Pro Circuit team has a way of digging out of bad starts to win championships. Off the top of my head I know that Nathan Ramsey scored few or no points at the season opener in 1999 riding for Mitch's team. He came back to win that title. The next year, Shae Bentley did the same thing. Ivan Tedesco had a rough start to his 2005 season but still got the title and Ben Townley had a terrible first round last year on the east coast but still had the number one plate at the end of the season. Add in the fact that Josh Grant only finished seventh last weekend and I would say that this title is still very much up in the air.

Nick Wey is out for this weekend's race. The MDK KTM rider got bronchitis a few weeks ago and has been trying to keep racing on the weekends. That turned into pneumonia and now Nick's doctors are telling him he has to rest. "I haven't been off the couch all week," Nick says. "I probably should have taken the last two weekends off but I didn't want to miss a round. Hopefully I can get back by Daytona but I just have to see how I feel."

Billy Laninovich will be heading to Indy on a 450 this weekend. Billy had a terrible year last year but seems to be turning things around in 2008. His fourth place finish at Anaheim was his best so far but Billy thinks riding the 450 will be good for him. "I feel way more comfortable on the bigger bike. For some reason it just suits my riding style better. I hope that after a get a couple races under my belt that I can get up there and race at the front with those guys. That's my goal." Check out this very sweet video Simon Cudby did with Billy at www.racerxfilms.com.

The AMA hasn't changed their ruling on pointing out of the Lites class as of yet. So, if Billy, or any other West Coast Lites guy, earns twenty or more points in the premier class by the end of the year, they will not be allowed back into the Lites class. Billy isn't worried about pointing out. "I don't want to ride the 250 any more. Hopefully I can prove myself on this bike over the next few weekends and get a ride on a 450 for next year." Billy says that he has the speed if can start up front but he hasn't been able to get good starts on his 250F.

And now The Weege:

I guess everyone needs to weigh in on the Ryan Villopoto-Josh Grant run-in at "The Wall" in Atlanta. I have reason to believe Grant didn't see Villopoto. I ran into Jim "Bones" Bacon of Pro Circuit after the race, and he told me Ryan crashed on the wall in the first place because he hit the back of Tyler Bowers, who was running fifth. Why did Villopoto hit Bowers? He didn't see him!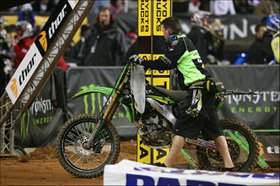 This is not how Jon Mitcheff wanted to leave Atlanta.

photo: Simon Cudby

Bones told me Ryan was okay physically, but certainly his pride was hurt. You might think Pro Circuit would find some solace knowing Ben Townley DNFed the opener last year and went on to win the title (which I believe has become the most overused stat in the sport today) but Bones saw Canard ride very, very well in Atlanta, and he knows you can't count on getting 25 points back in a short series. But Ping pointed out above that the team has dug themselves out of these holes before.

Canard's win grabbed headlines, but several other rookies looked good. Jake Moss was right there battling for a podium, which was very impressive. Bowers also looked good, and Izzi was right there with him fighting for fifth until a fall late in the race.

Moss was involved in a huge battle with Ryan Sipes and Martin Davalos. I lost count of how many times these three passed each other. Sipes rode well all night, challenging Canard for a heat-race win and then taking a podium in the main. Sipes admitted that in the main, it only took Canard about two laps to get away from him, buy Ryan's been injured so much during the last few years that just bringing it home on the podium made him happy. On the other end, his MDK KTM teammate Matt Goerke had crashes in his heat and the LCQ and missed the main.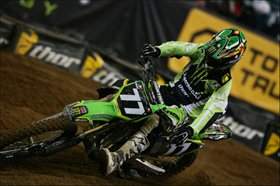 Jesseman was fast in his Pro Circuit Kawasaki debut.

photo: Simon Cudby

Also, Branden Jesseman looked good in the first practice session but didn't ride the same after that. I think it was arm-pump city for Brando, even though Pro Circuit wanted to keep the pressure off of the guy to try to prevent that. He may put even more pressure on himself now after a sub-par ride, or maybe he'll be loose now that he has a race under his belt.

After Indy I'm grabbing a flight at 6 a.m. on Sunday to get to Florida for the opener of the GNCC Series. The bike race takes place on Tuesday, March 4, and we're going to call it Super Tuesday since it's political season (hopefully riders from Texas and Ohio have sent in absentee ballots). Travis Pastrana is ready to challenge David Knight. I've also heard Tyson Hadsell will race Indianapolis Supercross, GNCC on Tuesday, and then Daytona Supercross on Friday. Damn. Zach Osborne will probably give the race a try too. The Florida race is the best one for motocrossers to try, because it's rough and fast but not nearly as slow and technical as the muddy, rutted, rocky, hilly, tree-stump and tree-root infested tracks on the rest of the tour. We'll see how the motocrossers do—remember Travis was able to go 1000 miles solo in baja a few months ago so three hours should be easy. I mean, no way he's going to do anything crazy, right?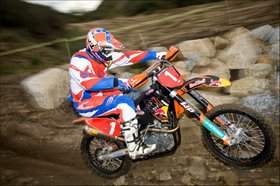 David Knight is set to defend his Can-Am GNCC crown.

photo: Adam Campbell

Check out www.gnccracing.com for more info.

Now for some other MX fodder from this week:

We got this note from Dean Dyess: "I just wanted to let people know that I, Dean Dyess III, will be racing the Daytona SX. I have always been an underdog, but I feel confident coming into Daytona. As of now that will be the only SX I am going to do, because I have not signed with any teams yet. I also want you guys to look out for Garett Edmisten at the FL GNCC. He will be strong!"

If you're heading to Daytona the first weekend in March, keep an eye out for Dean!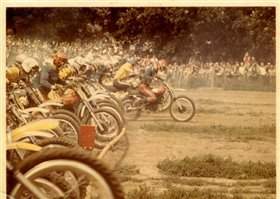 Elkhorn

photo: Wallenberg Archives

Scott Wallenberg wanted to remind everyone that there is only one month to go until the Racer X Inter-Am Vintage Motocross event in Boise, Idaho.
Add Tom Benolkin to the list of former pros looking to join the festivities at the opening round on Mar 29. For more information on the Boise race send an email to Tim Kennedy at idahovintagemx@yahoo.com. Also, here's a link to the series.
We just got an email from longtime industry stalwart Larry Naston, the voice of the Daytona Supercross. Here's what Larry has to say: "My new gig is with Set-Wear, like Mechanix Wear for the motion picture industy. I am the sales manager and we have the "Moto-Gate" for my accounts in the MX biz.
"I am announcing the Daytona Supercross, Mammoth Motocross and Troy Lee's Super Moto National, along with a lot of Monster Jams and NASCAR. I am still busy with the microphone. I'll never leave the industry as long as they will have me. I have now lost 150 lbs and am wearing a 34" waist!!! Can you believe it. From a 58" and 359 lbs to 34" and 200 lbs…to say the least it has been busy. See you at the races!"
From Mike Farber: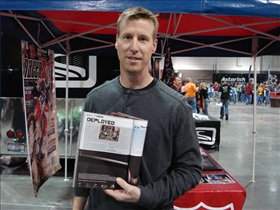 Todd Rose was deployed.

I ran into Todd Rose this past weekend in Atlanta. He was in Deployed (April 2008) and he said that he was back home for about 6 months. He was also really stoked that we put him in the magazine and wanted to say thanks.

We have a couple of belated birthday wishes to send out. MDK KTM's Billy Laninovich and Ron Joynt's son Talon celebrated their birthdays on February 26. Jody North celebrated his birthday on February 28 and is the sales manager at Broadway Powersports in Tyler, TX.

Farber also got an email from Andrew Langston.

"For those of you that follow Grant and his racing career we recently did an interview with him. Go to www.langstonracing.com and check it out! We will be leaving this Saturday for Florida and will catch up with you guys once we get settled in. Cheers."

Separated at Birth with Pegram and Waldo: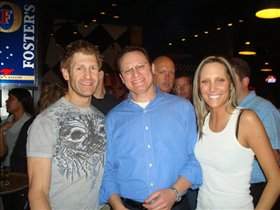 Separated at birth? Andy Donahue (on the left)...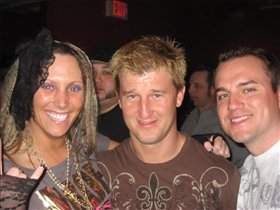 And Larry Pegram (center)
Honda to end motorcycle production in Ohio. Workers at Marysville plant will get other jobs.
Are you a pro rider looking to make some loot on March 8?
Attention Pro racers from around the South Central U.S. — there is a $5,000 Pro-Am race in Texas on Saturday March 8th. Excellent opportunity for local pro's around the region to make some money. Info at www.BuffaloCreekmx.com
Moto History's Ed Youngblood said some nice things about our 10th Anniversary issue, which you can read here. If you haven't seen the April 2008 issue of Racer X yet, go pick one up. It's amazing.
Video of the week, featuring the products of Smooth Industries.

And a special thanks to this week's Racer X Gas Card co-sponsors, Robbi Roberts and Fred Dath, who both stepped up with $250 which will be added to our $250 and given to the third-place finisher in the SX-class LCQ.
Here's an update on Gavin Gracyk