5 Minutes with ... Dave Osterman
Dave Osterman is a well-traveled man in the motocross industry. A former factory mechanic in which he got a championship with Mike Bell in 1980, Osterman has since worked for several reputable companies, including Factory Kawasaki, Factory Yamaha, Red Bull KTM, Pro Circuit, Yamaha of Troy and Buell. Most recently, he was hired to manage the KTM Junior SX/MX Factory Team and Amateur Support Efforts for 2008, but Dave O. told us that they recently parted ways and he's on the job market. Hoping that Dave Osterman will stay in the industry, we decided to do this interview with him to let everyone know he's available.
Racer X: Dave, we recently you saw that you parted ways with KTM. First of all, what was your role with them?
Dave Osterman: Well, I was with them in '03, and they sought me out again for 2008, so that was flattering. They pitched me on a program where they were looking to the future in a big way. They hired six top amateur kids and they want to roll them into pro deals. We have them all locked up if they did "X" for us, then KTM would reward them with "X" on the other side when they turned pro.
There was a lot of pressure, because the emphasis was on the company and performing, and I didn't look at it any different than a pro deal. All of the kids and families seemed really good to deal with so far in this program's infancy.
But, as in any situation, when they say here's the bus and you can drive it, when there are people in the seat, they need to be moved over. And as you know, I'm 50 years old but I act 30 on the inside and I have more energy than most. But in the end, we didn't see eye to eye on a few things and we both decided that it would be better if I would move on.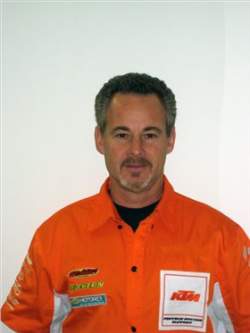 Dave Osterman is no longer wearing an orange shirt.

photo: Courtesy of KTM

You have a lot of experience in this industry, don't you?
I sure do, and one of the best experiences was when I was at Pro Circuit. I learned a lot there. Mitch was the first boss that really honed me and I can't thank him enough. He brought me in, I met the other mechanics, and he told them that if anyone had a problem with me, they had a problem with him, and then he rolled out. But it turned into a good relationship, and that's how you establish a program.
Back to KTM, I think their bikes are good, the people and company are good, but I think it's just a question of back-up. When you're on a police force, there's no question of back-up, but I think that's a good way to analogize it. When people give you a program, you should be able to run it. And even though I had bosses and upper management, if there are situations and issues, they should be dealt with in a professional manner. The one thing about a race team, you're all in this foxhole together. If somebody had a bad hair day, everyone else has to deal with it.
The KTM situation, even when I rolled in there, I said I have to have back-up, because I've been around the block a few times and I know what goes on. I needed that to roll forward.
We saw you move on from Pro Circuit to becoming the team manager at Yamaha of Troy, but then we saw you move over to Buell this past year. Tell us about that.
Yeah, people have made the comments that I probably have more shirts in my closet than most, but I know the factory team managers, and those jobs are far and few between. I applaud those guys for getting them, having them and sticking with them, but it's just opportunity. When I was with Mitch, he never told me to leave and I believe I could've stayed there, and if I would've known what I know now, I probably would've never left—famous last words. The Yamaha of Troy thing was a golden opportunity. It was a chance to really run a team 150 percent. I was hired to be the sheriff, and I feel I did a good job and I think they're reaping a lot of the rewards of what I did now. But it was time to roll out and I left there. The Buell thing came along, and it was an amazing opportunity. The side I was on at Buell was the side where there was a drawing board, where you didn't have a clue what the transmission ratio would be, or what the frame would look like. I saw all of that stuff first hand, and they would ask what I thought of this part, or would this be a better way to engineer this or that. Everything was tied to cost and I learned volumes in the year I was there. Just about every bad idea is drawn up by a smart person. There's a lot that goes into making a motorcycle, and it was a very interesting opportunity.
How far did they get on production of the actual motorcycle?
We had a few mules that were done, and we had wheels, suspension and we were pretty far on our engines. It was exciting, and we were in the mock-up stage of how the thing would look. I had to sign a small phone book of confidentiality stuff, but all of the pictures are still in my head. But what they did is that they spent a few million to get where we were, and they were going to have to spend a few more million to get out of it. It was just a business decision—I don't think it's cold feet like some people wrote on the internet.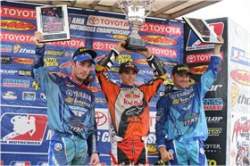 Osterman managed the Yamaha of Troy team in 2006 when team riders McFarlane (left) and Metcalfe (right) finished 2nd and 3rd at the Hangtown opener.

photo: Simon Cudby

That had to be sad to see all of that work go for nothing.
It was. I've been around a lot and I hold my head up high, but Buell was an opportunity and I look at myself as being better from it. I learned a ton. I mean, literally, the guy right behind me was creating the brake pedal. It was just really cool.
As you mentioned, you've worked in a lot of different positions in this sport; what aspect do you enjoy the most?
When I took the KTM job for the amateurs, some of my buddies that were close to me were like, "Wow, isn't that like a step back?" It was a new experience for me. I've done the World Mini and Mammoth back in the day, so it's always been exciting to deal with these kids. I call them professional kids because they're almost there, and you'll be writing about them very soon. I think my favorite side is the pro side. I like doing a good job and I expect a good job. If I have to put in 22 hours in a day, then I'll do it. The best thing in the world is winning, and I love it. Back when I was with Yamaha of Troy and we finished second and third at Hangtown with Metty [Brett Metcalfe] and [Andrew] McFarlane, shoot, I had a tear in my eye. You put a lot into it and these young men almost become an extension of you. I think everyone in this game, we're not getting rich—we're all fans first. I think the pro side is the pinnacle. It's just really a great sport, and when you look around the world, we're lucky to be involved in what we're doing. The feeling you get from being involved has kept me young, and that's why I want to continue to do it. I just need to land at the right place and do the right thing. I'm staying optimistic; maybe this KTM thing was a blessing in disguise. I don't really look as if it's going to taint me, some things are meant to be. I think people who really know me will see beyond that.
So you are for hire.
Yeah, that's my main focus of doing this interview with you guys, and I really appreciate it. I've been doing this a long time, and the only thing I'm probably cocky about is that I'm a good guy and I'm good at what I do. If you give me a task, it's usually done right away. I return phone calls. There are just so many sides of this wheel that I've been on, and I get along with everybody. But sometimes things get political, but you just have to roll with it and get along.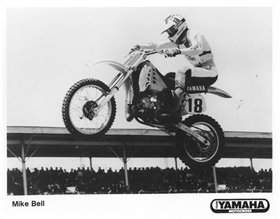 Dave O. wrenched for Factory Yamaha rider Mike Bell on his way to the 1980 250cc SX championship.

You've definitely been around the block, Dave, and you're passionate about it.
I love this industry and I know it real well. I've been on all sides of it; I've been a racer, a manufacturer, a marketer, a businessman, a team mechanic and a team manager. I've been successful on all sides and I just want to keep that going. For me, it's fun and exciting, and I pretty much have made it my life. I think I'm deserving of the golden situation, whatever that may be. It's all just circumstance and opportunity.
In a perfect world, what would you want to do?
Some people asked me lately, but I have an open mind for anything. I can be on the product-development side to the PR side, and everything in between. I've been on so many sides. I've probably personally been involved with building 10 box vans. It's not rocket science, but at my age you just gain a lot of experience. I'm just a sponge—I absorb and learn everything. You pick up on knowledge and styles. A young 20-year-old kid could show me something new just as much as a veteran. I know the business climate and times are tough, but we'll see.
What's the best way for someone to get in touch with you?
They can e-mail me at ozzydeo@yahoo.com, or call me at 661-510-8563. If you would be so kind to post either one of those, maybe I'll get a heads up from somebody. A good manager and person are a terrible thing to waste
Last question: Who's your pick for the East Coast title?
I'm old-school, man. Anyone that is serious and gives it 150 percent is good in my book. I'm impressed with Canard. Honda had some lean times, so it's good to see them on top. I think it's healthy for all the sponsors. As long as both shows are good, I think it's going to keep people buying tickets and everyone wins.