Welcome to another edition of Racerhead. Might as well start with the mail. This one went directly to our publisher, Scott Wallenberg:
Mr. Wallenberg,
I like your website, racerxill.com, but could you PLEASE remove that Racer X Brand Clothing Line cheesecake ad on the right hand side that constantly rotates pictures of sweet young thing posing in different shirts 'n stuff. That's so distracting I can hardly concentrate on reading. I like beautiful women as much as the next guy, but I'm not married and don't have a girlfriend to buy shirts for ... and that ad is a pain in the, uh, neck. I tried to click on it to shut it off or something – is there some secret?
Addicted to purity,
Mark Yontz. Newark, Ohio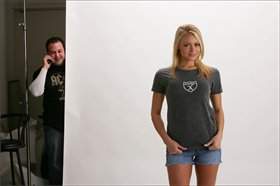 Ali Sonoma is a welcome distraction for Fubar's T-shirt business!
photo: Simon Cudby
Dear Mark: We know what you mean—nothing's getting done around here, though we are selling a lot T-shirts!
Hello,
I'm sorry if this is to the wrong person, but I was wondering if you could help me with any further information on something. Next week, MTV is hosting a tribute show for Evil Knievel in Oklahoma City. There are rumors about Pastrana trying a triple back-flip, Ronnie Renner trying a front flip. Have you heard any of this information yet? I have been reading about it for a couple weeks and I'm just curious to know if it's all true information. Thanks for your help,
Steve Barcklow
Ronnie Renner's response:
"Dude, I love rumors! Here's the story: I mentioned to Travis that I have what I think is a theory on a good technique for trying the front flip in the foam pit, and that I would experiment with it. My thoughts were that I would screw around with it for a few months, and if I was getting close I would try to pin it down in my foam pit for the Summer X Big Air. No claiming or anything like that. Well, I asked Travis' wizard buddy Frog to build me some special pegs so my feet don't fly off and a week later I get a forwarded email from Travis that he sent to some Jackass (the show) producers mentioning that I may want to go for it. I was quick to shut that idea down and said that I would try to make it out to goof off if I could. I have since did approximately ONE day of testing on my stock 110 and realized I have to get a more realistic bike to get this to even come close to working."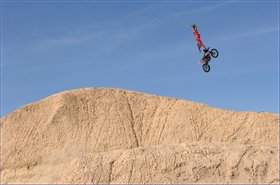 Renner is thinking front-flip…. Oh brother.
photo: Carl Stone
Dear
Racer X
,
I was wondering if you guys could post something on the site for me? I just wanted to tell all the guys at Cernic's Kawasaki thank you for everything they have done for me and letting me fill in for
Dusty Klatt
while he was injured. I only had a six-race deal with them, so after San Diego I'll be on my own again, but with the help of Cernic's, they will be taking my bike to all the races so I don't have to drive. But I just wanted to thank everyone over there:
Billy
,
Derek
,
Glenn
,
Josh
, the truck driver
Kelly
, and
Jeff Cernic
. Everyone is really cool there, so I have to give it up to all those guys and all of their sponsors.
Kyle Mace
#68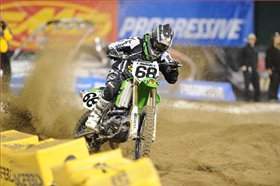 Kyle Mace is thanking Cernic's Kawasaki for all their help in 2008
photo: Steve Cox
Okay, be sure to tune in to CBS on Sunday, February 10, at Noon EST for the Monster Energy Supercross from San Diego, CA. And if you can listen to the live coverage on
www.supercrossonline.com
beginning at 7 p.m. California time, tomorrow night.
As Weege was rushing out the door to catch a plane, I tried to remind him that Chad Reed had a chance to make some real history this weekend. The runaway Monster Energy AMA Supercross points leader is one win away from becoming the first rider to sweep all five California rounds in a single season. I went into it a little further in yesterday's Bench Racing Ammo but the San Manuel/Fusion Energy Yamaha rider has swept the Anaheim races, plus the muddy San Francisco race, which means he only needs to add San Diego this weekend to do something that James Stewart didn't do last year, and Ricky Carmichael and Jeremy McGrath couldn't do going back to 2001, when they first started having three Anaheims. Reed could become the "King of California!"
And that to another letter, this one from someone named Stephen:
"'2005: Windham took the opener in the mud, then Carmichael swept the rest of the California races…' Reed block passed RC on the last lap in San Diego in 2005."
You're right, Stephen,my bad!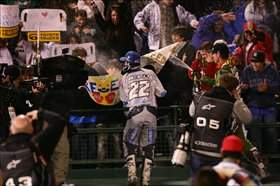 Chad Reed could go undefeated in California for SX '08.
photo: Simon Cudby
Anaheim 3 was brutal on some of the guys.
Britney Spears
probably had a better weekend than Team Yamaha, which lost
Broc Hepler
to a broken thumb in practice, then watched as
Grant Langston
had to pull out due to blurred vision. That led to—you guessed it—another letter, and this one could be helpful. It's from longtime contributing photographer
Andy Trecki
:
"I just got done reading the Langston update and wanted to chime in because I was just diagnosed with the condition, Central Serous Retinopathy, this past Wednesday and will bet that is what Grant probably has. Same symptoms happened to me this past week where my vision got weird for a couple days and then I decided I should go get it checked out. My doctor didn't mention anything about head trauma but did say that CSR can be caused by stress. Being that I haven't taken a blow to the head in a long time I know stress is the reason in my case. Like Ping, and my doctor mentioned, laser surgery is the only way to help get rid of the liquid built up behind the retina. The only other thing to do is wait it out, which can take up to six months for normal vision to come back. I go back in six weeks to have my eye dilated and tested again. Until then, I will be living in a blurry world, which makes driving, watching or reading anything, a little difficult. Kind of like my photos in the past couple years! Not this year though. I'm feeling good about this year's outdoor nationals."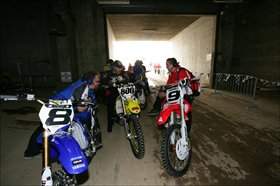 Two of these three factory bikes did not make it to the night show.
photo: Simon Cudby
It wasn't all bad for Yamaha at A3. Weege pointed out that Yamaha's
Josh Hill
was struggling big-time at Anaheim 3, but it turns out he had a sore throat and a head cold. "In fact, it didn't even sound like the same guy when we interviewed him on Saturday," explained the co-host of the Supercross Live! webcast.
Josh
had taken the week off from riding and was able to grind out a 12th-place finish.
Ryno told me that this week this Hill was feeling much better, and he expects #40 to get back up there somewhat. "He needs to get it in his head that he belongs up there," offered Hughes.
And of course Jason Lawrence won his second AMA supercross in a row in the Lites class, which landed him on the cover of Cycle News for the first time. CN is still the weekly bible of American motocross, and getting a shot on their cover is a rite of passage in our sport. Lawrence is now tied with my big brother Tim, legendary 1988 Blackwater 100 winner, with one Cycle News cover apiece.
Honda Red Bull Racing lost
Ivan Tedesco
in practice too. He did not break his wrist, but he did break three bones in his hand. According to
Fox Racing
's
Scott Taylor
, he had surgery yesterday and could be out for at least two months. He's got two screws and one pin,
Scott also told us that Ricky Carmichael is racing tonight, though not on a motorcycle. He's got his car out at New Smyrna Speedway, right below Daytona. Actually, he will actually race nine out of the next ten nights down in Florida! It's called the World Series of Asphalt, and if you're in the neighborhood and want to see Ricky's new ride, here's where to get the info: www.newsmyrnaspeedway.org.
David Vuillemin has a future as a journalist, online and otherwise. Sure, he's a Racer X columnist and all, but this week he broke the story on his personal website that Benjamin Coisy, the very fast Frenchman who opened some eyes at the Paris-Bercy Supercross, was getting a tryout at the Honda Supercross track. How did DV12 know? Either because he speaks French (albeit with a Corona accent now) or because the Honda track is right below the Suzuki track! That made filming convenient, which someone from DV12 did, then posted it on www.dv12.com!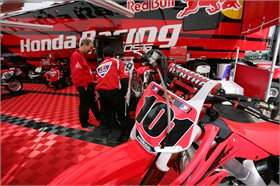 Who will ride Ben's bike?
photo: Simon Cudby
We had heard that Honda Red Bull Racing was contemplating having someone ride the #101 Honda CRF250R, and Coisy was one of the names being bounced around. He is a multi-time French National SX Champion, but he does appear more suited for a 450—that's why he didn't try out as well as
Branden Jesseman
did for the open Monster Energy/Pro Circuit ride last month.
So that leads to this question: With Tedesco out too, would Honda consider him for a 450 slot, and still maybe bring in someone else for Townley's ride in the east? Stay tuned…to DV12.com!
One more thing: As of noon today, Coisy had not pre-entered any Monster Energy AMA Supercross races, nor has he applied for an AMA Pro license. He does have an FIM license, of course, which will make getting an AMA one easy, if he in fact needs one by, say, next week.
By now it's obvious to all that Townley was more injured than everyone thought when he cracked his heel. He should still be ready for outdoors, where I have him penciled in as an early title favorite, above Mike Alessi, old Tim Ferry, Honda riders Tedesco (if he's heeled), Davi Millsaps and Andrew Short, and we will have to wait and see what happens with Langston's vision. Otherwise, he's still my favorite.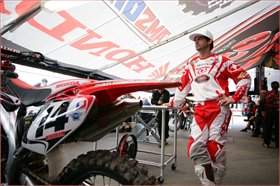 Wonder what Windham is doing this summer?
photo: Simon Cudby
If I were Torco Racing Fuels Honda—or even TEAM Honda—I would be talking to Windham about riding the whole outdoor series after all.
Tedesco had his operation at UPMC in Pittsburgh, which is also where Broc Hepler got his thumb operated on. That speaks volumes for one of the world's most renowned hospitals—the doctors there "get" motocross and help the riders anyway they can. By now, they probably know all about the Racer X Cover Curse too.
To read more about what happened at Anaheim 3, check out Steve Matthes' Observations and also don't miss his podcast featuring DV12.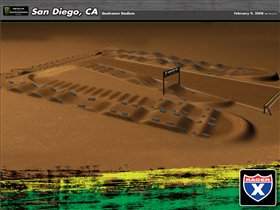 Check out this week's track.
AMA Racing has announced its schedule for the 2008 AMA Supermoto Championship. The big news here is that two events coincide with ESPN events. The first will take place during the inaugural Moto-X World Championships in San Diego's Qualcomm Stadium on April 11-12 (which is the same weekend as the Detroit SX) and the other will happen in the middle of the X Games at the Home Depot Center in Los Angeles on August 1-2. If you're a Supermoto man like our own Mr. Pingree, that is HUGE news.
2008 AMA SUPERMOTO CHAMPIONSHIP
April 11-12 Qualcomm Stadium, San Diego, CA*
July 13 Pacific Grand Prix, Pacific Raceways, Seattle, WA
Aug. 1-2 Home Depot Center, Los Angeles, CA*
Aug. 10 New England Supermoto Classic, Hartford, CT
Aug. 24 USA International Raceway, Shawano, WI
Sept. 7 Miller Motorsports Park, Tooele, UT
Nov. 1 Auditorium Shores, Austin, TX
Nov. 8 TBA, Las Vegas, NV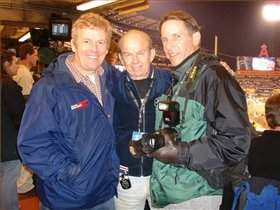 Here's a large part of the original MXA wrecking crew: Scott Wallenberg, Dick Miller and Paul "Bazzer" Boudreau in the Anaheim press box.
photo: Courtesy Wallenberg
And anything Supermoto around here always leads to Ping…
As DC mentioned, the AMA has finally released the official 2008 AMA Supermoto Championship schedule. The venues, travel pattern, dates and especially the association with ESPN's events make this the best schedule that Supermoto has ever seen. And it had to be. Supermoto blew up as a sport in the states (for the second time) about six years ago. Red Bull was heavily involved and with stars like Jeremy McGrath, Jeff Ward, Mike Metzger, Micky Dymond and the Bostrom brothers getting involved it appeared that the series was on the fast track to success. Teams bought semis and hired multiple riders and industry companies poured money into the sport.
But a handful of years later, the sport still hasn't drawn fans from the road racing and motocross sides like they thought it would. Road racing purists see it as a motocross spin-off and moto-heads can't understand why you would ride a dirt bike on the asphalt. Add in the slumping economy and the fragile state of the AMA right now and things look pretty bleak. The good news here is that ESPN sees the sports value. And ESPN's Tim Reed has plans to take Supermoto to some of their global X Games events starting with London in 2009. That bodes well for the sports future.
This would all be a moot point if it weren't for a core group of people fighting for the sport, starting with Gavin Trippe. Gavin was the promoter of the original Superbikers events decades ago and it was his efforts, once again, that saved the series this year. With the help of supporters such as Troy Lee, Kurt Nicoll, Keith McCarty, Carey Hart and a few others, Gavin glued together the current schedule. Another bright note in the schedule is the final round in Las Vegas. Carey Hart is tentatively planning on promoting it in his hometown on the same weekend as the SEMA auto show. Rockstar Energy, Carey's team sponsor, would also be involved in the event.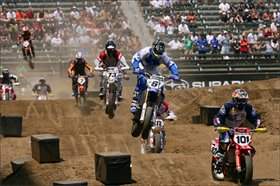 The X Games is now part of the AMA Supermoto Series schedule
photo: Simon Cudby
I did an interview with
Ryan Villopoto
last week and one of the questions prompted a flood of responses. I asked Ryan if he was planning on voting and who he was going to vote for. He responded that he has never voted and suggested that it wouldn't matter one way or the other if he did. Now, I know that religion and politics are pretty touchy subjects, but I think the latter is an issue that can't be ignored by this industry. So, to Ryan and anyone else out there with his outlook, consider this:
There are certain politicians that will push or be pushed by their party to conserve all open land. If they get into office then more riding areas will be shut down. Less riding areas equates to fewer bikes being sold which, in turn, reduces profits of the manufacturers. And guess who pays rider salaries and basically keep this sport alive right now? Yes, the manufacturers. So don't take the easy way out and say that it doesn't matter whether or not you vote. From local elections to the presidency it is extremely important that you research the candidates and pick your horse. So go out this November and vote.
That's it from Ping. My favorite horse? One of those overly aggressive mini horse that you can't train, like Rob and Big's.
Also, Ping mentioned Ryan Villopoto, and he also went to Pittsburgh recently for some work—that UPMC is blowing up! There have been whispers here and there that he might not be ready for next week's East Region opener in Atlanta, but I am betting he will be there.
Besides, Villopoto already made the podium! Well, Tyler Villopoto, anyway. He rode the #199 Kawasaki in the weekly Pit Bike race that takes place late in the afternoon at each round of the SX tour.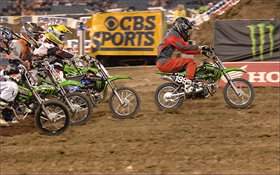 Check out Tyler "Pastrana" Villopoto's holeshot last Saturday afternoon!
photo: Carl Stone
One thing I noticed even from my couch at home:
Jake Marsack
went from a solid fourth place in muddy San Fran to not qualifying at Anaheim 3.
And Jake Weimer's line for so far in 2008 is astonishing: DNQ-1-15-22-22
I've had personal experience with mainstream media "piling on" motocross over the years. Whether it's a series on terrible injuries or some rowdiness by campers at the local national, once a newspaper gets its teeth in a story that can be sensational, they are hungry for more. Well, this month, it's the Anaheim Supercross's turn to be chased around on a story that really has little to do with our sport—and it's a story that really started with the NFL!
It seems that there's been some drinking in the parking lot at SX, just as there is at every other major sporting event in this country. But ever since the NFL got embarrassed by home videos of women flashing their breasts at Giants Stadium last fall, it's become an ongoing story—from ESPN to The New York Times. In our sport's case, the normally supportive Orange County Register is really hitting the amount of arrests and citations handed out for drinking beer in the parking lot. Here's the latest.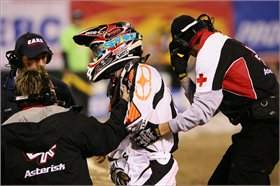 Jake Weimer has had 15 good laps this season, but all came in Phoenix!
photo: Simon Cudby
"Police Cite 96 at Supercross" is a sensational headline. I feel bad for Live Nation here because it's not their fault. They do a great job organizing the series, but organizing the public parking areas is the job of the stadium management. But "Police Cite 96 people at Parking Lot" doesn't quite jump off the front page as well….
Here's another thing: It took 50 police officers to hand out those 96 tickets. That's a lot of police to have out searching for people drinking beer in public in a stadium parking lot, and not a lot of arrests from a crowd of 45,050. If 50 officers spent time doing that at a WVU football, they would run out of tickets!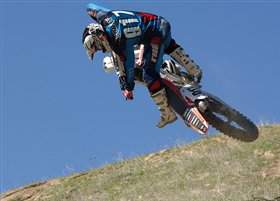 Eric Sorby practices doing his best JMB.
photo: Carl Stone
Did you catch Simon's latest flick on
www.racerxfilms.com
? It's from Beaumont, CA, at a place called Pastor's Canyon (or something like that). Ping was out there with Ronnie Renner,
Eric Sorby
,
Myles Richmond
, and some cat named
Haugelstine
, or "Hog" for short.
"At the end of the day when everyone was packing up, all of a sudden we all hear this 125 screaming away and look up to see none other than Hog wearing this get up," said CStone. "Man, I have not laughed that hard in a long time!"
Carl Stone has been on the beat for Racer X and Racer X Online. Look for more of his photos (okay, the really good ones) in the next issue of the magazine.
There is a really cool story about someone who rebuilt a works '84 SR250 Kawasaki posted on Mototalk. If you get time this weekend and want to see a piece of true exotica, one year before the AMA Production Rule kicked in and the works bike era in America came to a close, follow this thread.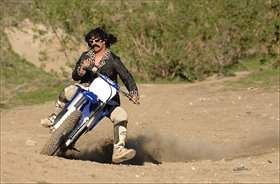 HOG: The rebirth of cool.
photo: Carl Stone
Also on Mototalk, there was a big thread going on about eligibility rules and the fact that only 39 riders were in the night program for the AMA Supercross class at Anaheim. It started with a Q-and-A thing on the MXA website which listed the criteria for entering AMA Supercross. The problem, however, is that the criteria listed had a lot of mistakes. One of the AMA officials sent me a note pointing out some of the discrepancies in the posted rules and the real rules:
"A rider must have made a 450 Supercross main in 2007 (or three times in 2006)."
This is not true. A rider must have qualified for at least one evening program in the SX class in 2007, or 3 SX class evening programs in 2006.
"A rider must have earned 100 points in the 2007 AMA 450 National Championship."
Not true. A rider can earn 100 points in either class of the AMA Motocross Championship the previous year.
"A rider who made the day program in the 450 class at least one round of the 2007 250/450 National Championships is eligible to race 250F Supercross."
Not true. Any rider who made the "fast 40" of an AMA Motocross National in 2007 in either class will be eligible for the Supercross Lites class.
"A rider must know somebody important."
Obviously not true (but kind of funny). Additionally, the AMA no longer accepts letters of recommendation from OEM teams regarding rider licensing. AMA Supercross class entries are down, but many of the eligible riders have chosen to compete in the Lites class instead. The Supercross Lites class has received 80, 79, 78, 70 and 74 pre-entries through the first five events. The maximum number of pre-entries is 80.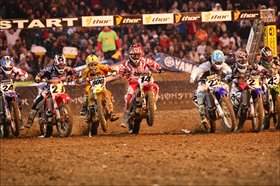 There were 39 AMA Supercross riders at Anaheim 3, which led to a discussion online as to why the class wasn't full.
photo: Simon Cudby
MXreplay.com has some coverage of indoor racing from Pro Source Suzuki indoor facility in Tecumseh, Michigan (January 12th, 2008). Pro Source was the first indoor racing facilities Michigan ever had, and the only running a race series this indoor season. MXreplay.com has been covering the whole series with video and photo. Heated pits and heated spectator area makes this a Michigan hot spot (no pun intended). Visit MXreplay.com for more indoor footage, and a huge archive of Michigan/Illinois/Indiana/Ohio
racing footage
(Window Media format).
From the MSR Retro Gear Contest Winner:
"I just wanted to say a huge 'Thank You' to everyone at Racer X. I was the very lucky winner of the Grant Langston autographed gear from Anaheim 2 Retro Night. I've been riding and racing since 1981 and was totally stoked when they announced the retro theme; I am ALL about old school moto. I would have loved to have been there, and it means a lot to me to receive this amazing gift from Racer X. Rest assured this gear will be well cared for (I'm about 20 years past actually wearing it!)
Joe "Special-K" Kulewicz #706
Looks like a Canadian company has purchased Cannondale. I doubt they made the engine development part of the deal. Here's the story.
Hart & Huntington team owner Carey Hart and his wife, Pink, were voted the #8 Hottest Sports Couple as judged by the SI Swimsuit models.
I almost laughed as I typed that…. We got this funny note from a reader:
Thought you guys might get a kick out of this photo I took at this year's Anaheim 3 Supercross. We all know that the sport of motocross can be really expensive, but are they trying to tell us something here? It was advertised this way on the Jumbotron screen for all three events there and the first thing I thought when I saw it was that Racer X would appreciate it like we did.
Sally Pozas Palmdale, CA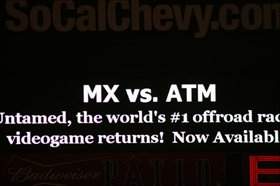 photo: Sally Pozas
David " Burrito " Villalpando
sent over a note regarding the proposed Governors Run Sports Park. An application to build a state-of-the-art facility in King William County, VA, has been filed. The facility would have multiple tracks, mountain bike and BMX courses on a big parcel of land (327 acres). As is often the case, significant opposition to the proposed park is being encountered.
"The concerns of the opponents are being researched and responses and changes formulated to try and secure their support, or at least, to decrease their opposition to the proposed park," read the note from Marshall Campbell, on behalf of KW Morrison, LLC. "Many of the concerns are born out of ignorance about the sport of motocross, and a lack of understanding of the family aspect of the sport.
"We need help in gathering support for this proposed park. We especially need the help of King William County residents. If you are a King William county resident, and would like to assist in anyway, please e-mail me back, identify yourself as a King William resident, and let me know you would like to help. If you are directly involved with dirt bikes, ATVs, etc., or your family is, please let me know that also.
"If you would like to assist, but are not a King William County resident, please e-mail me back, and let me know you are interested in volunteering to help, but that you are not a King William county resident: grsp@comcast.net."
Sadly, that same type of opposition has reared its head in Michigan.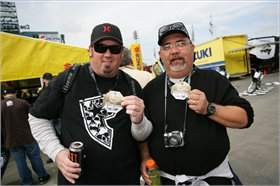 More happy Racer X Gas Card sponsors
photo: Simon Cudby
A3 Racer X Gas Card Sponsor
Ken Lewis
posted this on Mototalk:
"First off, I want to thank Racer X for allowing us to be sponsors. We arrived at the track at 8:45 and had our passes from Will Call by 9:05am. Went right into the pits and said hello to Sondra at the AMA truck. Walked the pits and had the chance to talk to a lot of riders and team managers. Scott from Wonder Warthog is a super cool guy and what he does for the privateers is great. Hung around with 500guy, Jay for a bit. He had access to the Knot Hole club for the night and was like a kid in a candy store. At 11:30 we went on the track walk with riders and team managers. This was the highlight of my trip. I have been going to Supercrosses for 25+ years and this was the first time getting to be on the track. I got winded just walking the track and cant even think about 15-20 laps at full race speed. Great racing and a great time. If I could sponsor the gas card every year, I would do it again for sure. If you get the chance to do this, do it. It was the best time at a supercross I have ever had. Thanks again to the Racer X guys. Peace Out. Ken"
They are all ramped up over in MX Sports for the first area qualifier at Lake Whitney. Please make sure to stop by www.mxsports.com and check out the updates. The Pulse #2 is posted and has a cool interview with Fox Racing's Todd Hicks, Florida Winter-AMA coverage, and an important note from Bud Little's MX Sports help desk.
Meanwhile, we had a special Shift Number Cruncher Redux where we posted some cool feedback emails:
I was just looking at your #40 Number Cruncher. I can name everyone by the Moto-X Fox truck. Number 40 is my brother Frank. The others are Jim Turner #95, Perry Klassen on the Maico. And Pat Maroney. It was taken in 1978. Also I was national number 40 in 1988. Hope all is well.
Andy Stacy
As well as this one:
Mark Kawryga from Skaneateles, NY, Bobby Kiniry's hometown. I was excited to see the Redux column for 114, 30, and 40. Then was disappointed to see you couldn't recognize a rider who started a boy's career that turned out pretty positive. #40 Joe Brillo deserves a little PR for getting our hometown hero, Bobby Kiniry, on a dirt bike in his early years. I'm disappointed, but I'll still stick by Racer X.
My bad, Mark. Thanks for keeping me on my toes! Here is a picture of Joe.
Moto XXX's punk rock drummers Jordan Burns (Strung Out) & Erik Sandin (NOFX) have been battling each other on 110s during the pit bike races at the past supercross rounds and we were also informed about this battle their bands are having on eBay. Seems that there is some high demand for a limited-edition release of a vinyl 7" both bands seperately had put out in the past from the record label both bands call home,
Fat Wreck Chords
. Looks like Strung Out is taking the win at the moment on highest bid. You can take a peak at the bidding going on by checking the links below:
Strung Out
NOFX
On Thursday night, over at Pole Position Raceway, New Era debuted its new James Stewart-inspired limited-edition 59FIFTY cap. The year 2004 marked the 50-year anniversary of the 59FIFTY, and to mark the occasion, New Era began a yearlong campaign to celebrate, and that's where Capture The Flag began.
Capture The Flag is the name of New Era's artist-inspired headwear collection, designed by individuals who are pioneers in their own rights. Past artists who were honored with their own design include Spike Lee, Jake Burton and The Game. On Thursday night saw the debut of Stewart's Capture The Flag cap. As with all of the other Capture The Flag caps, the James Stewart cap is limited to a run of 288 total unites worldwide, and comes complete with a collector's edition box.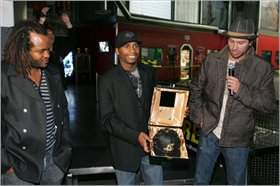 Sal Masakela and James Stewart at Pole Position Raceway
photo: Steve Cox
Sal Masekela
from the X Games was also on hand, and yes, James was without crutches, but he wasn't moving very fast! Check out more photos down below.
Now, many of you may be wondering why Steve Cox of MXi has been all over Racer X Online recently. Well, unfortunately, MXi has ceased publication, as of issue #25 of 2007. We were quick to pick Steve up and make him our editor-at-large, so you will be seeing a lot more of him on the website and in the print edition of Racer X Illustrated. We're even going to teach him how to shoot video! In addition, we're going to honor MXi's subscriptions with Racer X Illustrated subscriptions to run for the same period of time as is left on subscribers' MXi subscription. It's inevitable that some of MXi's subscribers will already have Racer X subscriptions, and in this scenario, your Racer X subscription will be extended by the amount of time left on your MXi subscription.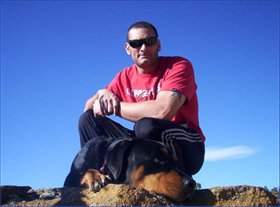 Godspeed, Jason
Finally, one last note from
Robbie Reynard
's sister,
Cherie Kobiske
, about our
Racer X
Fan of the Week, the late
Jason "MotoFiend" Rynders
:
"The funeral went as well as to be expected. Jason got the full military honor, which was touching. I took my March issue of Racer X with me and placed it in his coffin—one for the road! His wife had the same plan, and we both smiled when we realized it. She told me to place mine in there for him. His family was so touched by him b