Bench Racing Ammo: The King of California
Chad Reed has quietly moved into third on the all-time AMA Supercross wins list. Only Jeremy McGrath (72) and Ricky Carmichael (48) lead the Yamaha rider from Australia on the all-time list. But as far as individual records—most wins in a season, most in a row, most heat race wins, etc.—Reed doesn't have much down in ink. He did just tie James Stewart as the only other rider to win all three Anaheims, but he doesn't have anything else. However, that could change this weekend.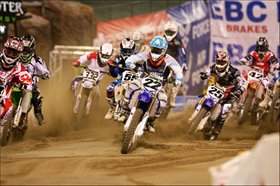 Can Chad sweep California?
Turns out that the San Manuel/Fusion Energy rider has a chance put himself in the record books as the first man ever to sweep every California round since the series went to three Anaheims back in 2001. Reed has already taken A1, A2, A3 and San Francisco. The final round in California is this weekend in San Diego, which means Reed could make it a perfect 5-for-5 in 2008, something that's never been pulled off by anyone—including the King of Supercross!
Last year, Stewart took all three Anaheims but crashed out of the lead at both San Francisco (Carmichael won) and later San Diego (Reed was the beneficiary).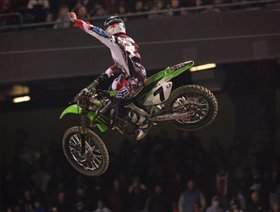 Stewart swept Anaheim in '07, but faltered in San Fran and San Diego.
2006: RC took the last two Anaheims, while Stewart took A1, San Francisco and San Diego.
2005: Windham took the opener in the mud, then Carmichael swept the rest of the California races.
2004: When RC was out and Stewart was on a 125, Reed won everything but Anaheim 3, as Windham was able to put the brakes on a California sweep.
2003: Reed's rookie year in the 250 class, he took two of the five California wins from then-Honda-mounted Carmichael.
2002: Stewart and Reed were both in the 125 class, and Carmichael had just switched to Honda, but Anaheim 1 ended up with him riding off on Doc Bodnar's Asterisk Mobile Medics' mule. David Vuillemin, then a Yamaha factory rider, took the first two wins (A1 and San Diego), then
Mike LaRocco
took A2. Carmichael finally got on track at Anaheim 3, winning the last of that year's four California rounds.
2001: Jeremy McGrath took the first two wins at Anaheim, including a classic duel with Kawasaki-mounted Carmichael at Anaheim 2—the last win of the King's career. Carmichael took San Diego and A3.
1999: There were three California races—two Anaheims and San Diego—and Ezra Lusk was the winner of all three. However, the title went to Chaparral Yamaha rider Jeremy McGrath.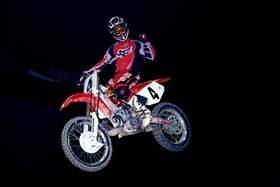 Ezra Lusk swept all three California rounds in '99.
More Bench Racing Ammo: The San Francisco Supercross saw both
Chad Reed
and
Jason Lawrence
put their Yamahas on top of the podium in their respective classes, which loaded us up on some more ammo. Why? Well, it was also the first time in a while that we saw a Yamaha sweep of both classes in AMA Supercross, but before we could get around to getting something wrote up, they went ahead and swept again this past weekend!
So back to our original point: When was the last time Yamaha swept both classes? It's been five years and we have to go back to the 2003 Pontiac Supercross. Similar to 2008, the last Yamaha sweep involved both
Chad Reed
and a Yamaha of Troy pilot; only in 2003 that YoT rider was
Ivan Tedesco
. And similar to Lawrence, it was Tedesco's first-ever 125cc supercross victory, but it was overshadowed because it was also the 125 East Region finale, where Branden Jesseman was crowned champion. He was riding a SoBe Suzuki.