hur•ri•cane
1. a storm of the most intense severity.
2. anything suggesting a violent storm.
Hello, everyone, and welcome to the Rev Up. Round 6 of the 2008 Monstery Energy AMA Supercross Series, an FIM World Championship will huck it down to the land of the bolts this Saturday night for one last taste of West Coast racing action and there is a lot to be excited about.

How about the notion of Chad Reed reeling off a clean sweep of California? Who would have thought going into this deal that we would be writing that? The writing on the wall says "The Thunder" is 20 laps away from leaving the Golden State with both middle fingers in the air. That hasn't happened since…well, check out this week's serving of bench racing ammo and feed your head.


There is lot going on this weekend to get the shoulders back about. I love it when a cauldren of fire comes calling that gets the teeth gritting and the eye brows pointed at attention. How about the hessian nailing down two in a row? Ah, the focal point and theme for the week's column comes to fruition. A lot of folks have been pairing
Jason Lawrence
to Bob Hannah. His take-no-prisioners and take-no-shit attitude has rewarded him with some fans and now that he's winning, his bandwagon bus is finally filling up. He reminds a lot of folks of the O.G. Hurricane. One of my favorite quotes from Bob Hannah was when he told that guy, "Hey man, my van is in the back corner of the pits. If you have a problem come find me." That piss and vinegar has been missing from our sport and it's refreshing to see
J-Law
bring a little back and take it around the track with him. And, what's that noise? I hear a soft roll of thunder rising up from Daytona…
Here comes the Rev Up.
Lites
As the series gets down to the short and curlies, we have a points chase on our hands. Ryan Dungey looked like he was riding off into the California sunset for a while, but a rash of bad luck dashed his points lead and now he can see the storm clouds chasing him down. Jason Lawrence has won two in a row and has some serious momentum pushing him into San Diego. We all know J-Law isn't afraid to rub some blue on his competition. Ask Dan Reardon about that. It's pretty much go time between these boys now. But, there are some other cats that aren't afraid to stand in the eye of the storm.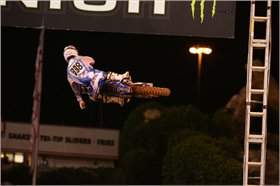 J Law is on a roll.
Brett Metcalfe
has been trying to shove through all season. He has the speed, the bike, and the experience to get the job done, but he's running out of time. Then across the pits the #32 Xtreme green machine of
Tommy Hahn
has been showing some grit as of late.
What about tactics? Dungey doesn't have any blockers, where as Lawrence has Zach Osborne coming back off the bench and has the speed to get in the middle of the two points contenders.
Get ready, these guys are going to go off this weekend.
Supercross
Somebody needs to hit the derailer because the Chad Reed express has all the burners lit and is flying down the tracks. The scoreboard reads four in a row, and five of the last six. I think he can feel them closing in on him though. Red Dog threw down some lap times last weekend and stood on the steps looking for more. Davi and KW are pushing hard too. While Reed always does good in San Diego, the venue has an odd penchant for inflicting damage to points leaders. Remember last year when Bubba stepped over the bars on the finish line jump? Remember RC stacking it up in the hoops in 2005? As we've seen, Supercross can jump up and grab you anytime. It sucks that we've lost some guys to attrition, and hopefully that trend comes to an end this weekend.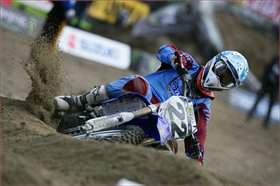 Can anyone derail the two-two freight train?
And let me switch gears a little before I go. Right about the time the gate drops at San Diego the birth of another storm will be born in Florida. Let me tell you a little about the draft at Daytona.
...you can hear the pack barreling down the back stretch in a slow low growl that fades slightly as they enter turn three. All of the sudden that growl begins to come back, but instead of fading it just keeps building and building, louder and louder, then...BLA-BLAM! This furious flash of color and sound explodes before you. You squint your eyes and clench your fists...you stretch your neck and think you may have seen the 07 storming to the front, four-wide on the high side...then just like that...silence. They're gone.
Then comes lap two.
If there is one good thing about a hurricane it's that you know it's coming. There is no percentage of it happening or not happening. The only question is, how strong will it be when it arrives? Board up the windows because Saturday night in San Diego has Category 5 written all over it.
Thanks for reading, see you next week.