Welcome to the Shift Number Cruncher. Last weekend at the San Francisco SX, there was a guy on a Honda running at the front of the pack who had everybody screaming, "Who the hell is that #66, dude?" I was pretty stoked that I knew and could reply, "That's Jake Marsack, man. Last year he ran #79 and people were saying the same thing." Hey, mud or no mud, nailing down a top-five is no easy feat. Jake has to be stoked with his breakout ride last Saturday night, and so are we. As he took the checkered flag, some correlations came to mind. His #66 had an interesting tie-in to a set of brothers who were in the top ten in the Lites class for the second time this season, and from there, the snowball gained size.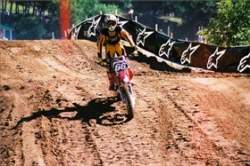 photo: Shand Garcia

Tommy Hahn rode his first full professional season in 2005 with national #66. He had some top-fives but spent most of the year injured. His machine made it way into some other folks' hands, though.…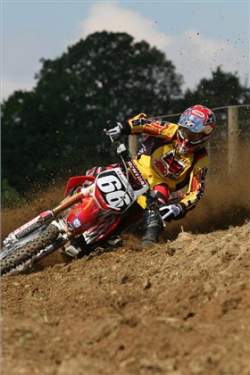 Billy Ursic
photo: Matt Ware
Later that same year,
Racer X
's
"Bad" Billy Ursic
had the chance to test ride Tommy's machine at
Steel City
. Billy is a national-caliber pro, and at the time he thought getting a works bike would make all the difference. He told me, "Okay, I've ridden countless laps on this track, and now I'm on a factory bike. Those guys shouldn't be faster than me now." At the end of the day, Billy realized it wasn't about the bike. "Man, three laps into it, they were already beating my lap times. Those guys are fast." The Factory Connection guys were nice enough to take all of the works parts off it, and the machine ended up here at the
RX
office.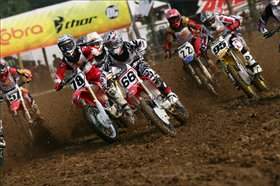 photo: Simon Cudby
Yet another connection to Tommy and #66 is that it was his younger brother
Wil
's amateur number. Wil took the #66 to the front of the pack in the A classes at Loretta Lynn's last summer. His performance was good enough to earn national #99 and lock down a ride with Star Racing/Lucas Oils Yamaha through the Toyota TMX Program. He's been killing it ever since and joined his brother in the top ten again at S.F.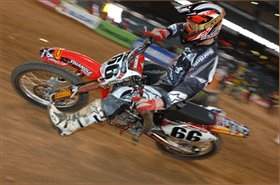 photo: Carl Stone
Last season,
Jake Marsack
spent time between a KX450F and YZ450F adorned with #79 and turned heads at almost every round. This season he showed up on a Bad Boy Energy Drink Honda with #66. Jake transferred directly out of his heat race with a fifth, then rode to the front of the pack in the main to take an amazing fourth place overall. That's just huge. I know a whole slew of people who have qualified for main events, and quite a few who have gotten a top-ten. But, fourth place in the premier class in American supercross is about as big as it gets. Well done, Jake. Check out
this interview
that Ping did with him earlier this week.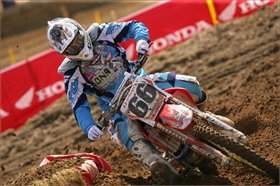 Shaun Skinner
photo: Paul Buckley
Stuart, Florida's Shaun Skinner wore #66 last year and had some good runs. Shaun is also a two-time Loretta Lynn's champion, winning titles in 2001 and 2003.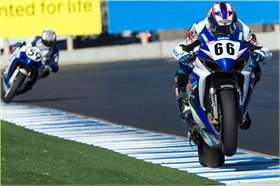 Mat Mladin
photo: Andrew Wheeler
From the road racing side of things we have
Mat Mladin
. From the Yoshimura Suzuki website's profile:
"Yoshimura Suzuki's Mat Mladin is something of a road racing phenomenon. The 34-year-old Australian holds a remarkable number of AMA road racing records. He is the only rider to ever win six AMA Superbike Championships; he has the most AMA Superbike race wins in a single season with 11 victories; he is the first rider to ever take all of the AMA Superbike pole positions (in this case, 10) in one year, with his career total being 50; and finally, he has the most AMA Superbike career victories with an amazing 51 wins."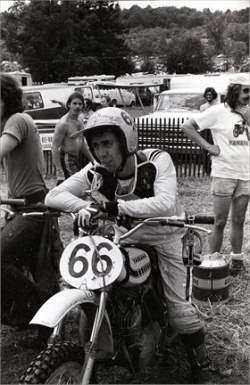 Jimmy Weinert
photo: Dick Miller Archives
How many of you guys knew that Jammin' Jimmy Weinert once rode a Yamaha? Here we have Weinert getting ready to ring out a YZ Tune Fork special in the 1972 Unadilla Trans-Am. He was riding for Team Yamaha and would later become a national champion.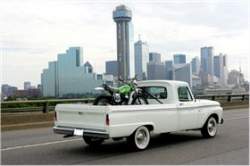 Jim Vaughn
photo: Shand Garcia
This is simply an awesome shot. Here we have Jim Vaughn's 1975 250cc Kawasaki. The bike was featured in Berm: The Texas Motocross Chronicles. The book is a must-have for any moto historian and contains an incredible amount of Lone Star State moto history.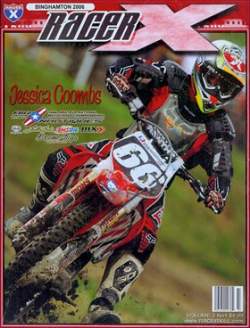 Jessica Coombs
Hahn's bike has more than a couple stories behind it, and here's Jessica Coombs's:

"How I got to ride the famous #66 Honda 250F of Tommy Hahn: In 2006, less than a year after giving birth to my second child, I decided to make my 'big comeback' into the MX scene and try to qualify for Loretta's. At that time I didn't have a bike to ride, so Davey offered me the office/Tommy Hahn-replica 250F. I went to my regional qualifier at Broome-Tioga feeling like a champ with that bike. I could tell everyone was thinking, Who is that girl on Tommy Hahn's bike? She must me ultra-fast to get a bike like that! Well, I showed them! In my first moto, I obviously didn't check out the start very well, because I didn't see the 1-2 card guy off to the left. Next thing I know, the gate dropped and the bullshit stopped for everyone but me! I was still sitting there with my goggles off. That set the tone for this "big old comeback" of mine. So the vision I had of myself flying around the track like Tommy was crushed quickly. But damn, I looked good not doing it."


I've left my boy Pat Barton hanging on the Number Cruncher a few times. He can't be denied with #66, as he earned and raced with the digits twice ('92 and '96) in his pro career. There are very few who could ride Southwick as fast as Pat.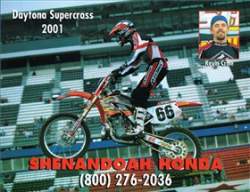 Kevin Crine
Here we have the late Kevin Crine, racing in the 2001 Daytona Supercross. Crine was a longtime pro from Maryland who was killed in an auto accident last February near his home in Maryland. He was one of the most well-liked and respected riders the sport has ever seen.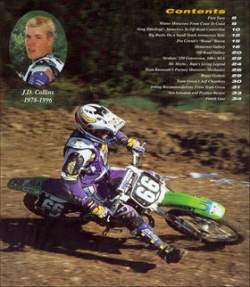 J.D. Collins
photo: Courtesy of Team Green News
The main reason #66 has always stuck out to me, personally, was because it belonged to my friend J.D. Collins. I grew up racing J.D. all the way from 60s to the A classes. Our parents always parked in the same row out in the "back 40" at Loretta's, and we were Team Green teammates. I'll never forget getting the call that J.D. had suffered a fatal accident at the Ocala Winter Am event. It was one of the most difficult tragedies that I, and all of us in that age group, ever had to deal with. Just like Kevin, J.D. was a great racer and friend and we'll always remember them that way.


The #66 sticks out in my mind as a reminder that riding and racing motorcycles is an extremely dangerous hobby. It should be taken seriously and respected at all times.

That's all for this week. Hope you enjoyed it.