Privateer Profile: Jake Marsack
Michigan's Jake Marsack just had a breakthrough ride. The Bad Boy Energy Drink rider started the San Francisco final in 15th and steadily climbed through the pack until the final laps when he found himself in fourth place. It was an incredible finish for a privateer and Jake hopes that his good finish will bump start his season. We tracked him down at Jeff Alessi's house where he was prepping for the next round in Anaheim this weekend.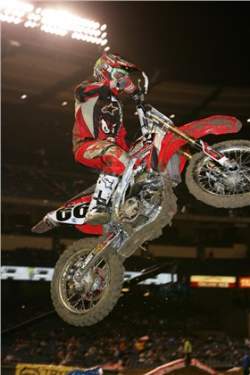 Jake Marsack made his first SX main event of the year in San Fran and finished fourth!

photo: Simon Cudby

Racer X: Great ride last weekend! Can you believe you almost made the podium?
Jake Marsack: Yeah, it was definitely my best finish ever! I was going for it. I didn't care if it was dry or raining I was going for it. I have had such a hard series so far that I was just determined to do good there. I practiced, like, 150 starts that week and I was ready to go.
How did you get so good in the mud?
I just grew up in Michigan and we ride a lot of mud there. I don't ever go out and practice in it or anything. I think I just have good balance and I'm comfortable in it.
Were you surprised when you realized where you were at the end of that race?
Yeah, I was. My dad had eighth on the board and I was thinking, that's pretty good. Then Ferry was in front of me and he wasn't going that fast so I passed him. I jumped over him on the finish line. Then I saw sixth on the board and then fifth and I started getting cautious because I didn't want to mess that up. Then Tedesco fell and I had fourth locked up. I was pretty stoked. It was a strange feeling. I actually stalled the bike once and went off the track once. So, I was surprised I still finished that high.
How has the rest of the season been?
It's going alright; I just need to get my starts figured out. I have really good lap times at all the rounds but it's hard coming from the back every time. Last weekend was the first main event I made this year. I've had problems at all the rounds so far. Hopefully all of that is behind me.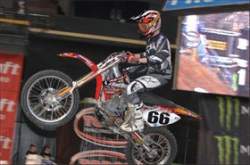 Marsack is teamed up with Jeff Alessi on the Bad Boy Energy Drink team.

photo: Carl Stone

How is the Bad Boy Energy team?
It's really good. They do all the suspension and motors in-house. Everything is great; I feel like I've picked up some speed and I feel good on the bikes.
Are you staying in California right now?
Yeah, I'm at Jeff Alessi's house. I'll be out here until the series goes to Houston then I'll head home. Jeff is still hurt right now but they have been helping me a lot with my practice stuff and it's a good program. They definitely put the effort in during the week. My dad helps a lot every week, too.
Does he come out every weekend?
Yeah, he works in Michigan all week and then flies out on Friday and rebuilds my bike all day. It takes him all day and into the night to get that thing ready. Then he flies home on Sunday and goes to work on Monday. He definitely deserves a lot of credit. He's a good dad.
Were the bikes hammered after San Fran?
No, they weren't too bad this year. The mud was pretty wet so it didn't stick. Two years ago they put a bunch of lime in the dirt and it jacked everything up on the bike really bad. This year it looks okay though.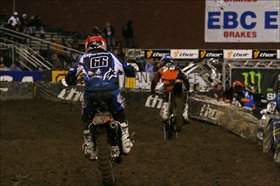 Marsack plans on making a run at the Top Privateer Award.

photo: Matt Ware

Are you pretty motivated for this weekend's race in Anaheim?
Yeah, I think it will be good. I'm going to keep working on my starts and get some points built up. I really want to make a run at the top privateer this year. I've had the speed but I've just had a couple little issues.
Who helps you out?
Bad Boy Energy Drink, Pirelli, Alpinestars, Vortex, Shark, Scott and all the team sponsors. I really want to thank my dad too; he's a big part of my racing career.