Welcome to what appears to be a dark-cloud edition of Racerhead. The skies over San Francisco do not look good, but that's what we thought about Anaheim 1, and that turned out pretty good. So keep your fingers crossed that the Monster Energy Supercross riders get another lucky (and dry) break and the weather gets better.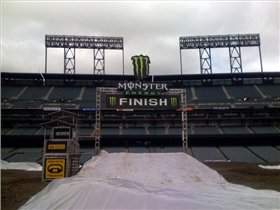 San Francisco is under wraps for now.

photo: Rob Dresser

So who wins in a mudder? Can Chad Reed win two in a row for the first time since March of 2005? Can Kevin Windham keep the momentum rolling and tack a win on to his 5-3-3 scores? Or will we finally see a new winner for the first time since 2003 (Reed at Anaheim)?

The San Francisco race will mark the first broadcast of Monster Energy Supercross in high-definition technology on CBS Sports. The race will air about 13 hours after its completion, on Sunday, January 27, at Noon EST.

Also, don't forget to tune it to Jim Holley and Jason Weigandt as they call the action live on www.supercrossonline.com beginning at around 10 p.m. Eastern, or seven out west. You can also watch the laps tick off on www.amamotocross.com.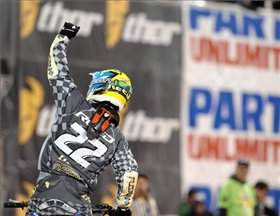 Can Chad win two in a row for the first time since March '05?

photo: Steve Cox

What do you make of James Stewart's withdrawal from the 2008 supercross tour? The conspiracy theorists are having a blast with this—he's going to Red Bull Honda, Rockstar Suzuki, Gibbs Toyota Yamaha, your-team-goes-here—but I just think the man is hurt. Having gone through a slight knee injury of my own, I can attest to not only the pain, but also the damage it can cause if it doesn't get fixed properly.

As for his problems with Monster, parts of that may be true. Remember, he was a Red Bull man, and Red Bull even bought him a Bentley which he still has. But Stewart has bled green since Team Green got him on a KX60, making him the longest-tenured rider on one brand in motocross—he's the Jeff Ward of this era when it comes to brand loyalty. When he comes back from outdoors, and even the 2009 Monster Energy AMA Supercross tour, I expect him to be on green, up front, and just as fast as he was in the 2007 SX tour.

If you missed the video of James's press conference, check out Matt Ware's piece on www.racerxfilms.com.

Something to think about: What level of performance was he at in Anaheim 1 and Phoenix? He looked awful fast, and so did Reed.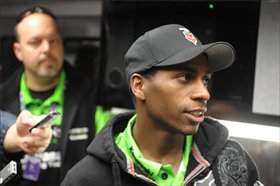 James' departure was a shock to many.

photo: Steve Cox

Watching Chad last weekend, I have to say that he's never looked better, and that goes back to his fast run through the end of 2003 and his title run in '04. He was getting up and down quickly, and it truly looked like he was on cruise-control from the fifth lap on. He's going to be tough to beat from here on out.

Turning to the Lites class for a moment, I had written in 250 Words that Ryan Dungey really reminds me of a young Jeff Stanton. If the weather stays the same, I have a feeling he'll look even more like him because "The Wolverine" was a mudder! I just hope he doesn't wear that all white Answer '86 gear—it will get ruined!

I was actually out in California earlier this week, hoping to help out at the Asterisk Mobile Medics' Ride Day at Castillo Ranch, but when we showed up to help build the track on Tuesday morning, Jim Castillo and Tom Carson and ranch boss Gustavo were standing in the old Great Western Bank trailer, watching a veritable typhoon blow through. It was obvious from the weather maps that the rain wasn't going to let up before Tuesday's ride, so Jim and Tommy pulled the (drain) plug and the ride will be rescheduled soon (hopefully to share a weekend with the annual Racer X Ride Day).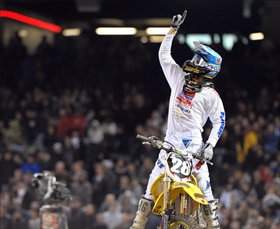 Ryan Dungey gives a little praise after his second win of the season.

photo: Steve Cox

Later that night, as we were headed for dinner at an old restaurant in Guadalupe called the Far Western (thanks again, Wess McCoy!) I got a call from home that my mom had to go in the hospital for a herniated disk.

The next morning, I was on a plane home from San Francisco. I am glad to say that Rita is doing well, but she is still in the hospital. Funny thing: my friend Langley, who knows she's a huge motocross supporter, suggested we get her a Leatt-Brace as a get-well present,… Guess it's the thought that counts!

Let me turn this over to Ping right here:

Last Saturday night was strange. Bubba pulled out of the series with a blown-out knee after winning last weekend in Phoenix, Jason Lawrence couldn't start his bike two laps into the main, Josh Hill finished on the podium, and Davi Millsaps had a giant air pocket in his colon causing him excruciating pain. What the heck? I've heard a lot of post-race stories from riders over the years but never anything about a giant, elusive fart.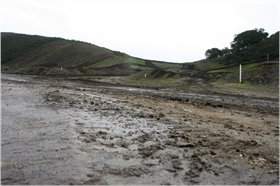 Castillo Ranch is on hold for now.

photo: Matt Ware

I spoke with J-Law this week about his A2 round and he was pretty bummed.

"I just stalled it coming over that steep little wall and I couldn't get it started again. I tried my best, but it just didn't want to start," he told me. "People think that there was something wrong with my bike but it was totally fine. I don't know if it was flooded or what but once my mechanic got it started it worked fine [after maybe three kicks to Jason's dozens]. Put that in the magazine: My bike was fine.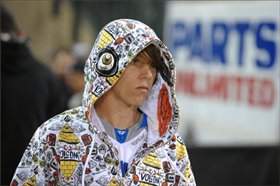 Lawrence was flying, then he stalled—and couldn't restart.

photo: Steve Cox

"I guess everyone thought there was something wrong with it because there was flames coming out the exhaust or something. That thing was fine, though. The bad part was that the AMA black-flagged me. And it wasn't because I got outside assistance to start the bike either. They said they pulled me off because of my past; they thought I was going to mess with the leaders when they came around. They screwed me out of at least five points by making me pull it in."

Lawrence would actually not have been eligible for those points, however, because he did receive outside assistance and was disqualified.

And the rumors about Stewart just keep getting better. I heard someone say that he pulled out of the series because his team and the series are sponsored by Monster and he wants to ride for Red Bull. (See above.) Wow. Come on, people. That is just dumb. It's obvious that he pulled out of the series because he is going to play lead guitar for a rock band and he wants to be on MTV. Duh.

James might be partly to blame for the poo-storm of rumors. In his press conference he was extremely vague about his injury. But anyone that has ever had a torn ACL or meniscus (I've had three) knows the unstable feeling and pain that accompany them. I think he opted for therapy instead of surgery when he hurt it the first time and that decision proved to be a bad one in hindsight. In his defense, there is never a "good time" for surgery.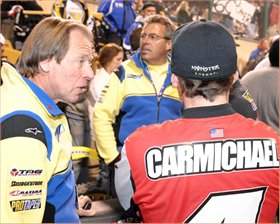 "Come on, Ricky, just go line up on the gate. We need you!"

photo: Steve Cox

There really is no place to ride quite like southern California. I went out to Perris Raceway this week for the first time since I broke my arms, hoping to put in a few laps without any kind of pressure to ride fast. That wasn't happening. Jeremy McGrath was there testing outdoor setups with Honda. MC said that he has been riding a lot lately and it showed. The seven-time champ was on the gas and it looks like Shorty, Ivan, Davi and Ben will have a great starting point this spring.

Also on the track were Justin Brayton, Billy Laninovich, Micky Dymond, Darryn Durham, Robbie Maddison, Tommy Searle and Jonathan Barragan. Searle looked particularly fast and in case you missed the news, the British rider will be coming stateside in 2009 and 2010 riding for the KTM squad. I'm not sure what his supercross experience is but he definitely has some skills on a motocross track. He seems like a nice kid, too. I've never met him, but any time I hear a British accent I presume they are classy, sophisticated and polite. Well, you know, except for Kurt Nicoll.

Just kidding, Kurt. Seriously, I'm anxious to see how Searle does here in the U.S…. and see what number he uses, because Townley already hijacked my number, 101. As my neighbor kids would say, "Quit bitin' my steez, Ben."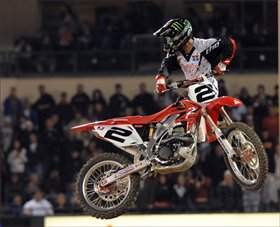 Jeremy McGrath took the chance on Saturday to throw out another Anaheim nac-nac.

photo: Steve Cox

If you work in the industry, READ THIS! Next weekend is the Super Bowl, and to get revved up, there is an industry-only flag football tournament on Friday, February 1, at Ponderosa Park near Angel Stadium. If you work in the industry in any fashion and you want to play, contact me at ping@racerxill.com. Teams are filling up quickly, so respond as soon as possible. The tournament is being presented by Dragon Optics and they are providing pizza for all the players. Red Bull is bringing drinks for everyone and Moto Brew is providing the post-game suds. It's the first annual Supercross Super Bowl. Don't miss it! Spectators welcome.

That's it from Ping, but here's something from Torco Racing Fuels Honda's Jake Weimer earlier this week:

"It's another rainy day in SoCal and since I have the time I wanted to say thank you for the coverage of my win in Phoenix. It was a long tough road to that win and it was cool seeing all the pictures and stuff. I can't wait to see the coverage in the magazine. Hopefully, the mud in San Fran will only be axle deep instead of foot peg deep. I'm fighting a cold and a sore back plus the shoulder so this weekend could be real tough."

Thanks again, Jake.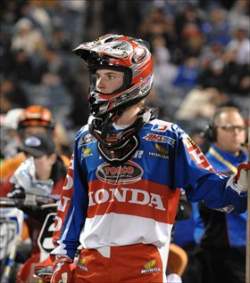 Jake didn't have as good a night at A2 as Phoenix, but his gear was sweet!

photo: Steve Cox

Did you read this week's Number Cruncher on #40? Two-time 125cc SX winner Greg Schnell did, and he sent us this note:

"Hey guys, it's Greg Schnell. I was just reading the Number Cruncher article written by Andy Bowyer. The article was about the #40 and how Josh Hill had a breakthrough ride this past weekend @ A2, and then came across my pic and article, which was very cool.

"But after reading the article I couldn't help thinking about what Andy wrote about myself never breaking through. So my question to Andy is: What is breaking through? Is it winning races, championships, podiums or being on a factory team? It made me think of other racers who had similar careers who I respected and thought of as 'Breaking Through.' Some names that stood out were Casey Johnson, Matt Walker, David Pingree and Shae Bentley. I have much respect for all of these guys. Obviously not all their careers were the same, but similar, whether in wins, podiums, or championships. I would like to think of my career as being successful, as well as the names I listed. And I'm not retired, rather just taking a break!"

Right on, Greg. I will answer this for Andy:
Josh Hill is the latest #40 to reach the box in AMA Supercross.

photo: Steve Cox

In our sport, unfortunately, too many people think "breaking through" equates to a Hall of Fame career, whereas in most other major league sports, just making the roster of a team means you have arrived. Greg had an excellent career, battled for some championships—in the famous Ping-versus-Bentley battle of 2000, Schnell was only six points out himself!—and has a couple wins and several podiums to boot.

Jason Weigandt pointed this out recently: Did you realize that the last new person to win an AMA supercross was James Stewart back in 2005? This is 2008! There are only so many races for people to win, and for every 20 guys out on the track, only one can win, and with an elite group of supercross superstars—Carmichael, Reed, Windham, Stewart—it's hard to "break through" to the podium.

To almost every guy who ever thought about racing for a living—myself included—winning a 125 SX main would be the equivalent of hitting a grand slam in the World Series or catching a touchdown pass in the Super Bowl or earning a college degree. I guess it's all in how you look at it, and admittedly, too many of us are looking at SX and MX racing with too narrow a definition of success.

From Racer X Canada's Danny Brault:

Don't forget that motocross exists north of the border too! Even though there isn't a major supercross series going on that moment, there are still a few newsworthy bits and gossip going on in the land of donuts and poutine. Check out the Frid'Eh Update here.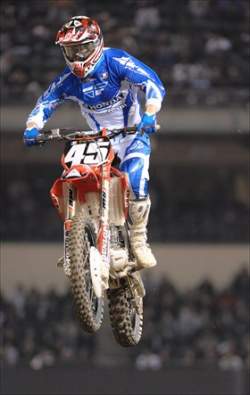 Props to Bobby Kiniry for a fine sixth-place ride for Solitaire/MB1 Honda.

photo: Steve Cox

Here's a shout-out to this weekend's Racer X Gas Card sponsors Ryan Schofield (MotoskiPunk) and Michael Stusiak (FreshTopEnd). The Racer X Gas Card recipients thus far are Cole Siebler (A1), Ryan Abrigo (Phoenix) and Troy Adams (A2).

Also, in last week's Racerhead we ran an MSR contest in which whoever guessed Nick Wey's and Grant Langston's finishing position at Anaheim 2 (or came closest) would win a set of retro MSR gear. The winners were Bob McKay and Joe Kulewicz. Thanks to everyone who participated and especially Dave Casella and MSR for putting up the prize.

Want to see something really cool? Last winter DC Shoes boss Ken Block, Travis Pastrana's teammate, took his Subaru factory rally car up on a mountain in New Zealand to do some playing in the snow. The footage is included in DC's "Mountain Lab 1.5" video, but my friend Nick McCabe from Ducati North America spotted this clip online.

Apparently, on the last leap down the hill, Ken jumped a little far and ended up with a cracked vertebrae! He was fine, and so was the car!

Tommy Searle is headed to the U.S. for 2009, and Eric Johnson had a chance to catch up to "Tommy Boy" and his manager James Dobb (the '01 125cc World Champ) for a Racer X Online interview. Searle is approaching his move to America in a rather unorthodox way -- he plans on moving here in November, but then skipping the '09 Monster Energy AMA Supercross tour so he focus on getting ready and staying healthy for outdoors, then joining the SX circuit in 2010.

While that sounds like a wasted half-season, Searle is doing something that I have long thought most Europe-based riders should consider. Because SX is not that big over there (except for France), many extremely competitive riders have moved here from Europe, only to knock themselves out trying to pack years of supercross techniique into one short testing season. Dobb himself, plus Greg Albertyn, Alessio Chiodi, Sebastien Tortelli and Ben Townley all struggled with crashes and injuries while either racing or testing for supercross. As a result, they lost the better shots they had at winning AMA Toyota Motocross titles their first year here.

Of course it doesn't always work like that:

Chad Reed

's experience back home in Australia made him an immediate success in SX, and so did Frenchman

David Vuillemin

,

Mickael Pichon

,

Stephane Roncada

and of course

Jean-Michel Bayle

, all of whom benefited from national SX racing.

Someone posted this on Mototalk: Michael Sleeter's SX season is over.

Taken from his MySpace: "After a decent start for the '08 SX season I'm going to have to pull out early due to a torn ACL in my right knee. I go in for surgery Friday morning and will begin my rehab shorlty after. I have been riding through this pain for sometime now and it's time that I get it fixed. I will be getting a rod removed from the same leg from a crash in 2001. I want to thank my family and friends for being behind me in this decision and I can't wait to be 100 percent, I forgot what that's like. I also want to thank my loyal sponsors who have been behind me from the beginning: KTM, ONE Industries, SPY, SHIFT, Quicksilver, Vans, Alpinestars,Ogio, Asterisk, Dunlop, ATX wheels."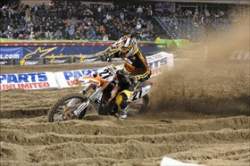 Nick Wey's gear is on its way to one of our Racerhead readers, courtesy of MSR.
photo: Steve Cox
And congratulations to Andrew and Jackie Short on welcoming Emma Nicole Short, born this week. It's the first child for the Team Honda rider (Andrew) and former WMA competitor (Jackie).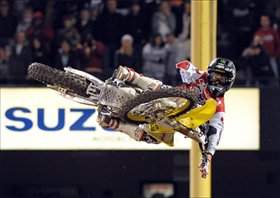 On the opening ceremony lap, Ricky showed that Ricky still has it.

photo: Steve Cox

Did you see this week's Fan of the Week? Joe Colombero sent the shots over from the first WORCS race of the season, and we've been getting a lot of feedback about her. Here's something from Matt Tallon: "I had no idea they had hot chicks like that at WORCS races! We need to introduce her to the motocross industry, or I am going to have to learn to ride trails.…"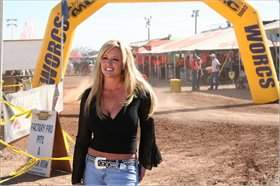 Nice Fan of the Week!

photo: Joe Colombero

Monster Energy Pro Circuit Kawasaki's Austin Stroupe had his first-ever AMA SX Lites podium at Anaheim last weekend, and Lebig recently did a video with the North Carolina native. Check it out here.

And check out the revamped Can-Am GNCC website at www.gnccracing.com.

Finally, Scott Wallenberg had this to say:

Paul Gilbert, lead guitar virtuoso from the band Racer X, makes the X sign with Racer X publisher Scott Wallenberg at the NAMM music show.

Paul grew up with a Dad who raced MX in the '70s and even played a song called "Bultaco Serenade" at the show. Paul rode a bit but felt he was just too tall to race and took up the guitar.

Paul was very aware of Racer X magazine and told Scott, "You guys at Racer X always beat us in the Google search!"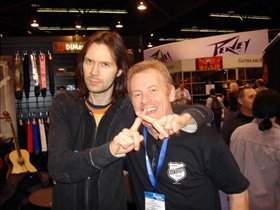 Racer X band guitarist Paul Gilbert and Racer X Illustrated Publisher Scott Wallenberg.

photo: Wallenberg

Well, that about does it for this week's Racerhead. We'll see you at the races.


Jeff Emig is now sponsored by Fender guitars?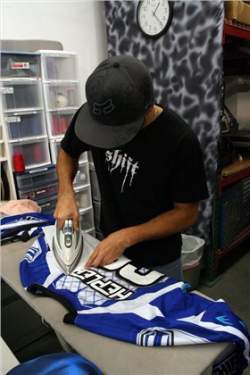 Hepler's dry cleaner.
photo: Matt Ware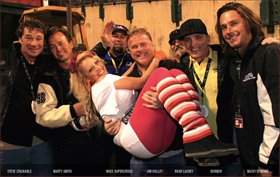 The Boys at A2.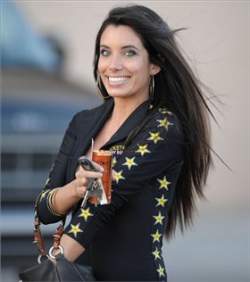 Aspiring FOTW?
photo: Steve Cox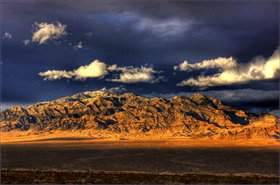 See you at the races!
photo: Tony Scavo