Welcome to the Shift Number Cruncher. 2008 has already seen some really cool breakout performances. Sometimes all it takes is that one good ride to get the mojo rolling and step on up to the next level. For Yoncalla, Oregon's Joshua Hill, it looked like that moment was going to be his second major professional race at the 2006 Binghamton national where he finished on the podium and had everybody thinking he was going to just catapult himself right to the top. But that didn't happen. After an extremely frustrating 2007 season, Josh made the jump to the 450 class and only then did he begin to show the speed that had everybody's head turning at Broome Tioga. He came into this season with a lot of speculation, and it didn't take him long to deliver as he rode 20 solid laps to land second at the Anaheim throw back race last weekend. Well done, Mr. Hill. The week is dedicated to you and your #40 the world saw standing tall on the podium Saturday night. Turns out there are some cool associations…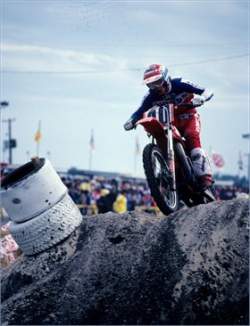 Johnny O'Mara
photo: Dick Miller Archives
It just doesn't get any more stylish than this. Check out the signature gators, the open face/open mouth helmet attire, and coffee-table style front number plate. Yup,
Johnny O'Mara
was super fly cool as he ran #40 back in 1981.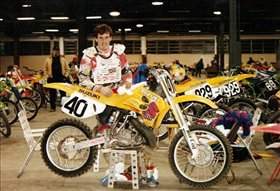 Barry Carsten
photo: Rob Harris
They don't make guys like
Barry Carsten
anymore. One of my favorite memories of the 2006 outdoor nationals was the holeshot he pulled at
Budds Creek
. Barr-Dog ran the forty back in 1994.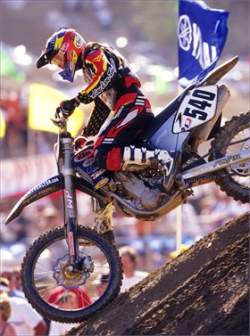 Guy Cooper
photo: Simon Cudby
I jump at any chance I get to bring out the ole "
Airtime
." If you grew up in the Midwest in the early to mid '80s then you knew all about the legendary
Guy Cooper
. For his 40th birthday he celebrated by getting in shape and coming out of retirement to ride the outdoor nationals on a punched out "KTM540" running #540.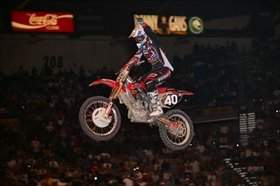 Greg Schnell
photo: Simon Cudby
Greg Schnell
was one of those guys that was super fast but could just never quite break through. Although, when he won the 125 class at the 2004 U.S. Open of Supercross wearing #40, things were really looking up. Sadly, it would be the last big win of his career and he has since faded into the shadows of retirement.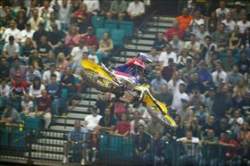 photo: Simon Cudby
There were a lot of
Ricky Carmichael
nay sayers when he decided to leave team Honda and go yellow. Shame on you if you were one of those foolish souls. The GOAT came out swinging in 2005 and let the RM250 scream to win seven main events and the title. His career SX win total on a 250cc two-stroke? Forty.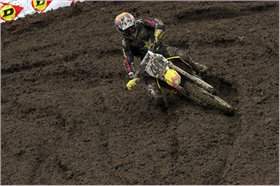 Ryan Mills
photo: Matt Ware
On the list of Cinderella story performances in the new millennium you will find New York's
Ryan Mills'
2006
Steel City
effort near the top of the list. He took the #40 on a ride to finish second in the first moto.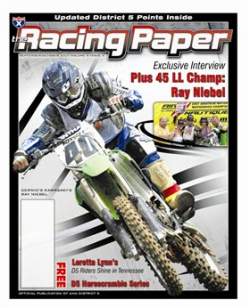 Ray Niebel
The 2007 AMA/Air Nautiques Loretta Lynn's Amateur National Championships went down as one of the best years in the history of the event. One of the coolest moments of the week was when
Ray "The Marlboro Man" Niebel
grabbed the championship in the senior +45 class wearing #40. The fruits of his efforts rewarded him with the cover of
The Racing Paper
, and gave hope to cigarette smokers across the country.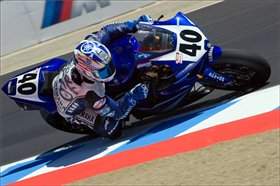 Jason DiSalvo
photo: Andrew Wheeler
AMA Superbike racer and
Road Racer X
columnist
Jason DiSalvo
twists the throttle wearing #40 on an FZR600. He was also the youngest American competitor to ever race in an FIM sanctioned 125 World Grand Prix race.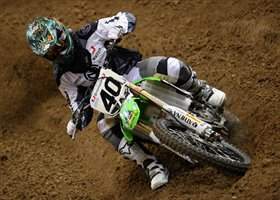 photo: Paul Buckley
Here we have one of Rupert X's favorites riding a #40 adorned Cernic's Racing Kawasaki during the 2007 Supercross season. Many, many moons ago
Jeff Gibson
won the 1991 50cc stock 4-8 championship at Loretta Lynn's. He's also famous for being one of the Cannondale guinea pigs.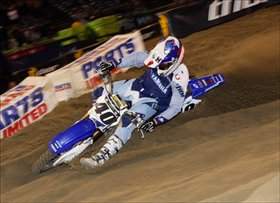 photo: Simon Cudby
Yoncalla, Oregon's
Josh Hill
has been winning championships his whole life. In fact, Hill won six (of his nine) Loretta Lynn's championships in his last three years of amateur competition. There are several things that will help get you a factory ride. That is definitely one of them.
Racer X
's newest statistician, Steve Cox, had this to add: "It should be noted also that Hill should be number 37, but the AMA forgot to add in his 450cc outdoor points to his total from the last two rounds. The AMA contacted
Jason Thomas
, Andrew McFarlane,
Ryan Clark
and Hill after the announcement and asked if they minded their numbers, and they didn't make a fuss, so he stayed 40."
…how 'bout that.
That's all folks, hope you enjoyed it.