"I'm wearing Oakley Blades as we speak. I pulled out my old Bad Boy jackets and HRC jackets. I'm trying to get my wife and my daughter to do big hair. I'm trimming my oldest son's hair into a mullet … a little against his own will. You know what? Screw it. I don't get many weeks so I'm taking this one. So both of my kids are wearing my Bad Boy Club jackets and we're going back to 1986."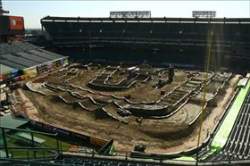 Matt Ware photo
That's what
Rick "Too Hip" Johnson
told
David Pingree
this week about the big retro festival that will be Anaheim 2, 2008. All week long, we've been hearing from folks who are getting into the spirit of the thing and going "all eighties" for this unique-to-motocross promotion. I've been hearing about Team Tamm jackets, boot gatorz, retro-inspired gear (can't wait to see if
James Stewart
rolls out in RJ's super-cool blue-and-white gear from that race, which remains one of my favorite sets of riding gear of all time).
So forgive Racerhead if we're a little all over the map, because I am typing this on a Smith Corona typewriter, sans Spellcheck, Microsoft Word, Instant Messager, iPhone (though I do have my big brother's old bag phone here on my desk) or energy drink, unless you count the yellow squeeze bottle of Pripps Plus I've got here on my desk next to my Rubik's Cube.
Ping had an excellent chat with both RJ and David Bailey this week and posted it as our Wednesday Between the Motos feature. If you missed it, check it out.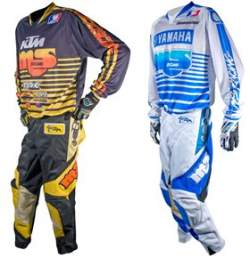 Win this sano MSR gear!

There's a whole paddock full of old SX pros who are going to be there this weekend signing autographs and taking part in the festivities as Live Nation organizes what seems like a homecoming weekend for our sport. But I wonder if the winner of the 125 main at Anaheim '86 will be there? Don't remember who it was? Look a little further down for the answer….
To get in the mood right here, we're going to give away some of the sano MSR retro riding gear Dave Casella's boys stitched up for Nick Wey and Grant Langston. Here's how you can enter: Send an e-mail to online@racerxill.com and guess the finishes of Nick and Grant in Saturday's main event. If you really want to win, do it in this format:

Nick Wey: 1
Grant Langston: 2
We'll pick winners for each set of gear randomly from all correct guesses. Of course you don't have to pick first and second, but you get the idea. Also be sure to enter your full name, address, and phone number. (People who enter more than once from the same address will be DQed.) Keep in mind that this is one-off gear -- only two sets of each were made, and the boys will be using the first pair. The jerseys, which will be autographed, are size L and the pants are 32. This is really cool, rare moto memorabilia, thanks to the great folks at MSR. Don't miss out on your chance to win.

Yesterday, Steve Cox stopped by the track to check out press day and to see how things were shaping up in the time warp. '08 series co-points leader Chad Reed went out on the retro track and immediately made a mockery of some of the obstacles that were so rad 22 years ago. But that was the point, as Live Nation and Dirt Wurx can now make some tweaks to make it a little more difficult for modern equipment and the much-evolved SX riding technique.
If you forget what it all looked like back in the day, please check out the Racer X Film that Vurbmoto's Wes Williams put together after he and I went around the Anaheim 1 pits talking to some of the key players from Anaheim '86: RJ, David Bailey, Honda mechanics Brian Lunniss and Cliff White, Bevo Forti, Mitch Payton, Troy Lee and more: www.racerxfilms.com. The movie includes lots of footage of Anaheim '86, and you will be amazed not only by how many times David and Ricky went back and forth, but how often they almost crashed. As for the riding style, it's as different now as basketball has become compared to back in the days.
Jimmy Button spotted the film and wrote on the reenergized Mototalk message board, "'86 Anaheim was the first SX I ever saw in person and I was in the nosebleed section. It was the very best race I have ever seen. The video was awesome. The crowd is going to go crazy in opening ceremonies this weekend! Wouldn't it be great if we had another '86 A on Saturday night? (Then) our kids will talk about the '08 race 20 years from now!"
There's a special guest coming tomorrow night who will really get the place hopping and feeling just like 1986, and I'm not talking about Ricky Carmichael out there on a two-stroke (which may happen during opening ceremonies). This one will be cooler than the other side of the pillow!

If you can't make it to Angel Stadium, make sure you listen to the live webcast tomorrow night, beginning at around 6:30 p.m. local time, 9:30 back East, on www.supercrossonline.com. And click back here just before race-time to see a photo report of some of the cool get-ups we spot tomorrow in the pits.
As for Speed TV, they will be showing the race at 6 p.m. EST on Sunday. Check your local listings for your time.
Racer X Canada contributor Steve Matthes has been posting some excellent podcasts, where he chats with interesting SX people. This week's guest is one of those guys who was also at Anaheim '86, though not in the up-front mix. It was Team Kawasaki's Ron Lechien, making his first start in an AMA Supercross race on a green machine. Check out Matthes and the Dogger right here.
Matthes also has a
conversation
up with his fellow race-watcher
Jason Weigandt
, who will be manning the mike for the
Supercross Live!
audio webcast tomorrow night. <!--[endif]-->
Chris "Fluffer" Honnold from O'Neal sent over this picture of some retro gear that Tim Ferry will be rocking on Saturday night.
Alessi Weekly mentioned that Jeff Alessi will likely be out until after Daytona with his broken hand.
Team Honda's Andrew Short is looking for a practice-bike mechanic. This is a full-time position in Texas. Resumes can be faxed to 714-639-6105 or emailed to sharon.richards@omssports.com.
The winner of the Anaheim '86 125 SX was none other than Tyson Vohland, older brother to Tallon Vohland, a 125 SX winner in his own right. Tallon will be there, working the pits for longtime employer Acerbis.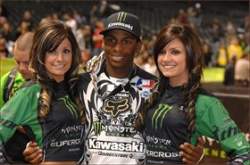 These girls made quite a team in Phoenix.
Carl Stone photo
People were making quite a fuss about the twins who shared 30-second board duties in Phoenix, doing a double shake-and-shimmy before the start of the main event (which, sadly, the Speed TV cameras missed). Turns out they are professional models with
their own unique agency
.
Ed Fratoni
from District 6 sent this over: "Have you seen the
latest McDonalds commercial
on TV ? I couldn't help but notice that one of the two dudes rapping in the commercial looks and sounds like Kevin Kelly. "Catsup and Mayooo, ya'll!" Is it possible?"
Here's another must-see video: Josh Coppins performing his best Wile E. Coyote impression and losing the 2007 MX1 World title in spectacular fashion.
Over at www.amateurmx.com you can check out this year's first iMPOUND column, with a huge bonus: Eric Johnson found a piece he had written back in 2002 for the old Motocross West newspaper about the rivalry of a couple of kids named Mike Alessi and Ryan Villopoto.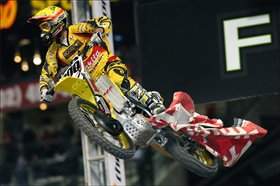 Alessi, dragging a big baggie at Phoenix, still managed another sixth.
Klingensmith photo
With the kickoff of the Monster Energy AMA Supercross Series, the Toyota AMA AX series has gotten overshadowed a bit, but there's one rider really dominating. Check out how close the points are. There are two different events this weekend which should shake things up even more.
2007-'08 Toyota AMA Arenacross Class Point Standings
1. Chad Johnson (Hon) 210
2. Kelly Smith (Kaw) 202
3. Brock Sellards (Kaw) 194
4. Teddy Maier (Hon) 177
5. Keith Johnson (Yam) 163
5. Kevin Johnson (Yam) 163 (tie)
7. Danny Smith (Hon) 149
8. Jim Neese (Suz) 135
9. Josh Demuth (Hon) 127
10. Tom Hofmaster (???) 126

Racer X Inter-Am series update.
Boyesen Engineering has joined as a sponsor of the Racer X Inter-Am series. For more info click here.
"Peeping Tom" posted on Mototalk
this video
that says
Georges Jobe
is doing well after he back injury in Dubai a few weeks back.
The # 86 Michael Willard/CYCRA race bike will be retro'd out by Roland Sands Designs.
Check out the new Moto Verte cover, featuring a Frank Hoppen photo of James "Bubbalicious" Stewart!
I missed Phoenix, so I'm going to defer to a couple of eyewitnesses to fill us in on what's up. First, check out
Steve Matthes
(again) for his always-entertaining and insightful
Observations
.
Next, our old friend Shad Reed (no relation) went to Phoenix and offered up these notes:
Rockstar/Makita/Suzuki's Mike Alessi's day started on a less than optimal note. During the early practice sessions he went down hard through a rhythm section preceding the triple. To make matters worse, Honda-mounted Heath Voss tried to jump over the fallen rider and just clipped Alessi's head in the process. Although visibly shaken, Alessi was able to rebound and lay claim to the 10th-fastest qualifying position.
During the race, Alessi continued to have his share of problems as he nearly went down again in the same rhythm section that claimed him earlier in the day.
His mistake forced both Monster Kawasaki's Tim Ferry and Red Bull Honda's Davi Millsaps to careen off the track, which inevitably ended their chances of podium finishes. Alessi also ended up dragging a Makita Tools Tough Block cover around for the rest of the race.
Yamaha's Josh Hill appears close to getting that breakthrough race that he desperately needs. The speedy teen was sixth fastest during qualifying, and finished a strong second in his heat race Team San Manuel Yamaha's Chad Reed (the man he got into a scrap with while practicing earlier in the week). But another poor start during the main event killed his chances of a solid finish. When he finally gets a start in the main, he will be fighting for a podium position—bank on it!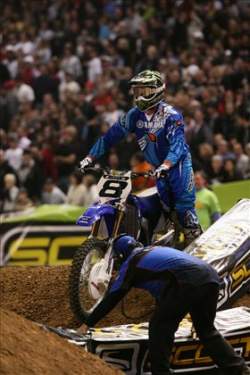 Grant's "low ride" in Phoenix hurt him in the standings.
Simon Cudby photo
Does Yamaha's
Grant Langston
have the most random mechanical failures or what? While running at the front of the pack during the early stages of the main, disaster struck when his YZF450 went into low-rider mode with a broken shock. It was another tough break for a guy that was in a great position to get up on the podium.
Rockstar/Makita/Suzuki's David Vuillemin is obviously still recovering from his late-season/preseason injuries. Le Cobra was running mid-pack until he threw anchor out during the final stages of the race. It was a horrible night for a solid rider (though better than last year's knockout crash he had off the start). Hopefully he can find himself in the top five once he recovers from his issues.
What's up with K-Dub? Torco Racing Fuels/Honda's Kevin Windham seems to have a chip on his shoulder after feeling what it's like to not be considered a threat in supercross. After being left out of the preseason press conference in Anaheim, Windham has answered his critics with his elusive speed. K-Dub fended off the relentless attacks from Red Bull Honda's Andrew Short and Ivan Tedesco to secure a solid third place finish. Well-done Kevin!
Joe Gibbs Racing SX/Toyota has to be happy with their Phoenix effort. There's been a lot of talk on the net about their rider decisions, but both
Josh Hansen
and
Josh Summey
looked impressive on the track while delivering top-ten finishes. Look for the team to get stronger as the season progresses.
And speaking of the team, check out Eric Johnson's conversation with team owner Coy Gibbs right here.
Monster/Pro Circuit Kawasaki's Austin Stroupe had a night that he would probably rather forget. During his heat race he couldn't stay off the ground! One of his gnarliest crashes was through the rhythm section before the finish line, where he got all out of shape and augured himself into the phoenix soil. He stayed down for quite awhile, but he somehow found the strength to line up for the LCQ!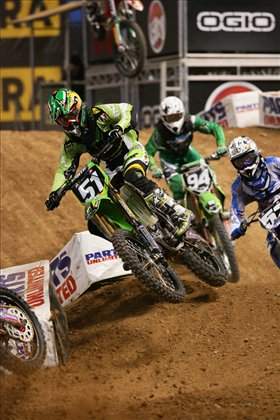 Austin Stroupe is not off to the start he wanted as a true SX rookie.
Simon Cudby photo
With a last-place finish in his heat, Stroupe was forced to take the dreaded gate on the far outside of the starting line. As the gate dropped he inevitably got pushed wide off the track and had to start his charge from the back of the pack. But Austin wasn't messing around, as he took big chances while he slashed his way through the pack. On the last lap he was setting up to make one more big push when all hell broke loose!
Star Racing Yamaha's Matt Lemoine and TLD/Red Bull Honda's Gavin Gracyk, who had been battling hard for the final transfer spot, came together through a rhythm section and went down hard. Stroupe was already committed and couldn't avoid the carnage that was presented in front of him. Another trip off the track ended the rookie's hope for a trip to the main, as well as Gracyk's and Lemoine's.
With all of the things that happened to Gavin last week, there were a lot of people pulling for him, as well as very sad that it turned into a short night.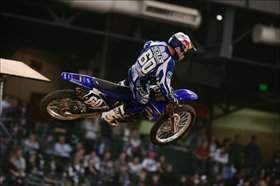 Hepler held the lead twice but mistakes cost him.
Simon Cudby photo
Yamaha's
Broc Hepler
has to be furious after he let the Phoenix win slip away. He fought his way past Torco Racing Fuels'
Jake Weimer
, survived numerous battles with Suzuki's
Ryan Dungey
, and then he slid out using an inside line through a bowl turn with only a few laps remaining. I can't even imagine how he felt after the race. The good thing is that he proved his two-year hiatus from Supercross hasn't erased his chances of being a player for the SX title. Look for the Iceman to rebound large in Anaheim.
Torco Racing Fuels/Honda's Daniel Reardon had yet another strong showing in the Lites class. The start of the main event had to be held up because he couldn't get his bike to fire, but once he got it going, he hauled. He has the speed, he just needs to hang it out during the early stages of the race and stay with the leaders. He definitely has the fitness, because he was still charging hard at the end of the race.
Monster Kawasaki's
James Stewart
is the master of the whoops. The guy was killing it all night through there! He has so much soul on the bike, it's ridiculous. Reed kept it a lot closer than most people expected, and he deserves a lot of credit for that because Stewart was on it in Phoenix.
That's it from Phoenix. Round 3 takes place this weekend in Anaheim with the highly anticipated Retro night. So grab your 80's threads and head on out for what will undoubtedly be yet another epic night of racing.
Thanks to Shad, nice work!
I also missed the big Youthstream dinner party in Beverly Hills for select journalists to come have dinner with Giuseppe Luongo (I think my old friend Mario Marini lost my email address, or maybe he thought Steve Cox was me, since he kept calling the 2007 FIM/Youthstream Journalist of the Year "Davey"). So I will let Mr. Cox tell you about it here:
Giuseppe Luongo of Youthstream held a dinner meeting in Beverly Hills, California, on Wednesday night, January 16, to announce Youthstream's plans to run a FIM Grand Prix on U.S. Soil in 2009 and beyond.

The plan is that in 2009, a GP will be run at an undisclosed racetrack (although Luongo did indicate it's east of the Mississippi) that, for clarity's sake, we will refer to as "Track A." In addition to the 2009 GP, Track A will be the location for the 2010 FIM Motocross of Nations and FIM Supermoto of Nations on the same weekend, while another track, referred to here as "Track B" will host the U.S. GP.

From 2011 and on, both Track A and Track B will have a Grand Prix one week apart from one another in the USA. In 2013 and 2016, the Motocross of Nations will return to the USA at Track A, in addition to the US GP at Tracks A and B.

Another part of the announcement was that Youthstream will be opening a U.S. office in the Los Angeles area within a couple of months. Although Luongo wouldn't say who would be heading up the U.S. office, he did indicate that some of the people there are well-known in the U.S. MX industry.
I do not know what to make of this, other than the fact I am stoked to hear that the MXoN will be coming back every three years. This is something I brought up repeatedly when I was trying to rally support for Team USA for the past few years and sponsoring the team through Loretta Lynn's.
As for the two GPs in America, that one I am not so sure about. We already have a packed schedule, Live Nation is talking about more overseas SX races, ESPN now has two events, and there's the U.S. Open and possibly the return to Jeremy McGrath's Invitational Supercross race. A lack of U.S. rider and team participation was what doomed the '99 Budds Creek GP, but maybe this time things will be different now that Youthstream USA is setting up shop in California.
As for the mysterious non-national tracks these events will take place at, I am guessing a purpose-built track at a place like Barber Motorsports in Alabama, but that's really just a guess. Seems like they should be AMA tracks though, given Youthstream's sudden interest in taking everything over here.
Mark Rodgers sent us this unfortunate note:
"My bother Chris, who some of you know as the person that works with Jake Moss, was hurt pretty bad while riding. He has broken his back, fracturing the L1 vertebrae and puncturing his spinal column. He has feeling in his legs and can moves his feet/toes and his arms, which are all very good signs. My dad spoke with David Bailey right away and also spent some time talking with Ricky James and they have all been a huge help. As of right now everything looks good for a full recovery, however, as of late last night when I left the hospital my parents were still waiting to talk to the spinal surgeon who had been in surgery all day and into the night. He is at Riverside County, the same hospital Ernesto was at and we are told they have one of the best spinal surgeons. All thoughts and prayers are much appreciated and thanx in advance for those. Feel free to pass this on to anyone you know that might know Chris."
Best wishes from everyone at
Racer X
to the whole Rodgers family.
Simon Cudby posted a Josh Grant film at www.racerxfilms.com this week. Josh has been a spectator at all the SX events so far, and heads back to Florida after the San Francisco round.
Carl Stone was at the Honda test track yesterday with K-Dub and Jake Weimer: "Jake Weimer has had a helluva week. After going from his DNQ at Anaheim 1 to #1 at Phoenix, he got his name in the AMA record books with his first-ever Lites SX win."
Then Stone found out this: "After we left the Honda track Weimer said to follow him down to the gas station in town because his dad was meeting him there with his new truck and to check it out. It is a 208 Denali with 24" KMC wheels and all blacked out! He had ordered it in Idaho and when it came in his dad flew home and drove it to CA for him…..pretty sweet, huh?"
Winning a supercross has its privileges!
Carl Stone photo
If you're near Lake Elsinore tomorrow (Saturday) around noon, be sure to stop in the O'Neill outlet store grand opening for the autograph session with the boys from the Metal Mulisha. There's a framed and autographed Brian Deegan jersey up for grabs. Learn more about it
here
.
If you've not yet voted in the etnies
Racer X
Photo Contest, here's your last chance. Voting ends Monday, so head on over to
Etnies
and pick a winner.
Okay, that's it for Racerhead. I've got to get over to the stadium to make sure my white KTM 125 is ready for the weekend. Here's hoping everyone who makes it over to Angel Stadium has a great time and gets into the spirit of '86. Thanks for reading Racerhead, and see you at the races. Ciao!