Between the Motos: Rick Johnson and David Bailey
Clash of the Titans

Twenty-two years ago two of the sports biggest legends went at it like heavyweight boxing champions in what has become known as maybe the best two-rider Supercross battles of all time. Neither would back down in that bout and as they sparred back and forth the crowd grew louder and louder. David Bailey got the better of Ricky Johnson that night but as anyone in attendance would tell you, the real winner was the sport of Supercross. To this day that race is discussed and bench-raced around by folks who weren't even born when the race happened! The throwback night this weekend will feature the same race track design as that night in 1986 as well as several other big surprises. We called David and Rick to get their perspectives on that night and this weekend's event.
Racer X: Does it surprise you that after more than 20 years we are still talking about this race?
RJ: No, not it all. We gave it everything we had. It was a wake-up call for me to lose that night because I ran out of gas, physically. I went anaerobic at about Lap 12 and held on until Lap 17 and then I just couldn't go. The good thing was that it was something I could fix. And I went to work on it. But we went at it and ran into each other and raced aggressively but we never tried to take each other out.
DB: A little bit. The only time I get uncomfortable is when people go over the top and say it was the greatest race ever. It was a very, very good one, but I've also seen great races since. But anyone that was there can tell you that there was magic in the air. I was pretty nervous. When I got Rick I thought that was that but he wouldn't give up. I knew that as he kept coming back and the crowd was getting so loud that it would be something special.
What stands out in your mind the most about that night?
RJ: Sheer pain for me! My lungs were bleeding. I was seeing dots at the end. I gave it everything I had. And I knew that I was going to have to do that every single weekend for the whole series. I was just thinking about what it was going to take to beat him.
DB: The crowd was big; Anaheim held 75,000 back then and it was packed. The track made me nervous, too. In practice and the heat I was still figuring it out. They made it pretty technical that year. Also, the last lap or so I looked over my shoulder and saw that Rick had fallen off a bit. I was really able to soak it up at that point. That was one of the best laps of my career. I was able to enjoy the reward of 19 laps of hard work.
Do you remember what you were thinking on the podium?
RJ: 'Dammit.' I was just thinking 'Dammit.' I was disappointed in myself.
DB: The funny thing about that race is that there wasn't a podium. I crossed the line and went and hugged my mechanic, Cliff White, and then I just sort of walked around the starting line, like, 'What do I do?' There were people running out on the track. I walked over and told Rick good job. It was strange because I can't think of another race where I didn't know where to go or what to do. The awards ceremony was way later with David Stanfield out in the outfield and there was nobody there by then.
What did you say to each other after the race?
RJ: We congratulated each other. I was stoked because Jeff Ward smoked our asses in the Golden States, then we did a lot of work before the series. And you can't forget about O'Mara; we went 1-2-3 that night, so it was a big night for Honda. So, I congratulated him. He beat me fair and square. Inside I was fuming though. I just hated to get beat.
DB: Just 'Good race.' I didn't need to say anything because we discussed it prior to the start. We had been rough with each other in the past where we were knocking each other down on purpose. It got ridiculous. So, before the start, we said, hey, let's battle but let's not knock each other down. So, afterwards, there was a mutual understanding that it went just how we said it would. It's too bad Wardy broke down because he was flying in preseason and it might have been an even better race with him in there.
Did you know after the race that it would be a classic?
RJ: I was just bummed for all my friends that came to watch and my parents. I didn't see it as a great race; I saw it as a great loss for me. Now that I look back and I see how many times we chopped each other and went after each other it is pretty awesome. It's cool to be a part of that. But at the time all I was thinking was that I lost.
DB: Yeah, I did. I remember looking around the track and seeing the look on peoples faces. Bob Hannah was sitting there on a quad (he was working with Suzuki at the time) and they were all just like, "Damn! That was amazing!" I've told Rick that it wasn't who won or lost but just being a part of that race that is so special.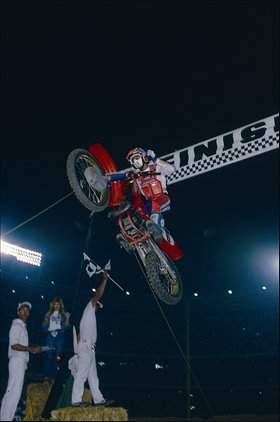 David Bailey

photo: Racer X Archives

Tell me about your bike back then. How would it compare to a production bike of today?

RJ: They weren't even close. I bet I'd lap myself halfway through a moto. The power, the roll-on and traction aren't even comparable. I actually went to Pro Circuit and had Mitch build me pipes that were smoother. The HRC pipes just exploded.
DB: It was lighter and handled nice. The suspension was much softer. The power was so temperamental; you had to make the power. A 450 now you just gas it and the power is there. You don't even need to have a finger on the clutch anymore. The bike does more of the work now. You really had to ride the bike hard back then; it's a lost art form. That isn't too take anything away from the guys today because the way they are riding them is incredible. It was just different back then and I liked the technical aspect of riding those bikes.

Do you think that the track from that night will still make a competitive track for the racers and their equipment now?
RJ: The track sucked that night! The triple was like it was built backwards; the face was smooth and the landing was steep. The bumps were built with a backhoe and they were one-lined and terrible. The tracks have come as far as the bikes have. David and I had some input on this year's track and I think it will be really good.
DB: I hope so. It's neat that Live Nation is revisiting that. I went over to the stadium this week several times with Rick to make sure the guys couldn't just jump an entire lane in one leap; I want them to have to hit some of these obstacles. They've brought in a whole bunch of softer soil for the weekend to make it more like it was in 1986. We had really soft dirt that night. So, I hope the riders and fans appreciate it and enjoy the night.
Do you still have that trophy?
RJ: Somewhere. My wife's uncle has big crates with all my stuff in it. I don't keep it around because it is the past, you know? I don't want my family's house to be my shrine.
DB: I don't even know where it is. It was a dumb trophy so I probably threw it away on my way out of the stadium. I don't know where the trophy is but the cool thing about that night to me is the gear and stuff.
What's the coolest piece of memorabilia you kept from that night?
RJ: I have the number plates from that bike that my dad actually painted. My dad took my plates and hand-painted and then clear-coated them. Honda thought I was going to get protested for them so they made me go to the square Technosel numbers. Those plates are one-of-a-kind.
DB: I have my helmet. It's with a guy named Cam at a dealership back east. He used to help out back east and he was just a good friend. When I have stuff I tend to just ignore it. It's nice to know exactly where it is and that people appreciate it. I have the gear I wore that year at Greg Primm's collection in Vegas.
Will we ever see another battle like that again?
RJ: I think we've seen battles that were very close with RC, Chad and James. The San Diego race a couple years ago was great. With 450s it's different, though; if you make a mistake on a 450 it will take you 30 feet to get your shit together. On a 250 you could re-group in ten feet or less with your feet off the pegs and the throttle pinned. Maybe that 350 rule will help that and let guys be more aggressive.
DB: I hope so. I think we have seen some good ones lately. But there were a lot of things that lined up to make that race so special. It was opening night at a sold-out Anaheim and there was lots of drama leading up to the opener. The stars aligned for that one and that's why it is still remembered. Rick fed off the crowd a little more than me back then and I remember when we started getting into it they started getting loud. I was thinking, "Oh, no.. This isn't good. Be quiet, people! You're going to make him go faster and I won't win this thing!" I remember thinking that during the race. I knew the noise was in his favor.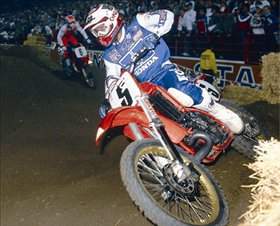 Rick Johnson

photo: Courtesy of Moto Verte

Are you rocking any 80's gear this weekend?
RJ: I'm doing it all week. I'm wearing Oakley Blades as we speak. I pulled out my old Bad Boy jackets and HRC jackets. I'm trying to get my wife and my daughter to do big hair. I'm trimming my oldest son's hair into a mullet… a little against his own will. You know what? Screw it! I don't get many weeks so I'm taking this one. So, both of my kids are wearing my Bad Boy Club jackets and we're going back to 1986. I've had a bunch of friends come and raid my closet. I found my bib from the Paris Supercross that year. It says Camel with a big number one on it. I might hook someone with that.
DB: Yes, I will. I've got some cool jackets and stuff. I kind of want to keep it a surprise.
Did you ever imagine Supercross would become what it is today? Where will it go in 20 more years?
RJ: I thought it would get here quicker. If you look at how quickly NASCAR has evolved: a lot of people think it's about the money and all that but it isn't. Those guys just carry themselves in a very professional manner. I've known Jimmie Johnson since he was a baby and I've watched how he's worked on his PR and his interviews and that is the biggest difference between the sports right now. The top NASCAR guys are a class act. The problem with Supercross is that we are dealing with very young, immature guys that think the world revolves around them. I know this because the world used to revolve around me. I know for a fact—I lived it. The sun actually went up on the right side of my ass and set down the left. They don't want to be part of a show because they want to show everyone how tough they are and how bad-ass they are. I can't believe some of these guys won't do an interview. You have to make an appointment to do an interview? That's ridiculous. It has to change. And we need a deeper field. We need more than one or two guys capable of winning.
DB: Yeah, I figured it would. My dad built the very first ones so I had been watching it since I was a kid. You could tell it was going to last. Then when we got to the era where we could really push the bikes without breaking wheels and that kind of stuff. We could really start to jump stuff. What they've taken it to now, it's hard to think that it will keep evolving. But, I thought that about freestyle and it keeps moving forward. So, there will be a lot of change in the coming years and a lot of growth but hopefully the stuff from the drop of the gate to the checkered flag will remain the same; good, hard racing as it was intended.