These are uncertain times in American motorcycle racing. The AMA has put the whole thing (except for SX) up for bid, Live Nation just announced a joint AMA/FIM sanction for Monster Energy Supercross that has the U.S. teams voicing their concerns in the pages of Cycle News, ESPN is trying to find ways to get riders from the Detroit SX to its next-day "Moto-X Championship" in San Diego, and now there's word that Youthstream might soon announce a couple of U.S. Grand Prix events…. It's enough to fill up the internet with politics and B.S. and make even a lifer like myself start thinking about getting a simpler hobby, like biogenetics or seeking peace in the Middle East.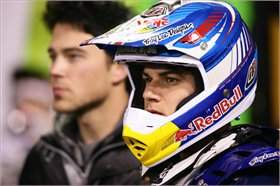 Gavin Gracyk plans on racing this weekend.
Simon Cudby photo
Yesterday, I was reminded about what makes motocross so important to so many of us. It wasn't out at the Yamaha track, or in the lobby of Pro Circuit, or even in the parking lot outside of Chase Field in Phoenix; it was actually at
Gary Gracyk
's funeral in a place called Gospel Hill, Ohio. His only child,
Gavin
, four days off a seventh-place finish at Anaheim, was standing in front of friends and family, telling a story about growing up as a motocross rider.
It went something like this: My dad used to always surprise me. He always wanted the best for me, and he did everything he could to help me be the best. He would go out in the driveway, tell me to jump in the truck, and we would go for a drive, just talking about motocross and how much we loved it together. Then he would pull off the road near the bottom of a big hill, point at the top of it, smile at me and say, "Go run up that hill."
Everyone in the church laughed because Gary Gracyk was a terrific taskmaster, and Gavin was his #1 student. It reminded me of growing up with dreams of being a motocross champion, and a great dad who would do anything to help me get there. The father-son relationships (and mother-son in some cases) that are built through motocross last a lifetime, and the years we have in this sport are often among our very best of our lives. That's why we work so hard to stay involved and keep trying to push the sport forward, long after our racing days our over.
I was sitting between Marcus Sellards and Andy Bowyer at the service, and like Andy said in this week's Rev-Up, if you go to Phoenix this weekend, cheer a little louder when you hear the name of the #273 rider on the Troy Lee Designs Honda team announced—he's been through the worst week of his young life.

This weekend's Phoenix course.
This week's second round of the Monster Energy AMA Supercross Championship will not be shown live, but you can watch next-day coverage at 6 p.m. EST. If you can't wait to find out the results, listen to it live on
www.supercross.cc.com
, with
Jason Weigandt
and
Jim Holley
calling the shots. Their coverage begins around 6:30 p.m. local time, which means 8:30 in the East, 5:30 out West.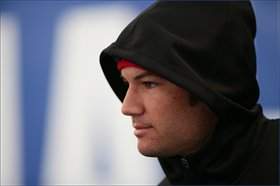 Chad Reed was stoked to win A1.
Simon Cudby photo
Also, if you missed last week's race live, they are showing it again tomorrow on Speed at 6 p.m. EST. The winner of course was
Chad Reed
, who looked solid on the soft, shaky dirt that lined the floor of Angel Stadium. Reed was the subject of our Monday Conversation, which you can check out
right here
.
Now I know that Phoenix is this weekend, but I want to jump ahead one week before we get into all that's going on. That's because a HUGE decision has finally been made, and the details are being finalized as we speak. The process has been completed, the terms accepted, and now it's all good. Just in time for Throwback Night at Anaheim 2, an old hero has emerged: Johnny O'Hannah.
Yes, while David Bailey and Rick Johnson will be the featured attractions of the ceremony—and rightfully so, as O'Hannah was racing GPs at the time—our not-so-reluctant hero and part-time contributor has made it back from his latest overseas travels, which involved the U.S. Army and a place called Iraq. He's now ready to mix it up with the "rest of the best" from the 1980s.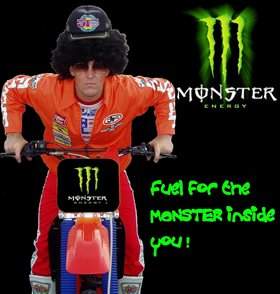 The hero returns.
Things didn't actually go that well over there, according to O'Hannah. The camo JT-issued riding gear wasn't that bad, but with Miss Baghdad SX wearing a black burka, it was hard for Johnny to find any inspiration. It took a full-on shouting match with AMA official
Duke Starling
over the lead in his fuel to get O'Hannah fired up, but then Duke got reassigned to guarding some gas station in Sadr City and that was the last Johnny heard of his old nemesis....
Johnny will be in the pits all day, likely trying to figure out why none of his memorabilia made the super-cool Toyota display area. After that, he will enjoy cocktails in The Knothole Club, then he will be down on the track for opening ceremonies along with Bailey, Johnson and more.
There was a bit of a mix-up last weekend when Heath Voss finished third in the LCQ in the 450 class and then was brought on the stage to receive the $750 Racer X Gas Card. Voss knew he was going to take one of his two AMA provisional starts, but he wasn't sure how it worked. He ended up finishing 14th in the main, and he got with us afterward and he told us that he wanted to pass the $750 down to Cole Siebler, the fourth-place finisher in the LCQ. Good luck to both Heath and Cole this weekend—I hope neither of you even have to go to the LCQ!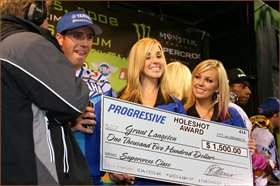 Grant Langston was off to a fast start in Anaheim, much to the spokesmodels' delight.
Simon Cudby photo
In other bonus awards, Team Yamaha's
Grant Langston
won the Progressive Direct Holeshot Award in the AMA Supercross class, while fellow Yamaha rider
Matt Lemoine
did the trick in the Lites class.
And Chad Reed's wrench Oscar "Wilde" Wirdeman took the MMI Top Tech Award. Actually, he earned it, because #22 went flying off the triple after the finish in practice and crashed hard, bending up his bike and hurting his hand/wrist/arm. Chad got it restarted, rode over to the signal area behind the big Tuff Blox, and Oscar went to work on getting him back out there before the one and only practice of the day ended. James Stewart still put down the fast lap, but Reed showed he wasn't going to quit.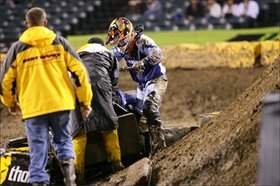 Chad's practice crash was a doozy.
Simon Cudby photo
Back to some awards: The
U.S. Smokeless Tobacco Pro Privateer Challenge went to Eric Sorby
, and
Ryan Granton
earned the Asterisk Mobile Medic Card. And I think I will give myself the Bonehead Award for making a mistake in
450 Words
on Monday. I wrote:
James Stewart
, on the other hand, might have known this wasn't going to be his night when he was introduced to the crowd as "Monster Energy Suzuki's
James Stewart
!"
Well, the folks at both Kawasaki and Live Nation spotted this, went back and watched a review of opening ceremonies, and the announcer actually said Kawasaki, I just heard it wrong. For that, I apologize to the Monster Energy Kawasaki team, and to the announcer Terry Boyd.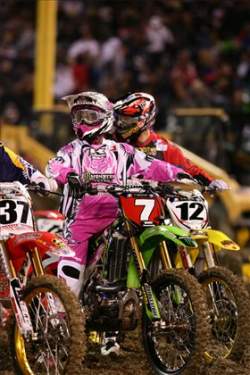 That is James on his Kawasaki, DV12 on the Suzuki. My bad on 450 Words.

Simon Cudby photo
For this week's Racer X Troy Lee Designs Online Poll, we asked which rider would improve his performance the most this week. Over 4,000 people have already voted, and
Ivan Tedesco
—15
th
place at Anaheim 1—leads the way with more than 37% of the votes. (Strangely, someone stuck
Marty Tripes
in there, and he managed to grab more than 200 votes—not bad for a guy who hasn't raced supercross since, what, 1981?
Did you catch this week's first new Racer X/Toyota Top 25 Power Rankings? We asked a growing panel of industry friends to rank their top 25 riders, in order, from the two classes combined. Surprisingly to some, #1 was Stewart, the second-place finisher after his first-turn crash. Of course that prompted some feedback, like this:
It's great to see the power ratings back but I just don't think that Chad Reed got the respect he deserves for winning the first race. How can Bubba be rated higher than the man who won? I know Bubba went down in the first turn and scored the fastest lap times but I really think that Reed deserves the #1 ranking since he earned it on the track. Maybe this weekend will prove differently but the biggest difference I see is that Reed has seemed to have totally rededicated himself to racing and Bubba will continue to make the same mistakes as he does not have the same amount of experience as Reed. Just one man's opinion but I am curious to know your thoughts.
Chris Carnicella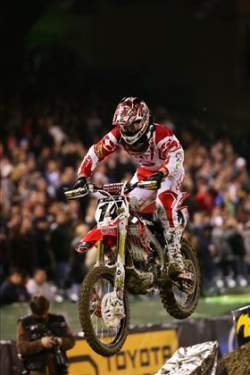 Kevin Windham finished fifth, but was ranked sixth on our poll.
Simon Cudby photo
The top Lites rider was opening round winner
Ryan Dungey
of the Rockstar/Makita Suzuki team. Special guest pit reporter
Steve Cox
spoke to Dungey for this week's
other Monday Conversation
and I spoke to
Johnny O'Mara
, Dungey's mentor, for this week's
Suzuki Between the Motos
.
Okay, here's a good place to turn this over to Ping:
Good news and terrible news this week: First, Jeremy and Kim McGrath welcomed their second child, Bergen Paisley, into the world this Tuesday. Both mom and child are doing well.
And then, the very same day, Gavin Gracyk's father, Gary Gracyk, passed away after battling Lou Gehrig's Disease. With the exception of the Henry family, I don't think I've ever met a guy that has had to push through so much frustration and heartache as Gavin. The little bit that I've been able to hang out with him, he's shown himself to be a great guy, with incredible focus and unflinching determination. I don't know how he's going to race this weekend in Phoenix, but I am pulling for him. Godspeed, Gary.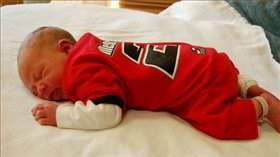 Welcome to the world, Bergen Paisley McGrath!
McGrath photo
Racer X had its yearly 450 Shootout Thursday at Glen Helen, which is apparently now catering to four-wheelers. I hope the few hundred bikes that showed up didn't mess the track up too bad for the five or six quads that were there. The Racer X Tested crew put all of the 2008 models to the test on the rough, wet track in San Bernardino. Simon Cudby was there to capture the day's events on camera and video. And the winning bike for 2008 is … well, you'll have to read the Shootout. It should be up right here at www.racerxill.com very soon.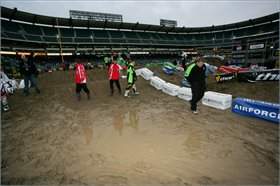 Dirt Wurx turned this soup into a decent track.
Simon Cudby photo
What the heck happened last weekend? The gooey A1 track made for some strange results in both classes. In the Lites class,
Jake Weimer
didn't even make the main event along with
Billy Laninovich
,
Justin Keeney
and others. Then,
Broc Hepler
,
Bret Metcalfe
and
Zach Osborne
fail to break the top ten.
I don't think Lawrence and Dungey finishing on the podium was a surprise but Justin Brayton certainly was. The MDK KTM rider showed that he has elevated his game to another level this year.
TLD Honda's Chris Gosselaar pulled out of the day's racing after practice due to a sore shoulder. Goose crashed two weeks ago and separated his shoulder and bruised his hand. He tried getting a cortisone shot and riding but it was still too painful. Look for Chris to be back at Anaheim 2 to try again.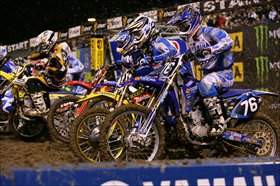 Zach Osborne was impressive, but then he crashed hard.
Simon Cudby photo
Yamaha of Troy's
Zach Osborne
looked great all night long. He was running near the front in timed practice and again in his heat race until he clipped his front wheel on a double and went over the bars. He managed to jump up and maintain his position to the finish. In the final he looked good until a crash in the whoops popped his shoulder out of place. His mechanic said that it has happened before but he wasn't sure how sore it would be for this weekend.
Brett Metcalfe made the mistake of hitting the triple in first gear while circulating in fourth place right behind the lead group. He smashed into the face of the third jump and stopped, luckily avoiding injury. He hastily tried starting the bike in gear on the face of the third jump and couldn't get it to fire. He finally rolled down between the two jumps and kept kicking but it wasn't happening. It was painful to watch.
Brett was definitely a title contender but will now be working with a huge deficit. Don't count him out, though. In 1999, Nathan Ramsey won the West Region championship after losing his chain at the season opener in Anaheim and finishing last. And in 2000, Shae Bentley won the West Region championship after crashing at the opener and finishing something like 15th. Both riders were riding for Mitch's team at the time. A lot can happen between now and the last lap in Seattle and I think Mitch Payton knows some type of witchcraft or something. He'll put a little voodoo on Dungey and Lawrence and get his boys right back in the hunt.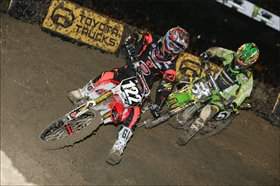 Dan Reardon was very impressive at Anaheim, leading early and finishing fourth.
Simon Cudby photo
The 450 class was supposed to be a
James Stewart
runaway. I had my backpack in hand and had already planned my escape route out of the stadium on the fifth lap to beat traffic. But when Stewart slid out in the first turn and Reed doubled into second down the first rhythm section, I sat back down. I thought James would run down Reed like he did all last season when he had a first-turn mishap.
Then, when Reed stalled his bike going into the whoop section, I guessed that it would only be a few more laps until #7 blew by for the win. But it didn't happen. Stewart never gained any more ground on Reed once he got into second. Was James being patient or was Reed on the gas? The answer is both. This weekend's race in Phoenix is going to be good!
Tim Ferry, Grant Langston and Kevin Windham rode well but behind them things got a little shaky. Tedesco crashed twice, Short tried to convince himself that mud is indeed his bud, Wey ran in the top five until he tipped over and Alessi rode smooth and consistent, if not quietly, in the sixth spot.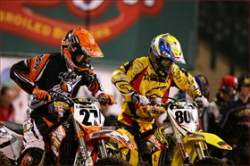 Nick and Mike practice starts.
Simon Cudby photo
The track may have looked decent on television, but that HD crap can be deceiving. The jump faces were slimy, in-between the jumps were rutted and the insides of the bowl turns were filled with mud. The Phoenix round will be a better indicator of how things will shape up for the rest of the season.
I spoke with Jiri Dostal today about the Phoenix track. He rode press day and said that the track has the same dirt as usual, soft, loose soil that they try to pack down. He also said that the track looks like it will be a little one-lined. The whoops have a split-option going into them but the whoops themselves are relatively easy. His overall opinion was that the track was going to be fast with short lap times in the 4-some second range. Jiri is riding for the Wonder Warthog team on a Kawasaki and just missed the main event by one spot last weekend at Anaheim.
That's it from Ping.
Want to read The Weege's take? Check out his latest blog entry on what Chad Reed has brought the table.
And Steve Matthes' Observations are always a hoot.
Jim Kimball hit us with this note: "For what it's worth, I heard from a very reliable source that Travis Preston is racing the Dortmund SX this weekend for the Kawasaki of Germany Factory Team."
Steve Cox adds: "The thing about Preston at Dortmund I think is accurate. Last time I talked to him on the phone, he said he had a Honda he was riding that he got from Transworld, but that he 'hoped to have a Kawasaki to ride soon.'"
Earlier this week we ran some Flash Trivia: Prior to
Ryan Dungey
's A1 win this past weekend, when was the last time a Suzuki-mounted rider took the win in the Lites (or 125cc) class at Anaheim 1? The answer is our very own
David Pingree
, back in 2000.
We gave the first five people to answer correctly a new 2008 Racer X calendar, and they are: Tim Dollison, Walt Zygmunt, Brandon Norris, John Krotzer and Jessica Bailey.
Also, check out this very cool memorial to Gary Gracyk by Jared Jackson.
Dan Geert from FOX Racing Shox told us to keep an eye out for Michael Willard's #86 Honda CRF250R. Michael made the top 15 in Anaheim, which led Dan to write, "I think he has a top 10 in him for sure this year. I'm just excited for FOX to be back in Supercross (after) 20 plus years."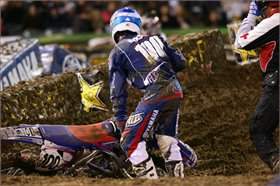 Also look for a quick rebound from the entire Gibbs Racing/Toyota team.
Simon Cudby photo

Jordan Burns (owner/founder of Moto XXX) and his band Strung Out will be playing a FREE show in Toronto, Canada, at the Sound Academy this Saturday, January 12th along with their Fat Wreck Chords label mates Lagwagon. It is the first time the two bands have played together in Canada since their tour in 1995. "We are pumped to be heading over to Toronto for this show," says Strung Out guitarist Jake Kiley.
Venue: The Sound Academy
Address: 11 Polson St. Toronto Ca. M5A 1A4
Phone #: 416-469-5655
Doors Open: 7:00pm
Cost: FREE
www.myspace.com/strungout
www.strungout.com
In the Moment Media caught up with Daniel Blair and put together a cool profile on him. Check it out at www.racerxfilms.com.


Got a note that
Justin Sipes
broke his collarbone yesterday. Apparently they did surgery right away, and it doesn't look good for Anaheim.
Hey Vintage Motocross Racers, Check out the new sticker and T-shirt design for the 2008 Racer X Inter-Am Series. DeCal Works is one of the series sponsors and is producing these fine highly collectible stickers which will be available at the first event in Boise on March 29th. We also wish to welcome Filtron Air Filters as a sponsor. If you are interested in being a sponsor and have your company logo on the back of the official T-shirt, contact Scott Wallenberg by email at scottw@racerxill.com.
David Kaiser, the National Sales Manager for Renthal Ltd., offered up a photo and a prize for some Racer X Flash Trivia: The first person who can identify both individuals in this photo will win one pair of 7/8" Renthal handlebars. If you know, send your answer to: DavidKaiser@renthal.com.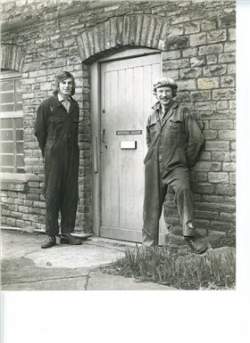 Do you know who these guys are?
Okay, that's it for Racerhead. Thanks for checking in and reading our stuff. Look for a really cool Racer X Films and our Anaheim '86, produced by
Wes Williams
of Vurbmoto.com and starring
RJ
,
Bailey
,
Jeff Ward
,
Erik Kehoe
, and more. That's it. See you at the races.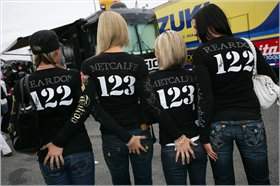 Fans of the Week: Part 2.
Simon Cudby photo