Between the Motos: Johnny O'Mara
Last Saturday night at Anaheim's Angel Stadium, Ryan Dungey rode to his second straight race win to start a season. But something was different this time: His mentor Johnny O'Mara was there watching his every move. The O'Show was himself the 1984 AMA Supercross Champion and one of our sport's all time greats. In the past he's worked with Ricky Carmichael—he helped him transition from amateur to pro and then celebrated many championships with him—but has otherwise kept a low profile. But when he met Dungey, things just clicked. We caught up with Johnny today to see how he likes the 2008 Monster Energy Supercross season so far.
Racer X: You've been out of racing yourself for quite some time, but you have a knack for coming back in from time to time with an awfully good young rider. Does that mean you have a good eye for talent?
Johnny O'Mara: Well, I never thought I'd work with anyone other than Ricky, I'll put it that way. Ricky and I joined forces early on and I was pretty much there behind the scenes the whole time. Ricky was the one who kind of threw that at me, about Ryan, so I didn't have any plans to come back until this just kind of fell in to place—after I finally got to meet him. There were some timing issues early on where I didn't have enough time to connect to him, but I reappeared again and I had a little bit of time and kind of took on that role. Some people call me his trainer, but I feel I'm more of a coach. Whatever it is, I'm pretty comfortable with it now and I think it's a good fit. We're just moving forward trying to make him a better racer.
You make a real good point there; Ryan Hughes is in the same boat to some degree working with J-Law: It's one thing to be just a strength coach or fitness expert, but you were at the very top of this game as a supercross and motocross champion.
Yeah, probably the mentor is probably the best fit for right now. He knows that I worked with Ricky and he values that like no tomorrow that I've been there with the best. Plus in my time I was the best also, so it worked out good so far. I'm enjoying it. But I don't have as much time as I had when I was with Ricky early on, both with my family, plus I'm still pretty active in my mountain bike racing that I do. I have my own team that I built around myself, and I still hit that pretty hard. I am pretty busy, but I am able to throw enough of my knowledge his way, and I spend enough time with him that it's beneficial for him.
When you're doing the mountain bike races and such, do you ever run into Jon Tomac?
Yeah, I sure do. He doesn't surface at all of them, because he's out there with Eli quite a bit from what I understand. But yeah, I'll see Jonny T. He's a legend in that world—I think a lot of people in our sport don't realize that. Tomac is a legend in the mountain bike world, or cycling world in general. So yeah, me and Jon go way back.
Did you know he won Loretta Lynn's one year in the Vet B class?
Yeah I did! I remember when Jon hung up his bikes and wasn't doing it full-time; he was riding moto quite a bit and I knew that was a goal of his. Anytime a guy like that puts his mind to something I knew he could do it. I'm sure he ranks that as a pretty high achievement.
With Ryan's young age and Eli coming up, there may be a time when you guys are out there on a track walk together with your respective pupils.
[Laughs] Yeah, exactly, I could see that happening. I haven't kept up too much on Eli, but RC tells me about him and I guess he's pretty darn good.
Tell me about working with Ryan. He got a fantastic break from Roger DeCoster, and even with that he's over-delivered in a year and a half.
Yeah, I heard the whole story. I kind of came in and heard a little bit from Ricky on how he was brought on, but what a story. I like the story, actually. It made me more motivated to help him because it's such a great story on how he got on the Suzuki factory team.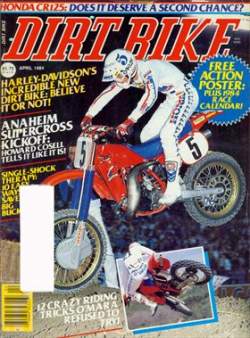 That's O'Mara on the cover of the April 1984 issue of Dirt Bike magazine.

From the outside looking in, it seems like he's a sponge for information.
Yeah, for sure. Initially when I came aboard I think he was absorbing too much information from a lot of people, so I had to pull the reigns back on a few people, and we built a real tight-knit circle of people around him now, similar to RC. I think that works the best. I think when you're getting too much information from all these people it can get too overwhelming.
Saturday night, how stoked were you, and did you ever think you'd be there watching a Lites Supercross rider again?
No, like I said, I didn't think I'd ever be helping anybody. I love the sport to death and it's a passion for me to be around it, but I feel more like a spectator and fan now, but I never thought I'd be there like that. It did feel really good, because I started with Ryan in mid-May of 2007, and I was telling him the whole time that it's not going to happen over night, but we're going to build something very solid for '08. He worked really hard throughout the Nationals. I admit that I really overdid him quite a bit and he did have the injury, but I knew he would benefit this year. It sure was great to see him get that checkered flag at Round 1.
One last thing Johnny: For Anaheim 2's Throwback Night, you gotta get the guys at Answer Racing to make a set of all-white O'Show gear and some Boot Gatorz for Dungey!
[Laughs] Oh man, you're right on about that!