One of my favorite things to do in the off-season is go back and watch videos of the past season, reliving some of the cool moments of summer. Yesterday, I got a surprise in the mail: an advance copy of the latest Great Outdoors video: The Formula. Created by Troy Adamitis and Jessica Young, it chronicles the 2007 AMA Toyota Motocross Championships from start to finish, with commentary by the riders and mechanics, and a cool voice-over from none other than Eric Johnson.
There's a preview/trailer up over on www.racerxfilms.com, but it really doesn't do this film justice: 2007 was an epic season here, with both championships going down to the wire. And before that, the Ricky Carmichael-vs.-James Stewart battles that stole the spotlight in the first five rounds were incredible. Watch this film, with its intense action, massive crowds, and the fastest motocross riders in the world, and you will see why the AMA Toyota Motocross Championships are such a hot commodity now.
It's also why they are really turning up the heat over in Europe. Youthstream shelled out for plane tickets and hotel rooms for a half-dozen U.S. journalists—TFS, Guy B., MXi's Steve Cox, Motocross.com's Brendan Lutes, Kit Palmer of Cycle News, and Lex and Amanda of Supercross.com—to get to Monte Carlo for their year-end banquet FIM Off-Road Awards, where the 2007 champions like Steve Ramon and Tony Cairoli are honored, along with Team USA, which took the Red Bull Motocross of Nations for the third year in a row. Giuseppe Luongo also wanted to explain why he wants to take over the AMA Toyota Motocross Championships. Here's what TFS sent this afternoon from the land of the rich and famous: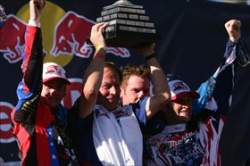 Roger DeCoster holds that trophy with pride.

photo: Simon Cudby

When Americans want to have a year-ending banquet, we know where to go: Las Vegas! Where do FIM racers go? Monaco, a tiny nation on the Mediterranean coast of France that's all about money, prestige, and motorsports. It's also a land of $9 cappuccinos and McClarren Mercedes parked on the sidewalk. The FIM presents its 2007 Off-Road Awards at the Monte Carlo Bay Hotel here tomorrow night. Champions from the motocross GPs, supermoto GPs, and sidecar, juniors, veterans, snowcross, and women's champions too. They also have a list of industry awards, and the Americans won't go home empty-handed. Roger DeCoster is here to represent Team USA, and there may be some others.

Co-hosting the awards will be the lovely Amanda Woods of Supercross.com. She was last seen in the Monte Carlo hotel practicing how to say names like "Gyorgy Kokenyesi." There is more going on this weekend, of course. Youthstream has rolled out the red carpet for the U.S. moto-media this weekend to make its case for a proposal to promote the American outdoor nationals. We are not used to this kind of attention. Has anyone seen my Bentley?

TFS added this:

From a Youthstream/FIM meeting just now. Done deal: The MX3 class is dropping down to 450s. This class was formerly the "Open" class. Under consideration and MAY be approved as early as tomorrow:

MX1: 250cc 2-strokes, or 4-strokes from 250 up to 350. No 450s.

MX2: 125cc 2-strokes, or 250Fs.

MX1 is the premier class that has been 250/450 up until now.

Back to The Formula: The Great Outdoors. The video is almost entirely made up of never-before-seen footage from Adamitis & Young and crew, and they are like the NFL Films of American motocross. While the Speed TV guys shoot a certain way for TV, and Wes Williams and crew shoot a certain way for the Racer X Motocross Show on Motocross.com, TGO has always been about the art of motocross, and they were really hit their stride with this one. Even if you already have the exceptional AMA Pro Racing Highlight DVD (featuring the voice of Larry Huffman) you're going to want to have The Formula in your private collection too.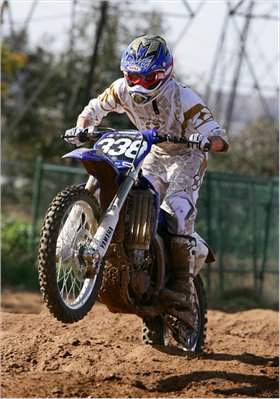 J-Law hammering the whoops, or hoops.

photo: Simon Cudby

Jason Lawrence was out at Adam Chatfield's SX facility in Beaumont, CA, this week. J-Law is working with his new trainer, Ryan Hughes, who is already calling Jason the new "king of push-ups." Simon Cudby shot a film that is posted at www.racerxfilms.com that shows J-Law getting ready for SX on the track, and in the garage working on part of Ryno's new training regimen.
Guy B. has a hilarious video up on Vital MX starring Chris Palermo, who might be one of the coolest guys you'll ever meet at a motocross track. In a nod to Steve McQueen, he entered a Harley-Davidson in A Day in the Dirt. Check it out.
And Dr. Jason Cavanaugh sent us a link to Scott Murray pulling off a double backflip last weekend in Genoa, Italy (complete with Rocky music). It's an amazing trick. Check it out here.
Here's some stuff from Ping out in California…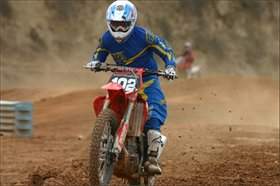 Goose is healthy.

photo: Ping

I've decided that one of the busiest guys in racing is crossover racer Tucker Hibbert. Tucker is the man to beat in snocross racing and his gold medal at the ESPN Winter X Games last February helped solidify that. It didn't hurt that he won the season opener last weekend, either. Hibbert races sleds from November to March then switches to East Coast Lites Supercross and then charges right into a summer of AMA Toyota Motocross. That is a long season. He was the subject for this week's Privateer Profile if you missed it.

I drove out to the test tracks in Corona this week to get a sneak peek at some of the guys as they prepare for 2008. I was surprised at how quiet things were. Maybe the triptophan from the Thanksgiving turkeys was still in effect but the only track being used was the Honda test track. Davi Millsaps, Jake Weimer, Trey Canard, Gavin Gracyk and Chris Gosselaar were all out riding.

Millsaps was working with his new trainer, John Louch. Johnny wasn't going to work with any motocross guys this year as he's gotten spoiled by the good life over in MotoGP land (just kidding, Johnny). Louch is working on a deal that would make him the team trainer for the Kawasaki Moto GP team since his guy, John Hopkins, is making the switch to green. But he and Davi have always gotten along well so the two teamed up for this year.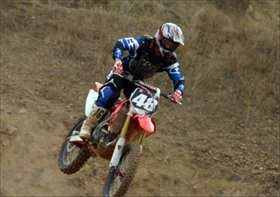 Trey "I don't know what to do with my hands" Canard is running #48 this year.

photo: Ping

Trey Canard has got skills. You can tell he is still getting used to supercross, especially in the bigger whoop sections, but this kid is going to figure it out. He is riding the East Coast so he will have time to prepare.

Gracyk and Goose were both riding at the Honda facility for the first time. They both looked good, despite the fact that they hadn't been on the track before. Gavin is fairly new to supercross but Goose, who has been around a while, has been riding and training for weeks up in the high desert with the Alessi boys. Mike and Jeff have, like, a dozen different tracks built up there somewhere between San Bernardino and Las Vegas and they have been pounding out motos, according to Goose. The TLD/Red Bull Honda team is having their own supercross track built right above the KTM test track that should be finished in
the next two weeks.

Finally, a big congratulations goes out to Nate Hawley, the Vans Footwear rep, who just proposed to his girlfriend on a trip to Fiji. The two are planning a summer 2009 wedding. Nice work, Nate.
That's it from Ping.

MX for Children (www.mxforchildren.org) and 12 of the world's top Motocross photographers have joined forces for the 2007 MX for Children Charity Photo auction. Forty rare images have been donated to help raise money for Seattle's Children's Hospital. Donated images span from the 1970's to this year's racing season. Riders such as Roger DeCoster, Danny 'Magoo' Chandler, David Bailey, Jeremy McGrath, James Stewart and Ricky Carmichael are represented. The eBay-hosted auction runs for 10 days and will end on December 3rd, 2007. To review the auction images, please access this link.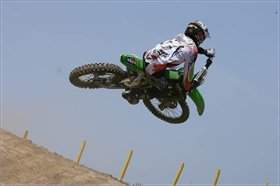 Bubba Scrub

photo: Simon Cudby

Ken Faught wanted us to remind everyone about the Pole Position Toy Drive. You can race against Chad Reed and Mike Metzger this Sunday! Check out the press release below:
Pole Position Raceway is hosting a toy drive at its four locations in California, Oklahoma and Nevada to benefit underprivileged kids, and it starts this Sunday at 10:00 a.m. This is a chance to meet and race 2004 AMA Supercross Champ Chad Reed and X-Games Gold Medalist Mike Metzger at the famed indoor kart track in Corona, California. Kathryn Morris (star of CBS's Cold Case), Skeet Ulrich (star of CBS's Jericho), Stanton Barrett (NASCAR racer), Alex O'Loughlin (star of Moonlight on CBS), Paul Livingston (5-time Land Speed Record Holder), Robie Peterson (Motorcycle Hillclimb World Champion) and other celebrities will also be on hand for the official kickoff of this USMC Toys For Tots event. Pole Position Raceway will be accepting donations until December 24 for distribution in the surrounding communities. Pole Position Raceway will also give $5 off any standard adult race with any new item donated. For more information check out www.polepositionraceway.com. The event is supported by the IE Weekly, X103.9, X1039.com, Racer X, Corona Motorsports, Lamar Outdoor Advertising, Smooth Industries, Troy Lee Designs and Storage Valet who have all donated products and services to make this a success.
Celebrities
Chad Reed – 2004 AMA Supercross Champ
Mike Metzger – X-Games Gold Medalist in Freestyle Motocross
Kathryn Morris – Star of Cold Case on CBS
Skeet Ulrich – Stat of Jericho on CBS
Alex O'Loughlin – Star of Moonlight on CBS
Stanton Barrett – NASCAR Racer
Mayor Eugene Montanez – Corona Mayor
Paul Livingston – 5-time Land Speed Record Holder
James Stewart – 2007 AMA Supercross Champion
Ethan Embry – Empire Records, Can't Hardly Wait, Vegas Vacations
Robert Patrick – Terminator, X-Files, The Unit
Joshua Escandon – K-Earth FM Radio DJ
Robie Peterson – 2007 Hillclimb World Champion
Doug Durocher – from the X103.9 FM morning crew
Veronica Vansant – from the X103.9 FM morning crew
David Barrett – Television Producer
The Racer X Canada version of Racerhead—the Frid'Eh Update—is up and running.
Did you read Rupert X's story about the Moscow Supercross that he attended? It's a good one. Check it out here.
Anyone teams looking for a mechanic? We got this email earlier this week:
I have just finished 8 months of basic motorcycle technician training at MMI. I came to MMI to be a mechanic on a pro motocross team. I was wondering if any of you guys at Racer X know of any riders looking for a mechanic or who I might speak with to find out about riders looking? Thanks.
Josh Stout

Drop us a line at online@racerxill.com if you want to get in touch with Josh.
Dear Racer X:
We have a television show in Australia called The New Inventors which is basically an invention contest. The winner of the series this year was a guy with a new design for the foam in helmets. I know there has been a bit of talk about concussions in MX recently and I thought you might be interested in this.
James Allen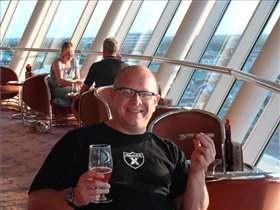 It just doesn't get any better for Jim Little.

Jim Little is a police officer who runs a program called NYPUM (National Youth Project Using Minibikes) for the Alpharetta Police Athletic League. We sent him mags, sticks, posters, etc. to help the kids out. This is a note he sent back.
"I was in the Bahamas on a cruise ship celebrating my 44th birthday in style. Racer X T-shirt, Cuban cigar, and adult fermented beverage! Life doesn't get any better. Thanks for the goodies. The kids loved them and we made some new Racer X fans!"
Evel Knievel and Kanye West settle lawsuit, then throw gang signs and pose for picture!
Dear Racer X:
Having spent many years racing and wrenching on downhill mountain bikes before getting something with an engine, this week's photo of Eli Tomac in Racerhead (#47) brings me some sentimental joy. To see that John Tomac's legacy of boycotting clean and simple, custom paint/logo jobs from Troy Lee in favor of clutter and bright colors lives on holds strong with us pedal guys. Now if only we could get Eli to run some of those old neon feather stickers….
James Peterson. Salt Lake City, UT
There' s a new Cobra – Race Tech Suspension – Accessory Shop in the Santa Cruz area. It's called "Knobby Shop". Owned by Dennis Stapleton Sr., they have the full line of Cobra Mini-Cycle race bikes, and are an Authorized Race Tech Center for all of your suspension needs too. Give them a call at 831-427-1000.
Earlier, we mentioned the video of Scott Murray doing that double backflip in Genoa. That same night, two-time MX2 World Champion Tony Cairoli took the night's win, showing that he does have some excellent supercross potential, because finishing third was Jake Weimer.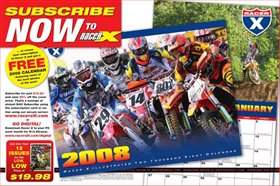 Get your 2008 Racer X calendar now! Get one for a friend, too!

Happy to buy presents for other people but looking for something cool for yourself? Now's your chance with our 2 for 1 subscription offer! If you buy a 1 year gift subscription to Racer X you can hook a friend up with 12 issues of their favorite magazine and a free calendar, and you'll get a free calendar too! Just click here.

Anyway, two weeks ago, I asked for ideas to explain the seeming lack of interest in supercross in Europe among most riders. It was based on spending the weekend at the Bercy SX, scratching my head as to why none of the top European riders take the chance to race against some of the AMA-based guys. There was also a lack of the usual French talent out there, as only Benjamin Coisy looked like he was comfortable out there with the top AMA SX riders. Anyway, I got several responses and opinions from both sides of the ocean, but one reader—Giovanni Bartoletti—really dug into the question and offered his opinion.

What follows is Giovanni Bartoletti's summary, beginning with three main reasons that supercross is not nearly as big in Europe as it is in America, in his own words:

1.) Status quo of the sport in Europe.

Whereas in the U.S. the supercross championship is the one on which the media and the sponsors invest most of their resources, in Europe manufacturers and sponsors invest in the World Championship. (Giuseppe) Luongo clearly expressed the message that Youthstream plans of transforming the MX World Championship in what the F1 world championship and the World Championship in road racing are: the only game in town. And things will most likely remain the same until Youthstream will decide to run a supercross championship too. As a consequence, the top riders are not motivated to even put in the effort to develop supercross skills.

2) Lack of a prestigious FIM sanctioned series.

There is a European supercross championship and it is the one in which (Tony) Cairoli participates, but this championship doesn't have any media coverage: as a consequence it doesn't attract any big sponsors and the teams and the riders are not interested in participating in it. Cairoli does it because he wants to improve his skills for when, if ever, he will come to the U.S.

Is there the potential to have a spectacular European supercross championship? YES!!! Between October and November Europe hosts enough supercross events (in alphabetic order: Barcelona, Geneva, Genoa, Madrid, Paris, Sheffield, and the German supercrosses) to assign a championship. If the promoters were to agree on race format and class (I would opt for Lites-only class, even though this may keep away top guns like Reed, Stewart, etc.) it could become a sort of international Arenacross as it would be run in Palasport like Bercy by both European riders and the American riders who want to test for supercross or are engaged by European teams to run the whole European series. Probably top American lites riders wouldn't ride the whole series and this would leave space to second-tier American riders and European riders too. As for the Top Guns, I am positive Reed will invite a bunch of them to race his Australian SX series: everybody will be happy. Do I think it will be easy to coordinate the European promoters? Absolutely NO.

3) Various Factors

There are several other issues that get on the way of having the European based riders putting efforts in supercross: – The fragmentation of the European motocross scene and its consequence on the teams' budget and overall efforts. Whereas most American teams and riders are based in SoCal and Florida (areas that are mostly flat and where you can ride all year long), the European teams are scattered throughout Europe in areas (Belgium, Germany, Northern Italy, Netherlands, the UK) where it is difficult to train in winter time; also, some of the top riders (Coppins, Rattray, Swanepoel, Brown, Hamblin) are from extra-European countries and go back home once the World Championship is over.

The geographical fragmentation (when you go from Spain to Romania, you go to different countries with different food and different weather conditions, and this adds more stress to riders and team personnel then going from, say, Anaheim to Daytona) has an impact both on the teams' budget (they require the teams to stay aways from their shops longer than it happens in the US as they need to go testing in Spain or in the Netherlands, let alone the traveling during the regular season) and the top riders' condition so I believe nobody is thrilled about the possibility to spend more time away from home AND in the cold. The fact that Searle run only the Sheffield SX, that Pourcel run only at Bercy, and Cairoli in Italy seem to me an evidence that costs and distance between the venues are indeed a factor in a team's decision of whether or not racing a supercross event.

SUGGESTION: set up a FIM-sanctioned arenacross-style championship that starts in Southern Europe, so that the teams and the riders can train on arenacross-style tracks outdoor, begin the championship there and then move to Northern Europe for the remaining rounds. This would make the European riders more comfortable with race format and riding technique: also, if it is a Lites only class, there will be a higher involvement of younger riders, who are hungrier and more eager to pursue a new challenge than the accomplished factory riders of the motocross class.

Unavailability of stadiums.

Most of the places available in Europe in winter time are palasports as the stadiums are busy due to the schedule of the national soccer championships. As a consequence, the supercross events run in Europe are more similar to Arenacross events than supercross, and the European riders, already not very comfortable on supercross-style tracks, are even more concerned of getting injured at the end of the year, and that would affect their preparation for the following season (which has priority over supercross). – Little depth of the talent pool.

Europe is an area comparable to the U.S., hence a European SX Championship would make sense, but single national supercross championships do not make much sense at pro level, as there is just not enough qualified competition, I believe. Also, consider that adverse weather conditions in many countries with strong motocross culture, a longer World Championship, the priority given to National motocross championship… There is little space for National Federations to set up dates for a national supercross championship in which amateurs and pros can race against each other.

Thanks to Giovanni Bartoletti for taking the time to explain all that; there is a lot to digest, but he makes some excellent points.

From Scott Wallenberg:

Four months to go to the very first round of the Racer X Inter-Am Vintage Motocross Series. The opening round to be held in Boise, ID on March 29-30th. This race will feature Vintage motocross bikes on the same track that hosted an Inter-Am back in the day. A semi-confirmed rumor has Racer X's very own Ping planning to saddle up and race his very first Vintage MX! Who knows, maybe Boise area residents Bob Hannah, Darrel Schultz and Damon Bradshaw will be there as well!

For more details on Round 1 check the breaking news item here.
For more info on the Boise event email Tim Kennedy at idahovintagemx@yahoo.com

There will be a round at Washougal June 28-29 for more info email Dirk Williams at dwilliams8495@charter.net

A third round will be announced shortly...stay tuned

And just when we were about to put this to bed, Andy Bowyer hit me with this news headline: Evel Knievel Dead at 69….

Damn.

As Evel would have done, I want to buy a round for the bar: O'Doul's with a splash of Wild Turkey for everyone. Godspeed, Evel, you were the King of the Daredevils.