Privateer Profile: Tucker Hibbert
Let's start by clearing something up: Tucker Hibbert is not Canadian. He is one of the fastest snocross racers in the country and also very respectable on a motocross bike. After stints with ECC and MotoWorld Racing, both of which are now defunct, Tucker has put together his own program and decided which races he would compete in on his own terms. The snocross season opener was last weekend in Duluth and it was no surprise to see that Hibbert took the win. I caught up with the Thief River Falls, Minnesota native to find out what his plans are for 2008.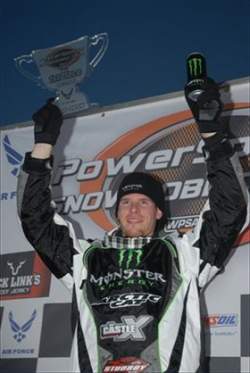 Tucker Hibbert took the win in the opening round of the Snocross Series.

Racer X: Congrats on your win this weekend! That is the beginning of a very long season for you, isn't it?
Tucker Hibbert: Yeah, it was the national snocross opener so it starts my racing season. There were a lot of unknowns going into it, but I think we came out pretty good. There was a lot of build-up to it. This is our version of Anaheim 1.
Well, sure, but I bet you don't have girls walking around your pits with boobs pouring out of their tops.
That's true; the eye candy isn't quite as good. They have to stay warm. There are lots of guys with beards and heavy jackets drinking beer though.
That sounds nice. Last year you put together your own program and basically picked and choosed the events you wanted to do. Are you doing the same thing this year?
Yes. I am going to do the first half of the national snocross series and the Winter X Games and then I'll switch to the East Coast Supercross Lites series and the nationals.
Do your sponsors get bummed that you don't finish the snocross series and try to win titles?
Yeah, some of them are bummed about it. Arctic Cat would like to win titles for the company. Monster Energy is one of my big sponsors and they care more about the X Games than anything. They support my motocross stuff completely. It's hard on a few companies but everyone understands my decision.
That doesn't give you a lot of time to get ready for supercross, does it?
Last year I had about two weeks off before the supercross opener to get ready. I am actually a little behind where I was last year so I need to get going on that stuff. But, it looks like I'll have a lot of the same people with me this year, so that will help.
How do you ride and train when you live up in the snow?
Last year I would fly down to Mississippi and ride with Kevin Windham during the weeks off. Then I'd fly back and ride my sled a couple days before heading to the next race. It worked out pretty well. I'll do something similar to that this year.
What will you be riding this year?
I don't have anything done yet but I think it will be Yamahas and my whole deal will be backed by Monster Energy. A lot of the same people will stay with me for 2008.
Last year you headed to Canada to race the nationals there. Are you going north again next summer?
I definitely want to race the nationals here next year. Last year it didn't work out and I got an offer to ride in Canada so I went with that. I've done the AMA nationals for four years in a row so it was cool to have a change. Plus I still got to do Red Bud and Millville, my two favorite races, so that was cool. I'm ready to improve on my results from the past.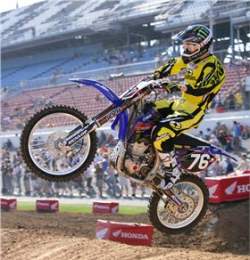 Hibbert will most likely be aboard Yamahas again in 2008.

photo: Simon Cudby

Are you Canadian or not?
No! Man, I hope this clears that up. I guess it doesn't help when I go race the Canadian nationals but I live in Minnesota. I'm about an hour and a half south of the Canadian border.
Is it cold there right now?
It was about 5 below zero last night and only got about five above during the day. We don't have much snow, only about two inches.
When is your next race?
We don't have another round until January 11. There are some regional rounds that we will go to and try to improve our equipment. I only had eight days to ride before the first round because we didn't have any snow. So, I need the track time right now.
Are you going to stay at Windham's again this year?
I hope to go back there a little bit. Kevin has an awesome place there. I am friends with Andrew Short also and I know he has a pretty good setup there in Texas so I might get over there some too.
You got married this summer. How is that working out?
It's awesome. Mandi and I have been together six years so it was time.
Did she make you fix that tooth that was cracked off?
Yeah, she did. That has been handled for a while. Things are going great.
Good luck this year and we'll see you on the east coast.
Thanks Ping. See ya.