The Paris-Bercy Supercross is a just one of the coolest things a motocross fan will ever witness. From the opening ceremonies to the halftime FMX jumping, the cheerleaders to the Superstars of Supercross, it's quite a weekend. And of course, there's Paris itself, the City of Lights, home to seemingly more history than we have in the whole (and much younger) United States.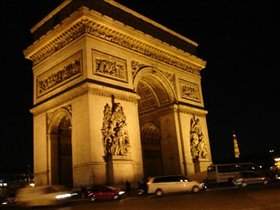 photo: Keith Lynas
But you came here for some racing news, not a description of
Napoleon
's Tomb at the Hotel D'Invalides, or the underground darkness of the Catacombes, or even how the gargoyles that hover above Notre Dame Cathedral have better speed and tackling abilities that this year's Notre Dame Fighting Irish…
Here's the bottom line: Chad Reed took some heat for taking time off this summer, but he's in shape, he's going extremely fast, and he seems to be enjoying himself again. TFS talked to the runaway King of Bercy for his Alpinestars Monday Conversation where Chad told us how good he feels about going to France, battling with his best friend Grant Langston (who also looks good) and his plans for an Australian Supercross tour next fall.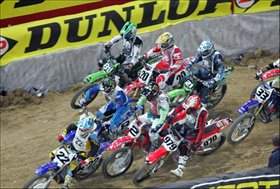 Chad Reed was on fire in Bercy.

photo: Steve Bruhn

Jeremy McGrath was there for the first two days, and while he was nowhere near the leaders' pace, he got in there and mixed it and had some fun. He took a few long bows for the roaring French fans, and then hopped on a plane headed for a pre-planned Baja 1000 run in a Monster Energy truck.
Andrew Short didn't take a lot of chances over there and he seemed to improve all weekend long, using the race as a litmus test for Anaheim. With no Canadian rounds in December this year, this is the last big weekend for race-testing before every gets down to the brass-tacks of getting ready for what really counts: The 2008 AMA (soon-to-be-named-title-sponsor) Supercross Series. It's going to be a monster of a season!
Beyond that, the thing I found most interesting—or distressing—was the lack of supercross talent coming out of Europe right now. Besides French SX Champ Benjamin Coisy, who got hurt, and French MX Champ Sebastien Pourcel, who also got hurt, the European talent was really hurting. What we saw at the Motocross of Nations—absolute runaways by AMA-based riders—was as bad as what we saw in Bercy.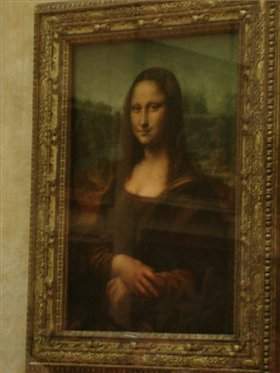 Mona Lisa
photo: Keith Lynas
Obviously the talent in spread out over there—there was a race in Madrid the same weekend, won by
Mike Brown
, a race in Germany, which was won by
Jason Thomas
, and a race in Italy, won by
Tony Cairoli
but featured strictly European competition. All that catching up that the Europeans had done with the last generation of top SX talent—
Pichon
,
Vuillemin
,
Tortelli
,
Roncada
—has slipped away.
Obviously there is no major supercross series over there like there is here, but they don't even seem interested in expanding their sport to include stadium motocross. That's why the FIM World Supercross Series quit going back—the top GP riders simply didn't show up, so why make everyone based here go over there to race against one and other? If anyone has any ideas on why the seeming lack of interest in supercross, please fill me in: Online@racerxill.com
One other thing: Christophe Pourcel was there, and it doesn't look good right now. The 2006 MX2 World Champion crashed hard in Northern Ireland at the end of the GP series and suffered severe damage to his sacrum, which is the large triangular bone at the base of your spine that more or less holds your hips in place. Pourcel, who was supposed to be joining the Monster Energy/Pro Circuit Kawasaki team, looks like he's lost 25 pounds, and he moved slowly with a shuffle. He's in intensive rehab in France, and it's pretty much a done deal that he will not race in 2008, and maybe never again. What a nightmare for this fast kid from France who is the only person to take a race win from Villopoto in the West Region in 2007.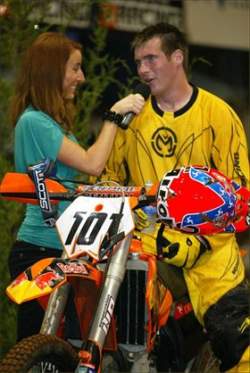 The newly-crowned Can-Am GNCC Champion is looking to add the Maxxis Triple Crown to his resume.
photo: Steve Bruhn
There's lots going on in Las Vegas this weekend—the AMA Sports banquet tonight, the AMA Pro Racing banquet on Sunday night, and of course Saturday evening's sold-out Maxxis Endurocross at The Orleans, where newly-crowned GNCC Champion
David Knight
is going for the $50,000 trifecta. In the middle of it all is
Kerry Graeber
of the AMA, who is trying to help organize the last big pro racing get-together of the year, which is Sunday's banquet.
Wes Williams
of GK Films and Racer X Films been helping out a little with
RC
photos for a farewell tribute, as well as a Team USA video to be show in honor of our third straight win at the Motocross of Nations.
"Everything looks good, but we're wide open," Kerry told me this afternoon on the phone. "We've got a lot of cool things planned, but we've got a lot of work yet to do."
Up for AMA Pro Speed Athlete of the Year are AMA Toyota Motocross Lites, AMA Supercross West Region #1 and Team USA hero Ryan Villopoto, AMA Supermoto Champion Mark Burkhart, repeat Dirt Track Champion Kenny Coolbeth, Formula Extreme #1 Josh Hayes, and AMA Superbike stud Ben Spies. We'll let you know who wins come Monday morning.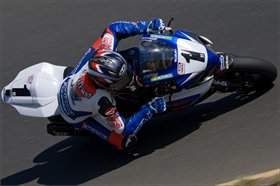 Ben Spies
photo: Andrew Wheeler
Two weeks ago we ran an interview with Maryland's
Nick Evennou
, former Blackfoot Yamaha rider, who had nothing on the table for 2008. Well lo and behold, we saw his name pop up this past weekend at the Stuttgart SX in Germany. We asked Nick what was up: "I made it to the final and got a 6th and an 8th," said Nick after arriving back home in the States. "Not too bad considering I had no time on a Kawi 450 which was set up for a 180-pound guy! But I think I may be going back over there. It was definitely a real good experience for me. Thanks again for all your help! Without you guys it would have never happened." Nick was riding for Pfeil Kawasaki.
And earlier this week we got a call from Arenacross racer Damien Plotts who needed help getting his bike from Reno, Nevada, to Rochester, NY. We posted up a Breaking News and Pat Bonner from Toyota came through to help Damien. Thanks Pat!

Now this: Any teams looking for a truck driver for the 2008 season? Check out this e-mail we got from Carson Spencer: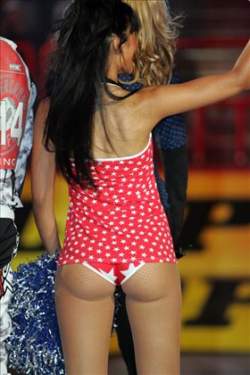 The action at Bercy was intense.
photo: Steve Bruhn
"I'm writing to you to see if you or anyone on your staff would be able to help me gain information on Class A Truck Driver positions with the various teams. I currently drive for the 3rd largest trucking company in the nation and have an absolutely spotless driving, safety and on-time record. I'm looking to meld my career with the sport that has been in my blood since I was a young boy. I'm currently 48 years young and still an active desert and track rider when time permits. I live dead center in the middle of the motorcycle industry in Murrieta, CA. I graduated with a BA in Physical Education and Biology in 1986. I worked for a number of years in the Ski and Snowboard industry, first as a Technical Services Rep. then later as a Sales and Service Rep. for a number of Ski and Snowboarding companies in the So.Cal/Nevada/Arizona territory. I know what it takes to be a good ambassador for a sport and how important it is to properly promote company image. I'm definitely not your common, everyday truck driver and think I could easily be more than a driver for any team. Any information that you could help me with would be greatly appreciated."
If you're interested in contacting Carson, e-mail us at online@racerxill.com.

Travis Pastrana continues to live an amazing life of adventure. He lined up to go solo at the Baja 1000 this week, and our friend Jordan Miller from Red Bull sent over this snippet of film of Pastrana's start. For Baja updates, check out www.baja.net.

Here's a note from Andy "The Chase" Bowyer: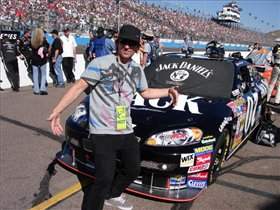 John Fox at Phoenix.
photo: Andy Bowyer
Huge turnout of motocross industry folks at Phoenix International Raceway last weekend. While chaperoning
John Fox
and
Matt Furman
from
Fox Racing
Inc. I ran into none other than The Beast from the East
Damon Bradshaw
! He went on to tell me that his father,
Randy
, has taken a job as the coach driver for
Chad Knaus
. Chad is the crew chief for the soon to be two-time Nextel Cup champion,
Jimmie Johnson
. After a brief conversation with Damon and DVS's
Dano Legere
who was at his side, I continued through the garage where I ran into factory Yamaha Team Manager,
Jimmy Perry
and his wife strolling along. After another brief conversation and a hand shake I continued down towards pit road and saw
Scotty LaLonde
from Toyota's TMX program, then heard my name being screamed from behind me and turned to see Ogio's
Andy "Waldo" Donahue
waving his arms erratically. He was there hanging with former Pro Circuit brand manager,
Travis Wicks
.
The Annual Mini Olypics are kicking off next week at Gatorback Cycle Park in Gainesville, FL, and our boy Wes Williams and the GK Films crew will be down there all week providing us with updates and video footage of one of the most prestigous amateur motocross events in the country. You can also check out Wes' new website,
www.vurbmoto.com
for race reports, results and updates.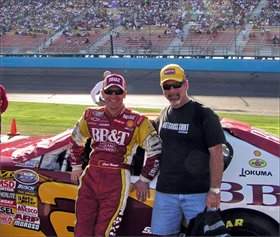 Clint poses with his favorite Mototalker, BobbyM.

photo: Andy Bowyer

Racer X caught up with the Wharton family for an update on their new ride with Team Honda and their plans for the immediate future, a future that will not see the Wharton's attend the Mini O's, but looks very bright all the same. Their father, Bob, said, "Well, it looks like we are going to have a traditional Thanksgiving this year. Both of the boys are down right now and all we're doing is cleaning the bikes, truck and trailer."

Blake suffered a crash and injured his shoulder during his Honda debut at the Amateur Open in Arizona and will be out for a few weeks.

Bob confirmed that both of the boys will be riding Honda's in 2008 and beyond with Blake putting the finishing touches on a SoBe No Fear/Samsung Honda ride that would see him complete his amateur career at Loretta Lynn's, then jump into the last outdoor nationals to close out the year.

"The contract isn't complete, but we've met up with the Factory Connection guys and they are all gung ho and seem happy to have us." Mr. Wharton adds, "We're kind of following the same path Trey (Canard) did. Blake's deal would take him through 2008 and two years into his pro career."

Meanwhile Blake's brother Tyler will also be competing on red bikes for the next two years through Team Cernic's, then the Wharton's will then search out a pro contract of his own.

As for KTM, the Whartons' old team, remember this name: Max Anstie.

Newsweek recently ran a follow-up story on injured soldier Marissa Strock, who was featured in our "Last Living Souls" feature in the August 2007 issue. Check it out here.

And here's something from Ping:
The Troy Lee Designs/Red Bull/Honda team has added another rider to its roster. Chris Gossellarr (wow, he managed to misspell that twice!) and Gavin Gracyk have already started their testing and training for next year and now Justin Keeney will join them. The young rider has shown flashes of speed over the past couple of years but has been slowed with injuries and sub-par equipment. If things click for Justin he could turn a lot of heads this year. The team is also in the process of having their own test track built right near the other manufacturers facilities. Since Jeff Ward's father-in-law owns the property that ALL the test tracks sit on, well, it wasn't that hard for the team to put together.
I spoke with Grant Langston this week about his ride in Bercy. He was optimistic about his riding and his bike for the 2008 season.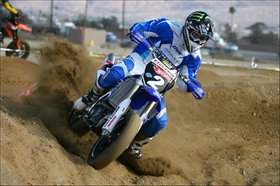 2007 AMA Supermoto Lites Champ: Brandon Currie
photo: Goon Graphx
"Even though the results show Reed winning the last two nights I feel like I was riding pretty well. I was able to lead the second night for most of the main event. I lost a little time in the whoops and that is something that we are going to work on before January. The final night I stayed with Reed for a bit and then lost a little time in the whoops again. My bike is coming along really well and we are making progress every time out. So, all in all, I was happy with the way I rode and I am feeling good about the start of the season."
We hear about tracks closing down all the time these days. Between the urban sprawl that has consumed most of the open land and the sue-happy morons that hurt themselves and then sue the race track, we just don't see many new facilities popping up. But there are a couple out west that people are really excited for. There are two things that every good parent should tell their child living in Las Vegas: You can't trust a girl who pays for everything in singles and, of course, there is not a good motocross facility close to town. There are quite a few people that drive all the way to California's Competitive Edge Motocross Park just to ride! Fortunately for them, a new track is on the way. Boulder City MX is opening in December. Just south of town this track is situated right next to the old World Mini GP track from the 1980s. I raced at that facility from 1985 to 1987 and it was a pretty decent track. In fact, they even had an AMA national motocross race there during that time. For more information on the track, directions and opening dates check out www.bouldercitymx.com.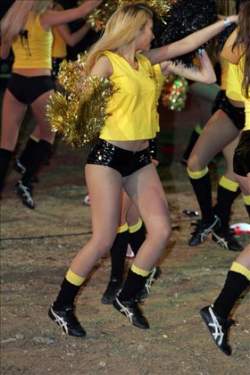 Ping can't wait for the Pala MX Park.
photo: Steve Bruhn
The other track causing some buzz is right here in Temecula, California. Though the rumor has been going around for quite some time about a facility on the
Pala
Indian Reservation, it looks like it is actually moving forward. I got a peek at the preliminary drawings and if they produce half of what they are planning it is going to be amazing. The drawing showed a motocross track, vet track, kids track, quad track, supermoto track (conjoined with a go cart track), and even a full-scale superbike track! The facility also had a skate park, BMX track, off-road truck area, bleachers and several on site facilities for food and drinks. The
Pala
MX Park project hasn't yet been officially released but my source close to it says it is underway. That's good news for all disciplines of motorcycle enthusiasts. And, because it is on Indian land, the track is less likely to be shut down due to lawsuit. That is one of the reasons that other tracks on Reservations (I.E. Cahuilla Creek MX) have done well. Stay tuned for an upcoming press release from
Pala
MX.
Thanks Ping.
On Tuesday we ran a
Flash Trivia
question asking our readers to identify a rider, track and year. The photo was of
Bobby Kiniry
in his rookie season (2003) at
Unadilla
. Here are the first five correct entrants:
Brian Mott
Olympia, WA

Michael Gamby
Eugene, OR

Tim Nelms
Nashville, TN

Robb Meineke
Rapid City, SD

Jeff Cozine
Atlanta, GA
The hats are on the way, guys.

And here's a shout out to Rick Ziebell from Lake City, MN, who won the FMF Virtual Bikez contest, as well as Dewey Simmons, who won the Wiseco Yamaha TTR-100 by subscribing to Racer X. See, people do actually win these contests!
CStone with an update from his Playboy subscription:
"I wrote Jamie Little an e-mail the other day and this is one of the things she said to me: "Playboy.com just unveiled their 12 'Sexiest Sports Commentator' lineup and I'm one of them!"
How cool is that?! have been watching the NASCAR races lately and I am so impressed with how great Jamie sounds…she is doing such an awesome job. I remember when Jamie first started doing the podium interviews in Supercross! She has come a long way since then and is kicking ass! I'm stoked for her."

Andy Bowyer is soooo bummed right now that someone else got a word in about NASCAR.

Anyone riders looking for a custom-painted helmet for Anaheim 1, 2008? Frank Ippolito of Paint Bombs is willing to paint up a custom lid for someone who is likely to qualify for either main event at Anaheim 1. If you're interested, e-mail us and we'll put you in touch with Frank. You can check out some of his past work at www.paintbombs.net or on his MySpace page.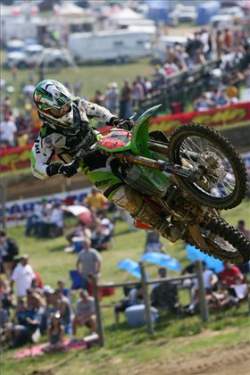 Ryan Villopoto is up for the AMA Pro Speed Athlete of the Year.
photo: Simon Cudby
Looking for a great souvenir from the 2007 Motocross and Off-Road season? Look no further than the Rider Gear Auction on eBay to benefit the
Mark Reynolds
Memorial Fund – Giving Bikes to Underprivileged and Handicapped Children. The
auction
at ends Sunday afternoon. There are many great items ranging from Makita Suzuki rookie
Nico Izzi
, to Monster Energy Kawasaki's MXoN Champ
Timmy Ferry
. Thanks to all the riders and industry personnel who helped!
Finally, a
Gary Gracyk
update, which we spotted on
www.pitracer.com
:
"I just wanted to let everyone know that the Gracyks really appreciate what everyone has done for them, even though they haven't gotten on here themselves to give thanks. The contributions that everyone has made helped make the treatments possible. I was very excited the other day when Gavin told me that Gary's breathing has gotten better and they have been able to keep him off his breathing machine for longer time period. He also started getting back some feeling in his feet. I dont think any huge gains are taking place yet, but the treatment seems to be making a turning point towards the positve, considering everything has been downhill since he was diagnosed. Gary is taking one step at a time and by all means a definite fighter. Keep him in your prayers."
Okay, sorry to run, but the grand opening of my wife's clothing boutique store Vance's Blues is tonight in Morgantown and I am the valet, apparently, which means I'm late. Thanks for reading Racerhead, and see you at the races….

Oh, and check out this video of Jason Weigandt hauling his bike down the highway.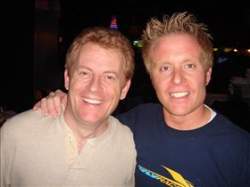 Boise Boyz!
photo: Dave Brozik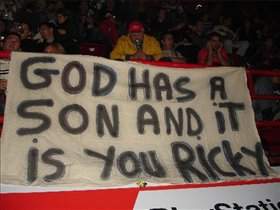 photo: Keith Lynas