Racer X Flash Moto Trivia
Have a case of the Tuesdays? Well, here's your chance to win something. The first five people who correctly answer all of the following questions will win a brand-new Racer X hat, along with some stickers.
Okay, here it goes: Name the year, track and the rider in the photo below. E-mail your answers (along with your name and address) right here. The first five correct entries win! Good luck!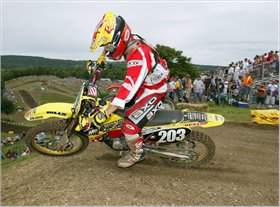 Who am I?
photo: Steve Bruhn