So as you read this know my friends
Id love to stay with you all
Please smile when you think of me
My body's gone that's all
Hello, everyone, and welcome to the Rev Up. I used the title of this week's column for a couple of reasons. A Tout le Monde is a Megadeth song and in French it means, "to all the world". Given the current events in the motorcycle industry, I figured it applied pretty well to this week. The Weege just returned from a "JNCC" in Japan, DC just flew out for France, and my boys Jason Berry, Matt Ware, and David Brozik have all traveled to England for vacation. This knowledge really got me thinking how much our sport has turned into a global affair and how the internet has just made everything so close together.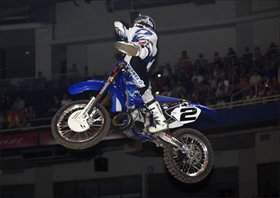 Will it be Showtime this weekend in Bercy?
photo: Steve Bruhn
Another reason for this week's title is that I had it in mind for what really would have been Ricky's last supercross race had he not fallen ill. It would have been so cool to see Ricky race Bercy, for he had not returned to the event since he broke his collarbone back in 2000. Ah, but there is a surprise in RC's absence. Jeremy McGrath has decided to bring out the old "Showtime" for another race and that is just pretty damn cool if you ask me. Heck, you know the guy is still plenty fast. He's been out pounding laps at the HRC test track and is probably up to top five speed. It doesn't really even matter how fast he will be; he'll display that signature riding style where he turns his front wheel to the side just a slight bit off of every jump and leaves one of his arms extended. He'll have a bad-ass helmet paint job, and will be sure to throw a nac-nac the way only he can throw them. There is a lot going on this weekend, folks. Let's get Revved Up about it.
Albany
The 2008 Toyota AMA Arenacross series got off to an exciting start last week in Des Moines, Iowa. It had all of the elements a good arenacross race should. Tight racing, take outs, and tight-assed trophy girls. Arenacross is so cool. It's so much lower key than supercross, but still a really great show. Live Nation has done a tremendous job minding the tiller and, man, the talent pool just gets deeper and deeper every season. As the boys speed off to New York for round two, all eyes are on Chad Johnson. The 2005-'06 champion produced a stealthy but lethal weekend and looks on track for another title run as he carries the early points lead. Then you have defending champion Danny Smith, who is really impressive in these bullring-sized races. I'd keep a look out for Robbie Reynard and Kelly Smith to pick it up this weekend as well.
Bercy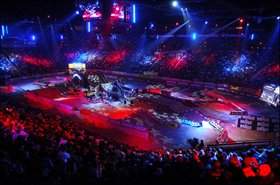 Bercy is one of a kind.
photo: Steve Bruhn
There are indoor motocross events, and then there is
Bercy
. And boy oh boy is this one shaping up to be a barn burner. Not only is the aforementioned McGrath showing up to battle, but you'll also see
Chad Reed
's name on the entry list. Remember a few years ago when those two got into it? Remember what MC did to James in San Diego two years ago when they had a brief beef? I'm not trying to stir shit, well, maybe I am, but it would be pretty cool to see both of them lock horns at the front of the pack. They'll first have to fight through
Andrew Short
,
Josh Grant
, and
Grant Langston
. Man, it's hard to bet against Zulu as the guy has been winning everything in sight. All the same, I'd say my pick is
Chad Reed
. Although, if you watched that video of Shorty you know he is flying too. This race is going to be good.
Phoenix
Meanwhile, I'm catching a plane tomorrow night for Phoenix. We're 181 points out of the championship with two to go.
What do you do? Grab a knee with me and I'll tell you what you do. You throw the best equipment that RCR has in the barn into chassis #212. You shove dynamite down the driver's throat and set the bastard on a pace the devil himself can't chase down. If you get those Hendrick boys down you stick the knife in, twist it, and show no mercy. That's all you can do.
Small World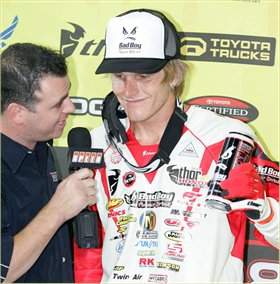 Chad Johnson is the point man in Toyota AMA Arenacross heading into Albany.
photo: Steve Bruhn
Before I go I wanted to share a cool coincidence I experienced last night. I went down to the bar to finish reading
The Rum Diary
when a girl sat down on the stool next to me. She saw my ID when the snot-nosed teenaged-looking bartender carded me and she asked me, "You're from Kansas, huh?" I said nothing and nodded while staring down reading. A couple minutes later the man to my left saw the scar on my hand and asked me what happened. Now, fully distracted from my book I decided to close it and converse. "Bass fishing accident," I replied. He went on to tell me he was from Columbia, MO and was a physician recruit for hospitals. The girl leaned over and mentioned she was moving to Columbia this weekend. A couple of sentences later last they were exchanging numbers because the man owned a horse ranch and she was looking for a place to stable hers. Just then an advertisement for the Phoenix Cup race flashed across the television and the man said, "Carl Edwards is from my hometown. See him all the time." He then asked me if I watch car racing. I replied, "sometimes, but I do an online column for a website and
#99
was my number today." (Carl drives the #99 Office Depot Car)
I just thought that was super random. How the hell did I sit down in West Virginia between two people that will be neighbors in Missouri next week?
Anyways, a tout le monde, to all the world, I tell you this: Get the hell up off the couch and do something this weekend. There is so much going on all around the world that the man on the moon is going to see nothing but a giant dust cloud when he looks down upon us. Get up and do your part to help send this mud ball spinning a little faster.
Thanks for reading, see you next week.