Welcome to the Shift Number Cruncher. One of the most rewarding things about motocross is watching a kid climb all the way through the ranks and make it into the show. Then when you see a pair of brothers both do it it's even more special. I've followed the racer that owns this week's number since he was riding a 60 out at Great Bend, Kansas. Speaking of Kansas, man, The Wheat State has had quite a year! Put a boy in The Chase, The Jayhawks football team are chasing down the national championship, and AMA Pro motocross has two Kansas boys in the top 100. I have my KU hat on as I type this week's column that I am dedicating to my boy, Wil Hahn, and his #99.

Wil only hit a couple of outdoor nationals on his Star Racing/Lucas Oils Yamaha YZ250F, but he put up enough points to make the board. Wil is a pretty neat kid. I used to be his rider support rep when I worked at Fox Racing and he would call me in the middle of the day and just be like, "Yeah man, what's up? Just thought I'd give you a call and shoot the crap for a while." Dude was, like, 10 years old. Since then ole Wil dropped the hammer and tore through the amateur ranks, and is now marching down the same path his brother followed to the big show. His 2008 number, ninety-nine, is a pretty cool motocross digit. If you look at it one way, you are on the bottom of the totem pole, but when you consider how many guys try to make the top 100, you have to respect it as a major achievement. So it is indeed with respect that we dedicate this week's column to Wil Hahn and his proud number 99.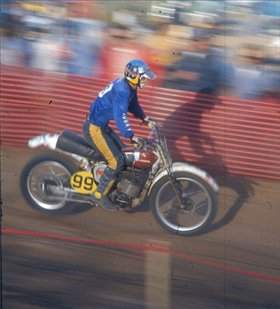 Arne Kring
photo: Dick Miller Archives
It just wouldn't be a number cruncher unless we tossed in some old-school. Check out this shot of
Arne Kring
charging on an old Husky during the 1974 Trans-Am series. There is a bike almost exactly like this one in the
Racer X
lobby with #174 on it.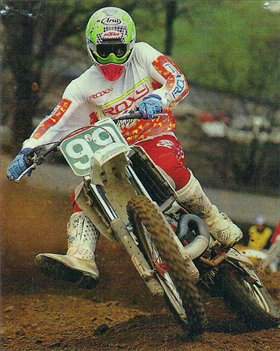 Mike Healey

photo: Courtesy of Daniel Sinatra
Here we have
Mike Healey
styling it on a big bore Katoom during the 1991 500cc World Championships.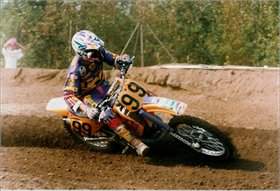 Trampas Parker

photo: Courtesy of Daniel Sinatra
Trampas Parker
has been showing up in the cruncher quite a bit lately. We couldn't keep him out of this one either. Here he lays on the wood during the 1995 500 world Championships.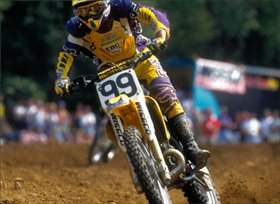 James Povolny
photo: Fran Kuhn
Here's
James Povolny
riding the outdoor nationals in 1996 on an RM250. James is still after it and was at Des Moines last weekend showing some of the new kids the fast way around the track.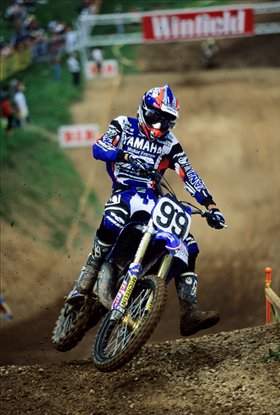 David Vuillemin
The
Cobra
was preparing to bring his strike to the states when this shot was taken during the 1999 250 World championships. I've seen some footage of him riding over there that season and man was he fast. He certainly had a lot of guys nervous when he announced he would be coming to the States. You have to admit, it's been a treat having David racing here the last several years. Ole boy has won outdoor nationals, and damn near the 2002 Supercross championship. He is now beginning his second tenure as a factory rider and somehow I have a feeling we may see a good year out of Le Corba on the fuel injected RM-Z450.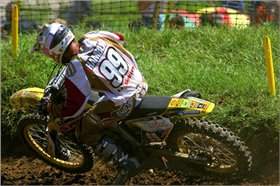 Sean Hamblin
photo: Geoff Meyer
Sean Hamblin
wore #99 in 2002 and kicked some tail. He put his machine on the podium at Broome Tioga that year and earned a factory ride. I've kind of lost track of him since he went to Europe last year, but ironically he wore #99 there, too. If you're reading this, Sean, hit us up and update us on how you're doing!
Wilbur
, or 49 and a half cent, as he is known, is the second Hahn brother in four years to make it onto a factory-backed team. Unlike Tommy, Wil is a holeshot specialist and from what we hear, he is pretty darn fast on a supercross track. We do know that he will be on a good bike. Look at how competitive
Broc Tickle
was in 2007 on his Star Racing/Lucas Oils Yamaha.
Other 99's
-Charlie Dunaway in 1998: Super fast former Team Green rider from Ohio
-James Eickel: 1999: Another Ohio wild man that at one time was planning to break the long jump world record
-"Dirty" Dean Matson in 1990: Dean was really fast in the mid '80s. Once performed in a jump contest in the end zone during Monday Night Football.
-Zoli Berenyi in 1983. There is some trivia here. Send it in if you have the low down on Zoli.
99 is everywhere. It's how many problems Jay Z has. It's the price of Farber's favorite menu items at Wendy's. Pastrana used to run it at Loretta's. Although in all sports there can only be one man that truly claims the 99 as that is none other than "The Great One" Wayne Gretzky, which is the only retired number in the National Hockey League.
There are a slew of others out there, so please send us (andy@racerxill.com) any you feel should make the Redux.