Between the Motos: Jayme Dalsing
The Toyota AMA National Arenacross Series gets started this weekend, so who better to talk to for today's Between the Motos than the Director of Operations, Jayme Dalsing. There are some major changes to this year's series, which are discussed in the following interview. For more information on the series, including ticket prices, schedules and results, check out www.arenacross.com.
Racer X: First of all, what's your role with the Toyota AMA Arenacross series?
Jayme Dalsing: I am the Director of Operations for Arenacross. I will be overseeing all of the operations for the series. I have just finished up three years of supercross working with Dave Prater, so I'm taking a lot of that experience with me to my first love, arenacross. I started with AX in 2000 working with Robert Hansen, Rigg Hipps and my brother, BJ Dalsing, who has been building AX tracks for over 10 years now. Todd Jendro asked me if I would like the opportunity to take over the AX program, and I jumped at it. Brian Wallenbeck has taken my place as the SX manager, and he should do a great job at it.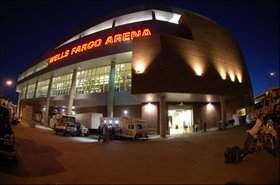 The Wells Fargo Arena will be alive with action this weekend.

It's hard to believe that the arenacross series is kicking off this weekend, isn't it? Is everything in line for a successful opening weekend in Des Moines, Iowa?
It is hard to believe. It seems like just yesterday we were rapping things up at Las Vegas supercross. This weekend's race has the potential to be one of the greatest arenacross races ever. We honestly will have a full main event gate of 16 guys that have a great chance of winning. This year is going to be great.
There's some major changes to the racing format for 2007-'08. Tell us about it.
Well, the first major change that pops out is the change from 450s to 250s. It is a change that we've been wanting to do for some time. This year we were able to make the big change that everyone's been expecting. The major reasoning was the argument that if 450s are almost too big of a bike for a supercross track, then they must be to big for an arenacross track. Also, if we are truly going to become the major advancement series to supercross, it just doesn't make sense to qualify in arenacross on a 450F to ride Supercross Lites on a 250F.

But you're still going to have two classes—Arenacross and Arenacross Lites, correct?
Correct. Both classes will be allowed to run 125s and 250s. The difference being that the AX class will be the Championship class. The AX class will pay more purse and more contingency and be eligible for our $100,000 points fund. The Lites class will be more geared towards the local pro that is just coming from Loretta's. Many of these riders may have not raced during our amateur days at Arenacross growing up, so this is there opportunity to get their feet wet on this type of track. The Lites class will be shooting for regional championships (North, South, East, and West). Each Lites rider will also be shooting for a number one plate and free entries to next years Arenacross season.

Do you feel this series has been working well as a "feeder" series into AMA Supercross?
Last year was the first official year that you could earn your points for supercross through our arenacross system. The requirement was to get 100 points in the AX class. We were able to advance four additional guys that had not already had there SX endorsement. This year we have made it a little easier to get in because of the large talent pool that we will have. Now you can either earn 50 points in the AX class or 100 points in the AX Lites class to advance.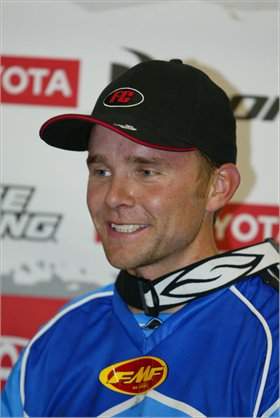 Danny Smith's quest to repeat as the Toyota AMA Arenacross Champion starts on Friday night.

We posted up an Arenacross preview earlier, and you have to admit that this is one of the most stacked series' that we've seen in recent years. Have you ever seen depth like this?
We have three past champions that have committed to this series (Danny Smith, Chad Johnson, and Robbie Reynard) with the potential to see one more in Josh Demuth, who may do few of the first rounds. Right behind those four is a group of hungry riders that want nothing more than to be an AMA Champion. Brock Sellards Kevin Johnson, Keith Johnson, Teddy Maier..... the list goes on and on, all of these guys want that title.
Let me put you on the spot: After all is said and done this weekend, who do you think will come out with the points lead Sunday morning?
Wow! Our gate this weekend for the AX class alone may be in the 100s and you want me to pick one guy? [Laughs] I'm pretty sure I can't do that...
Well hey, I know you're busy, so I'll let you get back to work. Anything else you want to add?
This is going to be a great season, so keep your eyes on www.arenacross.com for results. Also, if you haven't had the privilege to see an arenacross race live, I suggest this is the season to start.